With a large portion of the world sitting at home in quarantine, every day countless new resources pop up around the SARS-CoV-2 virus and COVID-19 condition. Sifting through the mountain of bad information can take time and patience. In this post I share some of my favorites worth bookmarking.
I consider the first site on my list a one-stop-shop for most research-backed COVID information. It offers facts & figures, information on potentially helpful supplements, alternative therapies, best practices, and tips to keep you safe.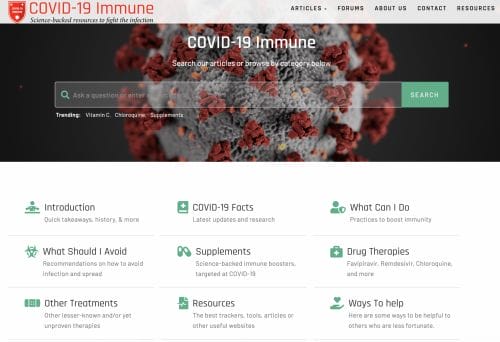 I avoid the news when possible, and the Coronavirus Interactive Dashboard provides world-wide visualizations, case details, data, and statistics updated every hour. Created on February 5th, 2020, I've checked this daily to keep tabs the spread.
To drill down to specific countries and get information at the state level:
Click the textbox next to the "I'm from" section
Enter and then click a specific country. The data will update
No list would be complete without reference to the United States Center for Disease Control (CDC). This is the primary official government COVID-19 resource. You will find policy changes and updates here. The CDC's instructions will likely have the biggest impact on your wellbeing.
4. Curated Twitter Feeds
During major events, Twitter becomes a storm. We're not all infectious disease experts on the front-line. That's where Twitter comes in. Through curated lists, we can greatly reduce the noise and focus on what the experts have to say. The experts not restricted by teleprompters and politics. I quickly created a list for this specific purpose:
https://twitter.com/i/lists/1243294776369147905
Note that some of their tweets are not relevant to COVID-19.
You can find countless other related resources from governments, businesses, and people alike. With an occasional checking of the above sources (and talking to others), I stay current without streaming news all day.
What do you think? Am I missing any key sources?