$500,000.
That was the price of a single DNA test several decades ago.
Genetic technologies promised to answer contradictions of modern science:
An escape from cookie-cutter health advice that leaves us drained, confused and disappointed.
Back then, your test results yielded nothing but an amusing family tree and obvious characteristics (like eye color). Experts could barely interpret your results.
Then a software company called SelfDecode saw something that everyone else missed.
Optimal living requires deeply understanding the interplay between your genetic constitution and your other biomarkers.
DNA is the code running your personal human operating system
Click To Tweet
SelfDecode transforms your personal biometrics into a beautiful and actionable page full of recommendations on how to improve every facet of your health.
They've become the world's top all-in-one wellness platform.
In this updated SelfDecode 2.0 review, you'll learn how this personalized system simplifies your health decisions. At the end, I compare it to other genetics software and you'll understand why SelfDecode is the best genetics software by a landslide.
Save 10% on SelfDecode with code URBAN
How SelfDecode Works
SelfDecode is a personalized DNA testing, analytics, and digital health platform. Personal necessity caused serial entrepreneur Joe Cohen to create SelfDecode. He's no stranger to precision medicine. Since Joe founded SelfHacked in 2016, it became the internet's top biohacking knowledgebase. If you haven't checked out Self-Hacked, you're missing one of the best biohacking resources on the internet.
Both platforms have well-credentialed staff curating the latest peer-reviewed research. Joe's tools complement each other.
I think of SelfHacked as their general research division and SelfDecode as the branch that personalizes state-of-the-art knowledge to your unique brain and body.
SelfDecode is your personal health coach without the cost of seeing multiple specialists
Click To Tweet
In the world of complex and convoluted genetic tools, even a five-year-old can understand SelfDecode reports.
Update: New SelfDecode 2.0
In late 2021, SelfDecode released a massive update. They've strengthened the link between your blood tests and genetics to give you the most comprehensive health dashboard available.
They rebuilt the service from the ground up to deliver even better recommendations.
New machine learning and AI algorithms analyze 50x more DNA health data points resulting in more precise personalized recommendations
Know your true strengths and weaknesses with percentile comparisons to the rest of the population
Build your ideal health routines with the new "My Regimen" dashboard
Issue and condition risk assessment scores based on your lifestyle
Labs 2.0 upgraded bloodwork dashboard to order, upload, analyze, and act on your blood biomarkers
Database upgraded to over 80 million SNPs
I've been a customer of Joe's since 2016, and in September 2021 I decided to invest in the company.
SelfDecode has brought a nice balance of power and simplicity to the field of personalized health. This is how it works.
SelfDecode's 3-Step Health Optimization Process
After signing up, an on-screen guide walks you through the product. I skipped their tutorial, and five minutes later, I had figured out the SelfDecode process:
Upload your DNA.
Download and read through your personalized reports.
Add recommendations to your custom "regimen" and test
For the first step, the company offers two DNA analysis options:
Import your raw DNA data from a service like 23andMe, Ancestry, or My Heritage
Get a DNA kit directly through them
As a newbie to the platform, I chose to upload my Ancestry.com data.
Next, I visited the DNA Wellness Reports page and clicked "Generate Report" next to anything interesting. Eighteen seconds later, my reports were ready: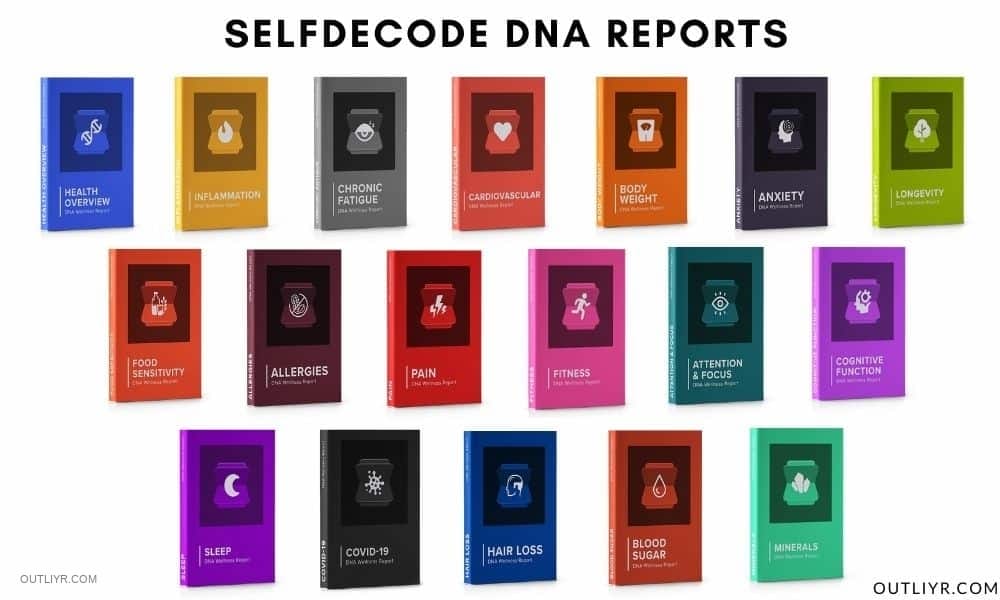 Each Wellness Report contains background information, color-coded highlights, written interpretations, and recommendations tailored to improving your lifestyle. No guesswork or contradictory information (like I experienced in other DNA testing services discussed below).
SelfDecode's DNA Wellness Reports
Your DNA Wellness Reports are the heart and soul of SelfDecode. By cross-referencing your DNA with hundreds of sources (200+ PubMed references in my sample fitness report below), they generate personalized diet, supplement, and lifestyle recommendations.
Not one for reading?
They summarize the report's takeaways at the end:
Their research team constantly builds new reports as science supports. Use these custom reports to overcome any health or performance issues you experience.
At the time of this writing, they're rapidly expanding upon a library of 153+ reports.
Update (2021): the team has released a huge SelfDecode 2.0 update that includes better and more thorough DNA Wellness Reports. These reports now generate specific recommendations in a separate "My Regimen" tab. So far they've released 20 new reports.
The Latest SelfDecode 2.0 DNA Wellness Reports
Riboflavin
Triglycerides
Food Allergies
Vertigo
Artery Hardening
Heavy Sweating
Vitiligo
Sinus Congestion
Indigestion
Nearsightedness
Male Infertility
Cavities
Carpal Tunnel Syndrome
Hives
Rosacea
Gum Disease
Tinnitus
Overactive Thyroid
Underactive Thyroid
Urinary Tract Infections
Joint Inflammation
Eczema
Psoriasis
Gut Inflammation
Allergies
Sexual Dysfunction
Peptic Ulcers
H. pylori
Acid Reflux
Varicose Veins
Psychological Trauma
Mood Swings
Back Pain
Gout
Kidney Stones
Inflammation
Brain Fog
Stress
Overweight
Mood
Kidney Health
Heart Health
Gallstones
High Blood Sugar
High Cholesterol
High Blood Pressure
Anxiety
Acne
Joint Pain
Irritable Bowel
Migraines
Insomnia
Chronic Pain
Fatigue
Shoulder & Neck Pain
Attention
Bone Health
Headache
Asthma
These are the latest and up-to-date reports.
By you can access the entire suite of tools from the previous version of SelfDecode too. Which includes different reports.
Legacy SelfDecode 1.0 DNA Wellness Reports
Introductory (summary)
CNR1
Cognitive function
Food sensitivity
Vitamins
Minerals
COMT: worrier or warrior?
Longevity: counteract genes interfering with your max healthspan
MTHFR: optimal nutrients to consume
Sleep: optimize your sleep
Fitness: stay injury-free doing exercise you love
Of late, the SelfDecode COVID report has received particular interest.
Each report is jampacked with information. Stuff you can apply today. For example, here's one of my full reports:
My entire 34 page fitness report, including summary, recommendations, and PubMed studies at the end.
Click here to access the SelfDecode reports section.
Update (2022): Regulatory action has forced SelfDecode to remove the following reports:
COVID-19: viral susceptibility
BRCA: cancer risk
TP53: cancer risk
SelfDecode's Personalized Genetics Blog
Do you like to stay up to date with current research? Is there any use? I'm not so sure. I've combed through thousands of studies and noticed several glaring problems. One of which is the usual participants: old, young, sick, diseased, predominantly male folk. New research rarely applies to healthy biohackers.
SelfDecode's blog partially solves this issue. They highlight and showcase only the articles most relevant to your DNA. Two people visiting the same blog will see different articles, interpretations, and magnitudes for their biology. The most important article for me might not matter to you.
SelfDecode is the only health & wellness site that automatically shows and interprets the latest articles for your unique biological makeup.
Click To Tweet
This is a great way to cut through all the noise and inapplicable content. Get the research and recommendations that matter and go about your day.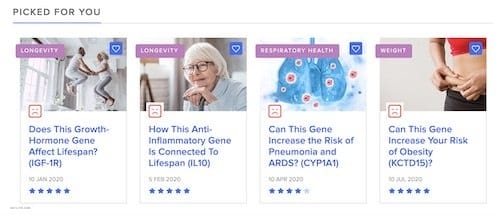 How many companies customize their content like this? I haven't come across any.
I've found their individualized blog a nice perk of the platform.
Click here to access their blog.
SelfDecode's Substances Explorer
Do you follow dessert with a shot of espresso?
Or does a sip of tea in the morning keep you wired throughout the night?
Drugs, substances, toxins, and compounds affect each of us differently. Why? Partially, tolerance. That aside, your reaction depends heavily on your genetic makeup.
Their database contains over a million substances and compounds. Whether optimizing your personal supplement stack with natural substances or wondering how ubiquitous toxins affect you specifically, Substance Explorer has you covered.
SelfDecode removes the guesswork from supplementation, drugs, and other compounds.
I like this page for the "Important natural compounds section". These are the nutrients you need most. You can use this list to find your own superfoods.
Click here to access their Substance Explorer.
SelfDecode's Symptoms & Conditions Analyzer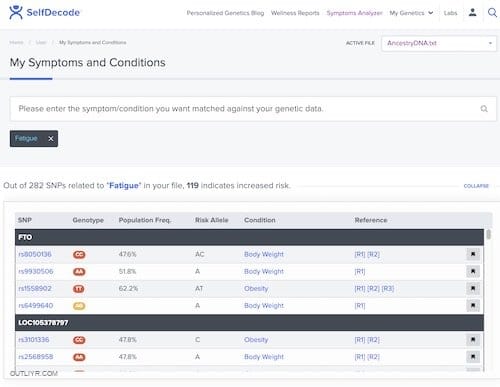 Not feeling 100 percent? You can enter a specific condition into the "My Symptoms and Conditions" page, or something general like fatigue.
SelfDecode spits out a full report of all associated SNPs (your particular genotype). The top shows how many of the total SNPs indicate risk. The table includes the rarity of the trait, the associated condition, and background information.
Clicking on any of the conditions brings up (another) customized page, prefilled with everything about the condition and you.
Click here to check out the Symptom Analyzer.
SelfDecode's Lab Test Analyzer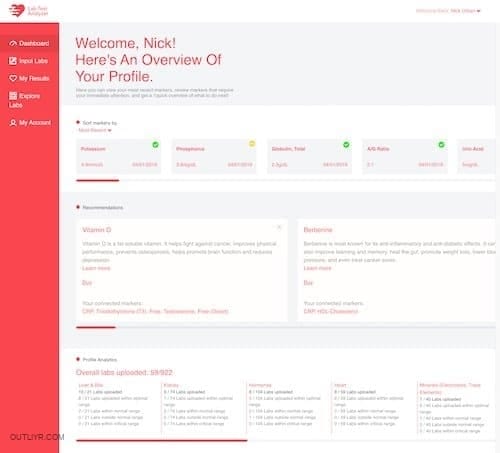 My lab tests came back "normal", but I still feel like crap.

Nick Urban (2013)
Regular laboratory testing is one of my top wellness optimization biomarker tests. Bodily fluids hold intricate details of how your biology is working. Whether you're healthy or unhealthy, and most importantly, both long-term trends and immediate feedback.
While lab work on its own highlights problems, you must solve them yourself. That takes research, experimentation, and re-testing to see progress. Then store the litany of PDFs, physical documents, and files all in one place should you ever need to reference them. You must remember which files are virtual, which are physical, and manually parse the formatting differences between labs.
On top of that, for traditional lab testing, you'll have to manually look up reference ranges for each for accurate information. Since the "normal", high, and low bands are based on the sick (most people getting bloodwork aren't healthy biohackers), their often not optimal. Otherwise, you might chase non-problems and miss the important ones.
SelfDecode users get free access to a tool called Lab Test Analyzer (LTA) which does all of the heavy lifting for you. All documents are automatically parsed and cross-referenced against their database of 916 different lab tests (and counting). They're standardized and centralized into their all-in-one wellness platform.
Best of all, you're not left in the dark. Based on all your data, LTA gives you personalized recommendations to get your labs back in optimal ranges. Your recommendations are based on a healthy population.
Your data become instantly more valuable and actionable.
Lab Test Analyzer is my favorite unexpectedly perk of SelfDecode.
It's actually a separate platform, but free for SelfDecode members.
SelfDecode vs Popular DNA Analysis Software
The DNA analytics field is both new and established. Researchers come and go, and leave unsupported products in their wake. Old products produce reports that don't evolve with the latest research. They become useless, or worse when old science is proven inaccurate and you continue to base decisions on your antiquated reports.
A 60-Minutes episode recently come out exposing the many DNA testing companies stealing and selling your data. SelfDecode is the exception, taking privacy and your personal security seriously. Unlike others, they destroy your biodata after use.
A few alternatives have come to dominate the market. Here's what you should know about how they stack up.
SelfDecode vs Promethease
After extensive research, I purchased a Promethease report many years ago. I ran my Ancestry data through it and got some (slightly) useful results.
I chose Promethease for its clinical-level granularity. I can see each SNP. And the report contains a section to view genetic interactions with diseases and substances. You can also sort by the magnitude of the genes. Ultimately, I ended up shelving it, and for a few reasons the report has sat untouched in my Google Drive for years:
Outdated. The field of genetics advances fast. A year after my report, the scientific understanding of genes has changed but my hardcoded report hasn't.
Unintuitive. The report comes in an HTML file. Every time I open it, a walkthough plays. And even then, the tool is difficult to navigate and interpret. This is coming from a data-driven tech nerd.
Not actionable. Say I look up my genes related to a condition called sleep apnea. Half of the SNPs show an increased risk (with a low magnitude), and half show no risk (with a high magnitude). Should I focus my time and resources here? Or elsewhere? The report itself doesn't provide actionable information.
When it came out, Promethease was the best option. Now, I only recommend it for those on a tight budget. Expect to dedicate dozens of hours to research how to interpret your results.
SelfDecode vs 23andMe (and Ancestry.com)
23andMe & Ancestry are focused on your family tree and ancestry. Both have limited ability to explore your genes beyond that. While their test results contain all the necessary genetic information to understand health, wellness, lifestyle, and peak performance implications, you'll have to upload your data into another tool for meaningful insights.
If you don't mind having your data in the hands of multiple companies, they often run sales on their DNA kits.
SelfDecode vs Genetic Genie
Genetic Genie (GG) is a great entry point for new users looking for barebones genetic analysis. By providing raw genetic data from services like 23andMe or Ancestry, you can three reports for free:
Methylation (MTHFR)
Detoxification
Conditions
People choose GG for their free reports. Genetic Genie doesn't tell you anything fancy, nor anything that Promethease or SelfDecode don't. In fact, the latter two contained more complete information. If you might want more later, look elsewhere.
SelfDecode vs NutraHacker
NutraHacker is another popular DNA analytics service that originally focused solely on nutrition and has branched out. They offer multiple reports, each at a different price:
COVID-19
Detoxification and Methylation
Carrier Status and Drug Response
Celiac
Depression
Fitness
Each report costs around $80.
Unfortunately, their reports lack recommendations or any indications of how to remedy problematic SNPs. They test only 195 SNPs compared to the over 83 million SNPs of SelfDecode.
Add-On DNA Kit
Don't already have your raw DNA file?
You can get it from another service like Ancestry or 23andMe (I chose Ancestry). Perhaps you're wary of having your personal genome in the data warehouses of multiple companies. Or maybe you don't want to wait weeks for DNA processing companies to analyze your kit.
SelfDecode also sells DNA collection kits for $99. No manual downloading and re-uploading.
Personal SelfDecode Genetic Walkthrough
SelfDecode helps you unlock your genetic potential and become an Outliyr
Click To Tweet
All this information too much? SelfDecode puts out tutorials and guides to simplify its platform.
I'm happy to help walk you through your results. Go here and we'll set up a time to chat.
SelfDecode Pro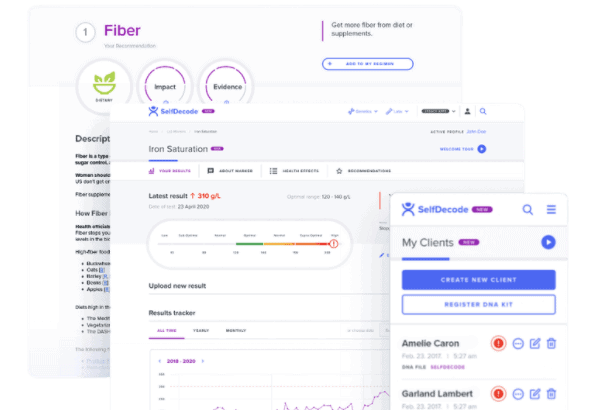 Are you a doctor, coach, or other healthcare professional that works with clients or patients?
If so, you can take advantage of a special component of the service called SelfDecode Pro.
Pro offers three core advantages to businesses:
Time savings by automating the reports and analysis
Results improve from scientifically accurate and unique recommendations
Revenue increases from providing a better client experience and affording time to have more sessions
Let your clients experience the ultimate holistic health software.
Pro also comes with a few features above the main platform.
SelfDecode Pro is an all-in-one platform for managing client data, lifestyle prescriptions, and more:
Analyze & track bloodwork
Generate custom health routines
Tailor individual recommendations
Add detailed notes
Want them to focus on just one section of a report? Or are they the data-driven type that loves huge lists to work on? You get to choose what to include in the reports.
Members of SD Pro can upload DNA files and labs for unlimited clients and with no additional fees.
Based on their individual data, you can easily design their ideal health routine, all from within the platform.
Should you opt for the "Pro Business" plan, you can white-label the custom reports with your own logo and business information. Adding professionalism and differentiating you from all the other wellness experts.
Let me know if you go this route, and I can help you get set up and acquainted with the platform quickly!
SelfDecode Verdict: Scientific Health Wisdom Worth the Cost?
In the health and wellness world, companies come and go in the blink of an eye.
SelfDecode is here to stay. Founder Joe Cohen has proven himself with his preceding company, SelfHacked. The SelfHacked suite of products continues to grow.
But here's the thing…
Your DNA report is only as good as the science behind it
Click To Tweet
Previously, I made the mistake of going with no-name DNA analytics services that produced subpar products. Our genetic understanding evolves rapidly.
Emerging research constantly highlights important new SNPs, and moderates others.
Without regular updating, old genetic reports become worse than useless…
Inaccurate.
My previous genetic reports sat in a Google Drive folder collecting dust.
For less than an annual doctor's physical and a panel of lab testing, you get cutting-edge personalized health wisdom.
Click To Tweet
The earlier you get in, the more awesome new features you get grandfathered into.
After much thought, I chose a lifetime membership. Sure, I've drawn inspiration from hundreds of SelfHacked articles over the years. I didn't just buy DNA reports or reward researchers for their neatly compiled research articles. I invested in personalized medicine. No company is forging the future of biohacking & wellness like the all-in-one SelfDecode platform.
Use discount code URBAN for 10% off:
What's your take on SelfDecode? A top biohacking app? Or over-rated genetic analysis tool?
If you've tried it, leave a comment below and let me know.
SelfDecode 2.0 Review [2022]: Hack Your DNA With 153+ Actionable Genetic Reports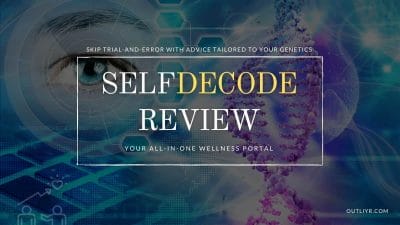 SelfDecode kills cookie-cutter health tips. This software gives you actionable reports to hack your genes. Here's my full review and a special discount code.
Application Category: Genetics, DNA, Health, Wellness
Pros
198+ DNA reports
Free tier
Genetics blog personalized to your results
World's largest database of 83M genetic variations
Full suite of wellness tools and resources
New reports, articles, and research added daily
Practical & actionable recommendations
Intuitive, easy to use UI
Fast support
Decody personal AI health coach
Personalized supplements
Blood lab optimizer
New Selfdecode mobile app
Powerful tools for health practitioners
Wellness report whitelabeling
Cons
UI frequently changes
Expensive lifetime membership
Long onboarding process
No client dashboard
Mobile app has bugs