A thin needle-like filament painlessly entered my tricep, and I secured it with an adhesive patch. Vital health and wellbeing data flowed to my iPhone around the clock. Each data sync showed how my blood glucose changed in accordance with my daily habits.
Within hours, I had discovered patterns and had begun adjusting my lifestyle accordingly. This technology is called Continuous Glucose Monitoring, and it's a hot frontier in personalized health.
Diabetics adopted the technology long before health-conscious biohackers. Most of the information and resources available were geared towards diabetics. As the field booms, so have the companies offering CGMs and ancillary services to high-achieving health optimizers.
Which brand should you choose?
In this full guide, I'll help you answer that question. I'll review, compare, and contrast the different CGMs on the market to help you buy the right one. Finally, at the end, I'll explain everything you need to know to successfully use a CGM as a high-performer.
The Best CGM Companies for Biohackers in 2021
Most Promising: Veri
Advanced Technology: January AI
How to Get a CGM as a Healthy Non-Diabetic
In the USA, buying a CGM requires a prescription. If you don't have a health condition recognized by insurance companies, you will need to use one of the services below.
Here's how the entire process works from start to finish:
Pick a company below
Sign up and pay
A doctor from their medical team prescribes you a CGM (regardless of your health)
They'll ship you one of the CGMs below
Download their app, and use it to track your lifestyle
When the CGM expires, you can re-order or just save your own data
Basically, all of the companies below actually prescribe you one of several models of continuous glucose monitors. Aside from the type of monitor, they differ on several other factors:
The app (which makes a huge difference)
Additional perks
Nutritionist, doctor, or dietitian support
Price
Several types of monitors exist.
Different Continuous Glucose Monitor Systems
Each device below has its own accompanying app. If you're a data geek, looking for a challenge, and live in a country where CGMs don't require a prescription, you can buy any of the below for much cheaper. Then you'll have to do all the overlays yourself.
The other selling point of the all-in-one services is the well-polished apps and user experience that make your data useful.
Freestyle Libre
The Freestyle Libre is the most common and inexpensive of all CGM devices. Most of the services below use the Freestyle Libre (version 1, not 2). It uses NFC technology to sync glucose data to your phone. This transmitter lasts 14-days. Unfortunately, this comes at the cost of data accuracy and granularity. You receive fresh glucose readings every fifteen minutes.
Abbott Libre Sense Glucose Sport
Abbott's Libre Sense strikes the ideal balance between affordability and power. It's a high-tech alternative to the Freestyle Libre. With greater accuracy, can be worn while swimming, and syncs data via BlueTooth rather than NFC. Like the original, these transmitters last 14-days. TheLibre Sense Glucose Sport generates live minute-by-minute glucose data. Currently only used by SuperSapiens, I expect to see this device become the new standard.
Dexcom G6
The gold standard of CGMs. Dexcom is highly accurate, generates high-resolution readings, and has a large memory to store glucose data. Like The Libre Sense Glucose Sport, the G6 transmits data via BlueTooth. And transmitters last for a whopping 90-days. Previously, it was a decision between the Freestyle Libre and Dexcom. Dexcom's G6 won hands-down. Unfortunately, it's prohibitively expensive (I was quoted $1,200 for 90-days).
Guardian 3
Made by a company called Medtronic, the Guardian 3 is another contender for the best CGM device. Their sensors, however, only last 7 days. It too transmits data via BlueTooth. The Guardian 3 requires twice daily manual calibration making it unsuitable for health optimization purposes.
The Best Continuous Glucose Monitoring Systems (No Insurance Required)
Note that much of this is from personal research and I haven't tested all of the following services. Some are only available in certain countries or to diabetics. I've chosen to leave them on the list anyway.
Best Overall: Nutrisense
Nutrisense is largely considered the leader in bringing CGM technology to health optimizers. They have three important advantages over the others:
A feature-rich app
Affordabile price
Complementary dietitian support
I signed up because they seemed like the best deal. The app is well-polished, constantly updated, and nicely thought out. In fact, Nutrisense also has the best app of all the CGMs. They're a Chicago-based startup growing quickly with a board of well-respected and credentialed advisors.
The reports I got back, paired with the dietitian (thanks Carlee) providing me advice made for an enjoyable, useful, and personal experience.
Pro Tip: the CGM app can make or break your trial. Nutrisense is one of the few that integrates directly with the FreeStyle Libre. With many of the others, you must download another app.
From my research, this is the top continuous glucose monitor for most people. Read my full Nutrisense review here, or get your own below. If you want more discounted offers visit this: 61 Unbeatable Biohacking Sales, Deals & Discounts
Use the exclusive coupon code URBAN for $25 off.
Most Popular: Levels Health
Levels Health is just behind Nutrisense in terms of popularity. They focused their marketing on influencers and increased exclusivity by putting all new users on a (beta) waitlist. Supposedly, that'll stop once they roll out the full product. Typical for Silicon Valley startups, they raised $12 million in late 2020. We can expect their real release soon.
Their board includes notable names from Google, Stanford, SpaceX, and esteemed researchers.
Levels does a few things very well. First, they overlay your glucose data with foods and activities. They score your lifestyle choices. You can also enter habits and important lifestyle factors. New blog posts and emails are jam-packed with useful information. A great subscription whether or not you go with them.
These features come at a higher cost.
This is the popular choice if Nutrisense doesn't work for you. Skip the 170,000 person waitlist by clicking the link below!
Fastest Growing: Veristable
Veristable, called Veri for short, is one of several options for European biohackers (USA release expected in late 2021). The team behind Veri has experience building other popular wearable technology. Veri was one of the first to make the data easily interpretable via their proprietary scoring system called "metabolic flow". Veri is one of the newer options to enter this market. But recently raising a $4M seed round of funding should help them lead as the most innovative CGM company for biohackers.
Indeed, their 2021 roadmap includes major new features, releasing an Android app, improving the UI, more useful articles on their budding blog, and most importantly, generating better data-driven recommendations. They've also built the only real community (1,500 strong and counting) of health hacking CGM users. Integration wise, they connect with Apple Health, and natively with FreeStyle Reader. Only needing one app (like with Nutrisense), makes for a more seamless experience.
In December 2021, I just finished testing Veri. Compared to Nutrisense, the only advantage I found was the super speedy customer support. Whenever I had an issue, a rep would answer me within 30 minutes. I also liked that the app seamlessly integrates my data with recommended content. Almost like a virtual health coach. It's still lacking some vital features (like manual sensor calibration and robust tagging). I already put in some feature requests, so I expect to see big improvements in the coming months.
This beta version comes at a little higher price, generally around 299 Euros for their two-week sensor. Get it here.
Advanced Technology: January AI
January AI aims to become more than a platform for blood sugar insights. "Seasons of Me", their core metabolic health program, learns the nuances of your body by combining data from your food logs, heart rate, CGM, and others for hyper-personalized recommendations. Their AI generates insights that no other CGM can. This level of granularity, however, does require additional tools. You must own (or purchase) a compatible heart rate monitor in order to begin Seasons of Me.
Once trained, their AI can accurately predict how different foods and activities will impact your blood glucose — up to 33 hours in the future. What sets January AI apart is the actionable advice. On a daily basis, you get tasks to complete. Then regular reports show your progress and motivate you to continue making optimal lifestyle choices.
A board of 16 advisors has taken this concept from idea to implementation. The Seasons of Me program lasts 30 days. Included in the program: two continuous glucose monitors, digital telehealth assessment, and membership to the January app.
If you join now, you can get in at the early bird price of $288 (regularly $488).
Best for Athletes: SuperSapiens
SuperSapiens is really the only CGM for serious athletes. Where the others focus on improving metabolic health, insulin sensitivity, and blood sugar control, SuperSapiens prioritized peak performance. Starting with their choice to use the advanced Abbott Libre Sense Sport Glucose Biosensor. Every minute, this sensor uses BlueTooth to transmit your glucose level to either your phone or Garmin smartwatch. Their ethos is to maximize performance and expedite recovery by strategically controlling glucose levels.
Pre-event carb-loading is a guessing game. Resulting inhypoglycemia-induced "bonking" or startling-line bloat. This will be your tool to optimize fueling for serious competitions. The key to sustaining high-intensity work for long periods of time comes down to staying within your "Glucose Performance Zone". To make things easy, an arrow indicates whether your need more or less glucose.
SuperSapiens puts out useful content for any athletes looking to use their CGM to maximize training. Blog posts feature both case studies of professional athletes and Olympians, as well as educational material. My personal favorite, however, is the SuperSapiens Glucose Training Guide. Enter your email, and you'll receive a comprehensive guide on how to use continuous glucose monitoring to train smarter.
Packages range from a 2-week baseline costing just 75 Euros, all the way up to an 18-week plan for 700 Euros.
Though not currently available in the USA, SuperSapiens is the best CGM for athletes to gain a nutrition edge.
Update: I've contacted SuperSapiens Support multiple times to learn more and update this article. They've mostly been unresponsive.
Weight Loss Focus: Signos
Signos is a service that provides CGMs with a focus on helping improving weight loss. With the CGM, you learn how your body responds to different foods. They too have focused on partnering with influencers like fitness YouTuber Thomas Delauer. Technology-wise, the Signos experience appears similar to Levels and Nutrisense, but with a less polished app. Their blog and YouTube channel focus on exercises and recipes. If you want to give them a shot, you must sign up to request access.
I reached out to their team for more information about what they are working on, how this service differs from the others, and more insight into their future plans. I will update this post as I learn more. Since this is a company of just 14 employees (according to LinkedIn), and I had a hard time finding virtually any information about their offerings, I'd hold out unless you get a good deal.
Prescription-Only Continuous Glucose Monitoring Systems
I came across these companies, but unless you have a doctor's prescription, you won't be able to use them.
Eversense
Eversense makes the only FDA-approved long-term continuous glucose monitor (90-days). Unfortunately, it's only available to those with diabetes. Their CGM sensor can be submerged in one meter of water for up to 30 minutes. The device itself is advanced, features an Apple Watch app, and is actually removable. Eversense can also vibrate to inform you of hyper or hypoglycemia.
SugarBeat
SugarBeat came up in my initial research but seems to have quietly disappeared. The original link I had to was taken down and few traces exist on the Nemaura Medical website.
SteadyMD
SteadyMD is another service only available to diabetics. You're able to sign-up for the waiting list, but of date, they have no official timeline of when their service will become available to the general public (without prescription).
Using a CGM as a Non-Diabetic
Before you decide which service to test out, come up with a list of your requirements and goals for the experiment.
When to Use Your CGM
Continuous glucose monitors are not like other popular wearables that continue feeding you data every day. Depending on the type, the sensor expires after a certain amount of time. They're not cheap, so I suggest that you decide how to best use your time.
The first question is: how long will you need?
The standard options are two weeks and four weeks. In my experience:
2 weeks — for the metabolically flexible (can easily fast) that just want additional data and to spot some basic patterns. Requires more diligence and planning before starting to make the most of your CGM.
4 weeks — for those looking for a metabolic reset, to establish healthy habits, and to take a deeper look into the relation between diet, lifestyle, and health outcomes. Better for thorough testing and to make an appreciable impact on overall health.
Beyond 4 weeks — for folks interested that enjoy added accountability, performance gains, and long-term support to their health goals. Or those that have lifestyles that fluctuate significantly.
After choosing your company and timeline, you'll get your CGM in the mail. Before applying it, here are a few timing factors to consider:
Are you stressed? When under abnormally heavy stress (work, traveling, relationships, etc), your blood glucose response will behave erratically.
Is this period a good representation of your usual routine? To get the most out of your CGM, plan on activating it while in your usual routine.
Can anything come up that will cut your experiment short? These devices are not reusable. Plan your experiment when nothing may force you to remove it.
Though brands are simplifying the process, actually using a CGM isn't yet plug-and-play.
How to Use a CGM (Tips & Notes)
You applied it, and the first glucose readings came in. My first time, I thought:
… now what?
Here are a few notes that helped me get started.
Every device has a different calibration period. For the common FreeStyle Libre sensor, data can come in artificially high or low for the first 24-hours. Don't panic, this is normal.
CGMs only hold so much data in memory. For the ones using NFC technology, you'll have to tap it against your phone at regular intervals (generally every eight hours) to sync data. Should you forget, new data will overwrite some of the old, and you'll see gaps in the app. I suggest syncing first thing in the morning, and just before bed.
Actively use the app. Where these services shine is helping you identify and quantify trends. Currently, this takes some manual effort. Logging snacks, timestamping routines (like cold showers), etc. New features constantly automate the process and make it more seamless. But plan to spend at least 10-15 minutes per day using the app to make your data useful and actionable.
CGMs measure interstitial fluid. You'll likely see a 10-20 minute lag time (but up to 40 minutes max) behind typical finger-prick blood glucose readings. Glucose moves from your blood vessels and capillaries first and then into your interstitial fluid (IF), so there's a delay in interstitial fluid values (especially after eating).
Once you've gotten a handle for how it works, you'll want to know which of the numbers to pay closer attention to.
What Times to Check Glucose
If you do nothing else, there are three specific times throughout the day that you want to pay special attention to your blood sugar changes.
First, is after fasting (at least eight hours without food). Generally, you'll get this number first thing in the morning. An ideal score is between 70-90 mg/dL, but many other factors can skew it. Fasting glucose, however, is one of the most important blood tests to determine overall health status. The largest influences include sleep, stress, and your final last meal of the previous day. Focus primarily on how fasting glucose trends.
Yet the most important measurements come after eating ("post-prandial glucose"). Logging exactly what you ate makes spotting trends much easier.
Lastly, blood sugar fluctuations during sleep can highlight metabolic or hormonal issues. If you wake up around 2-4 AM (like I did), you might notice correlations between glucose and sleep disturbances. Then you can try tweaking your dinner or pre-bed snack.
Now, you can begin designing CGM experiments (more painless than it sounds).
How to Design a CGM Experiment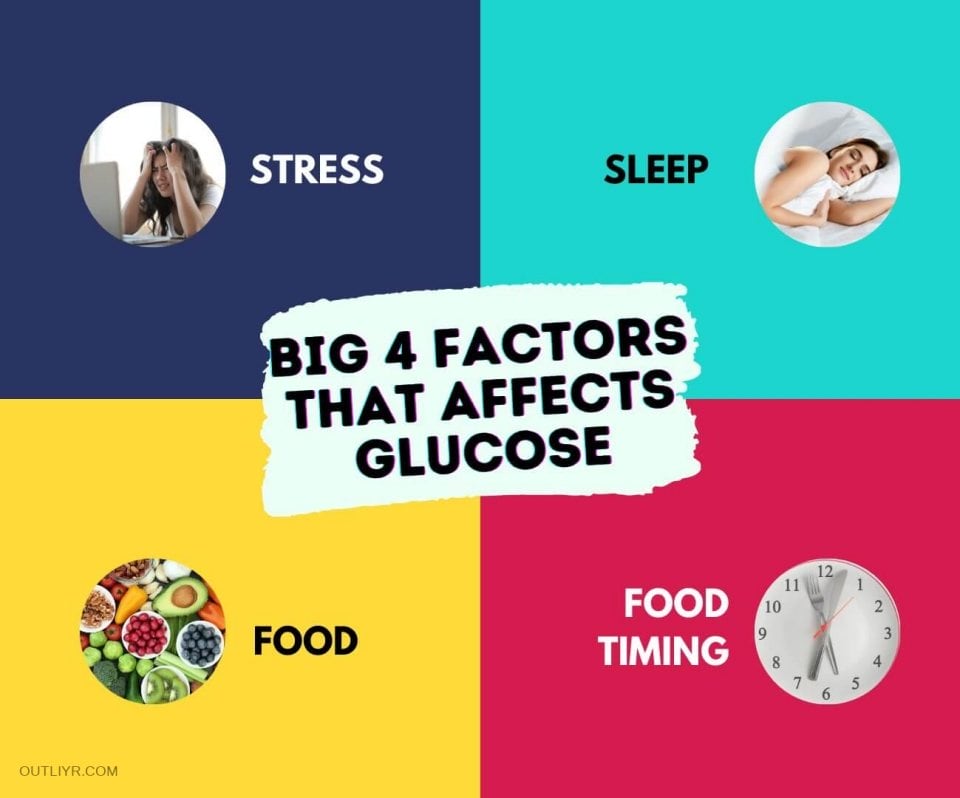 Before testing the blood sugar impacts of fancy modalities and therapies, start by establishing your baseline. Notice any patterns throughout your first day or so.
According to Nutrisense, the big four factors that influence glucose include: stress, sleep, food, and meal timing. Follow the scientific method by controlling these and as many of the basic variables as possible:
Timing: when you eat certain foods, exercise, sleep, or where you are in your menstrual cycle
Quantity: shoot for the same proportions
Sleep: sleep dramatically impacts blood sugar. Be as consistent as possible
Meal composition: types of foods, and percentages of each macro (fat, protein, carbs)
Supplementation & medication: certain compounds can drastically alter blood sugar
Exercise: particular exercise styles can either increase or decrease levels
Stress management: I found stress levels to be the biggest factor in my experiments
Basically try to make the trials as similar as possible so that the intervention becomes the primary explanation for differences in blood glucose.
Some services actually rate and score your days. Others don't. Regardless, here's a quick primer on healthy glucose scores.
Understanding Glucose Readings
Decoding your blood sugar trends is an art and science. Thanks to Carlee at Nutrisense for some of these insights!
To start, one of the primary goals of using a CGM is increase your sensitivity to insulin. Your "Area Under the Curve" (AUC) is a proxy for how much insulin your body must produce to bring blood sugar back to homeostasis. The lower the better.
There are several factors to a stellar AUC, and I will address each:
Peak height
Glucose swings
Time to baseline
First and most obvious, you can easily spot and note how high your blood glucose spikes. Arterial damage and issues arise when peaks exceed >140 mg/dL. Minimize the height of glucose peaks.
Related to peak height, we want to maintain steady glucose control. Massive glucose fluctuations. Glucose should naturally increase (slightly) post-meal, and quickly come down. Huge spikes and drastic drops can indicate metabolic problems. Reputable services track this via what's called your "delta value" or glycemic variability. Aim for a delta value of <50 max. For glycemic variability score, <20 is good, and <14 is ideal.
When highly insulin sensitive, glucose should rapidly lower after spiking. Ideally within 2-3 hours post-meal.
When tracking and testing adjustments, watch how interventions impact the above three (and thus your metabolic health).
Lifestyle Factors & Biohacks to Test With Your CGM
The sky's the limit in terms of what experiments you can run. You can test virtually any component to see if it impacts blood glucose. Of course, blood sugar stability is just one of many pillars of optimal health.
I've tested a bunch, and these are a few of my favorite CGM experiments & ideas.
Glucose disposal agent (GDA) supplements:
Berberine & dihydroberberine
Liposomal supplements vs. traditional
Rock lotus
Bitter melon
Chromium
Glycine
Healthy lifestyle practices:
Sauna
Cold shower
Extended fasting protocols
Cardio vs strength training vs HIIT vs Yoga
Meditation
Others:
Combining macros (starches + fats)
Synergies from combining lifestyle practices and supplements
For the ladies, the impact of different phases of your cycle
Travel
How to Choose the Best CGM for Your Lifestyle
Continuous glucose monitoring has become a hot topic amongst biohackers, athletes, health optimizers, and increasingly those looking to lose weight.
The first step to performing at your peak is to understand how your body uniquely responds to different lifestyle inputs. As the old adage goes…
"One person's medicine is another's poison"

— Unknown
CGMs bring data and self-quantification to figure out what actually works for us specifically. The companies listed above use similar technologies and the best option depends on you and your goals.
Some of the best over-the-counter CGMs for non-diabetics include:
Once you choose a device, your personal experiment begins. Wait until you can dedicate some time to unlocking the full potential of your device. Strap it on, use the above guide to make the most of it, and start optimizing your lifestyle.
I hope that you've found this useful. Have you tried any of the above (or other) devices? Let's make this a discussion. Let me know your experience in the comments below.