Every quarter I do the unthinkable. Right now, I'm on day thirteen.
Day thirteen of a 12-14 day coffee, caffeine, and full stimulant reset. I went from two cups of coffee (with occasional nootropics), down to zero stimulants of any kind. After 4-5 days, I feel my nervous system noticeably reset.
But it's never easy…
I miss the morning ritual of roasting, grinding, brewing, and sipping on a piping cup 'o joe. So I researched and tested healthy coffee alternatives for maximum energy, brainpower, and exercise performance.
Why You Should Take a Break From Coffee
Nothing beats coffee.
I eagerly anticipate my routine, which consists of sitting in the sun, enjoying a mug or two, and perusing the latest health and performance research.
Nonetheless, I regularly (temporarily) cut it out.
I break the world's most common addiction. Incredible things happen to the body without coffee:
Stable all-day energy with no crash
Healthy hormone levels
Normalized hunger
Stress relief, less anxiety, less worry
Complete digestion and absorption of nutrients
Better sleep
Deeper hydration
Less acid reflux, and ulcers
Stronger bones, teeth, and muscle
Able to function in the morning without any stimulants
And 22+ other benefits from quitting caffeine.
Remember the energy, euphoria, and focus of your first cups of coffee?
Best of all, a brief tolerance reset restores that feeling.
Whether you drink coffee for the taste, ritual, or feeling, with the right substitutes you won't notice a difference.
If you suffer from GERD, IBS, gastritis, gluten intolerance, or just have a sensitive stomach, you'll want to consider a healthy coffee alternative.
Choosing the Best Coffee Replacement
Your ideal new drink depends on your goal.
Popular focuses of coffee alternatives include:
Energy: try something with other mild stimulants
Taste: mushroom coffee, dandelion tea, and chickory root taste the most similar
Ritual: any will work, but I prefer "Morning Boost" listed below
As I continue through my stimulant reset, I've come across the following healthy morning coffee-like beverages.
Other Caffeinated Drinks for Energy
Caffeine boosts alertness, physical and mental performance, and mood.
If you're switching away from coffee due to taste, acidity, or intolerance, these can be your ideal substitutes.
Genius Coffee
My original Genius Coffee uses half-caffeinated coffee along with beneficial boosters.
But you can substitute to full or decaf.
The real stars of the show are the boosters which add a rich, creaminess, and complexity above your standard gourmet black coffee.
Read the Genius Coffee recipe here, or add any of the following boosters to your decaf:
C8 MCT oil
L-theanine
Lion's mane
Cordyceps
Grassfed butter
Collagen
Together, they instantly upgrade coffee into a nutritional powerhouse. Best of all, you can tweak the recipe as desired.
Matcha
Matcha is a finely ground powder of specially grown and processed green tea leaves originating from Japan. The powder is whisked into hot water to create a frothy, bright green beverage. It's the traditional way to drink matcha, which has been around for over 1000 years.
Matcha is high in antioxidants called polyphenols (catechins and EGCG). It contains some caffeine–about four times less than a cup of coffee–so it works as an appetite suppressant and gives a slight energy boost. It contains L-theanine, which boosts alpha waves in the brain and promotes alert relaxation without making you feel jittery. L-theanine works together with caffeine to boost focus and concentration while reducing nervousness and anxiety.
It is made from the leaves of the Camellia sinensis plant, just like every other type of green tea, only the leaves are dried and de-veined before they're stone-ground into very fine powder. People who are sensitive to caffeine or tannins may find that matcha provides them with fewer symptoms than drinking other teas.
Matcha has a creamy flavor, which resembles a latte, and a light smell.
Real Mushrooms Chaga Tea
Chaga tea is a delicious and powerful medicinal tonic. It's sometimes called the mushroom of immortality.
Chaga is a fungus that grows on birch trees and has been used in Russia and Eastern Europe for centuries.
The tea has profound immune system benefits. Study after study show strong anti-carcinogenic properties and a rich array of vitamins, minerals, antioxidants, and phytonutrients. The betulinic acid inside Chaga even improves weight loss.
Chaga tea is produced by soaking pieces of the Chaga mushroom in water and then boiling it to make a slightly bitter brown liquid which can be consumed black or with C8 MCT and sweeteners (I recommend stevia or monk fruit extract). It is high in antioxidants, vitamins A, B1, B2, C, E, K, iron, and zinc. It also contains amino acids and fatty acids.
Real Mushrooms sells Chaga powder extract. The brewing process is similar to instant coffee:
Use a 5:1 water to Chaga ratio
Fill a mug with 5oz of hot water
Mix in 2 tbsp of powder
Chaga tea has a very earthy and appealing taste. The smell itself is very mild. Kind of like soil – maybe a bit nutty? Overall it is pleasant and earthy, and not off-putting.
RYZE Mushroom Coffee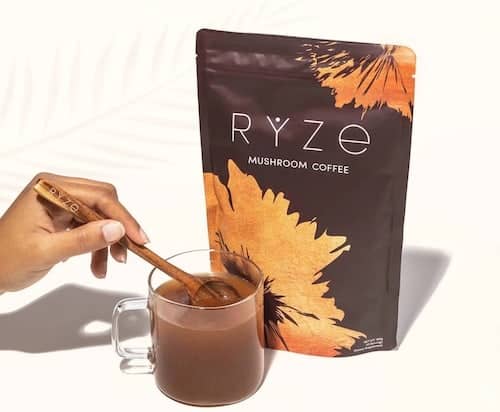 RYZME is another gluten-free, sugar-free, vegan mushroom coffee product. It's made with a blend of organic mushrooms shown to boost immunity, increase focus, boost energy, and help you tackle the day with less stress.
All with half the caffeine of typical coffees.
RYZE Tea uses the widest variety of mushrooms along with other cognitive enhancers:
Cordyceps
Lion's Mane
Reishi
Shiitake
Turkey Tail
King Trumpet
MCT Oil
Coffee
Gratitude 🙂
Like the others on this list, it has a light, mellow earthy taste. Perhaps better described as "woodsy". If you don't like the subtle mushroom taste, you can definitely add sweetener or other flavorings.
The aroma is distinct, and I consider it an "acquired smell".
RYZE has been featured in:
Business Insider
Forbes
Entrepreneur
Yahoo News
Overall, I like the simple but thorough assortment of mushrooms. Each with its own unique properties and benefits. Unfortunately, RYZE grows its mushrooms on the sub-optimal mycelium grain. High-quality mushroom products use the fruiting body instead.
Yerba Mate
Yerba Mate is among the most widely consumed beverages in South America, after tea and coffee. It is a dark green, caffeinated herb that grows naturally in the subtropical rain forests of South America.
It is widely drunk in Argentina, Paraguay, Uruguay, Southern Brazil, and Southern Chile, where Yerba Mate part of the cultural heritage.
You'll notice that in these countries, Mate culture is even stronger than coffee. Strangers regularly share a gourdful together.
Yerba Mate produces a unique flavor and contains healthy antioxidants and anti-inflammatory properties, as well as multiple stimulants.
Tea made from it is called "maté" and has a flavor somewhere between coffee and tea, with moderate caffeine content.
Note that maté contains several other stimulants.
MUD\WTR
MUD\WTR (pronounced "mud water") is a newer coffee alternative, featuring a fusion of masala chai, cacao and adaptogenic mushrooms.
The full organic ingredients list includes:
Cacao
Masala chai
Turmeric
Himalayan salt
Cinnamon
Chaga
Cordyceps
Reishi
Lion's mane
With just 1/7th of the caffeine as a cup of coffee, you'll get a micro-dose of focus, energy, and immunity. All without the jitters, crash nor dependency.
Taste-wise, it's what you'd expect from an infused tea. Compared to coffee, it's earthy, less bitter, spicier, with a hint of chocolate and ginger. You can drink it straight, or mix in your preferred drink add-ons.
Though an impressive ingredients list, the mushrooms suffer the same quality issue as most of the other mushroom drinks. Mycelium grain is mostly starch. Clinical research uses the fruiting body.
Four Sigmatic Mushroom Coffee
Four Sigmatic makes the original mushroom coffee. They sell it in several forms:
The instant mushroom coffee packs are very convenient to take on trips or use when you are on the go. They are also great for camping, office breaks, or even at home if you run out of regular coffee.
I personally only use their instant packs while traveling and make my own Genius Coffee while home.
Depending on your goals, you can get your mushroom coffee fortified with all kinds of ingredients.
Some of Four Sigmatic coffee additions include:
Mushrooms (lion's mane, chaga, reishi, cordyceps)
Adaptogens
Vitamin
Decaf
Probiotics
This coffee contains no sugar or artificial flavors. Just organic mushrooms and organic coffee beans. Mushroom quality matters. I would like to see Four Sigmatic use the better form of mushrooms called "fruiting bodies" rather than "mycelium".
To be honest, serious coffee addicts won't fully replace the habit with any mushroom coffee. But Four Sigmatic comes close.
Teeccino
No list of healthy coffee substitutes is complete without mentioning Teeccino.
Simply put, this is the closest thing you'll find to Starbucks flavored coffees. If you miss falls specials like Pumpkin Spice Lattes, Teeccino is for you.
Richness comes from their teabags packed with three times more ingredients than the industry standard. Ingredients in these include roasted herbs, roots, nuts, fruits, seeds, and prebiotics. Each tea bag is caffeine-free, acid-free, and high in potassium, fiber, and calcium.
Their massive catalog boasts 30 different products.
I haven't tried this one, but I've heard it compared to a mix between tea, coffee, and dessert.
Adaptogenic Coffee Alternatives
Adaptogens are a special class of natural herbs and botanicals that bring the body back into balance and help it operate on all cylinders.
Rasa Adaptogenic Drinks
Rasa adaptogenic tea has been carefully crafted to provide the greatest benefit from rare herbs and mushrooms.
Their original blend is tea.Rasa has since expanded to offer adaptogenic coffee, an energy tonic, several types of cacao brews, a calming tonic, immune tonic, and joy tonic.
Each tablespoon of their original tea contains 3500 milligrams of adaptogens and zero caffeine. Their ingredients include:
Roasted chicory
Burdock & dandelion roots
Eleuthero
Shatavari
He shou wu
Codonopsis
Chaga mycelium
Ashwagandha
Rhodiola
Ceylon cinnamon
Reishi extract
Rasa's formulas include some unique herbs and adaptogens that you won't find elsewhere.
If you're looking for coffee, you'll want the "Dirty" product. This coffee has 1/5 the caffeine of a regular cup of coffee and the adaptogens make it much gentler on your nervous system.
The taste is best described as smooth, light, and slightly sweet. The smell closely resembles real coffee.
A truly unique & nourishing experience that comes in 7 different flavors and formulations.
Ayurvedic Roast
Another great coffee replacement fortified with ancient Ayurvedic adaptogens.
Single-origin, hand-roasted Ayurvedic Roast is a unique combination of three herbs traditionally used in Ayurveda: Ashwagandha, Shatavari, and Brahmi. The process of roasting these herbs gives them a flavor and aroma that will delight you.
Don't let their 90's-esque website fool you, though Ayurvedic Roast isn't as well known as some of the others in this list, it makes up in terms of flavor, aroma, and texture of the "coffee".
It's a more complex taste than many of the alternatives.
What makes it unique, however, is the inclusion of the forgotten Ayurvedic herbs Brahmi and Shatavari. Combined with Ashwagandha, the trifecta supports mental clarity and performance.
Caffeine-Free Substitutes That Taste Like Coffee
Today, herbal teas and now mushrooms elixirs are the de facto coffee alternative.
Yet steeping other foods in hot water can create a taste similar but without any caffeine.
You'll find some of them quite surprising.
Capomo Herbal Coffee Substitute
This one looks, tastes, and smells similar, yet has totally different ingredients.
Capomo gets its rich flavor from a mix of Maya Nut, Bread Nut, Ramon Nut, and other unique natural ingredients. They offer tons of varieties to accommodate any preferences.
The brew itself is naturally alkaline; 100% gluten, fat, soy, dairy, allergen, and caffeine-free; and loaded with nutrients (amino acids, potassium, fiber, calcium, tryptophan, iron, zinc, and vitamins A, B, C, E).
Each part of the Capomo (Maya Nut) benefits humans, animals, and the environment. Reading through online reviews shows general approval. Even by the most elite of coffee connoisseurs.
If you can't drink coffee due to the acidity, try Capomo.
Coffig Fig Coffee
Coffig is the brainchild of a couple named William and Rosmarie, who sought to create a more natural energy-generating morning drink.
They settled on a unique brew of figs.
The drink contain no caffeine, artificial ingredients, or preservatives. Coffig has a very similar color and consistency as ground coffee. The taste is sweet and mild with a nutty undertone.
If you drink your coffee black, I would recommend adding a little bit of milk or cream to give it a smoother texture.
Coffig sells two types:
Original (Fig)
Gold (Fig + Chickpea)
No, it's not going to replace your morning cup of joe but if you're looking for an alternative or just something different from time to time, give this one a try.
Bueno Coffee Substitute
So far this list has shown that we can brew all kinds of foods into tasty beverages.
While it looks like your typical coffee canister, Bueno Coffee Substitute contains something different.
100% garbanzo beans (also known as chickpeas). That's right, each pack contains roasted and ground chickpeas and is naturally caffeine-free.
If you drink expressos, americanos, or strong black coffee, you'll enjoy this unsweetened option. Does it taste like a high-quality, organic, fairtrade premium roast?
No. I've heard it compared to coffee served on airplanes. But still impressive for a drink made from garbanzo beans!
Inka Coffee
Developed in the late 1960s to combat coffee shortages, to this day Inka remains popular in Poland. And the packaging looks like it hasn't been updated since then.
I'm generally not a fan of grain-based products. For health purposes, I'm not convinced that a grain drink beats normal coffee.
This beverage is made from a roasted mixture of rye, barley, chicory, and sugar beet. It's naturally caffeine-free and without artificial ingredients or other additives.
It has a mild taste similar to coffee made from brewing grounds or instant coffee. Many prefer this to the other popular alternatives like Teeccino and Dandy Blend.
DIY Drinks Like Coffee
If you're willing to put in a little elbow grease, and for maximum health benefits, try these drinks.
Here you'll find some of the most popular and commonly recommended natural coffee alternatives.
Cacao Tea
Cacao tea is prepared by steeping cocoa nibs in water, much like tea.
The first time you taste cacao tea you might feel a bit cheated. It doesn't taste like coffee. It doesn't taste like hot chocolate. But it doesn't taste like tea, either. The resulting liquid has a mild chocolate flavor with a bitter aftertaste. Though the more you drink it, the less you will miss coffee and tea.
Cacao is rich in antioxidants and has been shown to reduce blood pressure and slow heart rate. It contains theobromine, which is a mild stimulant and best recognized for its mood-lifting effects. The caffeine content of cacao tea is less than half that of coffee, and its theobromine content is one-quarter that of coffee. People who switch from coffee to cacao tea report no significant drop in alertness or energy level.
Cacao tea tastes like chocolate: rich and slightly bitter with a hint of fruitiness. It can be served hot or cold; milk and sweetener are optional.
This is one of my staples whenever I reset my caffeine tolerance.
Chickory Root
The root of the chickory plant, along with its relative, the groundnut, has been used as a coffee substitute for centuries. It can be roasted and ground like coffee; or, as in this case, steeped as a tea.
While it does not have exactly the same flavor as coffee, it's a reasonable substitute for those who want an occasional caffeine-free cup of something hot. If you like black coffee, you'll like chickory root tea.
Chickory root tea has been used as a coffee substitute in some places where coffee was hard to obtain or expensive to import. A newspaper column from Appalachian Virginia in the 1940s mentions that many mountain families drank chickory root tea during World War II, when imported coffee was scarce and rationed.
Dandelion Tea
Before coffee, people drank dandelion tea.
Dandelion is a perennial plant that has been used as a medicinal herb for centuries. It is most popularly known for its diuretic properties, which make it a great detox drink.
Dandelion root is the part of the dandelion that we eat, and it can be eaten in many ways: roasted, boiled, baked, sautéed, as a soup or warm beverage. It is caffeinated, it is bitter, and it is cheap.
Dandelion can be dried and ground into a powder, which can be added to hot water to make an herbal tea. It has a delicate nutty taste.
You can buy dried and roasted dandelion root (usually in tea bags) at most health food stores.
Starwest Botanicals sells some of the highest quality herbs on the market.
Golden Milk Latte
No longer relegated to health-conscious Instagrammers, Golden Milk has a long history dating back centuries.
Golden Milk is an ancient Ayurvedic remedy made with:
Ginger
Turmeric
Cinnamon
Coconut milk
It's good for digestion, calming the mind, and releasing energy. It is spicy and warming, like coffee, but without the jitters or acidity.
If you have the ingredients, you can make it yourself.
The taste and smell do not resemble coffee in the slightest. The spice (turmeric) dominates the aroma and flavor.
Golden Milk Lattes are perfect for the cold weather, and, since it doesn't contain caffeine, drink it anytime.
Morning Boost
If you squint, plug your nose, and do a little imagining, most of the others on this list can almost pass for coffee.
This one is different. My morning boost recipe is a hyper-hydrating, refreshing, and brain and body-boosting cocktail. Okay, mocktail.
It sends your body a powerful signal that the water famine from sleeping has ended. Restoring your strength, resuming weight loss, and helping your body efficiently conduct electrical impulses.
The basic Morning Boost recipe is:
1/2 Lime (or lemon)
20 Drops Trace Minerals
1 TBSP Apple Cider Vinegar
500mg Magnesium Malate
A shake of potassium salt
Though the taste has grown on me, you can adjust as you like. Add sweetener, add flavoring, change proportions.
This drink sets you up for a productive day.
Biohacker's Coffee Alternatives for Optimal Health
Few drinks compare to a piping hot cup of freshly roasted and ground coffee.
For me, it's also ritual. I look forward to this dedicated chunk of my morning where I read, enjoy some fresh natural sunlight, and sip on something delicious.
In my morning drink, I'm looking for taste, energy, and overall health support.
I've tested dozens of different products on the market.
My favorites are:
Cacao Tea
Chaga Mushroom Tea
Matcha
Genius Coffee
Morning Boost
New options constantly emerge.
For the non-coffee drinkers, or those undergoing a caffeine tolerance reset, what are you favorite coffee alternatives?