Know that feeling of dropping into the zone?
Accomplishing all of the day's work before noon. Beating personal fitness records.
A special group of molecules can help get you there.
Ketones, as they're called are like rocket fuel for the brain and body.
Your body can learn to naturally produce these special molecules.
Sometimes, however, so-called "health" foods sabotage your ketone levels.
Certain blood or breath ketone meters quantify your status. Use them to uncover lifestyle and food choices that kick you out of ketosis. There are many cheap, worthless products on the market that give you false data. In this product roundup review, I'll help you choose the best and most accurate ketone meter for your situation.
The Most Accurate & Affordable Ketone Testers of 2021
Ketones Explained
Ketones are a special clean-burning energy source produced by the liver only when sugar and carbohydrates are unavailable. When it senses an energy deficit, it begins transforming body fat and dietary fat into ketones.
If you've exercised hard today or haven't eaten in a while, you might have trace amounts of ketones in your blood right now!
Cutting-edge performers use exogenous ketone supplements to fast track ketosis without days of feeling like they're starving.
Other benefits of ketones include:
Speeding up weight loss
Enhancing energy
Reducing hunger
Recharging the body's natural antioxidants
Anti-aging effects
Supplying up to 60 percent of the brain's energy
Conferring the anti-aging benefits of caloric restriction
Boosting the brain's ultimate neuroprotective protein (BDNF)
Increasing exercise output while decreasing oxygen consumption
Shutting down pro-inflammatory cytokines (via SIRT3)
But not all ketones are equal.
Types of Ketones
There are three types of ketones:
Acetoacetate (AcAc)
Beta-hydroxybutyric acid (BHB)
Acetone
The process begins with the liver breaking down fat into Acetoacetate. Next, it forms into the invaluable compound called beta-hydroxybutyric acid.
One of the primary goals of extended fasts and becoming fat-adapted is to elevate BHB levels. BHB is the good stuff.
Acetone is a poorly used byproduct of BHB and AcAc. It's the ketone used to satisfy any immediate energy needs. When it breaks down, it causes the notorious "keto breath".
The benefits traditionally associated with high ketone levels come mainly from BHB. All high-quality products increase it.
Many meters, however, cannot detect BHB (the most important ketone).
Types of Ketone Meters
You don't need to measure ketone levels. Some people are fine with their subjective feeling. I like meters because they help identify hidden lifestyle factors derailing your progress without you noticing.
Testing your ketone levels can make the difference between struggling with hunger and body weight on keto, and fat-adapting quickly.
Today, there are three common types of ketone meters:
Blood Ketone: to measure BHB in the blood.
Breath Ketone: to measure acetone in the breath.
Urine Strips (Ketostix): to measure acetoacetate in the urine.
Each has its own pros and cons. The above types are listed in order of accuracy.
The Top Blood Ketone Meters in 2021
Below is a summary of how blood ketone testing products work, and the top gear, meters, and kits.
Blood Ketone Testing Overview
How To: Use the provided lancet to draw a tiny bit of blood. Smear onto test strips and insert into the reader.
Measures: Measures BHB in the blood.
Pros: Highly accurate, lower upfront cost than breath meters.
Cons: Expensive: tests generally cost $0.75 to $1.25 each. Finger pricks sting a little and draw blood (comparable to a splinter).
Best For: Accuracy.
Keto-Mojo GK+ Dual Monitoring Kit
Overview
Measures: BHB ketones, blood glucose
Memory: 1,000 readings
Bluetooth: Yes
Auto-Coding: Yes
FDA-Approved: Yes
Features: Glucose Ketone Index (GKI), lifetime warranty, reminder alarms
Contents: Blood glucose & ketone meter, 70 ketone strips, 70 glucose strips, lancet device, 20 lancets, protective case, Keto Kickstart Guide.
Average Cost (at 300 tests): $0.89 each
Keto-Mojo is one of the original and most popular blood ketone testers. Big names in ketone research (like Dr Dominic D' Agostino) endorse the brand. Keto-Mojo has singlehandedly worked to drive down the price of test strips throughout the industry. This easy-to-find meter is no exception. Powerful, packed with features, and reasonably priced.

Ketones are one important part of your metabolic health. Together with blood glucose, the app automatically calculates a vital score called your Glucose Ketone Index (GKI). When I need to measure ketones, Keto-Mojo is my go-to device.
Click the above button for 15% off all kits.
KetoSens
Overview
Measures: BHB ketones
Memory: 1,000 readings
Bluetooth: No
Auto-Coding: Yes
FDA-Approved: Yes
Features: Large easy-to-read screen, fast readings
Contents: Ketone meter, 10 ketone strips, lancet device, 10 lancets, protective case
Average Cost (at 300 tests): $0.93 each
Finally released in 2019, KetoSens is the newest blood meter on the list. Since then, they've quickly risen the ranks as a popular low-case option that doesn't sacrifice quality. This ketone tester requires less blood and generates your results faster than the other meters.

Three easily accessible buttons make navigating KetoSens quick. Although they have an app, unfortunately, since the current model lacks Bluetooth, you must manually input your data.
Precision Xtra Blood Glucose & Ketone Monitoring Meter Kit
Overview
Measures: BHB ketones, blood glucose
Memory: 450 readings
Bluetooth: No
Auto-Coding: No
FDA-Approved: Yes
Features: 7, 14, 30 day analysis. 90-day-money-back-guarantee
Contents: Ketone meter, 10 ketone strips, lancet device, lancets, alcohol wipes, protective case
Average Cost (at 300 tests): $1.31 each
If the look didn't entice you, it's because the global nutritional giant called Abbott has produced this same Precision Xtra meter since 2014. Listen to old interviews with ketone experts, and this specific measuring device comes up often. Years ago, this device was state-of-the-art. Now, I'd choose the Precision Xtra if I found a great deal on the strips.
The Top Breath Ketone Analyzers
Below is a summary of how breath ketone testing products work, and the top meters.
Breath Ketone Testing Overview
How To: Exact instructions vary by device. Generally, take a large inhale and maintain a constant forceful exhale until the device beeps. Similar to an alcohol breathalyzer.
Measures: Acetone in the breath.
Pros: Affordable, no recurring costs. Convenient, test ketones anytime and anywhere.
Cons: Reliability. Food, drink, and lifestyle can skew the results of most breath meters. Acetone is less important than BHB (which isn't present in breath).
Best For: Long-term or frequent testing when exact levels are not required.
BIOSENSE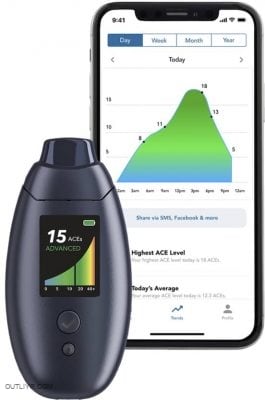 Overview
Measures: Acetone ketones
Memory: 100 readings
Bluetooth: Yes
Auto-Coding: N/A
FDA-Approved: Yes
Features: Deep Lung Sampling, Daily Ketone Score, unlimited testing
Contents: Ketone meter, charging cords, 2 replacement mouthpieces, protective neoprene sleeve
Average Cost (at 300 tests): $0.79 each
Accurately measuring ketone levels through breath hadn't been possible until BIOSENSE. Even today, this is the only clinically-backed breath ketone meter available. BIOSENSE uses patent-pending technology to most accurately monitor acetone levels. It doesn't require finger-pricks or urine strips, giving you unlimited testing ability. Assuming you test between 3-5 times per day, you can expect a 5-day battery life.

The Bluetooth-enabled app automatically logs your ketone data and generates a personalized summary called your Daily Ketone Score. Like an accountability buddy, BIOSENSE gamifies and encouraging you to score high by going deeper and staying in ketosis longer. If you can afford a larger initial investment, BIOSENSE is unparalleled.
Use the exclusive coupon code URBAN20 for 20% off!
Ketonix
Overview
Measures: Acetone ketones
Memory: N/A
Bluetooth: Yes
Auto-Coding: No
FDA-Approved: Yes
Features: User Profile Management, portable, upgrade any time
Contents: Ketonix meter, USB Cable, an extra mouthpiece, a manual, and a protective case
Average Cost (at 300 tests): $0.33 each
Ketonix offers both a Basic and Pro version of the same breath ketone meter. While the hardware is the same, the Professional app has the additional features you'd expect out of a modern device.

Both editions come with or without a battery. Since this is the most portable meter of all, I suggest spending the extra $20 for the battery edition. Measuring just 130mm long with a diameter of 25mm, Ketonix is the travel-friendly option.

Like BIOSENSE, Ketonix can take unlimited measurements. Use it for years without replacement. You also receive product updates free of charge. If you want an affordable breath ketone meter that many swear by, try Ketonix.
The Top Urine Ketone Meters
Below is a summary of how urine ketone testing strips work, and the best product.
Urine Ketone Testing Overview
How To: Either pee directly on a strip or collect a urine sample in a cup and then dip. Wait the specified time and match the paper color to the provided chart.
Measures: All three ketones.
Pros: Easy to find and cheap.
Cons: Ketone reading is affected by your electrolytes (hydration status). As you become fat-adapted, you pee out fewer ketones which cause falsely low readings.
Best For: Keto beginner.
Perfect Keto Urine Test Strips
Overview
Measures: Ketones
Memory: N/A
Bluetooth: No
Auto-Coding: No
FDA-Approved: No
Features: Cheap
Contents: 100 urine testing strips
Average Cost (at 300 tests): $0.09 each
Perfect Keto is a trusted brand for all products related to the ketogenic diet. Unsurprisingly, they make the most popular ketone urine testing product. The bottle contains 100 lab-grade test strips. Each test costs just pennies. Making this an ideal way for beginners to help identify the foods that kick them out of ketosis.

I've tried four brands of urine strips, and Perfect Keto's were the only accurate ones. If you don't want the bloody finger prick nor to shell out serious cash, try these urine strips.
Reviewing the Top Blood, Breath, and Urine Ketone Meters in 2021
Ketones are a class of superfuel that you cannot afford to ignore.
Surprising "health" foods, drinks, and habits can kick you out of peak performance.
Whether you're looking to fat adapt fast, or set physical performance records, knowing your ketone levels can help.
There are dozens of crappy and counterfeit ketones testing products out there. Unreliable meters find false patterns. Doing more harm than good. Wasting your time, energy, and money.
The best ketone meter depends on your use case:
Pick up one of the above great self-quantification ketone measuring products. To have more discount not just with ketones product, visit this link and unlock a lot of different products with massive discounts.
What are you looking for in a ketone meter? Let me know if I am missing something or you'd like extra help.