Biohacking hasn't reached the mainstream. A small minority completely understands the words "Bio" + "Hacking" together.
I'm a big proponent of in-person meetup groups. There's no better way to meet and connect with the likeminded. I also spend quite a bit of time hanging out online.
No other communities compare to the massively popular Facebook groups. I had a hard time finding the right ones when I started out. I joined, explored, and eventually left groups left and right. Now, I regularly turn to these Facebook groups for news, anecdotal experience reports, the latest compounds and protocols, and general health optimization discussion. Each group brings something different to the table.
Facebook Group #1: Biohacking & Health Optimization – For those OBSESSED with improvement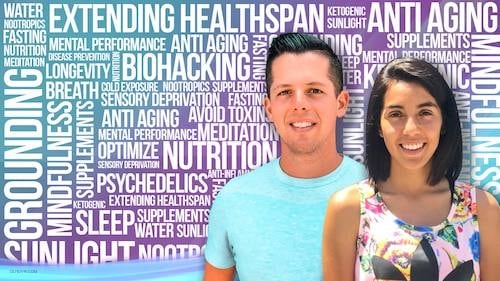 An tight-knit community, something of a rarity online.
Matt & Jessica Loberstein run the group of 751 members. I post on occasion and recognize many similar faces that comment.
Low on time?
If the thought of missing hundreds of posts intimidates you, "Biohacking & Health Optimization – For those OBSESSED with improvement" is your group. You can get to know other members and stay up-to-date without making it a full-time job.
This group best suits beginner to intermediate topics.
Facebook Group #2: BioHacking SuperHuman Performance: Peptides, Genetics, Nutrition
I'm new to this group.
Nathalie Niddam manages the group of 3,100.
It is quickly becoming one of my go-to resources for advanced topics. This group focuses on all things cutting-edge, including peptides.
So far I've learned more here than most of the other groups. Master the basics first. Then consider "BioHacking SuperHuman Performance: Peptides, Genetics, Nutrition". Curious about the latest performance boosters? Stop by and say hi.
Facebook Group #3: Anti Aging, Biohacking & Longevity Knowledge
You'll find the range here.
A team of ten people run the group of 4,000. Some of the admins contribute quite regularly. The group focuses primarily on anti-aging and longevity — the science of life extension.
The posts range from news, to opinions, and general questions.
"Anti Aging, Biohacking & Longevity Knowledge" is beginner-friendly. Like the other groups, you won't receive prescriptive advice, but you can relax knowing that many contributors have official lettering behind their names.
Note: the group is 'Public' meaning that anything you post is visible to your Facebook friends, search engines, and the general public.
Facebook Group #4: BioHackers (GLOBAL)
The oldest (founded in 2015) Biohacking group on Facebook.
Run by six people, the 7,100 members post non-stop. As the name implies, members of the group come from all over. You can get other perspectives on biohacks around the world.
There's a reason it has aged so well.
"BioHackers (GLOBAL)" covers typical topics for the beginning and intermediate biohacker alike. It's one that I check on a weekly basis.
If you don't mind the chaos of a massive news feed, this could become your new home.
Facebook Group #5: Bio Hacker Tribe
The largest and most popular biohacking group on the internet.
Only five people manage a member base of 10,500. It may come as no surprise that the group is also the most active community I've found.
Inside you'll find lots of questions and personal case studies dating back to the group's 2016 inception. A great opportunity to learn or lend your expertise.
"Bio Hacker Tribe" is my favorite Facebook group. When I have a question needing many perspectives, I look here. And I get a lot of feedback.
Conversations can get advanced, but the group is very beginner and intermediate friendly. Unlike the others, they also address the spiritual component of biohacking.
Facebook Group #6: Mitochondriacs
Does the title give away the group's focus?
Four people run a group of 5,000 members. Ironically, it's an advanced group advocating a simple beginner-friendly lifestyle. It's grown quickly since it's 2018 founding.
Mitochondriacs focus on mitochondrial health. You may already know the basics of a healthy lifestyle like diet, sleep, light exposure, and exercise. These are Mitochondriac essentials. Especially light. You'll learn more about light than you ever wanted to know.
They focus on aligning with nature. But then explain their rationale with science. Definitely the most unique group on the list. You'll see common biohacking advice challenged.
Whenever I'm looking for contrarian rationale, I'll stop by this group.
Fair warning: most supplementation talk here gets shot down.
Facebook Group #7: Biohacking and Lifestyle For High Performers
Facebook's hottest new Biohacking group. Keep your eyes on this one.
Kyle runs the group of 400 people completely by himself. He frequently goes live and creates Youtube video all geared towards helping fellow biohackers.
You'll find discussions and debates on all the latest peak performance tactics and gadgets.
It has only been around for a few months but "Biohacking and Lifestyle For High Performers" is quickly rising the ranks of biohacker Facebook groups.
This group is very beginner-friendly, and Kyle sparks inclusive group conversations. Before you invest in a biohack, stop by here and see what the group has to say.
Facebook: The Best Online Biohacking Communities
Reddit, Quora, and most other communities don't come close (although I am fond of Reddit). Twitter is decent, but there aren't cohesive groups.
That's why Facebook is the biohackers home. Otherwise I would have deleted my account by now.
Biohacking Facebook groups cover topics, ideas, and trends from perspectives of members around the world.
Click To Tweet
Engage in these groups and you'll "meet" other similarly-engaged minds.
It's easy to get overwhelmed by the number of groups and the sheer volume of posts. Dive in headfirst and join them all, or slowly branch out. There's no wrong approach!