As I type, I'm inhaling a custom blend of peppermint, lemon, oregano, and rosemary. An unlikely combination, but one that promotes focus, memory, and learning.
One pound of lemon essential oil takes 1,500 lemons to produce.
Imagine the potency. Within every drop of essential oil is the medicinal phytochemical equivalent of dozens of pounds of plant.
As elegantly shown by Dr. Ingam in The Cure is in the Cupboard, oil of oregano alone has 53+ different uses ranging from:
Anesthetic
Speeding up injury recovery
Immune boosting
Natural antibiotic
Beauty serum
Anti-inflammatory
Certain essential oils can reduce the activity of the sympathetic nervous system (fight or flight) by a staggering 40 percent.
Using essential oils, however, isn't always convenient. Diffusers have problems with mold growth and waste precious oil. Plus they're not portable. Swapping oil cartridges can become a hassle.
Then I discovered Füm, and after sitting on my shopping list for years, I finally tested their product.
Füm combines the health benefits of aromatherapy with the novelty and sleek design of the JUUL
Click To Tweet
At such an attractive price point, I could justify the worst case as a cheap mistake. But I was wrong. Three months of daily use later, what follows is my in-depth Füm aromatherapy pipe review. By the end, you'll know if essential oil inhalers are right for you.
In a rush?
Use the exclusive Füm code URBAN10 for 10% off.
The Füm "Vape" ForEssential Oils
To the unassuming, the Füm looks simple and innocent. Like any other milled wooden pipe. Roughly the length of my middle finger, and half the diameter. Drop essential oils onto a piece of cotton, load into Füm, and puff away. Easy.
Calling these devices a "pipe" or "vape" is a misnomer. Oils are not heated in any way (a benefit discussed later). Convenience and efficiency aside there's little difference between inhaling essential oils directly from the bottle versus through Füm. With these vapes, you're breathing in oils from a saturated piece of cotton, called a "core" by Füm.
So what makes it better than a typical diffuser?
The benefits and advantages of essential oil inhalers include:
Fast-acting — other diffusers saturate the surrounding air before delivering therapeutic doses. Direct inhalation enters the bloodstream quickly. No more wondering if essential oils are doing anything.
Natural form — oils remain structurally intact. No PG, no chemical alteration through heat or vaporization. This preserves the highly volatile medicinal compounds in the oils giving you stronger effects.
Portable — Füm pipes easily fit in even the smallest of pockets. I shove mine in gym bags, bring it on planes, or cram it in tiny spaces.
Efficient — traditional diffusers make rooms smell nice, but waste large amounts of expensive oils. A few sessions of a diffuser can completely consume my 10mL bottles, where I can get hundreds of sessions out of Füm.
Safe — olfactory receptors in your mouth and nose quickly absorb the aromatic molecules of each oil. You'll naturally exhale anything you don't need.
Satisfying — whether you're a smoker, gum-chewer, or not, these inhalers provide a satisfying sensation.
My order arrived, and it wasn't what I expected.
Füm Unboxing
My package took five days to show up. When it did, however, I knew I had made the right choice. They don't skimp on the packaging, and clearly someone had thought through the unboxing experience.
Füm offers three different pipe designs and three starter packs. Starter kits include cores pre-soaked with essential oils. Their online shop also features fifteen core add-on options.
I ripped open the envelope to find…
My Füm order included:
Füm Prominent
Biodegradable Pocket Carry Case
Essential Oil Grade Polyester Füm Blanks (4)
Instruction card
The card explains that the profit from every purchase funds six meals in Kenya (through an organization called M4K).
My Füm looks slightly different from the product images. Unlike other wooden essential oil inhalers, these aren't stamped out in a factory. Each has a unique character, is 100% sustainably made, and is handcrafted in Canada.
Füm Essential Oil Infused Core Cartridges
Essential oils power the Füm. You can either use your own high-quality oils and blend them yourself. Or, you can choose from the library of pre-made infusions that their team has already expertly chosen and blended for you.
To find your favorite, they offer the "Füm Complete Cores Pack" which is a bundle of all their top super plant-infused cores.
I mostly use their blanks and formulate my own combination, but I've tried some of their cores too:
Conquer core

Shield core
Reassurance
Invigorate
Quit smoking naturally (black pepper) core
Each has a complex taste and smell. Far more pleasant than any of my own creations.
Uses For An Aromatherapy Inhaler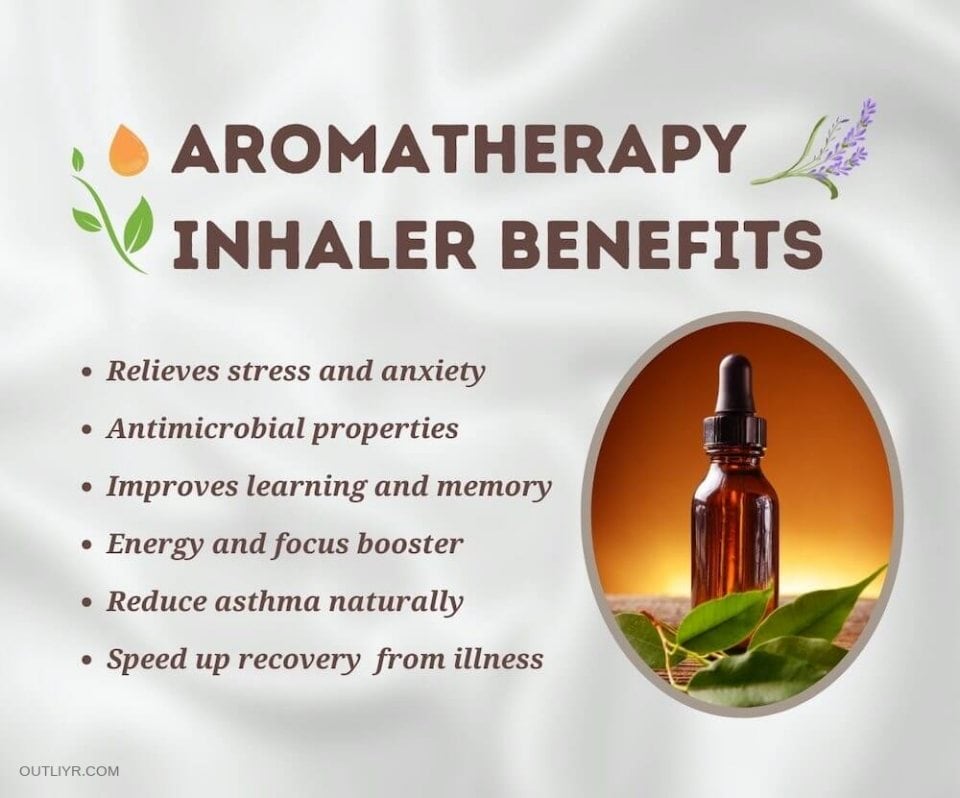 By now you're probably wondering what's the point.
How and why do people use an inhaler for essential oils?
From personal use and talking to others about the benefits of essential oil aromatherapy:
Simulate the feeling of a menthol cigarette with peppermint
Replace cravings with healthy habits
Substitute for inhaler using bronchodilators like peppermint
Augment a meditation routine
Naturally reduce asthma
Decongest head and sinuses
Quell allergy flare-ups
Boost energy and focus
Enhance physical stamina far better than placing EO's under the nostrils
Strengthens immune system using peppermint and thieves oils
Freshens breath
Anti-nausea for windy car or boat rides.
Anti-stress effects
Alleviating anxiety
Improving learning and memory
Speeding up recovery from illness
How to Use the Füm For Essential Oils
Using the Füm is relatively straightforward if you follow the directions. Nonetheless, the process slightly took me by surprise.
You only need two things:
Füm essential oil pipe
Pre-made cores, or blank cores with your own essential oils
For a guide on choosing the best essential oils for any body part or goal, I suggest Jodi Cohen's book, Essential Oils to Boost the Brain and Heal the Body [Amazon]. She convinced me to purchase a few new oils to test.
At a minimum, you'll want:
Organic Peppermint Essential Oil
Organic Citrus Essential Oil (Any)
Peppermint is the most widely used and recommended oil.
Here's how I use myFüm:
Put the Füm to my mouth and blow outward to eject the current core
Wet core with 1-10 drops of either one or several different essential oils (I like the Plant Therapy brand)
Fray the opposite end of the cotton core
Insert the core with the wet side facing up
Inhale through your mouth, exhale through your nose
Once saturated with oil, cores typically last 1-3 days, depending on the amount and type of oil. I suggest using a small amount of oil, and re-wetting every day. The whole process takes 10-seconds. I get the strongest effects for the first few hours of a new core.
Pro-tip: store your inhaler in the provided storage case to make the oils last far longer.
Using Füm to Quit Smoking
My partner has tried to stop smoking countless times.
She gets over the initial withdrawals and seems to have kicked the habit.
Inevitably, a stressful situation would arise, and she'd calm her nervous system with an emergency cigarette.
One day she observed me, a non-smoker, holding what resembled a wooden pipe. But without any smoke or vapor.
She tried my Füm, and to her surprise, liked the experience.
Peppermint isn't the best essential oil to quit smoking. Instead, I loaded black pepper oil [Amazon] into my Füm.
Using Füm to quit smoking works via two mechanisms:
Replacing the hand-to-mouth oral habit
Black pepper reduces cravings, lessens withdrawal symptoms, warms the body, and stimulates the respiratory tract similar to smoking
Eventually, I got sick of searching her stuff for my black pepper-loaded Füm. So we got her her own.
Now, whenever nicotine cravings strike, she reaches for this instead. It's been her successful and lasting solution to replace smoking with a healthy habit.
Get Your Own Füm Essential Oil Vape Pen & Save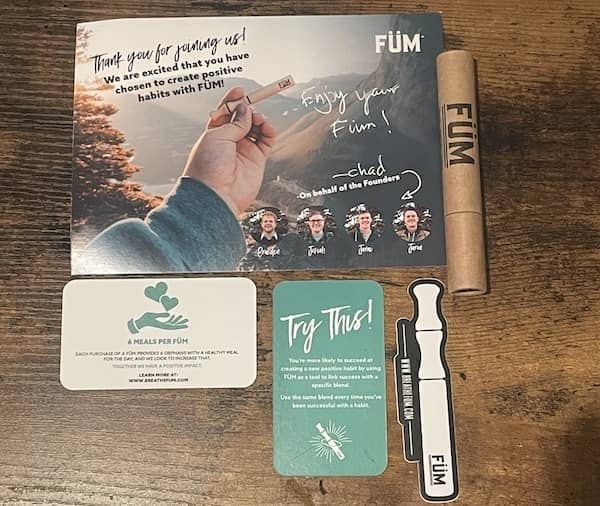 I had low expectations of Füm. I already have a desktop diffuser. It consumed huge amounts of oil and I barely felt anything. I wondered…
Do essential oils even work?
Then I tasted oil of oregano and instantly burnt my mouth. Something was happening here. Less than four months later, my fancy desktop diffuser broke. A year later I decided to dust off my collection of essential oils. This time, I followed my gut.
I bought a Füm inhaler. The pipe is quality craftsmanship, but more importantly, I actually felt the oils. I've created:
Stimulating blends (with peppermint, clove, cinnamon, black pepper, and lemon) to use pre-workout. My airways are clear, and I get more out of my exercise.
Evening ritual that incorporates relaxing oils (lavender, frankincense) into my homemade sauna routine. Helping me sleep faster and deeper.
My high-quality expensive oils last longer.
When I have cravings, I can boost my brain and body rather than gorge myself on unhealthy snacks.
Here are my top picks:
Use the exclusive coupon code URBAN10 for 10% off.
We've since purchased two more, and I often gift them to friends. Especially those trying to quit smoking.
Have you tried essential oil inhalation pipes? Let me know your experience in the comments below.