For most of my life, I despised reading.
Three years ago, that changed with one realization.
Books are windows into the minds of the world's foremost experts. Across every field. Decades of their best work consolidated, bound, and published.
There's no faster path to mastery than learning from the best.
I began reading for at least 30 minutes during my morning weight loss walks. My bookshelf grows by the dozens every year. Mostly health, wellness, business, personal growth, and non-fiction. I've listed some of my favorite reads in my biohackers' booklist post.
I came across a book unlike the rest. The most exclusive book of 2021:
Not available in any library
Not available in any book stores
Not available through online shops
Not available from friends
Not available from other owners
It's called Lifebook, and there's only one source.
Today, I'm reviewing the most powerful addition to your personal library. A book that will turn 2021 into an extraordinary year. Your new north star, a custom guide to fulfilling your dream life. Aligning every day, activity, and decision. I'll help you understand Lifebook Quest and Lifebook Online, my experience with the program (I'm doing it again this year), and everything you need to know before getting started.
Lifebook Explained: Unleashing Your Inner Author
Lifebook is a program designed to help high-achievers get more out of life.
Define, Design & Achieve Your Personal Vision Of Success In Every Aspect of Life.
Click To Tweet
You'll walk away with a concise document full of quotes, thoughts, visions, beliefs, and most importantly, actionable steps to get there. Your Lifebook fully encapsulates you and your dream life.
In short, it's a custom blueprint of your future and what you want most across 12 dimensions of living.
This video succinctly explains Lifebook:
You'll identify the gaps between where you are, and where you want to be. Then you'll come up with the strategies and tactics to close that gap.
Your instructors, Jon & Missy Butcher have led 684,054+ students world-wide through Lifebook. They're tested, refined, and optimized the process and all its components. As a program on the popular learning platform Mindvalley, you'll have the support of a huge growth-minded community.
By the end, you'll have your own masterpiece.
When you're satisfied with the current version, you can print and bind it into a beautiful physical book.
If you're looking to:
Take charge of your happiness and fulfillment
Actualize your full potential
Align with your deepest desires
Excel in all areas of your life
Lifebook is for you. There are two related programs:
Lifebook Quest (part one): condensed program designed to help you get clear and create your personal book
Lifebook Online (part two): the full Quest program with additional support, community, Q&As, and live classes
This review focuses on Lifebook Quest program as it's open year-round. If you have the patience, I suggest waiting for the more thorough Lifebook Online which only opens twice per year. Both programs have similar structures.
Who Is Lifebook Online For?
Lifebook is the ultimate life transformation program. The course has thousands of glowing reviews and has transformed the lives of 684,054+ today.
As any investment in your future, it takes some thought and isn't a quick fix to all of life's problems.
You're ready if…
You have a growth mindset
You know that you're capable of more
You want personal resilience to thrive when confronted by any obstacle and avoid burnout
You want greater balance in one or more dimensions without losing your edge
You're consumed and overwhelmed by potentials and possible directions
You're looking for a single system to improve your life as a whole
You're ready to ditch the societal expectations and become your authentic self
Get a taste for it in their masterclass with one free no-commitment lesson.
Lifebook is built by high-achievers, for high-achievers.
How the Lifebook Quest & Lifebook Online Work
Creating your book is simple:
Take the free Lifebook assessment to get your baseline score and discover your most important areas to improve
Watch the video modules
Answer the questions
Take the assessment again to gauge progress
Refine over time
The heart of Lifebook is a series of video modules with guided exercises for each facet of life (called the "12 dimensions"). Each video lasts between 4-20 minutes, but expect to frequently pause the videos and spend far more time working through the questions.
You're probably wondering about these life categories…
Lifebook's 12 Dimensions of Life: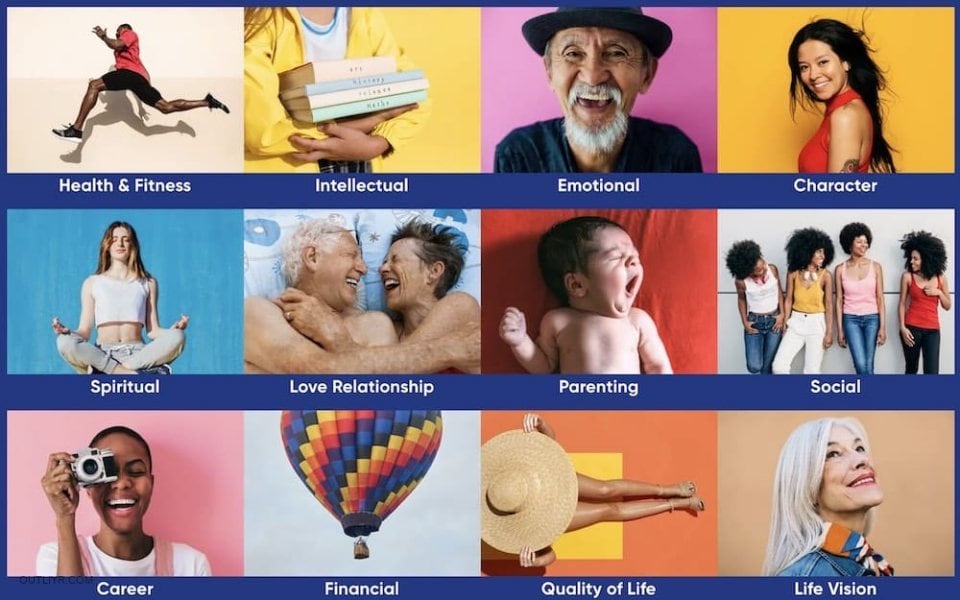 Intellectual
Emotional
Character
Spiritual
Love relationship
Parenting
Social
Career
Financial
Quality of life
Life vision
Bonus: your own dimensions
For each dimension, your Lifebook answers four simple but thought-provoking questions.
Premise: What're your empowering beliefs?
Vision: What's your ideal vision?
Purpose: Why do you want that?
Strategies: How will you achieve that?
Jon & Missy came up with each dimension from coaching thousands through the process. By thinking through each now, you'll set up your life to achieve fulfillment. Without the mid-life crisis that stems from neglecting certain core human needs.
Using the categories and questions above, you have enough information to create your own Lifebook. No program needed. But I, and many others, found the program's guidance, examples, and supporting material invaluable. The added detail, community, templates, and accountability alone made the program worth it.
You'll notice above that I added an unofficial 13th dimension. I recommend that you stick to the classic 12. Later you can combine, modify, or remove categories as you see fit. Lifebook is about customizability and uniqueness.
It will evolve as you grow and change. So far I've tweaked mine a dozen times over the last three years. I now re-evaluate and update every quarter.
This clip outlines it:
What You Get With Lifebook Online (+ Bonuses)
Lifebook Online comes with everything in Lifebook Quest plus additional bonuses, examples, templates, and unparalleled support in case you need help getting un-stuck.
Contents include:
6-weeks of video training totaling over 18-hours of program material
Live coaching calls weekly with the founders
Expert-crafted templates you can use to build your Lifebook
The most common student questions from each category answered on coaching calls with the Lifebook inventors themselves.
Exclusive lifetime membership to the Mindvalley community and relevant events.
Course access on most modern devices from laptops, to desktop computers, Android phones, iPhones, and tablets
Access to their private global Facebook community
Free yearly upgrades to the program
Handpicked pages from Jon Butcher's personal Lifebook
Lifebook Online Schedule
There are 12 official Lifebook Dimensions.
You'll cover two per week, for six weeks:
Health and Fitness & Intellectual Life
Emotional Life & Character
Spiritual Life & Love Relationship
Parenting & Social Life
Financial Life & Career
Quality of Life & Life Vision
Set aside 3-6 hours per week for:
2 training videos (120 – 150 minutes)
Answering the prompts (30 – 90 minutes)
Adding your own photos and quotes to each dimension (15 – 30 minutes)
Optional: meditation, visualization, and reflection
The entire Lifebook Online process takes between 18-36 hours.
See their Instagram profile for examples and customer stories.
The program does have flaws.
What I Didn't Like
Lifebook's promotional material seems too good to be true. Immediately I thought, great, another gimmicky program promising miracles with little work.
I did my digging and came across Jon Butcher on several podcasts. There he sounded authentic, practical, and genuine. Reassured by their best-in-class refund policy, I decided to take the leap. And I'm glad I did. It's exactly what I needed to unify different areas of my life. No more cobbling together courses on career advancement, personal development, health & wellness, finance, among many others.
I started with the Lifebook Quest. The videos guided my thoughts and self-questioning. Yet I wanted more. Something to compare mine to. To make sure I was on the right track. I scoured the internet for examples and couldn't find much. Later, I discovered some of that in the Lifebook Online program.
The 12 categories won't work for everyone. If you're uninterested in kids, for example, parenting becomes a moot point. I'd like to see a list of popular substitutions that the community has added.
The chief complaint of new members is the lack of a physical Lifebook. Early members received a beautiful binding as showcased throughout Instagram. Not anymore. Though you can easily print out the pages, get a binding online, and assemble it yourself.
Overall, the pros greatly outweighed these drawbacks.
Why I Recommend Lifebook
When I graduated from college, I immediately began to set goals for myself. I thought about where I wanted to be in ten years. Across domains like health and wellness, financial, and career. I felt like I was forgetting important categories. I asked coworkers, mentors, and browsed internet forums. The wide variety and inconsistency of responses discouraged me. Just before stopping my search, I came across Lifebook.
I sought a unified life plan that I could use to track my progress and adjust on the fly. As the cliche goes, "only that which is measured is improved".
My Lifebook became my north star. One that leads me forward through uncertainty. A 10,000 foot view of my life's priorities.
Improving my weakest dimensions directly improves my resilience, success, and overall quality of life. The benefits of Lifebook I've noticed:
Greater productivity as I know exactly what I should focus on at all times
Easier decisions as I filter new opportunities through my Lifebook strategies before accepting
Less overwhelm as I ditch the latest shiny objects and focus on only the things that matter most
Faster achievement as I find the "lead dominos" that make accomplishing the important things easier
Public accountability as I've shared my Lifebook with friends and family
Altogether, it's the blueprint moving me towards my best, authentic life. Pleasing myself over societal norms.
Lifebook tangibly works. I took the self-assessment life quotient quiz before and upon completion. I improved my life score by 21 points in six weeks.
Their "pricing" model is ingenious. 90 percent of those that enroll in online courses drop out within just two weeks. Lifebook Online's one of the most important courses you'll ever take. It's 100 percent FREE if you complete everything. More on that below.
Is Lifebook Online Free?
When completed, Lifebook Online is completely free.
Initially, however, they charge a fully-refundable $500 "accountability fee". The only requirement is that you finish all the work. You can get all $500 back at the end of the program unless you decide to quit.
Here is how you qualify:
Enroll in the program, submit a (refundable) $500 accountability deposit
Watch the weekly training video
Fill out your own Lifebook
Attend the live coaching call
Submit your full refund request 7 weeks from the start date of the program
Submitting your refund request takes two minutes.
Is waking up every morning to your perfect day worth four hours of each week? Dedicate 2.38 percent of your week for the next 42 days and it's yours.
Lifebook: The Most Important Program You'll Do in 2023 (Completely FREE)
Little fundamentally alters the course of my life. As I write this, 1,656 Lifebook alumni have shared their success stories online.
This is your perfect course if…
You're a high-achiever but stuck
You're constantly growing and sharpening your skills
You're overwhelmed, crunched for time, or feeling burnt out
You're ready to upgrade your life
A rare opportunity to make your dream life a reality. A depiction of your life more thorough, useful, and aesthetically beautiful than any autobiography.
You could create something similar just from the questions and dimensions above. The program, however, brings clarity, community, accountability, and structure to the daunting task of actualizing your dreams.
You can check out the program yourself here:
Twice per year they run a live program packed with additional bonuses and live coaching. Best of all, you get a full 100 percent refund as long as you watch the trainings and do the exercises. The entire program will cost you zero.
Use my personal invitation to see if the premium Lifebook Online program is open.
No matter which you choose, you'll walk away with your custom, tangible, and powerful life blueprint. The most valuable and cherished item on your bookshelf. One that tells your story, inspires you during tough times, and that your legacy will cherish.