Oura is the company behind one of the fastest-growing health optimization wearables on Earth.
Where other companies like Apple, Fitbit, Google, and other incumbents release new wearables annually, Oura meticulously plans each new device.
They recently made headlines with the announcement of the third generation Oura Ring.
Perhaps the most eagerly anticipated update of 2021 for health optimizers, biohackers, and peak performers.
I got the Oura V2 when it first came out in 2017 (you can read my review here). As you'd expect, this latest edition comes with:
Better build materials
Improved scoring algorithm
Several new features
And other updates discussed below.
One of which has troubled long-time Oura patrons.
I pre-ordered the V3, and will write up a thorough review in a few weeks once I've tested it. For now, what follows are my initial thoughts and why I'm no longer advocating Oura as the best wearable for most people.
New Oura V3 Features & Updates
With any new technology, we expect speed improvements, better battery life, and state-of-the-art features.
Considering this development has taken four years, I'm underwhelmed by the improvements.
Nonetheless, here are the primary under-the-hood changes Oura has made:
New biometrics
Stronger build materials
Daytime metric tracking (finally)
Detailed workout metrics
Blood oxygen level sensing (SPO2)
Let's cover them in more detail.
Aesthetically, they've made progress. You can now buy your ring in a gold finish. Build quality has always been a chief complaint among prospective Oura users. They've upgraded the plastic ring to lightweight titanium (weighing just 4 to 6 grams). A single charge now lasts 4 to 7 days and is water-resistant up to 100m (more than 328 ft).
Biometric accuracy improved significantly. Most wearables suffer from terrible sleep stage detection accuracy. So much so that some devices don't even differentiate between R.E.M and Deep sleep. Oura promises better with a new sleep staging algorithm.
HRV accuracy has increased to 98% and normal HR accuracy to 99.6%. V3 features better nap detection and automatic activity detection capabilities too.
A new "Restorative Time" metric claims to identify times throughout the day when your body and mind are resting. Which seems strikingly similar to the nap detection algorithm.
24/7 heart rate monitoring (rather than nocturnal). Previous generations only recorded biometrics (like heart rate) while sleeping. During the day, Oura would only mention step count and a few basic activity stats. This update allows you to record your heart rate during workouts (coming late 2021). Finally, this basic feature catches them up to virtually every other wearable.
New SPO2 and temperature sensors. Since 2021, blood oxygen has become a hot topic. Mostly in the context of tracking certain respiratory illnesses. Oura has capitalized on this trend, and in 2022, a software update will allow you to utilize new blood oxygen sensors embedded within the ring. Again, they're playing catch-up. Many advanced devices have incorporated SPO2 sensing technology for a while.
They've also chosen to upgrade to 7 precise research-grade temperature sensors. Allowing for better period prediction and cycle tracking. Body temperature has a surprising link to physical and cognitive performance. We'll see if they capitalize on these new sensors. Oura's descriptions really undersell these new sensors.
Expanded video and guided audio library. To appeal to the masses, in recent years Oura has focused heavily on building out their library of guided meditations (or "audio sessions"). Science-backed videos also make using the ring and interpreting your body's signals easier. Will this replace dedicated meditation apps? In my experience, no.
I can't shake the feeling that Oura is moving towards becoming a medical device rather than a performance optimization tool.
The Decline of Oura
Affiliate Disclosure: This post may contain affiliate links, which means I get a small commission if you buy (at no cost to you). Thanks for your support!
I'll preface this section with the fact that I've been a huge (non-affiliated) advocate of Oura's since 2017. In good faith, I've stopped recommending them as highly.
Like any rapidly scaling start-up, Oura has had its share of growing pains.
I, and many others, have experienced issues with:
Firmware updates
Looseness
Syncing moments
General syncing
Data integrity
To top it off, interactions with customer service have slowed to the point where a simple issue can take weeks to resolve.
But that's not even the worst part.
The Biggest Drawback to the Oura Ring 3
Study the product description page, and you'll notice a peculiar change.
A membership fee.
New Oura users will incur a $5.99/month membership fee after the first six months. That's an additional $72 dollars per year, on top of the original $299 hardware cost, just to unlock access to your data.
Should you opt out of the subscription, you'll only get the three overall scores:
Without any insight into how they calculated them. That's right. You can't see ANY of the actual metrics. And as I mentioned in my Oura V2 review, the overall scores can be terribly inaccurate.
As Katie mentions in the above video, wearable costs that require a subscription can quickly add up:
| | Oura Ring 3 | Apple Watch Series 6 | WHOOP 4.0 | Biostrap EVO |
| --- | --- | --- | --- | --- |
| Hardware Cost | $299 | $379 | $0 | $319 |
| Monthly Membership Cost | $5.99 | $0 | $30 | $0 |
| Cost After 1 Year | $335 | $379 | $288 | $319 |
| Cost After 2 Years | $407 | $379 | $504 | $319 |
Oura Ring 3 price compared to other popular wearables
Notice that after a few years, the new Oura costs more than most of the other popular alternatives. Each of which has distinct advantages.
Lack of Innovation
Oura's first product came out in 2015. They popularized HRV tracking, brought the first research-grade sleep tracker to market, and did it all in the impressively compact form factor of a ring.
Oura did a lot right and attracted a huge crowd seeking to better understand their body.
Unfortunately, their pace of innovation has slowed immensely.
Though they regularly push new software and firmware updates, they lack substance. Recording on-demand biometrics (via their "Moment" feature) has been the biggest update I've seen since I got my ring in 2017. As you'll read below, even that doesn't work well.
While wearables like the Apple Watch and Samsung are rumored to be experimenting with continuous glucose monitoring sensors inside their devices.
Others like Biostrap and WHOOP have long since incorporated SPO2, arterial health measures, daytime measurements, and much more.
Oura must make major improvements to catch up to the others, and so far they haven't.
Engineering Problems
Judging by the numerous job listings on their careers page, we've seen Oura prioritizing engineering. Usually, that translates into product enhancements, faster fixes, and an overall better user experience.
I've experienced the opposite.
One such example is a glitchy connection between my ring and phone.
For some reason, every couple of days my phone absolutely will not detect my ring. It'll get stuck "searching" telling me to put the devices closer together. Putting the ring on top of my iPhone doesn't solve it. Neither do any of their usual troubleshooting steps suggested by Support.
Core features that make Oura attractive, such as their "Moments" (pictured above), stopped working months—and several firmware updates—ago. I used this daily to track the biological impacts of my meditations. To this day, I come across one or more of the following issues about every other session:
Oura doesn't detect my ring
Data syncing process freezes
Session randomly crashes without warning
The firmware updates haven't made any positive discernible differences. One such update, in September 2021, actually bricked my ring and made it completely unusable. It could be a coincidence, but the very same day I updated, my ring stopped working.
Keep in mind that these things are generally bulletproof. No matter what troubleshooting steps Support suggested, nothing worked. When I asked if it could be a defect related to the firmware, they told me "no" and shipped me a new ring.
Yet I heard the exact same experience from 9 other Oura users. Some brand new to the company, and others that've supported them since 2015. All with the same story. After that firmware update, they can no longer connect to their ring. Making it a paperweight.
The V2 model has been around for nearly half a decade. Ample time to work out bugs and kinks. Hard to imagine that the brand-new generation will fare better.
Poor Customer Service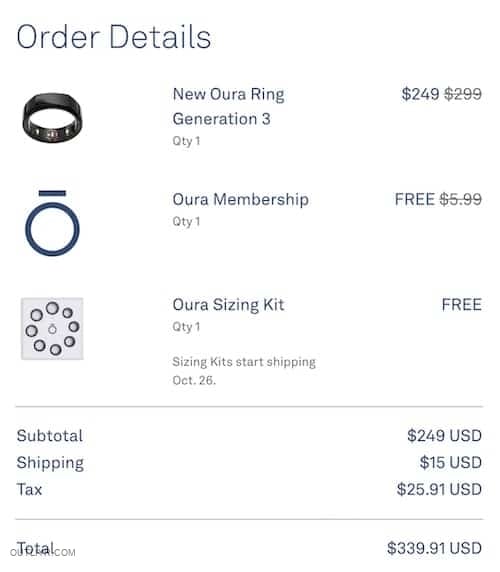 Until 2021, I had great experiences with Oura's Customer Service.
When issues came up, they made them right. An accommodating rep helped me out when my ring fell off while kiteboarding.
After submitting a ticket, I'd get a response within a day or two. I always preface my requests with ample information, including which troubleshooting steps I had already completed.
Things gradually changed. More problems arose as they shipped bug fixes and new features.
Now, with the latest generation, does their customer support even exist?
When launching something, customer engagement matters more than ever. The experience of beta users often determines a product or service's fate.
I was offered the new ring at an "existing user" discount ($50 off retail). I noticed a mistake in my bill and contacted them the same day I ordered. As of today, November 19th, over three weeks later, I've received virtually zero support. Only one non-automated human response merely to inquire about the code I used. I reached out on Twitter and got a fast response that someone would investigate. Still, nada.
Fingers crossed that you don't have any problems that require real human interaction.
Update: I received my new ring on December 14th.
My Oura V3 Arrived: Initial Thoughts
Slightly over six weeks went by between placing my order and receiving my ring in the mail.
I eagerly opened it, hoping that I overlooked some exciting changes.
I charged it for an hour and put it on my hand.
Only to look down at my hand and forget which of the rings was the V2.
The two look almost identical. I could only tell them apart by closely examining them under light and finding scratches on the older one.
So the hardware is similar…
But what about functionality?
I have noticed a few differences. Sleep scores subjectively seem a few points more accurate. The Oura "Moment" feature works again.
I get to see how much "Restorative Time" I accumulate throughout the day, as well as a graph of my daytime heart rate. The new "Explore" tab contains more guided session options.
Other than that, none of the features or metrics have changed in any way.
Still waiting on the release of upgraded automatic activity detection. Still no insightful uses of the additional temperature sensors. Still no useful SPO2 data.
Oura 3 Review Update (August 2022)
I've now been using my new Oura Ring for eight months and have noticed a few changes.
As promised, recently the company rolled out firmware and software updates to show blood oxygen levels.
The new SPO2 feature works fine, showing both your average oxygen saturation throughout the night and a "breathing regularity" score. For any score below optimal, Oura shows which times throughout the night you experienced breathing disturbances.
The downside, however, is that the battery life drops significantly. I now get about three days with SPO2 enabled.
Another observation I must disclose is the sensors at night. Sensitive sleepers will certainly see a green and/or red light emanating from the ring at night. Even while worn. In fact, when my partner couldn't tell which of her rings was the V2 and which was V3, she simply wore them both and waited to see which hand glowed.
Oura did add a few more simple data visualizations which I have enjoyed. Their reporting is still far behind the competition (Whoop and Biostrap).
Overall, I am still waiting on an update to make this third generation worth the upgrade.
Better Alternatives to the Oura Ring 3
With Oura 3 off the table (especially for new users), what are your other options?
My favorite Oura alternatives are:
Each has its own pros and cons, and all are wrist-worn.
Most people interested in advanced health tracking without a subscription have better options. Read my review on the Biostrap EVO to learn why it's my favorite and most advanced wearable.
Apple Watches have notoriously lacked high-quality algorithms and meaningful biometrics to satisfy advanced health optimizers. They seem to have done a good job fixing that with their new Series 7 line. The convenience of direct integration with iPhones and the Apple ecosystem is also a huge plus.
WHOOP was the first powerful wearable to rely on a subscription business model. Their focus on granular data and cutting-edge biometrics made them a favorite of athletes and those serious about optimizing recovery. Now that Oura has followed suit, dollar for dollar it may be a better option.
Oura V3: Good But Not Great
Despite heavy criticism in this post, I did pre-order the new Oura Ring 3.
I'll thoroughly test it and post that review here within the next month. Then I'll decide whether to keep it.
Ultimately, I hope that the company turns things around before they lose their contingency of die-hard fans.
Those looking for better options should read my Biostrap Review to learn about the fastest evolving device. Biostrap also offers a unique opportunity for users to get free state-of-the-art gear simply by allowing their data to be used in clinical studies. A win-win for both us consumers and the field of performance science.
There are other great wearables out there too.
Without realizing it, Oura has opened the door for someone else to take the title of best wearable of 2022.
I'm curious…
Did you pre-order the new ring? Are you boycotting Oura? Let me know your thoughts or experiences in the comments below!