Modern science is rediscovering a well-kept ancient secret.
I'm about to let you in on it too.
For centuries and in various forms of traditional medicine worldwide, certain adaptogenic mushroom supplements have served as powerful remedies.
In this post, we'll review the many medicinal mushrooms and their scientifically-backed health benefits. We'll explore the top mushroom supplement brands and products on the market, highlighting their unique features and active ingredients.
Whether you're looking to boost your immune system, de-stress naturally, improve brain function, get a glowing radiant complexion, or enhance exercise performance, this article will help you choose the best adaptogenic mushroom supplement for your needs.
Without further ado, let's unpack this forgotten health remedy.
Affiliate Disclosure: This post contains affiliate links, which means Outliyr LLC gets a small commission if you buy (at no cost to you). Thanks for your support!
The Best Mushroom Supplements Reviewed & Compared
As you'll discover later, most mushroom products do little more than waste money.
These selections are backed by extensive research and guided by experts in the field, ensuring that each option is organic, lab-tested, and the highest quality. Meticulously curated to cater to your every potential lifestyle and use case.
Introducing the ultimate roundup of the best mushroom powders, extracts, liquids, gummies, tinctures, and complexes for your every need.
Without further ado, let's dig into my favorites.
Best Overall: Nootopia CollaGenius
Nootopia, the company behind CollaGenius, has become one of the most trusted leaders in the supplement industry. They only create a product if they believe that it will be the absolute best in the category. That's exactly the case with the CollaGenius 2.0 upgraded mushroom formula.
CollaGenius contains a unique blend of four mushrooms and collagen. Each serving of CollaGenius contains 1.2 lbs of concentrated raw mushrooms with the strongest extracts on the market:
50 to 1 Lion's Mane extract
100 to 1 Chaga extract
100 to 1 Cordyceps extract
100 to 1 Reishi extract
For their Chaga, for example, 100 to 1 means that they used 100 pounds of raw Chaga to make 1 pound of extract.
Formulated to enhance brain power, strengthen the immune system, boost athletic performance, and promote healthier skin, hair, and nails. These mushrooms offer various benefits such as promoting neurogenesis for improved cognitive performance (Lion's Mane), supporting the immune system and healthy blood sugar control (Chaga), and improving exercise performance and heart health (Cordyceps).
The addition of collagen in CollaGenius further improves skin health, relieves joint discomfort, and boosts muscle mass when combined with diet and exercise, promoting heart health, strengthening hair and nails, and supporting bone health.
The first thing I noticed is the taste profile of CollaGenius. The product uses cocoa and cacao to mask the hefty therapeutic mushroom doses behind a delicious chocolate flavor.
This has become my go-to most mornings. I'll either add it to my coffee, mix it into water or raw milk, or sprinkle it on top of anything sweet.
BiOptimizers offers an industry-leading 365-Day Money Back Guarantee for all their products.
CollaGenius is the best all-in-one mushroom supplement for most people, that's fortified with other high-quality ingredients yet still tastes great.
Use the BiOptimizers exclusive promo code URBAN to save 10%
Best Gummies: Perpetua Life Premium Mushrooms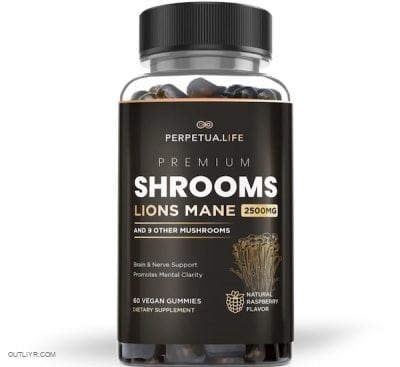 Perpetua Life, a leading longevity supplement company, has crafted the best mushroom gummy supplements. I generally don't recommend gummy supplements because manufacturers add tons of sugar or nasty additives. If you insist on gummies, this is a noteworthy formula.
These gummies contain a carefully curated blend of 11 premium mushrooms:
Lion's Mane Mushroom (For Brain Power) – 250mg
Turkey Tail Mushroom (For Gut & Immunity Support) – 250mg
Maitake Mushroom (For Metabolic Health) – 250mg
Shiitake Mushroom (For Heart Health) – 250mg
Reishi Mushroom (For Mood & Immune Support) – 250mg
Cordyceps Mushroom (For Energy) – 250mg
Chaga Mushroom (For Cellular Health) – 250mg
White Button Mushroom (Cholesterol Support) – 250mg
Black Mushroom (Powerful Antioxidants) – 250mg
Royal Sun Mushroom (For Liver Support) – 250mg
Each serving consists of two gummies, and I don't love the low 250mg dose of each mushroom. I'd prefer to see 500mg of just the top five. When I'm not using CollaGenius or my other picks below, I'll have two to four gummies after a meal as dessert.
Perpetua Life does third-party lab tests for each of its products and actually listens to community feedback. In fact, I helped them reformulate their popular all-in-one anti-aging product called AEON.
Subscriptions unlock an extra 20% off, and bulk orders take 30% off the retail price. Normal orders enjoy a full 30-day money-back guarantee.
Perpetua Life's Premium Mushrooms are the only gummy supplement I personally use and recommend if convenience, portability, and taste matter to you.
Use the Perpetua Life promo code URBAN to save 10%
Best Mushroom Complex: Real Mushrooms 5 Defenders
Real Mushrooms is one of the original names for mushroom extracts. They source their products directly from the world's first commercial mushroom cultivator (Nammex). Real Mushrooms 5 Defenders is the ultimate blend of five powerful mushrooms, formulated to be the top "mushroom multi-vitamin".
5 Defenders is a blend of mushroom extract powders that contains:
30% Turkey Tail Mushroom

20% Reishi Mushroom

20% Shiitake Mushroom

20% Maitake Mushroom

10% Chaga
You can get this one either as a powder or in capsules. Each serving consists of 1,000mg of mushrooms, proportionally divided as mentioned.
This was the very first therapeutic mushroom complex I ever used. Real Mushrooms exclusively uses organic cultivation methods, rigorous extraction processes, and third-party testing at accredited labs to maximize bioactive compounds. Ensuring the full-spectrum of benefits remain intact.
If you're looking for a high-quality mushroom supplement that supports immune function, promotes balance, and provides essential nutrients for overall well-being, Real Mushrooms 5 Defenders is an excellent choice.
Real Mushrooms Five Defenders is the best beginner's introduction, it's a "mushroom multi-vitamin" that's convenient, therapeutically dosed, and stacks nicely with other products.
Use the exclusive Real Mushroom coupon code URBAN for 10% off
Real Mushrooms Tremella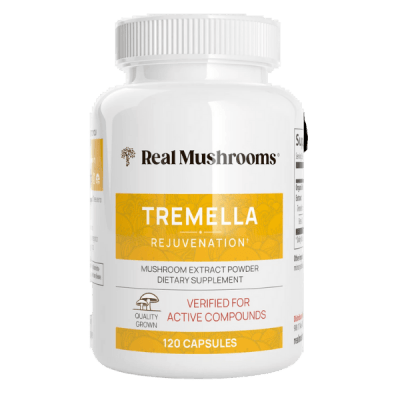 You can't go wrong with Real Mushrooms. Since they source their products directly from the pioneer in mushroom cultivation, Nammex, you know you're getting the highest quality possible. This product is no exception, containing 100% pure Tremella mushroom.
Real Mushrooms does things right, using fully organic farming, hot water extraction for Tremella, guaranteeing beta-glucans percentages, and producing the final product in a USA-based NSF-certified facility.
With each serving, you get 1,000mg of pure Real Mushrooms Tremella extract powder. This potent dose paired with the ideal extraction technology ensures that you receive all the beneficial compounds and nutrients present in the mushroom. Great for beauty, skin hydration & elasticity, and protection from environmental stressors (ie UV).
You can buy either pills or powders, each in multiple sizes. If you buy in bulk and subscribe, you can save nearly 50% per gram.
Pure Real Mushrooms Tremella extract is ideal for those seeking quality organic mushrooms with the goal of improving beauty, cardiovascular health, or immunity.
Use the exclusive Real Mushroom coupon code URBAN for 10% off
Real Mushrooms Lion's Mane
As part of the renowned Real Mushrooms brand, and sourced from the industry leader (Nammex), this Pure Lion's Mane stands out as an exceptional pick for a product that targets brain health and function.
This was the second mushroom product I used. When I incorporated it into my routine, I noticed improvements in my focus, mental clarity, and memory. Additionally, the bioactive compounds found in Lion's Mane have been studied extensively for their neuroprotective properties. But only if the mushroom is produced properly.
Real Mushrooms checks the boxes for the ideal spore-to-powder process. Their Lion's Mane is certified organic, made exclusively with the best part of the mushroom (the "fruiting body"), and thoroughly lab tested at NSF-certified facilities. Unlike some of the others, they actively test for multiple bioactive compounds.
Each serving contains 1,000mg of pure Lion's Mane extract. Certainly a clinical dose. In fact, some people like to scale back to just 500mg (half a serving).
The price point is certainly a bit higher than other pure Lion's Mane products, but you're getting guaranteed premium quality. No wondering if it's working or not. Plus, when you buy in bulk or subscribe, the price drops significantly.
Real Mushrooms' Pure Lion's Mane is the best value-to-price pick to specifically target the brain, sensory organs, and immune system.
Use the exclusive Real Mushroom coupon code URBAN for 10% off
Best Value: Malama Mushrooms Tinctures & Mushroom Superfood Powder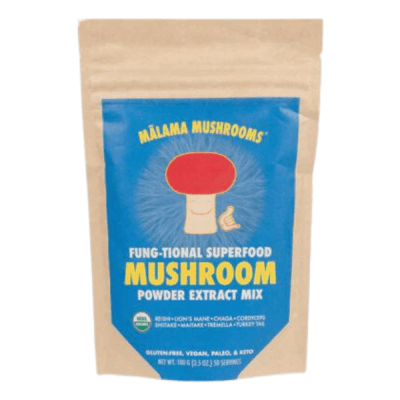 Malama Mushrooms is a smaller name in this supplement niche, but they certainly hold their own against the competition. Since 2015, they've been a family-owned, superfood mushroom company based out of Kona, Hawaii. Several things about this vendor caught my eye.
First, Malama has the absolute largest catalog of any mushroom vendor I've come across. From growing kits to liquid tinctures, to cacao mixes, to quality organic mushroom coffee, and more. Although I'm actually not sure they sell capsules.
Each of their products is grown USDA-Certified Organic, and they opted to use fruiting bodies over mycelium. They also share their lab-testing certificates of analysis (CoAs) openly on their website. They use the right extraction methods, including the more expensive and laborious dual extraction for certain mushrooms.
Finally, the price is right with these mushrooms. They're great value even if you choose not to subscribe.
I have both their Cordyceps and Lion's Mane Tinctures on my shopping list.
Their flagship product, however, is the Malama Mushrooms 8 Mushroom Superfood Powder which contains:
Organic Reishi – 250mg
Organic Lions Mane – 250mg
Organic Chaga – 250mg
Organic Cordyceps – 250mg
Organic Shiitake – 250mg
Organic Maitake – 250mg
Organic Tremella – 250mg
Organic Turkey Tail – 250mg
Each of which uses the optimal fruiting body form of the mushroom. Plus, levels of beta-glucans test high (over 25%).
A true all-in-one product.
Malama Mushrooms is a newer company based out of Hawaii that sells the best variety and value I've come across.
Best Coffee Alternative: TruBrain Morning Mushrooms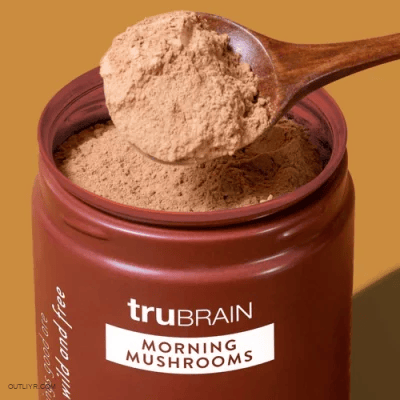 Founded by a team of Neuroscientists, TruBrain is a company that specializes in brain-enhancing supplement formulas. They've recently branched out towards becoming an all-in-one well platform. In fact, their currently developing a neurofeedback wearable. Morning Mushrooms is a new formulation designed to work as a stimulant-free, superfood coffee alternative.
Each serving of TruBrain Morning Mushrooms contains:
Organic Lion's Mane Extract (200mg)

Organic Chaga Extract (200mg)

Organic

Cordyceps E

xtract (200mg)

Organic

Reishi E

xtract (200mg)

Cacao

Turmeric

Chai

Cinnamon
You're getting 800mg of functional mushrooms per serving, along with natural flavoring agents that double as health-promoting superfoods. You can mix it into water or any drink of your choice.
All of the ingredients are grown, hand-picked, and extracted here in the USA. My primary concerns with this product are severalfold. First, they likely use the mycelium instead of the fruiting body, which yields weaker results. Second, they do not specify levels of beta-glucans. Third, we do not know the details of their extraction process. Lastly, I am waiting to see the lab test results to ensure purity and potency.
Nonetheless, I plan on testing this product soon.
If you're looking for a tasty coffee alternative with adaptogens and functional mushrooms, and can overlook the use of mycelium, TruBrain's Morning Mushrooms is a budget-friendly pick.
Cheapest: Double Wood Supplements Mushroom Max Complex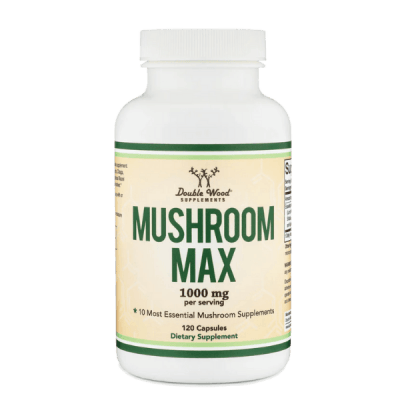 Double Wood Supplements has become a popular supplement manufacturer because they boast a massive catalog of products and pass the savings on to customers. This is one of the absolute cheapest medicinal mushroom supplements on the market, and it has its share of pros and cons.
Each capsule of Mushroom Max contains an even blend of the following ten:
• Lion's Mane
• Turkey Tail
• Reishi
• Cordyceps
• Chaga
• Shitake
• Maitake
• King's Trumpet
• Antrodia Camphorate
• Agaricus Blazei
At 500mg per capsule, that works out to 50mg of each mushroom. Which is essentially a non-psychedelic mushroom micro-dose. They suggest taking two to four capsules per day. If I were using this product, I'd use at least five capsules daily. But at that rate, the 60-capsule container would only last 24 servings.
It's not my top pick because the mushrooms are non-organic, and they do not specify whether they use the fruiting body or (cheap and less effective) mycelium.
Mushrooms are also bioremediants. They soak up and accumulate toxins from the environment. Luckily, Double Wood does third-party lab tests for purity and some contaminants.
Choose Double Wood Max Complex if price is your main concern, and you don't mind using non-organic mycelium products.
Mushroom Brands & Products I Do Not Like
Most of the brands, companies, and products I listed aren't the big names you hear mentioned by health influencers or in ads.
Although the brands below are more popular, I do not recommend them for the following reasons.
Four Sigmatic
This is among the first and most heavily marketed mushroom brands. Known for their mushroom coffee and latte alternatives, Four Sigmatic pioneered the category of mushroom-infused products. My main issues with them are price (they are orders of magnitude more expensive than other options on this list), and until recently, they didn't use the optimal fruiting body part of mushrooms.
While not necessarily a deal breaker, Four Sigmatic does not list extraction methods, beta-glucans percentages, or lab-test results. You're paying mostly for name, so for the price, you have much better options.
Host Defense
Legendary mycologist and mushroom educator created Host Defense to bridge the gap between humans and fungi. At least, the gap that existed back when he started the company. They offer a wide variety of product types, ranging from liquid tinctures, to syrups, sprays, and drink mixes. Given their history and influential backing, Host Defense self-proclaims the title "#1 Best Selling Mushroom Supplement Brand in the U.S.". My issue with them is similar to Four Sigmatic.
Gaia Herbs
Gaia Herbs makes a ton of high-quality herbals, botanicals, and other supplements. Including some mushroom products. Indeed, they're organic, use the fruiting body, and list the beta-glucans (although, strangely, in milligrams). They claim that each 450mg capsule contains 2,500 milligrams of dried mushroom. For the price, I prefer the options listed above which include rigorous testing, thorough extraction methods, and more versatility. Their multi-mushroom complexes consist of "proprietary blends" which hide the actual dosages. Overall, Gaia Herbs mushroom products are decent but over-rated.
What Are Functional Adaptogenic Mushrooms?
Medicinal mushrooms are a special subset of mushrooms renowned for their potent health benefits. They are often referred to as "functional fungi", meaning they help the body adapt to physical, mental, and environmental stress. Traditional medicine has used certain mushrooms for centuries, and they're now gaining popularity in the Western world.
Reishi, Lion's Mane, Cordyceps, and Chaga are among the most sought-after mushroom supplement for optimal health. Available in a variety of forms to fit your lifestyle–powders for your smoothies, capsules for convenience, liquid tinctures for fast absorption, or even fortified in teas and coffees.
People add medicinal mushrooms into their everyday life as a holistic approach to optimizing the immune system, controlling stress levels, boosting mental clarity, enhancing performance, and nurturing overall health.
They won't grant immortality or superhuman strength but they do offer an all-natural route to improving resilience and general wellbeing.
"Stacking" mushroom types together
"Stacking" different types of mushrooms together is a popular practice among pros, and offers unique benefits. By combining various mushroom species, you enhance the overall health benefits and effects. Each mushroom has its own set of bioactive compounds and properties.
Stacking creates a bio-synergistic effect by combining their individual strengths. Helping you target multiple aspects of your health simultaneously.
Popular mushroom complex stacks include:
Lion's Mane + Reishi: focused calm
Cordyceps + Chaga: exercise endurance & recovery
Lion's Mane + Cordyceps: mind & body performance
Tremella + Shiitake: youthfulness & beauty
Chaga + Turkey Tail: balanced immunity
There are countless possible permutations. The best functional mushroom products combine multiple different types together into one product.
But more isn't always better.
At a certain point, with each additional mushroom added, you cross the threshold and your dosage begins to suffer.
With tons of mushrooms in one product, you're no longer getting the clinically-proven dosages.
That's why it's vital to choose the right mushroom supplement complex.
What Are The Different Types Of Adaptogenic Mushroom Supplements & Their Science-Backed Health Benefits?
Modern scientific research is beginning to catch up with what ancient medical practitioners have known for centuries.
Depending on the species, medical mushrooms have a wide variety of applications:
Immune system health
Brain function
Stress and relaxation
Energy levels and fatigue
Cardiovascular health
Digestion and gut health
Cellular health (antioxidant support)
Anti-aging and longevity
Cholesterol support
Mood and emotional wellbeing
Liver health
Focus, concentration, and mental clarity
Inflammation modulation
Natural detoxification support
Each mushrooms contain a symphony of bioactive compounds that interact with our bodies in various ways. Every mushroom shares common mechanisms of action with the others, while also possessing unique properties and beneficial effects.
Here's a rundown of the top therapeutic mushroom types, their brief background, and their distinct uses.
Cordyceps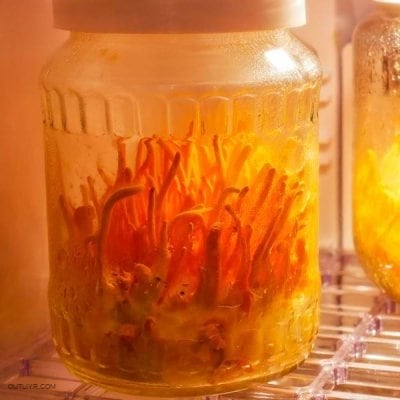 Cordyceps (Cordyceps Sinensis): Step into the world of Tibetan Medicine or Traditional Chinese Medicine and you'll find Cordyceps, a fascinating fungus with unique growing habits. Cordyceps take over the body of insects and alters their behavior. Luckily, it has a very different effect on humans. This mushroom embodies adaptability.
This is the premier mushroom for enhancing physical performance. It's like a natural, caffeine-free energy drink that elevates your body's production of adenosine triphosphate (ATP). Increasing cellular energy, and increasing delivery to muscle tissue.
But that's not all. Health and performance benefits of cordyceps mushroom include:
Sports performance via increased cellular energy (ATP) production
Immune-modulating

Respiratory health via improved oxygen utilization and easing symptoms of coughs, bronchitis, and asthma

Heart/cardiovascular health via improved cholesterol levels and reduced

heart arrhythmias

Kidney health via reduced creatinine levels, helping treat nephritis, and more
Anti-aging via increased antioxidant and ATP levels
Anti-inflammatory via suppressing

pro-inflammatory markers, immune modulation
Cordyceps is the mushroom of athletic performance, energy, and notifying the organs back into bioharmony.
On to my favorite mushroom of all.
Lion's Mane
Lion's Mane (Hericium erinaceus): Named for its shaggy appearance reminiscent of a lion's mane, this mushroom offers more than aesthetic appeal. This magnificent mushroom is often seen gracing hardwood trees in the wild, adding a touch of magic to the forest landscape. In addition to being a gourmet delight, Lion's Mane is praised for its potential cognitive benefits.
This is the best mushroom for brain health, cognition, and neural support. It's a gentle, natural nootropic that supports the growth of neurons by increasing nerve growth factor (NGF), brain-derived neurotrophic factor (BDNF), and more.
There's more.
Health and performance benefits of Lion's Mane mushroom include:
Cognitive enhancement via increased NGF & BDNF production
Neuroprotection against conditions like dementia and Alzheimer's
Mood regulation (especially against feelings of anxiety or depression)
Immune system modulation
Gut health via its prebiotic fiber content
Liver health via antioxidant protection against oxidative stress (hepatoprotective)
Anti-inflammatory via numerous compounds that exhibit potent anti-inflammatory and antioxidant capabilities
Heart/cardiovascular health via decreased total cholesterol and triglyceride levels and help prevent the oxidation of cholesterol in the bloodstream
Lion's Mane is the mushroom of mental health, growth, and helping protect the neuroendocrine system.
Next, we have one that's sometimes referred to as the "queen of mushrooms".
Reishi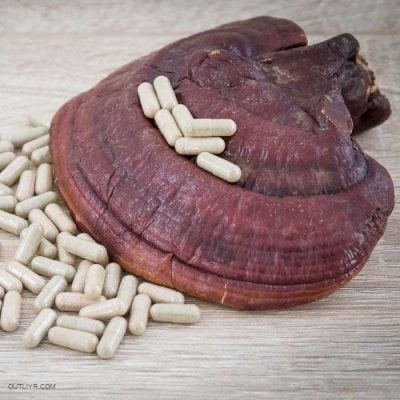 Reishi (Ganoderma lucidum): Dive into Eastern folklore and you'll encounter Reishi, hailed as the "mushroom of immortality." Aesthetically pleasing with its lustrous red cap and tough texture, Reishi has been revered for centuries in Asian cultures due to its longevity-promoting properties. As a calming force against stress and sleep disruptions, it eases your path toward tranquility without making you feel drowsy or lethargic.
This mushroom is best known for its immune-modulating and stress-reducing effects. It's like nature's chill pill, calming your nervous system and balancing your body's response to stress.
The benefits of Reishi mushroom extend far beyond just immunity and calmness:
Immune modulation via activation of white blood cells (high beta-glucan content)

Stress relief via regulation of hormone production, heart rate, and blood pressure

Sleep aid via nervous system regulation which improves sleep quality and circadian rhythm

Liver protection (hepatoprotective) through antioxidant properties and detoxification support

Cardiovascular health via lowered blood pressure and cholesterol levels, reducing heart disease risk

Anti-inflammatory via neutralization of harmful free radicals that contribute to inflammation and cellular damage

Anti-aging attributed to its powerful antioxidants and anti-inflammatory compounds and other bioactive
Reishi is the mushroom of relaxation, chill, and nervous system re-regulation.
So whether you're seeking better rest or a stronger immune system, consider trying out this ancient mushroom for modern wellness.
Chaga
Chaga (Inonotus obliquus): Known as the diamond of the forest, Chaga stands out with its hard exterior resembling burnt charcoal rather than a typical mushroom. Found clinging to birch trees in colder climates, this resilient fungus epitomizes survival under harsh conditions. Its rich antioxidant content makes it glow with potential health contributions beyond immunity support.
This is the heavyweight champion when it comes to antioxidant content. It's like nature's multivitamin, packed with a B vitamin complex, vitamin D, potassium, amino acids, fiber, copper, selenium, zinc, iron, manganese, magnesium, and calcium.
Chaga is rich in antioxidants and it's often used for boosting the immune system and overall health.
But there's more to this mushroom. Health and performance benefits of Chaga mushroom include:
Immune system support via high levels of beta-glucans
Anti-viral properties which help fight off bacteria and viruses
Anti-inflammatory properties via its powerful antioxidant profile
Digestive aid via improved production of beneficial bile
Skin health via its rich melanin content that nourishes the skin and protects it from sun damage
Heart health via improved LDL ("bad") cholesterol breakdown
Anti-cancer potential via high levels of a compound called betulinic acid
Blood sugar regulation
Chaga stands out for its role as an immune modulator (especially common as a cancer adjunct), digestive aid, and high nutrient content.
Next, we have another mushroom beloved for its unparalleled beta-glucan content.
Turkey Tail
Turkey Tail (Trametes versicolor): Named for its resemblance to the colorful tail feathers of a turkey. However, there is much more behind this colorful facade! This woodland inhabitant adds value to ecosystems by decomposing dead woods while offering exciting prospects for human health research due to its interesting biological properties.
Valued in traditional medicine for centuries, Turkey Tail has gained prominence due to the recent worldwide immunity craze.
Turkey Tail is renowned for its ability to provide robust support to the immune system. Its high levels of beta-glucans act as potent immunomodulators, enhancing the activity of immune cells and promoting a balanced immune response.
Some of the health benefits offered by Turkey Tail:
Immune system support via extremely high levels of beta-glucans (bolstering overall immunity)
Anti-inflammatory properties via its powerful antioxidant profile (reduces oxidative stress) of flavonoids and phenols
Digestive aid via microbiome-feeding prebiotic fibers and improved production of beneficial bile (helps to break down fats and absorb nutrients)
Liver health via improved detoxification
Cardiovascular health via balancing cholesterol levels
Anti-viral activity against certain pathogens
Neuroprotection to support brain health and cognitive function
Skin health via reduced inflammation and protection against oxidative damage
Energy and bone health via prebiotic fiber-enhanced mineral absorption
Turkey Tail is my pick for general immunity.
Next, we'll discuss the lesser-known mushrooms.
Tremella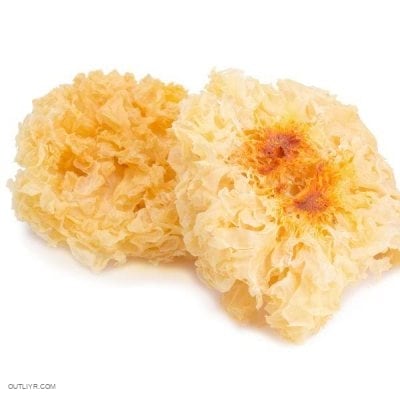 Tremella (Tremella fuciformis): Meet Tremella fuciformis – the snow fungus that glistens like jelly when wet. Resembling delicate sea coral or an intricate lace web when dry, Tremella adds elegance whether sitting on a woodland log or steeped in your tea cup.
Prized not only for gastronomic novelty but also for cosmetic applications due to its hydrating properties.
It's often used for beautification among other benefits:
Beauty, skin hydration and moisturization,
Skin elasticity, the appearance of wrinkles, and overall skin health via reduced inflammation and protection from oxidative damage
Brighter and more radiant complexion
Hydrating effects on the hair, promoting moisture retention, and reducing frizz
Brain health and cognitive function support
Immune system support via polysaccharide levels
Vitamins and mineral rich
Tremella is the undisputed mushroom of aesthetics, often used in personal care products because it improves appearances without clogging pores or any of the common toxicity of beauty products.
If I were worried about cholesterol, I'd research this next mushroom.
Oyster
Oyster Mushroom (Pleurotus ostreatus): Imagine walking through damp woods and stumbling upon clusters of soft fan-shaped caps – welcome to the world of Oyster mushrooms. These fungi are popular culinary treats due to their mild yet savory flavor profile fitting perfectly into stir-fries or soups alike. Their high antioxidant content hints at an intriguing underlying strength beneath their exterior.
Known for their antioxidant content and high levels of naturally-present cholesterol-lowering compounds like lovastatin, Oyster mushrooms have become a top choice for those looking for safer alternatives to cholesterol medication.
They also contain significant amounts of beta-glucans contributing to immune-supporting properties.
Some of the benefits of Oyster mushrooms include:
High level of antioxidants
Can help lower cholesterol levels due to the natural lovastatin content
Supports immune function via beta-glucans
Anti-cancer properties via certain compounds that may inhibit the growth of cancer cells or even induce apoptosis (cell death) in tumor cells
Moisturizing and anti-aging properties notably improve skin hydration and elasticity
Contains lovastatin, a powerful naturally occurring cholesterol-lowering agent
High in the amino acid called glutamic acid
Skin lightening and brightening properties via inbhibition of an enzyme called tyrosinase, which is involved in melanin production
Oyster mushrooms are ideal as a natural cholesterol-lowering therapeutic, to get ample ergothioneine, and for general beautification.
If you consume mushrooms, you've probably tried this next one.
Shiitake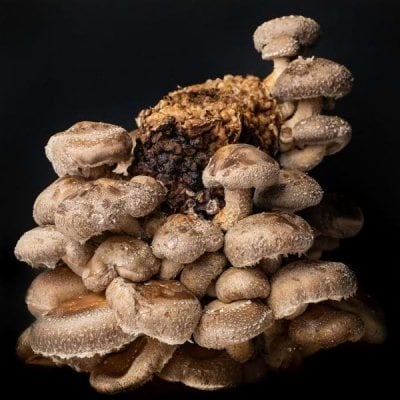 Shiitake (Lentinula edodes): Regarded as symbols of longevity in Asia due to their medicinal qualities, Shiitakes have made their way from ancient medical texts into modern kitchens worldwide. Shiitake mushrooms bring deep earthy flavors and meaty textures that make them far more than just dietary staples. With robust caps bearing striking gills underneath, they offer both visual appeal and nutritional value.
Besides flavor, Shiitakes have various uses including supporting cardiovascular health and boosting the immune system.
Unique health benefits of Shiitake mushrooms include:
Improve circulation, and support cardiovascular health
A compound called lentinan potentially stimulates the immune system and inhibits tumor growth
Rich in B vitamins (vitamin B6, niacin, and pantothenic acid), improving energy production, nervous system function, and metabolism
Contains eritadenine, a naturally occurring compound that reduces cholesterol levels by inhibiting an enzyme involved in cholesterol synthesis
Rich in minerals such as copper (production of red blood cells and collagen formation), selenium (antioxidant and hormone support), and zinc (immune function and wound healing).
Other compounds exhibit antiviral and antibacterial properties
Maitake
Maitake (Grifola frondosa): Revered in traditional Japanese and Chinese medicine, Maitake mushrooms have gained popularity worldwide for their distinctive flavor and numerous health benefits. Maitakes possess a unique appearance with overlapping clusters of fan-shaped caps that resemble dancing butterflies and contribute to their allure.
Maitake has been used traditionally as an adaptogen and a general tonic for well-being, potentially helping regulate parts of the human immune system.
Benefits of the Maitake mushroom include:
Immune regulation via special compounds like beta-glucans and grifolan
Anti-tumor effects, making it a consideration in cancer therapeutics
Blood sugar support via improving insulin sensitivity and glucose metabolism
Protection against oxidative damage caused by free radicals
As a general wellness tonic
Cardiovascular health via compounds that reduce cholesterol levels and regulate blood pressure and weight loss by increasing satiety, regulating appetite, and potentially influencing fat metabolism
Gut health and digestion via dietary fibers that feed gut microbiota

Rich source of vitamins, minerals, and antioxidants (vitamin B, vitamin D, potassium, copper, zinc, selenium, as well as various antioxidants)
Nothing particularly stands out to me regarding Maitake, but it synergizes well in formulas with other mushrooms.
Now that you know the many benefits of mushrooms, let's discuss how to choose between the top adaptogenic mushroom supplement blends.
How to Choose the Best Mushroom Supplement Brand & Product
Perhaps you're wondering how I selected the best mushroom extracts.
My review and scoring came down to the following factors and personal experience.
Production process
You can spot high-quality mushroom products immediately based on their disclosure of cultivation practices.
We're looking for organic products that are grown in controlled environments. Some things I check for:
Supplier: Most brands buy from other sellers, wholesalers like Nammex are considered the best
Certifications: Third-party certifications, such as USDA Organic or Good Manufacturing Practices (GMP) add extra credibility
Ingredients: I always check the "Other Ingredient" list to avoid unnecessary additives or fillers
Next, is a consideration that often flies under the radar.
Optimal extraction
The mushroom extraction technique may seem boring, but it absolutely determines the quality of the final product. It determines how many bioactive constituents remain in the final powder/capsule.
To make matters worse, there's no one "best extraction" technology for all mushrooms.
Some mushrooms are ideally extracted in water. Some in alcohol. Others yet benefit most from dual extraction, meaning they undergo both water and alcohol extraction to optimize the bioavailability of both water-soluble and fat-soluble components.
The other factor is the extraction ratio. Powerful extracts will list the ratio of raw mushrooms to the final extract. For example, a 5:1 extract would indicate they used 5 pounds of raw mushroom to make 1 pound of extract. The higher the ratio, the more potent the extract.
Ideal mushroom type
While certain mushrooms are more famous than others, your unique circumstances will dictate which will work best for you.
Things like your health goals, biological constitution, and lifestyle all make a difference. For example:
Reishi is great for sleep and relaxation

Lion's Mane mushrooms support brain health and function

Cordyceps boosts energy and athletic performance

Chaga is a great antioxidant often used as a coffee replacement and to augment medical treatments

Turkey Tail usually has high levels of beta-glucans making it a powerful immunity enhancer
And much more.
Most people do well with a blend of two to ten (ideally five or fewer) mushrooms.
Then you'll want to consider your daily routine and personality type.
If you have a busy schedule and prefer convenience, capsules might be the most suitable. If you prefer control over dosage and the best value, you'd choose powders. Mushroom-infused teas, coffees, or tinctures are another option for those that prefer liquid.
Uses mushroom-fruiting bodies
When manufacturers use the right parts of the mushroom, you can bet they prioritize health benefits over profit.
There are basically two parts of mushrooms used in supplements. Mycelium is an abundant grainy substance, but ineffective and extremely cheap. The other part of the mushroom, known as the fruiting body, is what yields the vast majority of the benefits.
Products using "fruiting bodies" of mushrooms are better than mycelium-based options for several reasons:
Nutrient Density

: Fruiting bodies generally contain higher levels of beneficial compounds, such as beta-glucans, polysaccharides, and other bioactive substances. These compounds are believed to contribute to the potential health benefits associated with mushroom supplements

Traditional Use

: In traditional herbal practices, the focus has often been on using the fruiting bodies of mushrooms rather than mycelium. This historical use suggests that the fruiting bodies may have a reputation for stronger therapeutic effects

Scientific Research

: Most scientific studies investigating the medicinal properties of mushrooms have primarily focused on the fruiting bodies rather than mycelium. Thus, more research supports the health benefits of mushroom-fruiting bodies

Quality Control

: It's challenging to control the quality and consistency of mycelium-based products. The growth conditions and extraction methods used for mycelium cultivation may vary between brands, potentially affecting the final product's composition and potenc

y
While mycelium-based products can still provide some health benefits, choosing products that primarily utilize fruiting bodies results in more potent effects.
Bioactive compounds listed (especially beta-glucans)
What we really care about are the active ingredients within medicinal mushrooms. Levels and types of bioactive compounds vary based on mushroom type, cultivation process, and extraction method. However, here are some of the bioactive compounds that you may come across on mushroom supplement labels:
Beta-Glucans

: Beta-glucans are polysaccharides found in mushrooms known for their potential immune-modulating properties. They are often highlighted as a key bioactive compound in mushroom supplements

Triterpenes

: Certain mushrooms, such as Reishi and Chaga, contain triterpenes, which have been studied for their potential antioxidant and anti-inflammatory effects

Polysaccharides

: Besides beta-glucans, other polysaccharides present in mushrooms, like alpha-glucans and heteropolysaccharides, contribute to the potential health benefits of mushroom supplements

Lectins

: Some mushrooms contain lectins, which are proteins that can interact with cells and potentially have immune-stimulating properties

Phenolic Compounds

: Various phenolic compounds like flavonoids and phenolic acids found in mushrooms may contribute to antioxidant and anti-inflammatory activity
This is one area that we must take the levels reported by the brand at their word. Beta-glucans and triterpenes are among the easiest bioactive compounds to test for.
At the very least, they should specify the content of beta-glucans.
Dosing and serving size
Whether due to a lack of understanding or desire to flaunt a flashy label, unfortunately, many products fall short on their dosing.
I see a product boasting "20 different mushrooms in every serving".
Usually, when you go above about five or so mushroom types, you lose significant dosage (or servings per container).
I compared and researched the entire market, I sometimes see labels listing just 10-60mg of mushrooms per serving. This micro-dose of mushrooms won't yield the intended or researched effects.
But it sounds good and is easy to market.
Be wary of these types of products.
A good rule of thumb is that a single mushroom product (ie: pure Lion's Mane) should be dosed at 500mg or more. Blends should contain at least 200mg for each mushroom.
Lab testing
Mushrooms are bioremediants meaning they soak up everything in their growing environment.
Including heavy metals, pesticides, herbicides, insecticides, and other synthetic chemicals.
Laboratory testing ensures that products are not only safe and devoid of dangerous contaminants, but also contain the right mushroom and dosage.
Some of the common tests high-quality brands run on their mushroom products include:
Identity Testing

: This testing confirms the authenticity and correct identification of the mushroom species used in the supplement. It ensures that the product contains the intended mushrooms and helps prevent mislabeling or adulteration

Potency Testing

: Potency testing measures the concentration or levels of specific bioactive compounds, such as beta-glucans or triterpenes, in the supplement. This testing can help determine if the product meets label claims regarding its active constituents

Microbiological Testing

: Microbiological testing identifies and quantifies microbial contaminants, such as bacteria, yeast, mold, or pathogens like E. coli or Salmonella. This testing is important for ensuring product safety and protecting against potential health risks

Heavy Metal Testing

: Heavy metal analysis checks for the presence of harmful heavy metals like lead, arsenic, cadmium, and mercury in the supplement. Elevated levels of these metals can pose health risks, so this testing is crucial for verifying product safety

Pesticide Residue Testing

: Pesticide residue analysis detects traces of pesticides and herbicides in the supplement. It ensures compliance with regulatory limits and confirms that products are free from potentially harmful chemical residues

Quality Assurance Certification

: Some reputable brands obtain certifications from third-party organizations (e.g., NSF International) to demonstrate adherence to quality control standards and good manufacturing practices
Some of my favorite companies will readily display their recent lab testing results (the CoA) on the product page. Or at the very least, send it over upon request.
Value
Of course, price matters.
There are some great mushroom companies that price their products unreasonably high. Especially considering the other viable options.
Generally, mushroom products cost between $0.25 to $3.00 per serving.
Sometimes, but not always, expensive products have a higher price tag for a reason.
For example, CollaGenius uses some 100:1 extracts. Concentrating the bioactive ingredients. Meaning that yielding 1 pound of the final mushroom took 100 pounds of the raw mushroom. On the other hand, some companies just grind up and sell raw mushrooms. These two products will have different costs to manufacture and thus different prices.
Since we're using therapeutic mushrooms for the benefits and effects, ultimately value matters most.
Adaptogenic Mushrooms Q&A
I get a lot of questions about how to take mushroom supplements. The world of mushrooms offers something for just about everyone.
Is mushroom coffee healthier?
Thanks to brands like Four Sigmatic selling pre-made mushroom coffee mixes, this has quickly become a lasting trend. 
All else equal, mushroom coffee is healthier than normal coffee for most people. Depending on the mushrooms used, it contains a plethora of powerful health-benefiting bioactive substances. Sadly, however, all else is rarely equal. Some brands use low-quality coffee beans and the addition of mushrooms helps mask the taste of inferior coffee.
Are therapeutic mushroom supplements safe?
Quality mushroom supplements are safe. Mushrooms are food, and some of the ones listed above are used in gourmet cooking. They have a multi-century history of safe and effective use in ancient medical systems. Always check with your healthcare professional first to make sure they're compatible with your current regimen.
What is the healthiest mushroom supplement?
According to the most experienced practitioners, the overall best and healthiest mushroom supplement is either Cordyceps or Reishi. These two have the most uses, are widely biocompatible, and have the most pronounced benefits. Ideally, you'll use both in a mushroom complex, the best of which I've listed above.
What is the best mushroom supplement for the brain?
Lion's Mane is widely considered the best adaptogenic mushroom for the brain. It combines nicely with another mushroom called Tremella, and several others that are rich in a substance called ergothioneine.
What is the best mushroom supplement for focus?
The ideal focus-enhancing mushroom supplement is a high-potency extract combination of Lion's Mane and Cordyceps. This pairs nicely with a brain-enhancing ingredient called C8 MCT Oil. I've found a product called CollaGenius is the best for cognition and focus.
Are mushroom capsules or powders better?
The best form of a mushroom product depends on your lifestyle. Mushroom powders are better value, offer precise dosing, and use fewer fillers. Mushroom capsules have no taste and are portable and convenient.
Are mushroom gummies beneficial?
Gummy supplements are best for those that don't like pills or powders but still want all the benefits of functional mushrooms. They generally contain sugar and other undesirable additives, so I only recommend several products.
What is the best adaptogenic mushroom for anxiety?
Mushroom supplements generally aren't a primary treatment for anxiety. Of the adaptogenic mushrooms, however, Reishi is the recommendation for nervousness, worry, fear, stress, and overall mood improvement. The best products will combine mushrooms with other adaptogens like Ashwagandha, Rhodiola, and Ginseng.
Can mushrooms help with weight loss?
Mushrooms indirectly aid weight loss through their prebiotic fibers and gut microbiome benefits. The high fiber content quickly suppresses appetite, and their low-calorie content and glycemic influence can slightly improve weight loss efforts. Especially when paired with these Easy Outliyr Weight Loss Tips.
Best Therapeutic Mushroom Products Review: Final Verdict
Herbal and botanical adaptogens were highly prized by virtually every culture around the world for thousands of years.
Some of the most effective and safest remedies known to humankind.
Many of these same cultures also used special kinds of mushrooms for medical and health purposes. Yet they're still not well known.
Today, tons of companies produce high-quality, science-backed products. Products that contain single mushrooms, or complexes of multiple.
While researching this post, I also came across a lot of junk. Many are low-value, and a large number are flat-out scams.
Since mushrooms are bioremediants that concentrate all toxicants and contaminants from the environment into themselves, you're better off using nothing than a low-quality product.
That's while I compiled this review and comparison.
I personally use mushrooms daily and wanted to share some of the top options on the market. To help you cut through the noise.
If I could only use one mushroom complex, I'd certainly pick CollaGenius. For budget and value, anything made by Real Mushrooms is also great. The other options will depend on your preferences and lifestyle.
Do you use therapeutic mushrooms?
If not, choose the product above, and click the button to get started. If you do, drop a comment below and let me know your experience! I personally read every single comment.