"Detoxification is a scam".
"If detox programs worked, we'd know it by now".
Well-intentioned doctors, medical professionals, and knowledgeable laypeople often label anything remotely related to a "cellular cleanse" as snake oil.
After all, ancient humans never did juice cleanses or other pop detox programs.
It's true. Given all the right raw materials and opportunities, the body naturally detoxifies.
In fact, the glymphatic system in the brain alone neutralizes about three pounds of toxins every year while you sleep. And that's just the beginning.
Our problem is twofold:
Less ability to excrete toxicants
Greater exposure to more and higher levels of toxicant chemicals
That's exactly the issue. Most modern humans have impaired detoxification pathways and systems (phase II in particular). Plus, on a daily basis, we're bombarded by a skyrocketing number of new chemicals—most of which are never tested for interactions.
"Our modern habitat constrains time resources, subtracts key genetic triggers, adds environmental challenges, presents seasonal illness, and makes eating much easier than expending energy" — Joel Greene
Click To Tweet
Classic detoxification strategies of exercise, sweating, urinating, and evacuating are no longer enough. Biohackers and savvy holistic healthcare practitioners implement all kinds of things, from simply consuming certain nutrients, to fringe practices like coffee enemas.
So in this post, we'll cover all things detoxification. From why it's more important than ever, to how cellular detox works, to the benefits you'll experience, to the best ways to naturally and powerfully detox fast.
Detox must occur on a cellular level —> go to the cell to get well
Click To Tweet
Why Detoxification is Necessary
Manual, planned cellular detoxification has become a new need. Previous generations of humans naturally detoxified without much issue.
Indeed, one study discovered 287 different chemicals in the cord blood of babies [R].
Tests detected 20 toxins in the blood of Germans ten years ago. Today, the same tests show over 500.
Many years ago, researchers went into school cafeterias and discovered unsafe levels of 19 pesticides in the foods. Chemicals can spontaneously combine and are never researched in combination. Creating an apple pie from apples results in the formation of chemicals that researchers have never identified. Researchers went into school cafeterias and discovered 19 pesticides at unsafe levels. What happens when they combine in the body?
Chemicals can spontaneously combine and are never researched in combination.
What happens when all these combine in the body?
Here are a few facts that concerned me:
Americans lose 11M IQ points every year just due to hormone-disrupting chemicals
Only 2% of the 100,000+ chemicals around today have been thoroughly tested
Toxic PFCs concentrate in lean meat
Xenoestrogens are 100x more potent than human estrogen
Neurotoxins have an affinity for the hypothalamus
Excess estrogen blocks proper liver flow and inhibits detox
Parasites, especially worms, but also fungi and candida, can absorb multiple times their body weight in toxins
Mercury vapor from tooth filling moves to the brain and becomes inorganic mercury which lasts most of a lifetime unless detoxed
Heavy metal toxicity passes down through four generations through genetics and epigenetics
Glyphosate, the world's most popular pesticide, drives heavy metals deeper into the brain
Heavy metals and certain common chemicals can damage the endocrine system
Toxins inflame cell membranes and block nutrients from entering
Our body can normally handle these threats. When it has ample resources and time.
But that's the issue.
We cannot escape toxicants:
Molds
Food carcinogens and harmful compounds
Agriculture chemicals
Drinking water chemicals
Cleaning products
Plastics
Clothing
Cars
Air fresheners
Carpets, furniture
Cookware
Environmental toxins
Radiation, nnEMFs
Stress, trauma
Even cooking at high temperatures can increase acrylamide within foods. This is a carcinogenic neurotoxin resulting from a chemical reaction between amino acid asparagine and sugars when cooked at temperatures of 250+ degrees Fahrenheit.
So despite what your friendly MD may tell you, true detox has its place in the modern biohacked lifestyle.
First, we must understand the fundamentals of real detoxification.
Key Detoxification Organs
The human body has an innate ability to neutralize and eliminate toxins, but it requires the optimal functioning of key detox organs to do so effectively.
Cellular detox always begins with the liver before involving other organs.
The Liver: Your Body's Alchemical Plant
Considered your detoxifying powerhouse, any true detox program will focus heavily on the liver. Everything we eat, drink, or ingest passes through it.
Often compared to a super-efficient chemical factory, it uses two-phase biochemical processes (Phase I and II) to convert toxins into less harmful compounds that you excrete from your body.
Modern living, however, puts major burdens on this hardworking organ. Ultra-processed foods, drugs, alcohol consumption, and stress, amongst other things, overwork the liver. Slowing down detoxification. Optimizing liver health directly enhances your body's detox pathways and speeds up toxin elimination.
The Kidneys: Masters of Filtration
Our kidneys filter up to 200 liters of blood every day!
Positioned behind our abdominal cavity, these bean-shaped organs act as supreme filters. Through a network of tiny functional units called nephrons, they cleanse our blood, eliminating waste which is later sent down to be discarded via urine.
Nourish them properly by drinking clean, filtered, and purified water, and consuming specific nutrients, such as potassium, magnesium, the vitamin B family, and vitamin C.
Skin: Our Largest Organ
Covering approximately 20 square feet in adults — yes, you read that correctly — our skin acts not only as a protective shield but also as a key detoxification organ!
Sweating, whether induced by heat or physical activity, helps us expel all kinds of toxins from our system. It's one of the primary detoxification channels. Some of the toxins expelled through the skin include heavy metals and chemicals like Bisphenol-A (BPA), Phthalates, Polychlorinated biphenyls (PCBs), and many others.
Use sauna therapy and regular exercise to take advantage of this natural detoxification pathway.
Lungs: More Than Respiration
Our lungs play a dynamic role, well beyond breathing. They actively participate in the body's detoxification process. And even fat loss.
Each breath not only exchanges oxygen and carbon dioxide but also helps expel metabolic waste products and airborne toxins. This exchange enables many other processes.
Plus, the lungs filter out harmful particles from the air we breathe. Like dust, pollutants, and allergens. They trap these particles in mucus so that you can eliminate them through the digestive system.
Deep breathing maximizes oxygen intake and enhances toxin release, promoting overall lung health and efficiency.
Lymphatic System: Nature's Waste Management
The lymphatic system is an intricate network designed to help the body manage internal waste. It is made of lymph nodes, interconnected by a vast array of vessels.
These vessels span your entire body. Primarily, they transport lymph. This clear fluid contains white blood cells that fight infections and waste products. The lymphatic system helps excrete this waste out of the body.
The system tirelessly drains toxins and unwanted materials from every cell in your body.
It is pivotal to maintaining fluid balance, aiding digestion, and supporting immune function. Unlike the circulatory system, however, the lymphatic system lacks a central pump.
Therefore, it relies on muscle movement, breathing, and gravity to propel lymph fluid through its vessels.
Digestive System: The Cornerstone of Health & Detoxification
Stretching from your mouth to your rectum, the digestive system is incredibly complex and plays an active role in cellular detoxification.
This multi-organ system is responsible for breaking down food, absorbing nutrients, and most relevantly, expelling waste.
Each stage of digestion contributes uniquely. Starting in the mouth, salivary enzymes kickstart carbohydrate breakdown. The stomach uses potent hydrochloric acid to kill pathogens and further break down food.
As food continues, the small intestine absorbs nutrients but leaves toxins in the digestive tract. Then, they're later bound with fiber in the large intestine.
Lastly, the colon compacts these wastes into the stool for elimination from the body. Altogether, continually eliminating toxins before they get absorbed.
If you have problems with hydration or elimination, you re-absorb those toxins. Adding burden to other detox organs.
The Science of How Detox Really Works
For some reason, experts cannot agree on the nomenclature behind the detox process. Is it two phases or free phases? Or even four?
Most health practitioners agree on the first two:
Phase 1: Functionalization
Phase 2: Glucuronidation/Conjugation
Phase 3 is required but sometimes lumped into the other stages of detox.
This video gives a simplified explanation of how it all works:
Phase 1: Functionalization
The first phase of detox is called functionalization. Toxicants enter the body and are quickly rendered semi-inert. They're packed away and insulated from the rest of the body in fat cells. Yet in this state, they're also hard to remove. Functionalization is the step in which the body transforms the toxicants for easier elimination.
The unfortunate result is increased levels of free radicals, making antioxidant support quite helpful.
Phase 1 is upregulated by toxin exposure (including environmental and drugs). Many different chemical-specific enzymes support this process.
The speed of this phase usually creates an imbalance and backlog/bottleneck for the next phase.
Phase 2: Glucuronidation/Conjugation
Phase 2 of the detoxification process is where the body transforms the toxicant from fat-soluble to water-soluble—for elimination through bodily fluids [R].
It does this by binding that toxicant to other non-toxic side groups. There are six of these detox pathways and additions that chemicals undergo:
Sulfation: adding sulfate groups.
Methylation: adding methyl groups.
Acetylation: adding acetyl groups.
Glucuronidation: adding glucuronic acid (a derivative of glucose) groups.
Amino acid conjugation: adding amino acid (glycine, taurine, glutamine, arginine, ornithine) groups.
Glutathione conjugation: adding glutathione groups.
The dominant pathway used for phase 2 depends on the type of chemical.
This is the key metabolic detoxification phase for most people to focus on. It's also where nutritional support makes the biggest difference.
Now, we're ready to transport the transformed toxicant out of the body.
Phase 3: Elimination
Depending on your source, they either lump transportation and elimination into phase 2 or not at all—just assuming it always works properly.
This is the final detox phase. The body completely expels the now transformed toxicant through:
Sweat
Urine
Bile
Stool
Breath
Special substances called transport proteins accomplish the transportation from cells through organs of elimination.
These are the scientific basics of cellular/metabolic detoxification. But what's the point of optimizing this process?
Benefits of a True Cellular Detox
Though their methodologies may not work, the potential benefits you've likely heard of pop detoxes are actually accurate.
A true detox removes heavy metals, environmental pollutants, and metabolic waste products. These toxins harm our health and disrupt the functioning of cells, tissues, organs, and systems throughout the body.
Some of the health benefits of cellular detox include improved [R]:
Energy levels: removing toxins and supporting optimal organ function, can boost energy (ATP) levels and reduce fatigue.
Longevity: reducing toxic load helps organs work better, leading to a higher quality of life and longer-term anti-aging effects.
Skin clarity: toxins reduce circulation and nutrient uptake, contributing to skin issues like acne, eczema, and dull complexion.
Immunity: strengthen the immune system by reducing the burden on key detoxification organs and promoting optimal immune function.
Weight loss (indirect): the body holds on to fat to insulate you and protect the metabolism from toxins, plus unhealthy cravings lessen.
Cognition and mental clarity: as a metabolically demanding organ, a toxic burden in the brain impacts mental clarity, focus, energy, and memory.
Cellular regeneration: detoxification processes stimulate the repair and regeneration of cells, tissues, and organs.
Hormone balance: organs working sub-optimally due to toxin exposure struggle to automatically balance hormones, regulate mood, and control reproductive health.
Digestion and gut health: removing certain toxicants rebalances the microbiome (reduces harmful bacteria and promotes the growth of beneficial bacteria), improves digestion, and enhances nutrient absorption.
Healthy inflammation: proper protocols help reduce inflammation by eliminating pro-inflammatory substances and lessening your resistance to eating anti-inflammatory foods.
Organs like the liver, gut, lungs, and kidneys all perform myriad essential functions that keep your body and mind working their best.
Certain organs are alchemical centers of the body, acting as the body's built-in natural pharmacy to transform toxic substances and better utilize essential nutrients
Click To Tweet
For example, supporting the liver also improves hormone production, protein synthesis, and digestion.
The net result of a cellular cleanse?
You look, feel, and perform your best.
Safe & Effective Detox Methods
There are hundreds—if not thousands—of ways to safely detox.
All effective cleansing plans, however, share certain common characteristics:
Optimize organ health and function
Master lifestyle foundations (nutrition, sleep, movement, light, stress reduction, etc.)
Improve the core detox pathways
My favorite approach to a thorough cellular detoxification process involves small, daily actions with occasional thorough support.
Most people are focused on the "what" of detox. But the "how", "why", and "when" also make a huge difference. More on that later.
A quick word of caution.
If your detoxification pathways are not operating properly, you may feel sick or experience symptoms. Especially in the beginning, if you radically change your diet or exercise routines.
This is called a "Healing Crisis" (or the similar "Herxheimer reaction") and it occurs because toxins accumulate in the fat tissue, which gets broken down and burned during weight loss.
With that out of the way, let's get started.
Outliyr Detox Protocol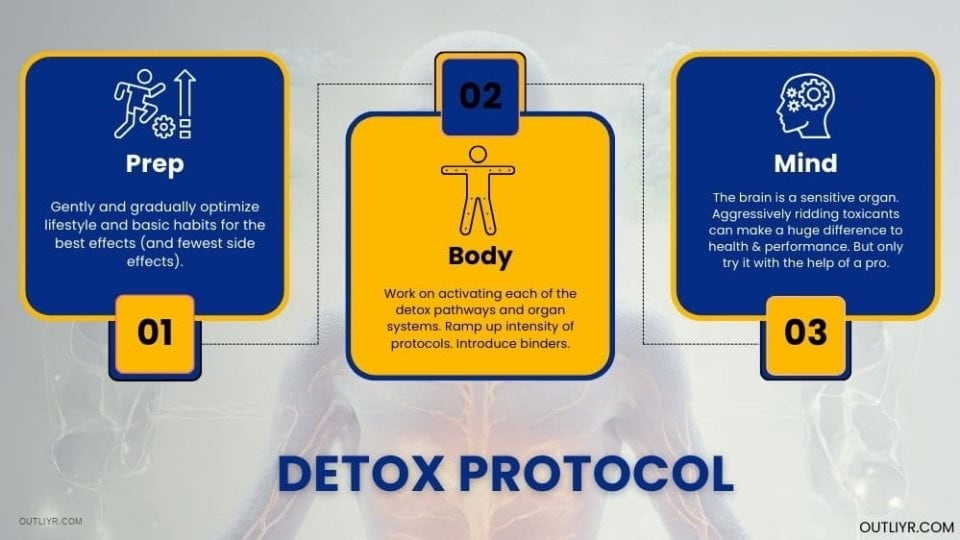 I'm sure all that was overwhelming. Now, let's get practical. How can you implement a true cellular cleanse?
First, you should know this…
What you don't do matters equally to what you do. As I explain in the principles of bioharmony, so does the sequencing of your detox (or "the when").
Cavalierly popping a couple of detox supplements and going about your day will result in mediocre results.
If your detox pathways aren't working properly, you may feel sick as you start. That's why you'll want to go through this three-step process.
By doing so, we can minimize the common symptoms of a "healing crisis" (feeling cold, random pains, problems sleeping, rashes and skin outbreaks, headaches, and migraines).
Essentially, our detox plan involves:
Avoiding reintroducing the primary sources of toxicants
Sweating and breathing 4-5x per week
Mastering the basics (sleep, stress reduction, nutrition)
Consuming more organic/wild plants for the higher levels of phytonutrients
Moving often
Using binders whenever breaking down body fat (for example, in the sauna)
Adding targeted supplements for antioxidant and detox pathway support
The entire process can take as little as a week, or as long as three months. Depending on your toxic burden and patience. The shorter and more aggressive your detox, the riskier.
Prep
The first step in the process is to transition into a cellular cleanup mode.
Make sure to get adequate sleep and focus on managing stress. You'll also want to consume ample vitamins, minerals, antioxidants, and the nutrients required for your detox pathways to activate.
Add some low-intensity movement like walking, rucking, stretching, light yoga, rebounding, etc. These stimulate peristalsis, lymphatic and glympatic drainage, and further enhance key detox processes.
All the while, the prep phase is gentle and gradual enough to avoid triggering a healing crisis.
Body
Next, you're ready to begin detoxifying the body.
You'll want to introduce practices and products that improve each of the core detoxification organs. Focusing on the body before the brain.
Remember that when you do something that increases the breakdown of body fat (strenuous exercise, sauna, etc.), you want to pair that with plenty of water, electrolytes, and a binder.
That way, when the body fat releases toxins, the binders attach and help transport them to excretion sites.
Otherwise, the toxins will just lodge elsewhere in the body.
If you're new to detoxification, you may want to end your protocol here. At least, initially.
Mind
The brain is a highly sensitive organ with intricate structures and functions.
Forcibly detoxifying the brain without proper knowledge, guidance, or medical supervision can be dangerous. More than any other organ.
The uncontrolled release of stored toxins can overwhelm the detoxification systems and result in a shuffling of toxic substances, potentially lodging in dangerous parts of the brain.
You shouldn't have issues from simple lifestyle things like sleeping enough or managing stress.
However, certain things like intense exercise, prolonged sauna therapy, major shifts in nutrient intake, and certain nutraceuticals can all dramatically increase brain detox.
If you have a heavy burden of toxicants/heavy metals within your brain, you'll want to very carefully use binders to prevent complications.
I also suggest working with a professional who can teach you to do it safely.
Optimized Detox Sample Day
If that's too complicated, you can use this simple outline of one day within a potential detox plan.
Each of these works individually, but the synergy has even better benefits:
Take 1 TSP C60 daily and shilajit/multi-mineral supplement upon waking
Take organ detox support or Calcium D -glucarate
Rebound or vibrate for 5 minutes
Use spices and herbs in your food for polyphenols
Take 20 chlorella tablets, ideally 60 minutes before exercise/sauna
Drink ~80-100 oz water, with electrolytes (or clean unrefined salt) throughout the day
Spend 18-30 minutes in the sauna
Take liposomal melatonin 1 hour before for additional antioxidant support
Together, these have powerful whole-body benefits. You can modify the strength of the detox by increasing or decreasing the intensity of your workout and sauna session.
The Ultimate Guide to Powerful & Natural Cellular Detox
Whether we acknowledge it or not, our exposure to new man-made chemicals will only continue with time.
Here's the issue…
Each new chemical can potentially spontaneously combine with tens of hundreds of thousands of others already in the environment.
Resulting in novel chemicals that I've never seen, let alone safety tested.
With every passing day, helping our bodies eliminate this chemical onslaught becomes more necessary.
Instead of an extended high-sugar juice fast, which may leave you worse than you started, consider the scientific approach.
Effective detox always occurs on the cellular level.
That's why you'll often hear health practitioners say something like…
Optimize the cell to get well
Click To Tweet
Each method listed here works well all by itself. Combining different nutrients, modalities, therapies, and supplements results in a potent synergistic effect that yields the greatest possible benefits.
We start by going through a three-step process.
First, we prepare by providing our body with all the necessary nutrients for each phase of detoxification. We nourish our organs and optimize our key elimination channels.
We gently increase the intensity of the detox in the next phase. Where we become adept at combining binders with therapies that displace toxicants so that we most efficiently (and safely) eliminate them.
Once we understand the process and have experience, we're able to add in a third phase. Brain detox. Since this is an intricate organ, I only recommend it for the experienced, and under the care of a health professional.
Although just one cycle of this three-phase process often produces unbelievable results, I'm a fan of adding regular detox practices into daily living.
With that approach, full detox protocols become less necessary.
What about you? Do you use any form of effective detox? Drop a comment below with your experience, questions, or comments.
I personally read and respond to everyone.