What do Rome, Finland, Turkey Russia, Japan, and Korea have in common?
Two things:
Outstanding health
Affinity for extreme temperatures
Regular sauna practice upgrades the brain and body. For centuries, these cultures have used saunas to become vital, radiant, and healthy.
Even better, research on the newer technology suggests that infrared saunas have greater potential benefits without the same intolerable 180°F (or hotter) sessions.
I've tested over a dozen different models of this new technology. Some off-gas toxic chemicals and radiate electrosmog. Others emit inadequate power to make much difference.
In this roundup, I'll explain everything you need to know to buy the ideal product. We'll investigate, review, and compare the best infrared home saunas for every budget and use case.
Read on for the full breakdown and to learn what every infrared sauna buyer must know.
The Best Infrared Saunas of 2022
How to Buy the Best Infrared Sauna (2022 Buyer's Guide)
"A house without a sauna is not a home"

— Finnish Proverb
Your run-of-the-mill sauna laden with toxic VOCs, high electrosmog levels, and low power output may do more harm than good.
Biohackers increasingly upgrade from traditional sauna to infrared.
But there's tons of misinformation around this new generation of technology.
With infrared, you don't necessarily need the hottest sauna on the market. The type and placement of heaters matter tremendously.
When choosing between the top at-home infrared saunas, you must consider these important criteria.
Differences Between Traditional (Radiant) And Infrared Saunas
Radiant saunas provide their health benefits by heating the ambient air inside the chamber. The heaters are either wood, electric, or gas. Working similar to a typical space heater. Infrared saunas, on the other hand, work by emitting infrared light.
The biggest difference between the two sauna styles, is that infrared heats up the body internally while traditional saunas heat the air. Infrared light penetrates the skin to increase internal body temperature without the extremely hot air temperature of traditional saunas.
Traditional saunas also take about 25-minutes longer than infrared to fully heat up.
There's another important nuance to infrared light.
Sauna Technology: Near-Infrared vs. Mid Infrared vs Far Infrared vs. Full Spectrum
Near infrared (NIR) is a form of light invisible to the naked eye. On the light spectrum, it's just beyond red light. Near infrared penetrates up to three inches into the body. NIR is great for detoxification, boosting the immune system, and wound healing.
Mid infrared (MIR) is in between the two. It's known to generate more heat than far infrared, and penetrated deeper than near infrared. Mid infrared is studied to improve circulation and expand blood vessels.
Far infrared (FIR) is farther from the visible light spectrum. Heating elements in most infrared saunas emit far infrared light. Far infrared penetrates deepest. It reduces inflammation and oxidative stress, and increases detox and relaxation. Research suggests that it slightly lowers blood pressure. Unfortunately, most FIR heaters put out disturbing levels of magnetic fields (a form of EMF).
Full-spectrum saunas emit the widest range of infrared light. Combining near-infrared, mid-infrared, and far-infrared. Imparting the benefits of each wavelength. I believe that there's a synergistic effect as well, as full-spectrum mimics the sun and is used in high-end saunas. It's the best choice for maximum benefits.
Size
Saunas range dramatically in size. From space-friendly 1-person models, to models that easily fit four people doing yoga.
Your optimal choice depends on the space you have available for the sauna.
I generally recommend buying the smallest possible sauna for your needs. For traditional saunas, larger models take longer to heat and use considerably more energy. With infrared, however, I suggest the opposite. Go for the largest you can fit in your home. That way if you decide to sauna with your partner, invite some friends over to join you, or want to practice yoga inside, you'll have the space.
Note that every model has different outer and inner dimensions.
Materials & Value
High-quality saunas use premium materials. Yes, scrutinizing the build materials isn't as exciting as comparing features.
But the longevity of your sauna depends on it.
From the wood construction, to the auxiliary parts. Saunas get hot and sweaty. Off-gassing, bacterial accumulation, and durability make a difference when you're hundreds of uses into your purchase.
Better builds require less maintenance and cleaning.
Check out this article if you'd like to build your own sauna cheap (for about $150).
Heater Position
Heater position is a commonly overlooked facet of choosing the best home infrared sauna. For traditional saunas, the heater can go anywhere. To capitalize on the full benefits of infrared saunas, however, the heater placement matters tremendously.
The ideal infrared sauna has heaters in the front and back, both aimed at the body. Heaters positioned above the head waste infrared energy.
Some product models allow you to angle the heaters however you like. Perfect to target specific areas or accelerate the healing of injuries.
Features
Features are the sexy and obvious part of comparing saunas. These bells and whistles can make using your device more enjoyable, leading to more frequent sessions.
Common and notable infrared sauna features include:
Interior lighting
Media & music systems
Oxygen ionization
Aromatherapy
Chromotherapy
Smartphone control
Digital control panels
Charging station
Programmable timers
Acoustic Resonance Therapy
By no means are these required, and if you're on a tight budget, you'll probably want to forego the advanced features.
Safety
International regulatory agencies issue certifications to assure that products meet quality and safety standards. From the materials, to the electrical wiring, here are the logos to look for:
Restriction of Hazardous Substances (RoHS)
European Economic Area (EEA): shows up as CE on products
Intertek
When browsing through the manufacturer's websites, note any reference to third-party testing for EMF levels and Volatile Organic Compounds (VOCs). Reputable brands willingly provide test results when prompted.
Warranty
With any big purchase, you deserve the reassurance that the product will hold up with use.
You can easily weed out the junk by checking their warranty policy.
Mediocre brands will provide a meager warranty or nothing at all.
Some of the high-quality brands you'll see below come with multi-year or lifetime warranties.
Carbon Fiber Infrared Saunas Vs. Ceramic Infrared Saunas
Every infrared sauna is outfitted with one of two types of heaters:
Carbon fiber heaters are technologically superior and better than ceramic heaters in all but several aspects. Carbon heaters better distribute heat. Carbon heaters also cover a larger surface area. They do take about 25 minutes to fully heat up, but when they do, the infrared rays become more intense and penetrate the body deeper. Carbon heaters are also more energy-efficient.
Ceramic heaters, on the other hand, are more fragile, but cheaper and heat up faster.
If it fits in your budget, opt for carbon fiber heaters for the best bang for your buck.
Best Overall Infrared Sauna: Clearlight Sanctuary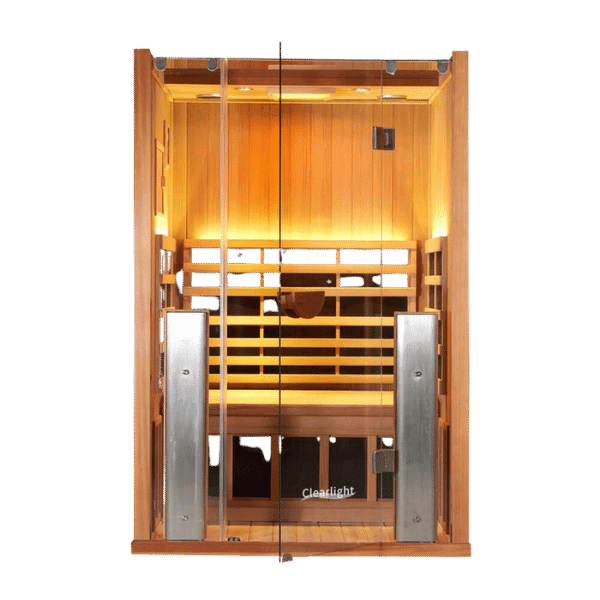 Overview
Power: 2250W
Capacity: 2 people
Heater: (2) full-spectrum heaters, (5) far-infrared True Wave® hybrid carbon-ceramic heaters
Features: Smartphone app remote control, digital control system, chromotherapy, charging & audio station, tablet cradle
Warranty: Lifetime (cabin wood & glass: 5-years)
Best For: Home
All Clearlight saunas come with state-of-the-art technology. True Wave™ Full Spectrum heaters put out 25 times the power (500W) of their competitors (40W). Intelligent heater placement heats the body evenly and maximizes the results you get from every session. Clearlight's EMF shielding process has garnered them the lowest EMF levels among saunas.

After years of success, Jacuzzi recently purchased the Clearlight brand. You get the support of a small company backed by a premium wellness brand.

Bonus features like 96-LED medical-grade chromotherapy, built-in multimedia stations, pre-heating on a customizable schedule, excellent cabinetry, unparalleled build quality, and a Comprehensive Limited Lifetime Warranty make Clearlight Sanctuary my favorite overall infrared sauna line.
Best Portable Infrared Sauna: SaunaSpace Luminati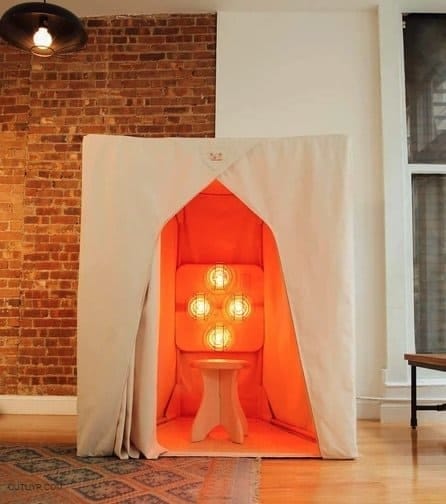 SaunaSpace Luminati Overview
Power: 1000W
Capacity: 1 person
Heater: (4) 250W full-spectrum infrared ThermaLight®
Features: Low-EMF, hypoallergenic, bamboo grounding mat included
Warranty: 10-year
Best For: Customization & portability
SaunaSpace makes the original at-home near infrared saunas. Their Luminati model is the most powerful portable sauna available. It comes in five colors: natural, indigo, dark chocolate, stone, turmeric. SaunaSpace uses ThermaLight® technology to help you sweat faster, deeper, and in the comfort of lower temperatures. SaunaSpace shines in terms of customizability. Easily adjust the height and intensity (four levels). If you're looking for complete EMF blocking, check out the upgraded version of the Luminati called the Faraday.

Perfect for those living in tight quarters, or aren't ready to dedicate an entire room to their sauna. All SaunaSpace products come with a 100-day trial period. Should you not feel completely satisfied, you can return your purchase within that window.
Best Value Infrared Sauna: Sun Stream Evolve 30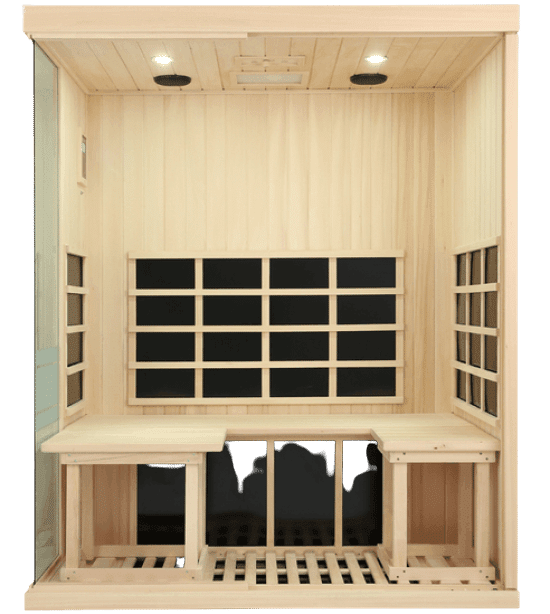 Overview
Power: 2235W
Capacity: 1 person
Heater: (6) full-spectrum carbon panel heaters
Features: Ultra-low EMF, Kenwood stereo speakers & Bluetooth Audio Receiver, Adjustable Infrared Intensity, ChromoTherapy LED Panel, E-Z Clean technology
Warranty: 10-year
Best For: Power & value
Designed for 1-3 people, the Evolve 30 Infrared Sauna is a biohacker favorite due to its power, safety, and attractive price. This model features heaters on all sides (Complete 360 Degree Surround Infrared Heating), with the two strongest on the front and rear walls. In fact, Sun Stream saunas have among the highest power concentrations of 29watts/ft3. This is also a great ultra-low EMF pick, with third-party testing also regularly confirming near-zero ELF.

Sun Stream paid attention to quality, building the Evolve 30 entirely from premium-grade hardwood Basswood. They use safe Titebond water-based wood glues, and avoided synthetic cloths. With the Evolve line, you can also move the benches to your liking. See it for yourself with their Virtual Video Tour.
Best Infrared Sauna Blanket: HigherDOSE V3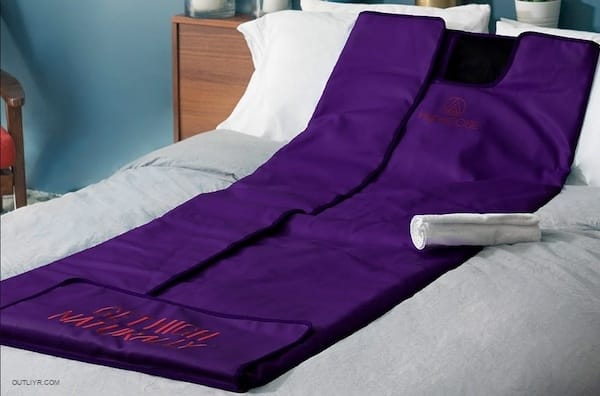 Overview
Power: 350-420W
Capacity: 1-person
Heater: (1) far infrared carbon panel heaters
Features: Timer, 8 level intensity control, amethyst & tourmaline & charcoal layers
Warranty: 1 year
Best For: Tiny homes
Infrared blankets are among the most versatile, low-profile, and portable infrared sauna options on the market. Where they sacrifice in power, they make up in convenience. If you have space and budget, I recommend a full-size unit. For those that live in cramped apartments where every inch is valuable, They claim to be the original at-home infrared device. Since 2017, with the help of Dr. Raleigh Duncan from Clearlight (above), HigherDOSE has become the world's top infrared blanket. No other blanket has the same backing by celebrities and health experts alike.

The device itself is made of waterproof (and fireproof) polyurethane cotton. It has nice heat levels and fully heats up in just 10-minutes. Since your head and arms can stick outside, it's a great option for reading, getting work done, or multitasking.
Use the exclusive HigherDOSE coupon code NICK15 for 15% off.
Best Budget Infrared Sauna: SereneLife Portable Infrared Home Spa
Overview
Power: 1050W
Capacity: 1-person
Heater: Unknown
Features: Timer, adjustable intensity control
Warranty: Unknown
Best For: Beginners
Between the infrared blanket and the full at-home infrared sauna, sits hybrid devices. SereneLife makes an infrared enclosure designed to allow your head and arms to go outside. Fully packed, it weighs just 20 pounds making it a simple mobile spa that fits in your car's trunk. This one comes with a super-conductive foot heating element and a folding chair. It's a simple, no-frills affordable choice.

At just under $200, their Portable Infrared Sauna is the cheapest device on the list.
Best Compact (1-Person) Infrared Sauna: JNH Lifestyles ProSeries 200 Full Spectrum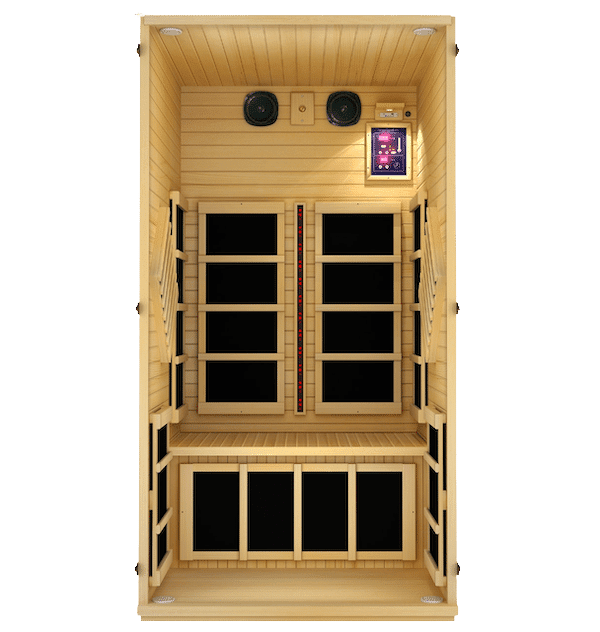 Overview
Power: 1320W
Capacity: 1-person
Heater: (9) full-spectrum carbon fiber infrared heaters, (1) near infrared LED emitter
Features: Digital control panel, ultra-low adjustable winged EMF heaters, Canadian hemlock wood, dual-wall insulation, sound system with BlueTooth, interior LED lighting, oxygen ionizer (optional), chromotherapy lights (optional), infrared foot warmer (optional)
Warranty: 5-year
Best For: Singles
JNH Lifestyles produces high-quality saunas at fair prices. Unfortunately, however, they often sell out. Each sauna is crafted with FSC certified untreated and unstained (chemical-free) Canadian Hemlock Wood. The ProSeries has a wider, more spacious interior that easily accommodates athletes and bigger bodies. Although it doesn't look quite as elegant and modern as the ClearLight options, the ProSeries 200 looks good enough to place anywhere in the home (if your partner allows).

Function-wise, the 10 heaters strategically placed throughout the cabin speed up how quickly you sweat. You can also twist the core heaters to target any specific body parts for greater benefits. For safety, team JNH had their saunas tested by two independent third parties. Average magnetic field reading tested at the ultra-low level of 0.32 mG.

Should the ProSeries exceed your budget, check out their full-spectrum Tosi, and far-infrared Ensi and Joyous models. The JNH team is helpful and thorough, answering any questions without overt sales pressure.
Best Low-EMF & VOC-Free Infrared Sauna: Radiant Saunas E-2.5H Elite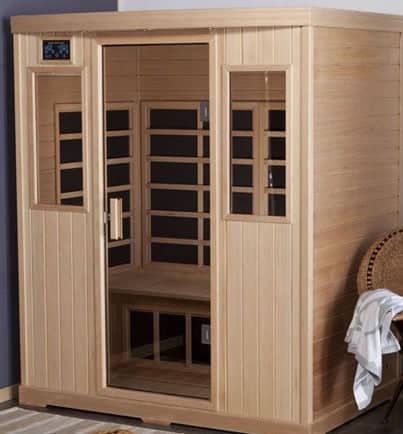 Overview
Power: Unknown
Capacity: 2-people
Heater: (1) Far-infrared carbon flow heater
Features: (2) Control panels, heated ceramic tile floor, Carbon Flow Japanese technology, music player, timer, interior lighting
Warranty: 5-year plus
Best For: Beginners
Radiant Saunas (avoid the similarly named sauna brand 'Radiant') is another favorite among those wary of toxins, and the deluge of ineffective products on the market. Like JNH, they've built their saunas out of clear tongue-and-groove Canadian hemlock. Their Elite Series is one of the only to undergo independent third-party testing to show zero Volatile Organic Compounds (VOCs). VOCs are chemicals that commonly off-gas during high heat. Electromagnetic Fields (EMF) and Electromagnetic Radiation (EMR) testing find below Swedish Standards of 0.3 mG.

I'm cautious that they do not list the power output of this model anywhere. But if you're sensitive to chemicals or care about getting the cleanest, low-EMF, and zero VOC unit, Radiant Saunas is a solid option.
Best Outdoor Infrared Sauna: Clearlight Sanctuary Outdoor 2
Overview
Power: 2480W
Capacity: 2-3 people
Heater: (2) full-spectrum heaters, (5) far-infrared True Wave® hybrid carbon-ceramic heaters
Features: Smartphone app remote control, digital control system, chromotherapy, charging & audio station, tablet cradle
Warranty: Lifetime (cabin wood & glass: 5-years)
Best For: Weather
If you're looking for the best outdoor infrared sauna, look no further than Clearlight. They use the same True Wave™ full spectrum heaters as in their indoor models. But the outdoor versions are winterized with a Cedartec® Eco-Certified exterior and able to withstand extreme sun, rain, and even snow. Clearlight has smartly placed their hybrid carbon-ceramic heaters on the front wall, back wall, sidewalls, under the bench, next to your calves, and in the floor.

Clearlight has a patented EMF shielding process which achieves the lowest EMF-to-power ratio amongst all professional saunas.

For those with big backyards that want the absolute best, Clearlight Sanctuary Outdoor is my preferred infrared sauna line.
Best Large (5-Person) Infrared Sauna: Sunlighten mPulse Empower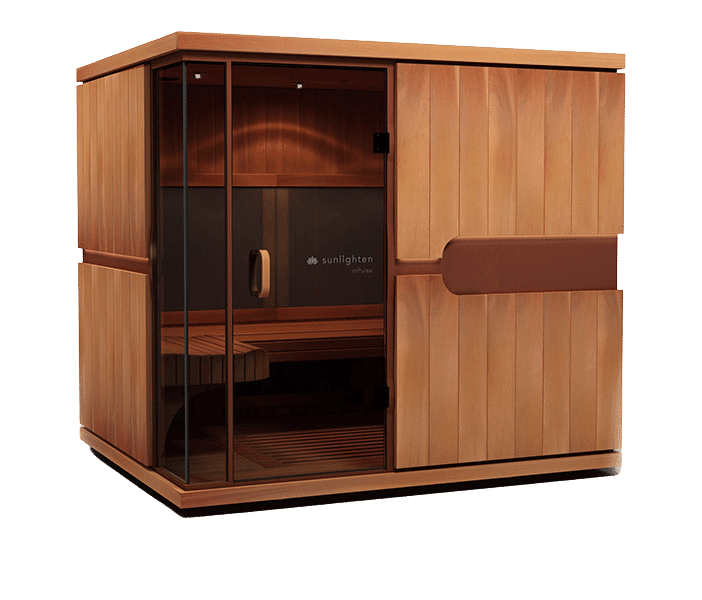 Overview
Power: 4800W
Capacity: 5-person
Heater: (14) far infrared, (12) mid-infrared, (7) near-infrared LEDs
Features: 10.1" Android-powered control panel, SoloCarbon technology, customizable light spectrum, 7 preset programs, advanced Blaupunkt digital media system, scheduling, Acoustic Resonance Therapy (optional), indoor chromotherapy LED lighting
Warranty: Limited lifetime: cabinetry & heaters (7 years), controls( 3 years); stereo (1 year)
Best For: Advanced technology
Dubbed the Rolex of the sauna industry, Sunlighten is the fastest-growing at-home infrared sauna brand. While Clearlight reigned king for many years, these models match beauty with technology and power. Fully customize your sauna with patented SoloCarbon technology. Each far infrared heater gets the highly emissive SoloCarbon coating, vastly increasing its power (clinically shown to increase core body temperature).

Choose between 7 preset programs, and track your results with the accompanying 10.1" Android-powered control panel. The Sunlighten app allows you to easily choose the spectrum of light emitted by each panel. A unique feature that no other sauna company has been able to replicate.

Sunlighten saunas come in several different types of PEFC-Certified wood: hypoallergenic basswood, eucalyptus and eucalyptus-cedar. Quickly set up and take down the unit with their patented Magne-Seal™ assembly process.
Infrared Sauna Questions & Answers
If you're considering purchasing a unit, here are some of the things you'll want to know.
17 Benefits of Infrared Saunas
"The sauna is the poor man's doctor"
Saunas have a long history of use. Many cultures attribute their well-being to the practice.
That said, Infrared technology is newer and doesn't have the same quantity of robust research as traditional saunas.
Still, there are many hypothetical (and anecdotal) reasons to make the sauna part of your daily routine. Try it for a week and you'll discover some of these for yourself.
The top health & performance benefits of infrared saunas:
Detoxification. One of the core, often-cited reasons to sauna. For detoxification, infrared, however, is 7-times more effective than traditional saunas.
Pain relief. Both nagging acute pain and chronic pain respond well to infrared. In fact, researchers are finding that it even helps with emotional pain such as anger.
Youthfulness & longevity. Infrared light places cells under stress, which then activates specific heat shock protein to protect it. Regular sauna use also activates the powerful FOXO3 pathway.
Weight loss. Of course, you'll drop water weight from sweating profusely. But a 30-minute sauna session can also burn 600-800 calories as well as increase your metabolism. Several follow-up studies confirm that infrared saunas work well for weight loss.
Muscle retention.

Prevents muscle atrophy

that occurs without strength training. Great for rehabbing injuries or maintaining lean muscle when you cannot workout.

Mitochondrial health. Regular exposure to heat stress maintains mitochondrial respiratory capacity and maintains metabolic function.
Enhanced circulation. Naturally increases blood volume, and EPO (the chemical cyclists use to improve their blood).
Deep relaxation. Within several minutes of beginning, you'll subconsciously activate the parasympathetic "resting" branch of your autonomic nervous system.
Glowing skin. Infrared light helps the skin rejuvenate. This study suggests that infrared might even precondition the skin, protecting against later (damaging) UV exposure. Another study in rats shows increased skin microcirculation following sessions. Finally, a study combining red light and near infrared showed enhanced facial skin youthfulness.
Improves cognition. Saunas improve mental health via multiple mechanisms. Infrared increases BDNF production in nerve cells. Heat shock proteins protect the brain. Increased levels of a hormone called prolactin improve the ability of the myelin sheath to conduct impulses.
Strengthens immune system. Anecdotally, sauna bathers get less sick than their counterparts. Limited research suggests that using heat to artificially mimic the body's natural defense mechanisms stimulates the immune system. Another paper showed that sauna bathers contract the common cold less often.
Social time. Use each session as a time to reconnect. Either physically with friends present. Or virtually via call or FaceTime. Sharing the experience together forms a special bond.
Uplifts mood. Research out of Japan found that infrared sauna usage is associated with improved mood, decreased anxiety decreased depression, and decreased fatigue. This blog lists 13 other ways saunas improve mental health.
Stress reduction. The heat shock proteins caused by cellular exposure to extreme temperatures increases tolerane and resilience to stress.
Accelerates wound healing. It sounds like science fiction. But red, near infrared, and far infrared all speed up tissue healing.
Better sleep. One of my primary interests in sauna use is the heavily reported effects of improving sleep quality and quantity. Sleep is my Achilles heel of health. Stunningly, a survey of 472 people found that 84 percent reported better sleep.
Cardiovascular health. Infrared thermal therapy increases heart rate and sweating equivalently to a moderate workout. Research suggests that it has similar vascular endothelial benefits.
How to Use an IR Sauna
Using infrared technology is similar to a traditional sauna, with a few key differences.
Plan on spending a minimum of 15-minutes. This is the point at which the benefits begin accruing. Work up to a maximum of 45-minutes.
You can use infrared saunas daily, but to reap the cardiovascular and metabolic benefits, I suggest a minimum of four sessions every week.
If you're able to control the temperature, shoot for between 110°F to 140°F. Slowly work up to the upper range.
When you turn it on, the ambient air temperature will not feel nearly as hot as a traditional sauna. That's because infrared works via light rather than heating the air. You should still begin sweating profusely after about 10-minutes.
Buying the Best Infrared Sauna for Any Budget
There is an ideal sauna for everyone and every budget. From a tiny New York City apartment (like mine), to a large rural mansion. Ranging from the minimalist sauna blankets or my powerful $150 DIY Infrared Sauna, to the beautifully crafted and space-age Sunlighten and Clearlight saunas.
Using the sauna 4-7 times per week is associated with a 40% lower all-cause mortality.

Dr. Rhonda Patrick
This practice has garnered an outpouring of support from some of the most esteemed doctors, longevity specialists, and health researchers on the planet. Notably Dr. Peter Attia, Dr. Rhonda Patrick, among many others.
Infrared saunas support virtually every health and performance goal:
Preventative health
Naturally relief from chronic conditions
Athletic performance
Buying an infrared sauna for your home is a big investment in your health. When cared for, high-quality units last a lifetime.
If you have an infrared sauna, how did you decide which to buy? Let me know in the comments below.