Originally called "the conqueror of mountains", "destroyer of weakness", and "nectar of the Gods".
You've stumbled upon the original black gold.
This forgotten super-substance from the East packs a nutritional punch, builds vitality, rebalances the body, and enhances overall well-being.
It goes by the names Shilajit, Mumie, Moomiyo, Mumijo, and many others.
Shilajit has hundreds of uses and few known side effects. Including:
Instant energy
Optimizes hormones
Super nutrition
Enhancing brain function
Boosting athletic performance
Ancient Hindus and Tibetans believed that shilajit gives superhuman strength.
Ayurvedic medical texts called it a "panacea".
But here's the issue…
The internet is littered with shilajit counterfeits and scams. Other products are contaminated with heavy metals and toxins. To make things worse, much of the world's supply has run dry, leaving trustworthy vendors out of stock.
Before supplementing shilajit, I wanted to make sure that I got the highest-quality, best-value resin and liquid drops available. So I did dozens of hours of research, and in this comparison and review guide, I'll share what I view as the World's best shilajit extracts.
Affiliate Disclosure: This post contains affiliate links, which means Outliyr LLC gets a small commission if you buy (at no cost to you). Thanks for your support!
Best Pure Shilajit Supplements
When you're looking through popular shilajit products, you'll come across countless options.
Shilajit comes in all kinds of forms, from liquids to resins, to drops, to oils, to powders, to tablets and capsules.
You'll find a wide range of purity, including lab-tested shilajit products free of heavy metals and other contaminants.
Some brands list their products on Amazon. Many don't in order to prevent fake supplement listings.
Whether you're looking for liquid, live resin, drops, organic, oil, powder, or tablets — I'll help you navigate the confusing supplement market to find the best shilajit supplement for your unique needs.
Pure Himalayan
Since its 2015 inception, Pure Himalayan has become the premier source of shilajit in its many forms. Hailing from the Himalayas, their team has extensive experience working with this adaptogen. No other vendor offers as much variety. Whether you're a beginner or a seasoned veteran, their educational content will help you have the best possible experience.
When I surveyed supplement experts about the top shilajit products, the majority recommended Pure Himalayan Shilajit. This brand sells every type imaginable:
Soft Resin Shilajit
Liquid Shilajit Drops
Shangrila Soft Resin
Original Solid Shilajit
Powder Shilajit
Pure Shilajit Tablets
Siberian Mumio
Standard Shilajit Resin
Shilajit Extra Strength
Liquid Shilajit for Pets
Despite having a huge catalog, PH doesn't cut corners. They display the Nutrition Facts and Certificate of Analysis for every product listed.
Between the optimal harvest altitude, minimal processing, their attention to preserving the rich activity of bioactive constituents, these are some of the most potent shilajit products on the market. They claim that 8 out of 10 of their customers feel their first use.
Domestic shipping is free on orders over $45, while international customers must spend $89 or more for free shipping. Domestic orders arrive within five days, and international delivery takes 6-21. In case you don't love it, PH offers a complete 60-day money-back guarantee. The catch is that you must use it for 30-days first.
All at a reasonable price.
If you can afford it, I recommend their Sun-Dried Liquid Shilajit. Their Standard Shilajit Resin (Siberian) is among the most common and affordable and a great option for beginners. Original Solid Shilajit (Himalayan) is priced between the two and a notch above the quality of Standard.
Pick up any product from Pure Himalayan Shilajit and you won't be disappointed. I personally use their Sun-Dried Liquid virtually every day.
Click the button above to save 15% on your Pure Himalayan Shilajit order
Pürblack Live Resin
Pürblack merged the latest nutrition technology with traditional high-end shilajit and moomiyo. Resulting in a superior, higher-quality, and more bioavailable product. Pürblack opted to source from multiple regions in order to get the broadest spectrum of benefits.
Since its 2012 founding, Pürblack has innovated. They're one of few shilajit vendors with multiple patents and a distinctly modern approach.
Including their decision to include gold. Traditionally, the highest quality shilajit was found in areas naturally abundant in gold, platinum, and silver. Shilajit with 1-100 ppm of these precious metals has additional health benefits:
Joint and bone health
Healthier immunity
Metabolic regulation
Cognitive performance and brain health
Energy boost
Additional healing, toning, and rejuvenation
They only sell one product. Pürblack Live Resin, and the formulation is currently in its fifth generation. It's a unique type, in-between soft and hard resins. You can dissolve it into a drink, or roll it into small balls. Choose between 30 or 210-gram sizes. Their patent-pending scooper makes precision dosing a cinch.
The patented manufacturing process retains the nutrients and minerals, but also "all quality fulvic and humic acids, vitamins, enzymes, tocopherols, bioflavonoids, antioxidants, and metabolites that make mineral pitch special".
Pürblack manufactures every product in an American facility. Each batch passes authenticity, safety, and purity testing. Pürblack releases these test results to the public. You won't find another seller as dedicated to safety, quality control, and protection against useless (sometimes dangerous) counterfeits.
It has become a top choice among professional athletes and healthcare professionals.
Pürblack Live Resin ships free within the USA and Canada, with orders arriving after 3-7 days. International delivery can take 7-25 days. They also offer a 30-day money-back guarantee.
Pick Pürblack Live Resin for the most versatile, patented, genuine, and modern shilajit on Earth.
Use the exclusive Pürblack code URBAN for 10% off
Nootropics Depot PrimaVie® Purified Shilajit
Nootropics Depot is one of the world's most respected natural supplement superstores. They carry just about everything, including some hard-to-find nootropics. Earning them the moniker "The Amazon of Supplements".
In a market full of counterfeits and fakes, I'm a fan of their patented extracts.
PrimaVie Purified Shilajit is a high-quality, scientifically-proven Himalayan product. This is the exact supplement used in clinical shilajit research. When you buy PrimaVie, you know you're getting the important bioactive ingredients (dibenzo-α-pyrones, DBP-Chromoproteins, Fulvic Acid, and 40+ minerals). Equally importantly, PrimaVie tests for heavy metals and other contaminants.
So what shows up on your doorstep will be the real deal.
You can buy clinical-grade PrimaVie in either powder or capsules. 250mg capsules, 30 for $16 or 90 for $30. Powders of either 30 grams (120 servings) for $27 or 60 grams (240 servings) for $45.
Nootropics Depot ships domestic orders over $50 free and they arrive in just 2-3 days.
You won't find more affordable clinical-grade shilajit powder or capsules than Nootropics Depot's PrimaVie line.
Cymbiotika Mineral Shilajit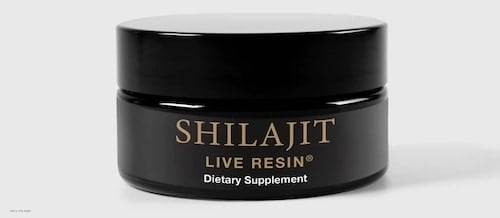 Cymbiotika is a supplement company focused on creating bioharmonous formulas. They're known for combining traditional Eastern medicine with cutting-edge scientific innovations and powerful absorption technologies. Culminating in beloved products.
Their Pure Live Raw Shilajit Resin has 333 ppm of Elemental Gold, and 100 ppm of Elemental Silver — the highest precious metal content of any product. If you recall from the Pürblack review, these metals synergize nicely with shilajit. Improving bones and joints, immunity, metabolism, cognition, energy, healing, and more.
Cymbiotika's shilajit is among the most loved, with a 4.98 star on 187 reviews. It's another popular choice among doctors and medical professionals.
Cost-wise, it's middle-of-the-road, but offers a significant discount should you choose to subscribe. Up to 30 percent off when you buy in bulk. Unfortunately, domestic orders have a $150 threshold to qualify for free shipping. Cymbiotika, however, is one of few vendors that stock shilajit in stores near you.
Use the exclusive Cymbiotika code URBAN for 10% off
Mitolife Panacea
Created by Matt Blackburn in 2017, MITOLIFE produces mitochondria optimizing supplements and other products intending to improve overall wellness. Shilajit-wise, his company manufactures the most popular shilajit tablet on the market.
MITOLIFE calls its line of pure tablets, "Panacea". Panacea is a purified resin from Russia's high-elevation (Siberian) mountain ranges that get compressed into tablet form.
Panacea's product page displays its third-party lab test results. Although the lab they use isn't as comprehensive as some of the others.
I am not a fan of shilajit tablets. Tablets are unfortunately more processed than other forms, which also makes them very stable and convenient. At the time of this writing, his tablets have been out of stock for several weeks.
If you prioritize convenience, MITOLIFE's Panacea shilajit tablets are hard to beat.
LivePristine Shilajit Powder with Triphala or Shilajit Tar
California-based LivePristine sells all kinds of raw, cold-pressed, and minimally processed superfoods. Including two shilajit products.
LivePristine sells both shilajit powder and tar. The powder also contains one of the most common Ayurvedic remedies called Triphala. Triphala is made of three fruits: Harada, Amla and Bihara. It revitalizes the organs and improves digestion. Triphala synergizes nicely with shilajit, making this a robust combination.
Their tar's price per gram is cheap — $110 for 227 grams which makes me wonder about the quality.
This isn't my first choice, since they lack essential information about their manufacturing and processing. Although LivePristine is honest that their mineral pitch is harvested from a lower mountain range between 8,000-13,000 feet.
With the global shilajit market shriveling up, I'd choose LivePristine's powder or tar if the others are unavailable.
Upakarma Ayurveda Pure Shilajit
Upakarma is an Indian company specializing in Ayurvedic remedies. Shilajit is one of the more potent remedies in Ayurveda's pharmacopeia. This was the very first brand to launch a shilajit resin product and they've reliably supplied the world since then.
Upakarma is strict with its processes. First, their R&D team of Ayurvedic experts creates formulas. Next, they procure their ingredients directly from the source. Then their quality control team tests and validates the final results.
Together, this has made them the globe's premier source of natural remedies.
Upakarma now sells it in many forms. Their most popular product is a natural shilajit resin, followed closely by a combo pack of shilajit and ashwagandha capsules, and finally the original gold-infused product. Apparently, gold has a "soothing and harmonizing effect on body and mind. It acts as a natural stimulant that improves the transmission of electrical signals in the brain".
Don't let the cheap prices fool you. The primary downside of purchasing from Upakarma is the hefty shipping fee. Unless you live in India, international shipping comes out to $32.50!
Despite the insane shipping fee, it's one of the most loved vendors. Their resin product alone has amassed over 2,894 reviews — and that's just what users left in their web store. It also has more reviews than all the other products I came across… combined.
Buy Upakarma if you live in India or want shilajit from one of the original vendors.
Himalayan Healing Shilajit
Himalayan Healing Shilajit is known as one of few companies harvesting organic shilajit from the world's top region for Himalayas shilajit — Gilgit Baltistan. At an elevation of over 16,000 feet. They claim to prepare their products under strict organic standards (although I could not find any organic certifications).
What sets them apart is HHS personally travels to the source and buys directly from indigenous people. The people who've hand collected Shilajit for centuries. Himalayan Healing Shilajit only buys the necessary quantity of "Gold Grade" shilajit from these folks. The product you receive won't have sat on the shelves for months before your purchase.
Then, they process via a gentle sun drying to preserve all the constituents. The final product undergoes third-party lab testing at two separate labs — one in the USA and one in Australia. Ensuring you receive a clean, contaminant-free, quality shilajit.
Himalayan Healing Shilajit sells resin and drops in quantities ranging from 10-1000 grams. Since it's a Pakistani company, shipping to the USA takes a lengthy 14-28 days.
Himalayan Healing Shilajit has some of the best prices on shilajit resin and drops, but long shipping times may be a dealbreaker.
Shilajit Vendors & Products I Do Not Recommend
ALTAY MUMMIYO
For some reason, this company is highly rated on Amazon. I suspect the reviews are fake for several reasons. First, the company itself does not have an independent website. Second, their store page on Amazon was completely blank. I couldn't find any contact info for the company, and I noticed that this product was first listed recently in 2021. Given the ease of setting up a website (it takes me about one hour from scratch), I am worried about the contents of this product and do not recommend it.
Most Products on Amazon
I love Amazon and use it all the time. Unfortunately, it's among the worst places to buy supplements. Just half of a notch above buying from some person on the street corner. New reports come out all the time showing contamination, adulteration, and downright fraud. In some cases, an Amazon seller prints out the label of a reputable company, fills the bottles with some cheap ingredient, and sells it as a high-end supplement.
Shilajit is one of the most commonly faked supplements. Not only are you wasting money, but you could also expose yourself to toxicity from counterfeit products.
If you decide to go through Amazon, always call the supplement company and confirm that they do in fact sell on Amazon. Make sure to get their store name and that it matches the product you're viewing.
Shilajit Background
Shilajit is a brownish-black, mineral-rich resin found in certain high-elevation mountain ranges around the world. Most famously found in the Siberian, Himalayan, Tibetan, and Altai mountains. Shilajit is considered among the most powerful compounds in Ayurvedic, Tibetan, and Bitumen (Persian) traditional medicines.
Ayurvedic considers shilajit a "Rasayana" (rejuvenating, invigorating, strengthening) supplement. It's also classified as a body rebalancing adaptogen that enhances overall wellbeing.
Depending on the culture, it also goes by the names Mumie, Moomiyo, Mummiyo, Mineral Pitch, and many others.
Active ingredients within shilajit include:
Fulvic acids
Humic acids
Fusims
Carotenoids
Dibenzo-α-pyrones
Proteins
Vitamins
Minerals
Enzymes
Tocopherols
Bioflavonoids
Antioxidants
Metabolites
It's used in 20 ancient Indian remedy formulations, as well as in 24 proprietary drugs.
This 2007 review gives a nice summary if shilajit,
"Shilajit has been used as a rejuvenator and an adaptogen for thousands of years, in one form or another, as part of traditional systems of medicine in a number of countries. Many therapeutic properties have been ascribed to it, a number of which have been verified by modern scientific evaluation. Shilajit has been attributed with many miraculous healing properties."
The two main factors you must consider when choosing a product are where it comes from, and the kind.
Origin
Two main origins dominate the market.
Most products you come across will either be from the Himalayas or Siberia. Both have distinct features and advantages, so we'll compare and contrast the two.
| | Siberian Altai | Himalayan Shilajit |
| --- | --- | --- |
| Price | Cheaper | Expensive |
| Use | Strengthening & invigorating, nutritional support for athletes and solderis | Whole-body rejuvenation |
| Processing | Modern | Ancient Ayurvedic |
| Harvesting | Lower harvest altitude | Highest harvest altitude |
| Research | Less | More |
| Counterfeits | Less | More |
| Potency | Good | Best |
Siberian vs Himalayan Shilajit
I recommend you try both if possible. Himalayan shilajit if you can afford it, otherwise start with Altai (Siberian).
Once harvested, companies transform it into many different forms. This is the major other variable to consider when choosing a product.
Types
More so than most supplements, shilajit comes in many forms.
Each with unique advantages, disadvantages, and notable characteristics. There are also differences between vendors, but to simplify things, I am assuming all else equal.
I'm ordering them from my favorite to least favorite.
Liquid. Often the purest, most potent, and best preserved form. A dose consists of just a few drops. If you can find (and afford) it, Sun-Dried Himalayan is the rarest and fullest-spectrum form available. I keep a bottle stocked in my fridge.
Resins. Resin comes in both soft and hard forms. Hard resin is more often from Siberia and it's the best for beginners as it nicely balances price, quality, convenience, and potency. Siberian resin is especially high in highly bioavailable fulvic acid. Soft resin, on the otherhand, is the most popular because it preserves the bioactive compounds while simultaneously being more concentrated than most forms. Soft resin is the most versatile but slightly more expensive than hard resin.
Solid. The original form of shilajit notable for best preserving the highest concentration of trace minerals. It's been used in Ayurvedic medicine for thousands of years. Processing involves gently removing moisture. Making it highly concentrated and the most durable form. It'll last years.
Tablets & Powder. Tablets are the most convenient, easiest, and cleanest ways to use shilajit. Both are a great way of concentrating nutrients. They do require heavy processing, so you lose a bit of the bioactive compounds. For powder, you'll want either a patented extract or a product that uses cold processing/freeze-drying vacuum technology for maximum preservation. Powders are ideal for those that prefer to mix shilajit into drinks or food.
If you're just starting out, I'd go for either the liquid or resin.
How to use shilajit
How you best use shilajit depends on your goals and the type and brand of product you chose.
General shilajit dosage recommendations:
Liquid: 3 drops
Soft resin: 3 drops
Hard resin: 100mg
Solid: 100mg
Powder: 1/16 tsp
Tablet: 1-2
In the research I looked into, the recommended shilajit dose is 300 to 500 milligrams per day.
Experts recommend 1-2 doses per day, the first taken early in the morning. Ideally away from fatty or high-calorie foods. You can take it straight up, or mix into into any cool liquid (except alcohol). Shilajit is okay to take while fasting, and people often report that it starts working after the first use.
Athletes can take the second dose during or after exercise.
After a month or two of use, you may want to consider cycling off for a month. While not necessary, this re-sensitizes your body so that you get maximum effects.
Side effects & safety
Ancient medical anecdotes as well as modern research have validated the safety of supplementing shilajit.
The reported side effects include:
Of course, low-quality supplements may be contaminated with pathogens or heavy metals that can cause a wide variety of symptoms. Such as headaches, acne, or diarrhea.
Multiple studies have shown an impressive safety profile, even during long-term use.
Top Shilajit Uses & Health Benefits
Despite millennia of use and reverence by multiple cultures, surprisingly little research has investigated the full range of shilajit's health benefits.
Many of the purported health benefits comes from indirect mechanisms. Leaving room for speculation.
Some of the chief reasons people supplement shilajit include:
Increased energy and holistic metabolic support
Potent nutrition
Cell rejuvenation and detoxification
Optimized hormones (testosterone), libido, fertility
Steadying the mind and emotions
Boosting athletic performance
Protection against altitude sickness
Decalcifying the pineal gland
This study nicely summarizes a few of shilajit's effects,
"…an amelioration of a series of afflictions and may act also as an antimicrobial, antiviral, antitumor, antiallergic, immunomodulating or anti-inflammatory medicine, similar to the active compounds from mushrooms, or of Propolis, or "Kampo" compounds as well as of Arabic medical herbs.
Now, let's explore the wide-ranging health benefits and uses for supplementing shilajit.
Potent mineral complex
Shilajit is one of nature's "Super Supplements". A multivitamin and multimineral complex, each nutrient in its maximally-absorbed ionic form.
Humans need about 90 nutrients to maintain optimal health. Shilajit contains 84+ minerals, as well as a fulvic acid complex, humic acids, and vitamins. It's one of the richest natural sources of fulvic and humic acids too.
The minerals within also improve:
On top of that, shilajit improves nutrient intake into cells. Via several mechanisms. First, Humic and Fulvic Acids are strong chelators that help rid cells of toxins and heavy metals. Next, it provides the necessary cofactors to transport vital nutrients directly into cells. Making shilajit a potent source of biousable nutrition.
Super amplifier
Shilajit is a nutrition amplifier. In addition to the vast array of nutrients within itself, shilajit also enhances bioavailability of everything you consume. Magnifying the benefits of all the food, supplements, or nootropics you consume. Giving you stronger effects from the same or lower dose.
This is another of many health benefits of a quality natural fulvic and humic acid complex.
In fact, ancient Ayurvedic remedies would often pair herbs like Ashwagandha with shilajit to enhance their efficacy.
Since our foods lack micronutrients, supplementing shilajit can help the body more effectively use the raw materials it's given. Greater absorption could translate to saving money on other supplements and your grocery bill.
Metabolism & energy
Shilajit is praised for its energy-boosting effects. Unlike stimulants like caffeine, shilajit doesn't just give a fleeting jolt. It improves metabolic function and health at the core level.
As my podcast guest, Mark Sloan, mentioned…
"There are 32,000 recognized diseases but the only real disease is a malfunctioning cell". The core of a malfunctioning cell is often metabolic (mitochondrial) dysfunction.
Methylene Blue Benefits & Science | Mark Sloan
This is a supplement that provides holistic metabolic support. Fulvic acid, diphenols, and other active ingredients drive mitochondrial energy (ATP) production. Bringing energy-starved bodily systems back online by providing cells with the necessary fuel.
Shilajit reduces fatigue at the root. It also improves energy levels naturally by improving food digestion. Better digestion translates into more nutrients available for mitochondria to convert into cellular energy. Finally, this ingredient also protects the metabolism by supporting healthy blood sugar balance.
Aphrodisiac & fertility
Shilajit is a legendary sexual health adaptogen.
Shilajit can boost male fertility, increase sperm count, help with erectile dysfunction, and some claim that it increased their penis size (I am doubtful about that last one).
In both sexes, it acts as a powerful aphrodisiac, increases libido, and improves reproductive health. It has a long history as an invigorating tonic. This is especially needed in our post-industrial endocrine-disrupting environment.
Some of these effects are likely due to shilajit's ability to rebalance hormones.
Hormone optimization
Men often discover shilajit when researching natural testosterone boosters.
Many testosterone supplements only work in men with abysmally low testosterone. That may not be the case with shilajit.
Indeed, several studies have shown that shilajit increases testosterone in healthy men. 90 days of supplementation increased multiple markers of sex hormones including total testosterone, free testosterone, and dehydroepiandrosterone (DHEAS) — as much as 20.45 percent! Although these men started the study with low testosterone. Although low testosterone is widespread today.
Traditional medicines commonly used it to revitalize and restore life force. As well as rebalance testosterone and overall hormones. It's also supposed to help improve the menstrual cycle for women.
Brain function
Shilajit has profound nootropic effects on the mind and benefits overall cognition.
Showing great potential to improve memory, brain function, intellect, learning, and neuroprotection. It acts on both the cellular and molecular levels to reduce toxic over-stimulation of the brain and nervous system (by increasing levels of GABA and glycine receptor activation).
The other major cognitive benefit is its ability to stabilize the mind and emotions throughout the day. External events often disrupt our cognition and shift us into a beta-brainwave, sympathetic dominant state. Remaining calm allows us to stay in the flow state and use the full potential of our minds. Rather than succumbing to tunnel vision.
Ayurveda also used shilajit as a nootropic, and refers to these memory and learning benefits as "Medya Rasayan".
Current research is investigating shilajit's potential role in preventing dementia and other neurodegenerative diseases.
Unlike many pseudo-nootropics, smart drugs, and medications, it has an impressive safety profile.
Healthspan & anti-aging
Shilajit possesses many indirect longevity lengthening properties.
For one, the myriad other benefits establish its ability to keep humans healthy. Ancient cultures around the world used shilajit as a staple to slow the aging process. Ayurveda sees it as a cornerstone to extending the lifespan of humans. Not just lifespan, but the quality of those years (called healthspan).
Fables from tribes like the Charaka Samhita state that regular shilajit users will "witness one hundred summers on earth, free from disease and decay". Larger and more frequent doses lead to longer lifespans.
Modern science is beginning to validate the anti-aging benefits of shilajit. Some of the core mechanisms come from more efficient energy production and antioxidant power, but also reducing oxidative stress and providing crucial micro-nutrients. This helps the organs repair and operate more efficiently.
Anti-inflammatory & pain relief
Pain and inflammation are intricately linked. Shilajit possesses inflammation-quelling properties, which also makes it useful for pain management.
We typically think of inflammation as a phenomenon visible to our naked eye. The result of a bruised or a sprained ankle, bee sting, or other injuries. It's a tightly regulated process that the body uses to recover and heal. When it runs rampant, inflammation plays a major role in virtually every chronic disease.
Shilajit use supports healthy levels of inflammation, apparent in biomarkers like hs-CRP. It also offsets the inflammation caused by abnormal hormone fluctuations. Other research shows that it improves inflammatory biomarkers like IL-1β, TNF-α, IL-10, adipokine and resistin, and HOMA-IR.
Thus, as you'd now expect, preliminary mouse studies show shilajit can reduce pain.
Immune rebalancing
Products promising to boost the immune system have flooded the supplement market since 2020.
Yet over-activating the immune system is also dangerous and causes all kinds of issues. Such as autoimmunity, food intolerances, and much more. Shilajit has a special role as an immunomodulator. Meaning that it activates weak immune systems, and downregulates over-active immune systems.
Essentially rebalancing immunity and restoring equilibrium.
Another exciting immune benefit is shilajit's ability to stimulate macrophages. These cells destroy pathogens and send out chemical signals to recruit microphages to speed up healing.
By supporting a healthy immune response, shilajit protects the body from illness while also aiding healing.
Athletic performance
The energy boost, anti-fatigue, hormone balancing, and improved exercise tolerance effects have made shilajit a standout supplement among athletes, the Russian military, and bodybuilders.
It's a natural anabolic that (weakly) emulates the growth effect of steroids to build tissue, enhance muscle mass, and boost physical performance. But without the side effects. Shilajit improves nutrient transport into muscle and bone, while also increasing nucleic acid synthesis.
Siberian shilajit is known for its ability to increase strength and muscle mass while also accelerating recovery. That's why it has been a staple used by the Russian military and Cosmonauts since the 1970s.
Several studies have shown that it works great for stamina too, improving endurance capacity by up to 29 percent.
Overall, shilajit improves many facets of physical performance:
Muscle growth
Energy
Endurance capacity
Recovery
Hormones (testosterone)
Making it an ideal supplement for bodybuilders, athletes, military personnel, and anyone looking to improve their baseline fitness level.
Weight loss & muscle gain
Shilajit is not "exercise in a pill". But it does seem to augment the benefits of training.
For one, it helps people lose weight by naturally suppressing appetites and sensitizing them to insulin. This helps keep their blood sugar steady and reduces unhealthy cravings.
Shilajit also activates genes that help the body rapidly adapt to new workouts and rebuild. Faster adaptation, combined with less fatigue and soreness allow you to work out again sooner. Leading to greater strength over time.
Indeed, a study of PrimaVie Shilajit showed that eight weeks of use significantly "elicited favorable muscle and connective tissue adaptations".
Overall, shilajit shows promise to recompose your body.
Accelerated healing
Shilajit has a long history of use as a healing remedy.
Ancient medical systems like Ayurveda praised its "scraping properties" which help clean scars and other obstructioned tissue.
While we await more clinical trials, reported healing benefits of shilajit include:
Joint health
Wound healing
Cellular rejuvenation
Detoxification
Collagen synthesis
Shilajit seems to improve recovery outcomes while also accelerating healing time.
Antimicrobial
Preliminary trials suggest shilajit has anti-microbial properties.
Researchers speculate that fulvic and humic acids paired with a broad spectrum of minerals bolster bodily defenses against viruses.
It also has antibacterial activity. Observed against multiple strains of some common bacteria. Including Streptococci ("strep throat"), Staphylococci ("staph infection"), and Coliform.
Shilajit even seems to have anti-fungal properties too. Effective against Candida albicans and Penicillium chrysogenum.
Altitude acclimatization
The best shilajit grows at high altitudes, and it confers those adaptations to humans.
Traditional medicine practitioners often use shilajit to help patients adapt to high altitudes faster. As well as to relieve symptoms of altitude sickness. Ranging from the rapid change in atmospheric pressure (pain, fatigue, congestion, lightheadedness).
Researchers aren't sure exactly what components of shilajit cause the relief, but the effect is so reliable that a study titled Shilajit: A panacea for high-altitude problems concluded this,
"Thus, Shilajit can be given as a supplement to people ascending to high-altitude areas so that it can act as a 'health rejuvenator' and help to overcome high-altitude related problems."
Shilajit improves the functionality of the high altitude (low-oxygen) brain, reduces inflammation, improves immunity, and provides adequate nutrition for humans to adapt to extreme environments.
Cardioprotection
Shilajit benefits heart health.
Intuitively, this follows. Shilajit increases mitochondrial ATP generation and cardiac cells have extremely dense concentrations of mitochondria in the body. Recent studies confirm this. Finding that it protects and benefits the heart.
In a rat experiment, shilajit controlled blood sugar and normalized lipid profiles (cholesterol, triglycerides, HDL, LDL, etc).
A human study found "a signification reduction in Serum Triglycerides, Serum cholesterol with simultaneous improvement in HDL Cholesterol was seen, besides Shilajit also improved antioxidant status of volunteers".
Normal doses of shilajit also appear to reduce heart rate, at least in animal models.
This supplement improves various biomarkers of cardiovascular health in both humans and animal models.
Pineal regeneration
According to Ayurveda, shilajit has spiritual benefits too.
It does this in two ways:
Enhancing cellular detoxification
Bioenergetic restoration
Our hormonal endocrine system is at the root of the sleep-and-wake circadian cycle as well as the regulator of our consciousness.
First, the 85 trace minerals are potent natural detoxifiers from heavy metals, environmental toxins, and other endocrine disruptors. At the same time, it provides the antioxidant ellagic acid, plant sterols (plant hormones), and fatty acids. All of which improve the health of the endocrine system and help decalcify the pineal gland.
Your Third Eye is associated with light, perception, and intuition.
Secondly, shilajit can help you attain a spiritual awakening/enlightenment. It does this by rebalancing and energizing your pineal gland bioenergy center ("Third Eye Chakra").
Supplementing Shilajit to Reach Your Potential?
Some of the most powerful and beneficial substances on Earth also have a multi-millennia history.
We're in an era of rediscovery.
Shilajit is a perfect example.
In Sanskrit, it translates to "conqueror of mountains", "destroyer of weakness", or "nectar of the gods".
This health catalyst even helps you better assimilate foods, herbs, supplements, and drugs. Shilajit amplifies all the other things you take. Giving you greater vitality while potentially cutting your dose (and spending) on other nutrients.
Our ancestors knew the health benefits of this marvelous substance. Modern science is slowly catching on.
Unfortunately, the shilajit supplement market is filled with counterfeits, fakes, and downright dangerous products.
Avoid Amazon whenever possible. Some of Amazon's most popular tablets, resins, capsules, oils, and liquids contain heavy metals and zero beneficial compounds.
That's why I only trust the few best shilajit brands listed above. Go ahead and choose one of those products. I personally am stocking up on Pure Himalayan Shilajit's Sun-Dried Liquid Drops.
Which shilajit brands do you use? Let me know your experience in the comments below!