It's 7 A.M, and as the sun rose, I had questions:
Am I tapping into my body fat for fuel?
Or still burning carbs?
Why do my energy levels feel low?
Introducing: Lumen. A new way to hack the metabolism, backed by science?
I consulted my "pocket nutritionist" for answers. I pulled out a small breathalyzer-like gadget called the Lumen metabolic tracker to analyze how my body responded to the previous night's dinner. I hadn't eaten in 14 hours, so I expected to be burning fat. Lumen, however, kept me accountable.
I generally eat low-carb until dinner (a powerful fat-burning & muscle-building strategy called carb backloading). Apparently, my body didn't like the triple servings of "healthy" desserts. Even with my blood sugar lowering hacks, I had shifted out of fat burning. Lumen gives me insight into my metabolic health and flexibility.
Lumen reveals your biological data to make better lifestyle choices. #Outliyr
Click To Tweet
In this comprehensive Lumen review, I will break down the pros & cons of the metabolic tracker and whether it's the magic bullet you've been looking for.
Don't like to wait?
Use the exclusive Lumen discount code outliyr25 for $25 off.
Can Lumen Hack Your Metabolism?
Lumen makes a breathalyzer-like metabolism tracker that uses a CO2 sensor to measure what type of fuel your body is burning (more on this below). Bringing a technology used in performance labs to the mainstream. The futuristic device resembles a handheld vaporizer.
At its core, Lumen helps build metabolic flexibility. Flexible metabolisms can burn stored body fat as fuel after using dietary carbohydrates. Theoretically, Lumen provides dietary recommendations to improve metabolic flexibility. Having the ability to burn multiple fuel sources increases focus, concentration, and drive while reducing the afternoon energy crash.
From just two ten-second breaths, Lumen can accurately judge the state of your metabolism. Providing insight into your:
Weight loss progress
Physical fitness
Resilience against disease
I'll tell it to you like it is…
No, Lumen will not "hack your metabolism".
Fixing and boosting your metabolism takes effort on your part. It can, however, give you powerful insights into how to optimize your lifestyle to perform at your peak. That's why some of the world's elite rely on Lumen for motivation and as a diagnostic tool:
Tour de France cyclists
Olympians
Fortune 500 CEOs
Rather than blindly guessing how many carbs I should eat, or what kind of exercise I should perform, Lumen personalizes recommendations based on my body's needs.
If you're thinking… does it just recommend eating low-carb to improve metabolic health? Usually. But their algorithm does consider other factors. Surprisingly, it sometimes suggested I have higher-carb days.
I investigated the research behind Lumen, and this is how it works.
How Does The Lumen Work?
Your breath contains a lot of information. The amount of hydrogen can indicate food intolerances and allergies. Oxygen and CO2 levels indicate how your body is responding to food. The key biometric that Lumen measures is called your Respiratory Exchange Ratio (RER). For us nerds, RER is calculated as follows:
RER = CO2 Exhaled / Oxygen Inhaled
The higher the ratio, the greater the carb burning. The lower the ratio, the greater the fat burning. To simplify things, Lumen displays a nice gauge to tell you what you're burning. On their scale, 1 equates to 100% fat burning, and 5 equates to 100% carbs burning. This gauge is also one of the downsides discussed below: you get their interpretation rather than an actual value.
They sent me a device to test. I've put it through nearly two months of daily use. Once you place your order, this is what happens.
Unboxing The Lumen Metabolic Tracker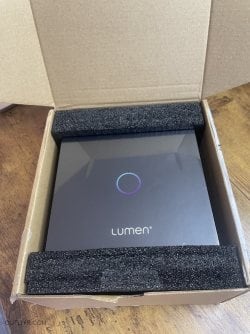 I generally eat high-fat and protein until dinner to trigger my body to produce the high-octane brain fuel called ketones. If you only care about ketone levels, see my review of the best ketone meters. While Biosense is effective, inexpensive over the long-term, and non-invasive, it only measures one facet of metabolism (breath ketones). Lumen's scoring system paints a fuller picture.
After one week, my Lumen arrived in a compact box. Behind the wrapper, however, sat a space-age gadget. The unboxing felt similar to getting a new Apple device. Sleek and modern.
Setting things up was a cinch. I pulled out the gadget, and Lumen greeted me with a "hello". I skipped the instructions and went straight to the app store. A voice guided me through the entire process. I answered questions about my lifestyle and goals. Everything took just a few minutes.
Others report that the first day is a "calibration day" where the device gets to know the specifics of your breathing habits and lung capacity. For whatever reason, I didn't get a calibration day and went straight into normal measurements.
I tested my RER around meals, around sleeping and waking, around exercise, and other lifestyle habits.
The Lumen exposed my metabolic trends:
Early morning measurements sometimes show greater carb-burning than pre-sleep. Cortisol naturally increases blood glucose
Endurance activity and staying below my anaerobic threshold increases fat-burning
High-intensity training can shift me more into carb-burning
Fasted ice baths, when long, increase fat-burning
85% dark chocolate instantly throws me out of fat burning (sad realization)
Stressful days hampered fat burning even while eating low-carb
Note that Lumen recommends waiting 20-30 minutes after waking before taking your first measurement to allow the stress/waking hormone cortisol to normalize.
After several days of constant use, Lumen began to recommend I make specific dietary changes. Including, adding moderate-carb days around heavy physical training.
I'm still using it to test my lifestyle. I plan to use Lumen as a diagnostic tool for any large life changes and especially during my annual one-month metabolic reset. While I think it's a cool and useful tool, it does have faults.
Lumen Metabolic Tracker Pros & Cons
| Lumen Pros | Lumen Cons |
| --- | --- |
| Modern design | No direct measurements, making it impossible to compare your data |
| Simple app | App only allows you to enter 18 hours as the maximum fasting duration |
| Aids building healthy habits | iPhone 12 bug currently doesn't allow entering 0 servings of carbs |
| Helps uncover problematic foods | Takes large breaths to get reading |
| Facilitates keto and zero-carb carnivore diet adaptation | Sometimes requires two breaths, each spaced 15-seconds apart |
| Quick to set up | Only able to add one tag per measurement |
| Personalizes daily diet recommendations | Requires phone & wifi to use |
| App's "Tools" tab includes health guides and meal plans | Takes practice to get inhalation and exhalation pace right |
| Battery lasts dozens of uses | Must use consistently, at least initially |
| Full 1 year warranty (that they honor) | |
Lumen Metabolic Tracking Device Pros & Cons Table
Lumen: Price & Where to Buy
No conversation about biohacking devices is complete without mention of price. The Lumen metabolic tracker retails for $350 (but you can save $25 with code outliyr25) and is available directly from Lumen or through several third-party retailers.
It's expensive but priced competitively against other metabolic measuring devices (like BIOSENSE and Ketonix).Unlike blood and urine ketone meters, Lumen is a one-time cost. If you use it to dial in your lifestyle, it could potentially replace the need for:
Sleep coach
Personal trainer
Nutritionist
The gold-standard requires a clinic. Clinical RER testing is inaccessible. To make use of the data, it's also prohibitively expensive.
If you don't like it so some reason, Lumen offers a risk-free 30-day money back guarantee.
Are Lumen's Metabolic Scores Accurate?
Metabolic breathalyzers like Lumen and Biosense are controversial. The technology has come a long way in the last decade. This 2013 study suggested the potential of breath testing tools was just around the corner.
Lumen's research page prominently features two studies:
My own experience has been mixed. My first measurements were 24-hours and 36-hours into a fast. I was shocked to see that it classified me as a 4 — mostly burning carbs. Perhaps this was due to my lack of calibration. Because after that, my scores more closely aligned with my expectations.
For a while, I lived on the ninth floor of an apartment complex. I always took the stairs. Each time I tried to use my Lumen too quickly after climbing all the stairs, the Lumen rejected my measurement. It told me to try again after I caught my breath. Heck, it's even discarded my measurements that I took while standing (recommended to test while seated).
I'm not the first (or only) to wonder about accuracy. It's not alone, though. Most self-quantification devices—including the incredibly popular Oura Ring—leave greater accuracy to be desired.
If you're looking for clinical-grade accuracy, I'm not sure Lumen will cut it. For most purposes, however, it's a powerful tool.
UPDATE: I dropped my device from about 4 feet. While there was no noticeable damage, my readings seemed less accurate. Before I could even message their Support team, I got an email that their systems had detected inaccurate data and that they had automatically dispatched a replacement at no cost. They care about data integrity. Sweet!
Is The Lumen Metabolic Breath Analyzer Worth It?
Establishing a baseline, and getting a snapshot of your metabolism is one of the smartest things you can do to boost your health. Miles ahead of daily scale weigh-ins. You can start feeling the fruits of your efforts within about a week of working on metabolic flexibility.
The benefits of improving metabolic health include:
Alleviating brain fog
Boosting energy
Shedding weight
Building muscle
Helping prevent chronic disease
This is one of the only devices validated to approximate the accuracy of clinical metabolic measurements.
Lumen has some advantages over traditional metabolic testing:
More convenient
Portable
Faster
Cheaper
Motivates around-the-clock
Easy to use
Lumen holds you accountable. Thinking about bingeing on a pint (or, more realistically, a quart) of ice cream? Your metabolic score will show it. Seeing a fat-burning boost can help motivate extra gym sessions.
It's not cheap, but in some ways…
Lumen can become your pocket health coach.
Click To Tweet
Use the exclusive Lumen coupon code outliyr25 to save $25 on their metabolism tracker.
If for some reason it's not right for you, you can fall back on their 30-day money-back guarantee. Their customer service team is GREAT and will make sure you're cared for.
Lumen Metabolism Tracker (Review)
Lumen is a popular device used to track, and "hack" your metabolism. In this review I put it to the test. Is Lumen your new pocket nutritionist? This guide will help you decide.
Product Brand: Lumen
Product In-Stock: InStock