I eat a lot of meat.
Organic, regenerative, grass-finished, pasture-raised animal products can save the world:
Highly bioavailable and densely concentrated nutrients
Net negative carbon emissions
Humane treatment of animals
Restores the environment
Plus, it tastes delicious.
Industrially-raised CAFO meat is the exact opposite. I avoid it whenever possible.
Several prospects of the quality online regenerative meat subscription boxes excite me:
Time savings
Auto-ship convenience
Higher-quality
It has a glaring dark side.
The biggest problem with meat delivery subscriptions is twofold. Price and non-existent quality control
Shipped to your doorstep, reputable services charge $10-$15 per pound. In-store, I get similar meat for $8-$12 per pound.
Fraud runs rampant in the meat industry. 99%+ of meat in the USA comes from factory farms. Even the stuff labeled "grass-fed" or "cage-free". Labeling guidelines are very vague and most do NOT require in-farm visits to confirm the truth of product labels. Case and point with the huge Belcampo scandal.
For years, I continued buying it in-store. Despite the notoriously low quality and unavailability of many cuts at grocers.
Until my friends at Wild Pastures solved both issues.
The same team from the super successful and reputable superfood company, Paleovalley, began offering the highest-quality meat money can buy yet at Costco prices.
I took the plunge and began my first-ever food subscription. Several orders in, I can attest that their taste, quality, affordability, and service stand in a league of their own. So in today's post, I'm reviewing the online Wild Pasture meat delivery service and sharing my experience.
What is Wild Pastures?
Wild Pastures is a new regenerative meat membership discount club, providing the absolute highest quality, domestic, pasture-raised meats at the best possible prices. They source meat from small local American farmers that pledge to raise their livestock ethically and sustainably. The natural way. Zero pesticides, fertilizers, steroids, herbicides, antibiotics, or any other toxins.
Wild Pastures bulk buys from your nearest local farmers. Then they redistribute the meat. This service operates in the entire continental US.
You choose the meats you want, set a delivery frequency, and your box arrives on your doorstep. Here's how.
How Buying From Wild Pastures Works
Affiliate Disclosure: This post may contain affiliate links, which means I get a small commission if you buy (at no cost to you). Thanks for your support!
I'm new to food subscriptions, so I didn't know what to expect.
Wild Pasture's customer service is next level. They work hard to resolve any problems and make your experience right.
Start to finish, including personalizing your order takes just a few minutes.
Join
When you visit the site, they'll ask for your state and zip code to make sure that they operate in your area. Unless you live in Hawaii or Alaska, you should have no problem signing up.
Choose
If Wild Pastures delivers to you, you'll have two options. Either buy a single box, or a subscription.
I recommend the subscription because it's a much better deal and you can modify the frequency or cancel at any time.
Customize
Once you've picked your account type (you can always upgrade to a membership), you choose what types of meats you'll want in your box(es). Options include:
Beef, Chicken, & Pork
Beef & Chicken
Beef & Pork
Chicken & Pork
I don't buy chicken from them, since it's considerably cheaper in-store. Their box pricing (discussed below) does reflect this though.
Then you choose how often you want to receive a box. Every 4 weeks, to Every 3 Months. And anything in between.
From there, you see all the meats in your cart. Add, change, or remove as you desire. Before checkout, you can add other things to your order.
Receive
A few days before your order ships, you'll receive a confirmation email. Giving you ample time to skip or change the delivery date.
I've skipped a few orders while I've been traveling, and appreciate that the email arrives multiple days in advance.
Within two days of processing, your box arrives. Chilled on dry ice.
Enjoy
I order a lot of meat all at once.
Since it arrives packed on dry ice, I immediately transfer most of it to our freezer.
I'll leave about a week's worth in the fridge.
After it thaws out, enjoy some of the best value and quality meat you can get!
Wild Pastures Box Pricing
Note that they recommend the 15-pound boxes for 1-3 people, and 25 pounds for 4+ people. Of course, this depends on your diet and appetite. 😉
You can also change delivery frequency to better suit your needs.
Supply chain costs will surely change things. As of this writing, these are the most up-to-date Wild Pastures box prices for subscriptions and one-time orders.
| Box Contents | Subscription Price | One-Time Order Price |
| --- | --- | --- |
| Beef, Chicken & Pork (15 lbs) | $153 | $174 |
| Beef, Chicken & Pork (25 lbs) | $241 | $274 |
| Beef & Chicken (15 lbs) | $153 | $174 |
| Beef & Chicken (25 lbs) | $241 | $274 |
| Beef & Pork (15 lbs) | $164 | $186 |
| Beef & Pork (25 lbs) | $252 | $286 |
| Chicken & Pork (15 lbs) | $153 | $174 |
| Chicken & Pork (25 lbs) | $241 | $274 |
You can add extra meats to your order too.
I generally add on five more pounds of ground beef. The highest quality ground beef I've found for just $5.99 per pound!
I signed up for the service early, so I've secured a permanent 20% off. While this deal lasts, you can sign-up with this link, and lock in a 20% discount for life. No special Wild Pastures promo or coupon codes needed.
You can always cancel the free membership if you don't like it. But subscribers are VIPs and get all kinds of exclusive bonuses.
Wild Pastures Plus Membership
When you place your first subscription order, you become a Wild Pastures Plus member.
This membership does not cost you anything. But it unlocks all kinds of savings.
In my 3-months with Wild Pastures, so far I've seen:
50% off beef bacon
$1 bottle of fresh-pressed olive oil (regularly $39)
30% off Paleovalley Organic Supergreens powder
30% off Spiral Cut Ham
30% off Grilling Favorites
Most of their discounts come from them accidentally over-ordering certain meats. Rather than letting them spoil, they sell them at a great price.
All you have to do is click the "Claim" button in the email, and it's automatically added to your next box.
A great way to try new foods and save while doing so.
What Comes in Wild Pastures Meat Subscription Boxes?
One of the biggest perks is your ability to customize your order exactly how you like.
You can substitute any cuts you don't like, remove meats altogether, or just load up on your favorites. Without having to go through support or pay any hidden fees.
Wild Pastures offers dozens of different cuts of
Grass-finished beef (100 percent)
Wild-caught seafood
Pasture-raised pork
Pasture-raised chicken
Things you won't find in your local grocer or in other meat delivery services.
You can rest assured knowing it's all the highest quality possible.
Wild Pastures Compared to Alternative Meat Subscriptions Boxes
I've researched countless online meat delivery services.
Most have glaring flaws that quickly turned me away.
There are a few well-known Wild Pastures competitors that I thoroughly explored first.
ButcherBox
ButcherBox is one of the biggest names in online meat delivery. At first glance, both companies seem similar. ButcherBox, however, is more expensive, lower quality, less sustainable, and with far fewer options.
ButcherBox does not source all their meat from local farmers in the USA. Their chicken is not pasture-raised, and they only mention zero antibiotics or hormones. Nothing about pesticides or fertilizers.
Where Wild Pastures goes the extra mile to use the entire animal, ships in reusable packaging, and upholds a zero-waste policy, ButcherBox does not.
US Wellness Meats
When I previously researched the best quality online meat delivery services, I came across US Wellness Meats (also called Grassland Beef).
It satisfies most of my requirements.
Tons of a la carte options and meat bundles. Sustainably-raised, pastured, grass-finished livestock and wild-caught seafood.
Then I saw the price. Double what I pay in-store. US Wellness Meats's ground beef, for example, costs 42 percent more than Wild Pastures. For the same quality. So I never used the company.
Wild Pastures: Organic Grass-Fed, Grass-Finished, Regenerative, Pasture-Raised Meat on a Budget
Meat can heal or harm, depending on the quality.
Every pound of flesh concentrates 6-7 pounds of plant material consumed by the animal.
Either laden with pesticides, herbicides, hormones, antibiotics, and synthetic chemicals. Or vitamins, minerals, and phytonutrients.
I used to buy all my meat in my local grocers.
Unfortunately, over 99% of meat in America is factory-farmed. Thanks to labeling legal loopholes, including the stuff labeled "grass-fed".
Factory-farmed animals contain higher levels of stress hormones like cortisol, and deleterious micro-RNA. Chemical messages that, when you consume the meat, signal danger to your own body.
Unfortunately, in many parts of the country, you either can't find quality beef or it's outrageously expensive.
New online meat delivery subscriptions are changing that.
Most of them suffer from lacking reputation, poor user experience, or ridiculous prices.
I found Wild Pastures and given their extensive track record and what looked like a great value, I signed up for my first food subscription.
I now regularly get a box filled to the brim with 25 pounds of my favorite animal products. I get to try new meats at unbeatable deals. All from the comfort of my home.
In fact, I always max out extra ground beef because it is far higher than Trader Joe's finest, and 25 percent cheaper!
I have no intention of quitting.
I signed up early, so I get 20% off, free shipping, and 2 free pounds of ground beef in all future orders.
If this sounds interesting, I suggest you capitalize on their current deal. It won't last. If you're interested in rounding out the health benefits, you should try one of these great organ meat supplements.
Just click the link below to get started. If you don't love it, you'll be fully refunded due to their 100% satisfaction guarantee.
This offer will expire soon.
Have you tried Wild Pastures? Let me know your experience in the comments below!
Wild Pastures Review: Premium Meat at Costco Prices, Delivered to Your Door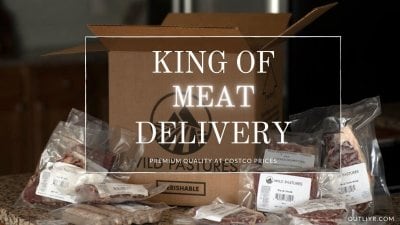 I had researched all the best online meat delivery boxes. They were all too expensive or poor quality. Then I came across Wild Pastures.
Product Brand: Wild Pastures
Pros
Great value
Highly customizable
Grass-fed, grass-finished beef
Pasture-raised chicken
Wild-caught seafood
Fast & free shipping
Exclusive deals
Fast & responsive customer service
Cons
Limited delivery windows
Only main box sizes
No organ meats