Carbon 60 (C60) is an underground yet powerful longevity supplement. The scientists that discovered it won a Nobel Prize.
This miracle molecule is a potential game-changer for anti-aging, optimal performance, and overall well-being.
So why haven't you heard of it?
Here's the dirty secret…
The majority of C60 on the market is completely toxic.
It's highly contaminated and intended for industrial use only.
Many unscrupulous vendors simply package up cheap industrial C60 and sell it as dietary supplements. Very few brands do it right.
You're certainly better off completely avoiding low-quality C60 than using an industrial-grade product.
In this article, we'll delve into the fascinating science behind C60, its most promising health benefits, how to choose the best C60 supplements, and tips for you to harness the full potential of this extraordinary molecule.
Affiliate Disclosure: This post contains affiliate links, which means Outliyr LLC gets a small commission if you buy (at no cost to you). Thanks for your support!
How to Buy & Use High-Quality C60 Supplements
Choosing the right product is the most important part of your C60 product.
Whether you go with one of the options on this list, or something else, here's what you'll want to look for.
C60 usually comes in liquids, but you'll also find it in gummies and capsules. Usually, manufacturers dissolve it in either olive oil, avocado oil, or MCT (purified coconut) oil. You may even find it in other oils.
The concentration of C60 in each oil is as follows:
Olive oil ~.8 mg/ml
Avocado oil ~.6 mg/mL
MCT coconut oil ~.35 mg/mL
Meaning to get the same dose of C60, you'd need to take more than double the MCT oil version as you would if you choose the olive oil carrier instead.
The generally recommended doses are:
| Body Weight ⚖️ | C60 in Olive Oil 🍃 | C60 in Avocado Oil 🥑 | C60 in MCT Oil 🥥 |
| --- | --- | --- | --- |
| 100 lbs | 3 mL/0.75 TSP | 4 mL/1 TSP | 7.75 mL/1.75 TSP |
| 150 lbs | 4.5 mL/1.0 TSP | 6 mL/1.25 TSP | 11.75 mL/2.5 TSP |
| 200 lbs | 6 mL/1.25 TSP | 7.75 mL/1.75 TSP | 15.5 mL/3.25 TSP |
Choosing your ideal C60 dosage by body weight & type of carrier oil
Plus, all the research I saw was on olive oil specifically.
That's why most experts recommend C60 in an olive oil carrier.
Before buying C60, these are the factors you want to consider when evaluating products
The freshness of oil (vital with olive oil versions)
Bottle color (dark/amber protects the C60 from light)
Certified organic raw materials
Free of solvents
Third-party lab tested for purity and potency
99.95-99.99% pure C60
I prefer ESS60 as that's the same C60 used in clinical research.
The Best C60 Supplements & Products
Here's the sad truth, most C60 supplements are toxic.
Absolutely not intended for human consumption (despite its marketing as a dietary supplement).
From all my own research (and heavy personal use), these are the C60 brands I'd consider.
MyVitalC ESS60
Overview
Dose: 4mg of C60 per 1 TSP
Other Ingredients: None
Carrier Oil: Organic Cold-Pressed Extra Virgin Olive Oil
Origin: USA
Guarantee: 30-day
Chris Burres is the lead scientist at MyVitalC, and this uses what's considered the gold standard for C60. They source directly from SES Research —one of the only manufacturers of C60 specifically intended for human consumption. This form is called ESS60, and it's the same form used in the famous landmark anti-aging studies. Not just ordinary C60.
So you know you're getting the absolute highest quality C60 possible. In fact, they're one of few that use USDA Certified Organic (MOSA, NOP) GMO-free carrier oils. MyVitalC provides ESS60 in many forms and includes most of the important information beginners need to get started. They even have an entire line of skincare products should you desire to target the skin and hair benefits specifically.
Plus, Chris is one of (if not THE) primary C60 educators. He recently appeared on the Mind Body Peak Performance to share key C60/ESS60 details and everything potential buyers must know. This is the product that I've been using most recently.
MyVitalC is the top brand for human-grade ESS60, and Founder Chris Burres is one of the world's leading C60 scientists.
Click the button to unlock a special discount
C60 Purple Power
Overview
Dose: 4.4mg of C60 per 1 TSP
Other Ingredients: None
Carrier Oil: Organic Cold-Pressed Extra Virgin Olive Oil
Origin: USA
Guarantee: 30-day
C60 Purple Power is another innovator in the industry. They have the most diverse line of products that I've come across. Everything from C60 edible massage oils to C60 gummies.
As with MyVitalC, they exclusively use organic oils and rigorously third-party lab tests for purity and potency. They're also excellent resources for everything you could want to know about C60. Clearly, they're doing something right, as they've been featured in many of the major news outlets.
Although Purple Power doesn't use the preferred ESS60 form, they use 99.99% pure sublimated C60 so that it's never exposed to solvents or contaminants common in industrial C60. I met their Founder and Chief Scientist, Ken Swartz, at a health summit here in Austin, Texas. Ken was a nuclear scientist that experienced the benefits of C60 first-hand. Ken told me about some of the things their team is working on which, if accomplished, will radically improve C60 for us consumers.
This was the very first C60 I used. I began with their MCT version, then progressed to avocado oil, and then to olive oil. When I increased my dose, I noticed that I recovered faster from workouts and slept slightly better.
I do find it strange that this science-based company mixes standard and imperial units of measurement (mg per oz).
C60 Purple Power is my pick for the unparalleled customizability, 99.99% pure sublimated C60, and supportive staff—but it is a bit pricier.
Use the promo code URBAN10 to save 10%
LimitlessLife Nootropics C60
Overview
Dose: 4.5mg of C60 per 1 TSP
Other Ingredients: None
Carrier Oil: Organic Extra Virgin Olive Oil
Origin: Sweden
Guarantee: Unknown
Limitless Life Nootropics is best known for selling the latest supplements and special ingredients. As their name implies, they specialize in brain-enhancing supplements (nootropics) and also therapeutic peptides. LLN stocks rare ingredients that are difficult to source elsewhere. Including C60.
According to Chris, the owner of Limitless Life Nootropics, they source their C60 from a state-of-the-art manufacturer in Sweden. It's guaranteed solvent-free and with a minimum purity of 99.95%.
When it comes to price, you won't beat LLN. Their 100mL olive oil product provides a total of 90mg of C60. Each teaspoon comes out to 4.5mg of C60. As you'd expect, the third-party lab test their products to ensure you're getting the specified dose of C60, and nothing else.
In an industry shrouded in secrecy and lackluster quality, this shop is known for manufacturing some of the highest-purity peptides, nootropics, and supplements possible.
So what's the catch?
As with all of their products, LLN sells their C60 for research purposes only. This helps them maintain legal protection and adherence to regulations.
LLN's C60 is the most affordable, but despite third-party testing showing 99.95% purity and free of solvents, it's sold for "research purposes".
Use the exclusive Limitless Life Nootropics code URBAN for 15% off
Wizard Sciences C8 Lipofullerene
Overview
Dose: Unknown
Other Ingredients: NMN, CoQ10, Resveratrol, Serratiopeptidase, Pyrroloquinoline Quinone (PQQ)
Carrier Oil: Organic Coconut Oil
Origin: USA
Guarantee: 30-day
Wizard Sciences is a company dedicated to producing some of the most exotic and potent formulas possible. The lead scientist, Ian Mitchell, masterfully combines ingredients to elicit specific health benefitting outcomes. These include therapeutic ozone, and more relevantly, C60.
Wizard Sciences uses certified organic, solvent-free carrier oils. I like that their MCT versions use the best form, C8 MCT, specifically. Both their MCT and Extra Virgin Olive Oil (EVOO) C60 molecules are packaged in liposomes, which are a technology to increase absorption and distribution throughout the body.
You can get C60 in C8 MCT oil alone in their ELIXIRX product, or in special formulas. Neural RX is the same product, with a proprietary blend specifically designed to support mental performance. NMN, CoQ10, Resveratrol, PQQ, Serratiopeptidase, and the other ingredients potentiate C60's nootropic effects.
I previously interviewed Ian Mitchell on the podcast, and plan to record another one regarding his unique Neural RX and Olympic RX formulations.
Wizard Sciences' liposomal C60 products dissolved in C8 MCT have some of the highest absorption rates on the market, and Neural RX specifically is a potent brain enhancer.
Use the Wizard Sciences promo code URBAN to save 10%
Wizard Sciences Oleic Acid Lipofullerene
Overview
Dose: Unknown
Other Ingredients: None
Carrier Oil: Organic Extra Virgin Olive Oil
Origin: USA
Guarantee: 30-day
Wizard Sciences, the same company mentioned previously, also sells the most advanced Extra Virgin Olive Oil (EVOO) C60 products. They offer both a plain C60 (called Evolve RX) and an upgraded formula (called Olympic RX).
Again, Ian Mitchell made sure to encapsulate the solvent-free C60 molecules within liposomes to ensure maximum uptake and delivery throughout the body. Essentially, making the C60 more potent.
If you're looking for a potent pure organic olive oil-based C60, check out Evolve RX. Ian formulated Olympic RX, on the other hand, to maximize cellular energy generation. To accomplish this, within the liposome, he added NMN, CoQ10, Resveratrol, Astaxanthin, Beta-Alanine, PQQ, and Serratiopeptidase.
Making Olympic RX the perfect companion for athletic performance (hence the name). I've heard rumors of some big-name athletes using Olympic RX to break records. And none of the ingredients within it are banned for use in sports.
Wizard Sciences' liposomal C60 dissolved in EVOO is among the strongest products possible, and Olympic RX is the energy-boosting (legal) powerhouse favorited by many elite athletes.
Use the Wizard Sciences promo code URBAN to save 10%
C360 Health C60 Plus Extra Strength
Overview
Dose: 6mg of C60 per 1 TSP
Other Ingredients: None
Carrier Oil: Organic Extra Virgin Olive Oil
Origin: USA
Guarantee: 30-day money back
Another major name in the C60 space is a company called C360Health. Founded by Dan Bensimon, they claim to have a patented proprietary process that yields potencies up to 25% higher than others.
As you hope to see with all C60 companies, they use cold-pressed, organic carrier oils.
Navigating their catalog and product list is quite confusing. I came across a table meant to explain their available products and ingredients. Deciphering it proved quite tricky. Basically, they offer different concentrations (0.8, 1.0, 1.2), with and without anti-inflammatory enzymes. And a few hair products.
One of the primary issues in the C60 industry is that companies come and go seemingly overnight. So one of the first things I check is how long they've existed and if they're currently active publicly. At the time of this writing, they published their most recent article about a month ago and a photo on Instagram within the last five hours.
That said, I've emailed them several times requesting more information and still haven't heard back. Although it's been recommended to me by two industry experts, this is a brand I haven't tried yet.
C360 Health claims their patented C60 products are up to 25% more potent than other brands, and since they've been around for a while, the brand is fairly popular.
Use the promo code URBAN to save 10%
C60 Evo
Overview
Dose: 4mg of C60 per 1 TSP
Other Ingredients: None
Carrier Oil: Organic Extra Virgin Olive Oil
Origin: USA
Guarantee: 60-day
You've probably never heard of C60 Evo, but don't let the minimalist marketing fool you. They've been producing quality Carbon 60 since 1991. This is another one of the top C60 brands on the market. They also use the form of C60 intended for human consumption—ESS60. The same one was used in the key clinical trials. Like MyVitalC, they offer ESS60 in different forms, in different quantities, and for different uses. From what I could find, Chris Burres, the lead scientist behind MyVitalC, is also a co-owner of C60 Evo.
C60 Evo mixes their ESS60 into organic (although not certified organic) carrier oils. They don't mention much about their methodology on the individual product pages, but because they're using ESS60, I'm less concerned. According to their home page, "Our ESS60 is solvent-free, vacuum oven baked, and washed Carbon 60 that is systemically stirred in the dark at controlled temperature with an inert buffer gas"
This company has integrity. For their capsules, although it's less convenient, they admit that a full serving consists of six. They're also active on social and actively create content. Their "About" page shares the details behind their product creation process.
They have tons of product options, and you can save over 20% when subscribing.
C60 Evo is the other company providing the highest-quality ESS60, with a wide variety of products and options—at fair prices should you subscribe.
Use the C60 Evo promo code URBAN to save 10%
Infoceutical C60
Several years back, I discovered a fascinating company that's developed a technology that mimics desirable molecules. When applied, you get about 1/5 of the effect of the original molecule. Without the potential pharmacological **side effects and off-target pathways modulated by ingesting a substance. Without the solvents or questionable additives in many oils. Without the expensive serving cost.
Here's how it works.
Scientists record the electromagnetic signature (like a digital fingerprint) of the original substance. They upload a digital representation into their library. As users get to choose which molecules to experience. Then we "imprint" them into the water using electromagnetism and quantum collocation. All of this capitalizes on the abilities of water to "hold memory". Or we can replay them directly through pulsed electromagnetism (PEMF).
Of course, C60 is one of the many options available in their catalog. You can use it alone, or combine it with any of the hundreds of substances in their library. I personally sometimes imprint real physical C60 oil with it for even stronger reviews.
This is certainly a hard concept to grasp, so I suggest you check out my review of Infopathy "digital drugs".
Questionable C60 Brands
I've limited my list of top brands to those that withstood the test of time and display the hallmarks of good safety-first science.
Low or questionable quality C60 likely does more harm than good.
Now, I don't personally have an HPLC machine and I haven't sent products from the below companies out for purity & safety verification. It's entirely possible that they're great.
After talking to several of the original C60 for human use scientists, I've become skeptical of most other products. For different reasons which I described below.
Bucky Labs
I wanted to like Bucky Labs and their C60, but I have a number of problems with it. First, when I clicked the link from search engines, the site didn't load. After closer examination, I tried removing the "www" prefix, and that solved it. They claim that a two-capsule serving contains 1.2 mg of C60. But the "Substance Facts" on my bottle actually says 2 droppers. Perhaps a labeling error? The website itself contains very little information about their products. I couldn't even find the dosing or serving sizes for the different quantities they sell. Bucky Labs sells their Carbon Fullerenes (Bulk C60) in two different purities, but for some reason, the cost doesn't change. Finally, they don't mention the world solvents at all in their listings.
C60 Labs
At first glance, C60 Labs appears a solid contender amongst the other top brands. I immediately noticed that they also sell it in organic hempseed and sunflower oils in addition to the usual carrier oils. Information about their products is difficult to find, and they don't even mention solvents anywhere. What bothers most me is their limited online presence. I couldn't find an "About Us" page anywhere. The socials listed on their website have been inactive for 7+ months. Their YouTube channel lacks any content. The video on their home page was posted 5 years ago by "Joey Crypto". This shop doesn't have any of the indicators of a legit business. I'd be nervous to use their C60.
What is C60
Carbon 60 (also called C60, buckminsterfullerene, and buckyballs) is a Nobel Prize-winning natural molecule widely considered one of the most powerful antioxidants. The molecule itself fits into a class called the fullerenes. Fullerenes have unique properties making them popular across many different industries.
C60 itself is made of 60 small carbon atoms shaped like a soccer ball. It was discovered in 1985 by professors Robert Curl, Harold Kroto, and Richard Smalley. Although this discovery won the 1996 Nobel Prize in Chemistry, it hit an inflection point around 2005 with the publication of several stunning studies.
It's the ultimate antioxidant, hundreds of times stronger than others. Antioxidants act like a sponge, mopping up oxidative stress. Oxidative stress reduces mitochondrial efficiency. Our natural production of antioxidants declines with age and lifestyle, making C60 a promising solution.
Today, it's used in batteries, ink, tired, as a lubricant, and for all kinds of industrial applications where purity isn't essential.
Quality C60 (and only the pure stuff) shows astonishing potential.
C60 Health & Longevity Benefits
Despite its status as a Nobel Prize-winning molecule, C60 hasn't received the deserved attention or research.
Many of the studies have used animal models. The science is also muddied by certain parties conflating pharmaceutical-grade and industrial C60. The majority of the negative findings, unsurprisingly, came from trials using industrial C60.
So it takes a discerning eye to comb through the literature and note the effects of ultra-purity C60 exclusively.
In my research, the main benefits of quality C60 include:
Improved immunity
Lifespan extension
Protecting organs and bodily systems
Aesthetics and beauty (skin vitality, hair color, and growth)
Energy
Memory and mental clarity
Endurance & athletic performance
Recovery
Of all the benefits, most stem from C60's ability to powerfully reduce excess levels of oxidative stress.
Now, we will dig into each of C60's many health & performance benefits.
Anti-aging & longevity
Longevity, lifespan, and anti-aging are the largest market for C60 supplements. Current research puts this molecule in a league of its own.
If reproduced, this will be the world's best longevity supplement.
So far, the longevity mechanisms of C60 include:
Directly and indirectly, increasing lifespan
Blunting oxidative stress
Protecting organs from damage
Normalizing biomarkers like blood pressure
Famously, a 2012 study showed that rats administered C60 in olive oil daily lived over 90% longer than the control group. Unfortunately, we do not know how long they would have lived because researchers ceased their dosing after the last of the placebo rats died [R].
A previous 2008 mouse study showed an analog of C60 both increases lifespan and rescues age-related cognitive decline [R].
One powerful review study reviewed the mechanisms and benefits behind C60, finding it works as a "free radical sponge" to improve a wide variety of health markers [R].
Skin is also an important organ for longevity. Skin damage causes inflammation and increased senescent cell burden. A 2010 study of human skin cells showed that C60 protected against UV damage [R].
The most recent 2021 mouse study found that the group treated with C60 maintained their health better than the control groups (and increased their lifespans). [R].
Another in vitro study showed that it protects against some of the damage caused by toxins [R].
So far, only one trial found no lifespan-improving effect, and they do not disclose their C60 sources [R].
Energy & mitochondria
C60 optimizes mitochondrial health and improves energy levels. Some claim that C60 "resets mitochondrial to a younger state" [R].
Mitochondria are the source of cellular energy, and thus life. When energy production falters or loses efficiency, the entire body suffers. Different bodily functions and organ systems slow their activity to cater to the energy available.
One of the core drivers of suboptimal mitochondrial function is excess damage. Like a car, generating energy results in "exhaust" byproducts. This oxidative stress reduces mitochondrial efficiency. Superoxide dismutases (SOD) are a family of enzymes that neutralize oxidative stress.
C60 works like SOD to reduce mitochondrial damage [R].
It stays within the lipid bilayers of mitochondria and cells. Exerting cytoprotection and ROS-buffering benefits for weeks.
Overall, this matches the often reported but slight energy-boosting effects of supplemental C60.
Skin & hair
After C60's longevity benefits, this super supplement often comes up in discussions of substances for aesthetics.
C60's purported beauty benefits include:
Improved hair growth
Improved hair color
Reduced hair loss
Fewer wrinkles
Less fine lines in the skin
Skin radiance and vitality
This is from topically-applied C60-infused skin serums. Although few companies make them, the ones that do get rave results.
These benefits likely stem from its antioxidant properties. A few studies have investigated C60's effect on hair and skin.
Topical C60 appears to protect the cells surrounding hair follicles from oxidative stress, thereby slowing hair loss and even promoting hair growth [R].
A double-blind human study published in 2010 found that C60 combats wrinkles and synergizes well with laser light therapy [R].
More recently, a Japanese research company tested C60 on a small group of men and concluded, "It became clear that hair growth rate became 16% faster by as early as after six months. From this result, it was confirmed that fullerene could increase hair growth rate" [R].
I expect my hair and skin care products to incorporate C60 as the data continues to show impressive efficacy.
Athletic performance & recovery
C60 has several properties that make it interesting to athletes.
First, it improves the health and function of mitochondria and increases energy output [R].
Among the largest challenges athletes face, oxidative stress can increase 3-fold after intense exercise. This naturally results from the dramatically increased energetic demand. At the same time, the oxidative burden significantly slows down workout recovery.
But here's the thing. The body uses some free radicals as key signaling molecules to induce hormetic (beneficial) adaptations to training. That's why supplementing classic antioxidants (vitamin C) can interfere with muscle building.
C60 does not. And at the same time, It's 125-172-fold more powerful.
Additionally, a rat study showed that C60 increases muscular endurance and reduces recovery time[R].
One of my friends, an ultra-marathon runner, logs his performance data with and without C60. He sees significantly improved times (and recovery) from usage.
Radiation & EMF protection
Carbon 60's powerful antioxidant effects make it a contender for protection against multiple forms of radiation.
Both ionizing and non-ionizing. Some scientists speculate that it could even beat iodine for offsetting radiation exposure.
Radiation often disrupts the mitochondria, and a mouse study showed C60 conferred protection [R].
Unsurprisingly, a 2009 study pitting it against ionizing X-ray radiation concluded, "… [C60] may be considered as a novel antioxidant agent, which substantially diminishes the harmful effects of ionizing radiation." [R].
Certain spectrums of sunlight also contain ionizing radiation, and C60 has shown protective effects.
While there is virtually zero research on non-native non-ionizing EMFs (electrosmog) and C60, it stands to reason that supplementing can help. One of the primary mechanisms behind the toxicity of EMF radiation exposure is a dramatic increase in free radicals.
C60's potent antioxidant effects make likely to help mitigate the oxidative damage caused by non-EMFs, including 5G.
Immune rebalancing
Is there a link between healthy immunity and C60?
Several papers suggest so.
In 2013, from an in vitro experiment, researchers concluded that a modified version of C60 may inhibit the flu virus [R].
Another showed that C60 can stimulate TNF-alpha, which improves the elimination of foreign cells. Plus, it helps increase the production of T cells and macrophages (white blood cells) which improve immune response [R].
Those with allergies may be pleased to learn that C60 can help.
This paper found that C60 may help control histamine, cytokine storms, and mast cell activity, leading to improvements in "… asthma, inflammatory arthritis, heart disease, and multiple sclerosis." [R].
Bones, joints, connective tissue
What about the relationship between connective tissue health and C60?
Although not traditionally known for aiding bone and cartilage function, some research suggests it's beneficial.
Bones lose density and become more prone to problems with age. Calcium, the typical recommendation for "strong bones", doesn't actually help. C60, on the other hand, might.
Animal and cell studies show that C60 can prevent stress-induced bone breakdown and protect against bone cell loss and inflammation. It also increases cartilage production and protects it from premature cell death [R].
A trial found that C60 also helps prevent bone destruction in patients with arthritis [R].
Neuroprotective
Neurohackers are especially interested in Carbon 60 fullerenes due to their potential protective mechanisms.
A study showed that C60 protected nerves against excitotoxicity ("working too hard") and apoptosis. Again, the mechanism appears to be mediated through neutralizing oxidative stress [R].
Another concluded C60 should act as a powerful neuroprotectant by buffering superoxide radicals, although this was a computer model and not a clinical trial [R].
Cognition & brain function
Improving neuroprotection can indirectly improve cognition, but what about other effects?
Surprisingly, a few studies have substantiated the mental acuity improvements that biomarkers sometimes report.
One of the papers that reported mice lifespan improvements from supplementing C60 also found that it improved their cognitive performance [R].
A 2014 rat study concluded, "Our results reveal a striking and highly unexpected ability of Nano C60 in positively modulating learning and memory" [R].
Plus, several other animal models report potentially improved learning and memory in those with cognitive impairment [R,R].
Sleep
The last few benefits I couldn't find data regarding the benefits, but these are common anecdotal reports. Some of which, I've experienced.
I notice that during the weeks I use C60, especially in conjunction with Brown's Gas, I sleep better. Deeper and for longer, with fewer wake-ups throughout the night (according to my wearables).
The magnitude of the effect isn't huge. My Oura shows about an 8% increase in slow-wave sleep and about 12% fewer wakings.
I use C60 along with my other top powerful sleep supplements.
Vision
Vision uses a considerable amount of energy. Therefore, it requires lots of mitochondria.
Sometimes, those with poor vision have suboptimal mitochondrial health. Often caused by excess oxidative damage.
If that's the case, C60's potent antioxidant properties may improve eyesight.
For the best effects, it should be combined with other essential nutrients, proper sun exposure, and potentially a holistic vision improvement course.
Pet health
Much of the C60 research has occurred in animals. Not only is it safe, but it can be quite powerful for all pets.
When I get a dog, I plan to put them on a clean diet and supplement routine. Considering all the data, I'll certainly include C60.
The best form of the oil and dosage vary by animal.
C60 is becoming quite popular with pet owners to help their companions live the highest quality lives possible.
Just like with humans, you'll want to check with your vet first if your pet is on any medications or is pregnant.
Dangers of Most C60 Supplements
A large body of C60 science (and products), unfortunately, doesn't provide all the benefits listed above.
The common pitfalls of bad C60 science include the use of:
Nanoparticles — singly dissolved C60 molecules, not nanoparticles, are healthy
Bad environment — exposing C60 oils to extreme light and heat causes the oils to go rancid
Impure product — industrial or low-quality C60 contains contaminants and toxins
Even with high-quality C60, some people do experience detox symptoms. The simple solution is to start with a low dose and gradually increase over time.
Adverse reactions to Carbon 60 are usually related to consuming old, oxidized, rancid oil rather than the molecule itself.
Beyond C60: The Ultimate Longevity Supplement Stack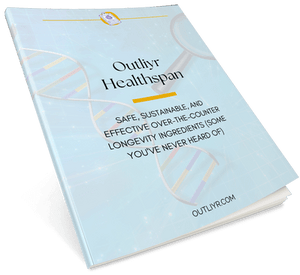 Longevity supplements can get confusing:
Are you wasting money?
Is there significant overlap (and also gaps) in the pathways the supplements activate?
Is the product making a difference?
What if you can simplify your life, take fewer products, and get better effects?
This is all possible, and it comes down to this…
A well-designed longevity stack.
Ideal formulations contain multiple ingredients. Each targeting and improving different facets of biological aging.
Keeping you looking and feeling younger and performing optimally.
Together, a multi-supplement formula is more effective than the sum of the parts. This is called the entourage effect, and it's best understood as the "1+1=3 effect". And, this powerful ingredient biosynergy often comes with fewer side effects.
So I designed a simple "Longevity Upgrade Cheatsheet" to summarize the benefits of 30+ popular longevity supplements as well as provide my universal essentials. Download it here…
C60 Fullerenes: Toxic Scam or Powerful Anti-Aging Supplements?
I'm excited about C60. There's still little rigorous human clinical data, but it hit an inflection point in 2005 and has become a hot topic of research.
The trial showing C60 increased rat lifespan by over 90% put it on the map as a potential longevity super supplement.
Depending on your source, studies show C60 to be 125-172X more powerful of an antioxidant than vitamin C.
Lipofullerenes act on the cellular level. Protecting mitochondria and the cell from oxidative damage. As it turns out, this reduction of free radicals has powerful full-body benefits. Plus, it lasts in the body for up to 10 days.
Nevertheless, it has most of the hallmarks of a research chemical. Most folks are better suited to nailing the basics before C60.
This is one of those supplements where quality matters. Commonly available, cheap industrial C60 contains toxic solvents and is carcinogenic.
Unfortunately, that's what's within most products, so I previously avoided C60.
Pharmaceutical-grade C60, on the other hand, is powerful and virtually non-toxic — even at extreme dosages. That's why I like ESS60, the exact brand used in clinical trials and proven safe for human consumption.
Choose your source wisely, and of course, consult with your healthcare professional before trying it.
Do you use C60 supplements? If so, drop a comment below and let me know your experience!