Part of the magic of bioharmony is integrating countless disciplines and fields of study.
Scientific knowledge constantly evolves. Estimates now peg the half-life of scientific "fact" to under two years.
Today's common knowledge becomes tomorrow's most pervasive (and pernicious) health myth.
The savvy biohacker balances modern science with timeless ancient wisdom.
If I were designing a proper biohacking curriculum, I would start with a holistic understanding. Then I'd supplement my knowledge with specific programs. This guide is a roundup and review of the best biohacking courses & education plan.
Foundational Health Optimization & Biohacking Courses
No matter how you'll approach health optimization and performing your very best over the long term, everything requires fundamental knowledge.
All the strategies, supplements, protocols, and fancy biohacks work better after mastering the fundamentals.
But listen…
Few people effectively and simply teach the interconnectedness of biology. That is, without vast oversimplification that dilutes the core message.
The ideal Bioharmonizer's education looks like this:
Wide holistic/functional health understanding
Deep specialization in particular topics
Wide health optimization knowledge takes two forms.
The ancient systems viewed health and wellness through a different yet holistic paradigm. Thus, they provide lasting solutions. I learned these almost exclusively through books and textbooks. I am yet to find solid online courses I can recommend.
Then there's the new approach.
Select organizations masterfully teach these principles through our modern lens.
I recommend starting with one course from this section, and then after completion, add as many specialties as you'd like.
Holistic Lifestyle Coaching Level 1
Whether you're looking to coach or just understand yourself better, this one is worth considering. When I started investigating holistic root-cause medicine, one name continued to come up more than any other — Paul Chek. Over a lifetime of working with the world's highest performers and studying history's greatest, he built both an entire Institute and multi-year Academy. Folks often opt for the Academy rather than a traditional four-year university and come out among the best-trained health professionals on Earth.
The Chek Institute, however, is still quite thorough but much shorter. It's a system comprised of two branches. The branches are Holistic Lifestyle Coaching (HLC), and Integrated Movement Science (IMS). Each has five levels. For most people, just taking the first level of HLC is more than enough. Whether a seasoned health pro or an absolute beginner, HLC1 has everything you need to understand (and optimize) your health at the deepest level.
Clients turn to Chek professionals when the traditional medical system fails them. HLC1 helps you cut through the noise to find the timeless principles of health and performance while simultaneously customizing it to your exact needs.
HLC1 teaches the core frameworks and principles of effective, functional wellness. Including more thorough knowledge of human movement than most certified personal trainers.
So far I've taken HLC1, HLC2, and IMS1. I can confidently say that I learned more (quantity and quality) in HLC1 than I did in multiple semesters of advanced biology, physiology, and neuroscience. HLC2 goes even deeper, and it is geared toward coaching others.
Topics you'll learn during HLC1:
ONE make-or-break factor of any program
Two essential forces to balance
Three choices in any scenario
Four pillars of health to master
Key components of effective program design
How each thing you do impacts the entire body
Your optimal, unique, personalized foods
Energy center imbalances and how they hold you back
Decoding any and every system in the body
If you can afford it, HLC1 is by far the best value health & wellness education, rivaling $200,000 undergrad programs (but taking far less time).
Institute of Health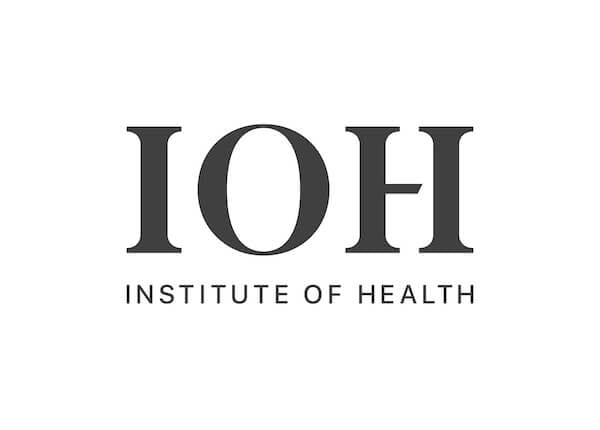 Created by Jake Carter, the Institute of Health is an award-winning health institute teaching functional medicine, nutrition, and business. It's primarily targeting health pros looking to level up their career and impact. Their step-by-step approach makes this highly accessible to beginners as well though.
Have you heard the shocking stats about how frequently businesses fail? 90 percent go under within the first few years.
Jake Carter and Team provide everything you need. Quickly go from idea all the way to success.
IoH students often scale to 6 & 7 figures. Get this. If you haven't 10X'd your investment by the end of the program, they will fully refund you.
This Institute takes a systems biology approach, combining modern technology with traditional philosophies. All backed by scientific references from 1,500+ published medical journals.
You'll learn it all, from gut health to the important biochemical differences comprising women's health, to in-depth blood lab assessment.
So far, the institute has earned its practitioners earn $10M in revenue, help 7,928 clients, support 120+ diseases, and benefits folks across 35 countries.
What you'll learn and get in Jake Carter's Institute of Health:
Hormones, women's health, men's health
Gut, immune, and brain health
Functional blood analysis, biomarkers, program design, lifestyle factors
Sleep, stress, disorders
Diets, vitamins, minerals, and supplements
24 core seminars
100+ 'plug & play' cheat sheets to make client results stress-free
Daily mentorship calls
Business technology & strategy support
Community of other practitioners
If you're looking to break into the health & wellness field or can commit to a 2-year program, the Institute of Health's 10X profit guarantee is a risk-free way to boost your salary into the 6 or even 7-figure range.
Tell them Nick Urban sent you for an exclusive deal
Functional Diagnostic Nutrition
Reed Davis founded Functional Diagnostic Nutrition (FDN) to codify his multi-decade health optimization system. Reed believes in "testing not guessing", and while working with industry leaders in alternative medicine, he ran thousands of labs on thousands of clients.
From there, he came up with what he calls "Healing Opportunities" and "Metabolic Chaos".
Then, Reed launched the FDN Practitioner Certification course to help others find the most effective drug-free protocols along with methodologies to far surpass conventional health coaching.
Like the IoH listed above, FDN Practitioners often make six figures, are listed in an official directory, and have access to the worldwide network.
Things you'll learn & get from the FDN Practitioner Certification course:
Functional lab testing
D.R.E.S.S. For Health Success™ framework
Hormones, digestion, immunity
Diet, nutrition, supplementation, metabolic typing, food sensitivity testing
Sleep, rest, recovery, stress reduction
Movement and program design
1:1 sessions with program mentors
Functional health test kits to optimize yourself
Plug-n-play business resources, forms & templates
Community of 4,000+ graduates
FDN is the course for those interested in a quantified yet simple approach to functional health coaching.
Other Biohacking Course Specializations
Once you understand the complexity of the interconnections of human health, you're ready to specialize.
There are hundreds of areas, topics, and problems you can become the go-to resource for.
These are just a few of the biohacking courses I'm most familiar with.
Hanu Health HRV Certification
Stress and inadequate sleep are widely considered the root of all diseases. As well as the hidden detractors of optimal health and performance. It's also one of the missing links of behavior changes. We all know the basics of health optimization, yet few of us are deeply healthy. Why?
Nervous system activation.
Yet most of us walk around completely unaware of the state of our nervous system. Believing stress only affects "other" people. I did too, until I used some modern technology to quantify my state. Continuous glucose monitoring, neurofeedback training, and heart rate variability biofeedback highlighted the toll everyday stress plays on my biology. Addressing chronic stress can be one of the highest-impact health pursuits, and there's one biometric that's the gold standard for quantifying and improving stress… heart rate variability (HRV).
Heart rate variability is often the final frontier that's preventing or drastically slowing health transformation.
Hanu Health is the first company to empower coaches and biohackers with HRV-quantified, highly accurate, and convenient stress coaching. It's the most sophisticated yet simple, scientific approach to boosting your stress resiliency — all without substances.
Hanu helps build the skill of physiologic emotional regulation, providing the internal tools to handle excessive stress, anxiety, depression, and mental health concerns. Although the system uses advanced biometrics and therapeutics, it's quick to learn and implement and often provides eye-opening results.
The instructor, Dr. Jay T. Wiles, is a leading consultant to health influencers, professional athletes, executives, and high performers. Whether you're going in as a coach or for personal use, Hanu's 7-week course has you covered.
What you'll learn as a Hanu Certified Coach:
Biometric monitoring and coaching
Psychophysiology
Mental health coaching
Behavior change
Self-quantification
Listing in the directory of Hanu-certified coaches
Live personal coaching from world-leading HRV experts
For effective behavior change, tangible stress management, and natural peak performance, becoming a Hanu Certified Coach deserves your consideration.
Use the Hanu Health HRV Certification exclusive code URBAN500 for $500 off this course
Integrated Movement Science Level 1
The Chek Institute offers a best-in-class fitness program, too. Integrated Movement Science Level 1 contains everything you need to go from knowing little about movement, to the top 1 percent of the industry.
Make no mistake, this is not your run-of-the-mill program. You won't just instruct clients to squat, bench, deadlift, and jog several times per week. Nor will you print out some generic routine for them to follow.
IMS1 takes you through the entire body, its systems, and its functions. You will learn anatomy. You will learn physiology. You will learn biomechanics. You will learn things that no other program I've seen teaches.
Resulting in better, faster, safer results. After all, the best program is the one you can follow without injury.
Before designing any programs, however, IMS Practitioners learn to assess their clients. Imbalances, breathing patterns, posture, gait, and muscle activation abilities.
You learn during the program, and then hone your skills through case studies. The exams aren't easy and IMS1 certification requires an in-person assessment.
During the live class, you'll meet fellow students, assess their bodies, and based on their lifestyle and goals, build them a custom plan.
Topics you'll learn during IMS1:
Quantifying anatomy and physiology
Exercise progressions and regressions for novices and professional athletes alike
How to make the body move more efficiently
"Control centers" that govern the entire body
Key biomotor abilities for sports excellence
Correcting common syndromes to avoid debilitating injury
Scientific warm-ups
Primal movements vital for all humans
Advanced program design factors
If you want to shortcut 30 years of trial and error, IMS1 is an incredible program to put yourself among the top 1% of the globe's movement specialists.
Enlifted
Mark England co-founded Enlifted to help folks discover the patterns and stories keeping them stuck in the Victim Mentality and unable to get results. So often we think it's a behavior or lacking skill that's holding us back. When often it's actually our stories. Both conscious and subconscious. Words create your reality, and by mastering your language, you become the architect of your life's potential.
The Enlifted system is effective both for yourself and anyone you work with. Understanding the basics of language can highlight areas of opportunity, emotional charges, and the most important areas to address.
Enlifted is powerful for coaches, thought-leaders, educators, business owners, therapists, and anyone aspiring to effectively lead others. This should be taught in school, as it applies to all walks of life.
I've personally seen Mark resolve random peoples' multi-decade traumas with a few targeted sentences.
The Enlifted Method course itself is 10 weeks, with group calls and 10 hours of homework.
Topics you'll learn and get from Enlifted Level 1 Certification :
Identify and translate disempowering language
Psychology of the victim mindset
Harnessing the mindset of the world's elite
Reversing negations to make beneficial forward progress
Destroying weak "soft talk" to easily build self-confidence
Re-orienting to an internal locus on control to rapidly achieve goals (Stoic philiosophy)
1:1 call with Mark England
Community access to 250+ Certified Enlifted graduates
Live coaching Q&A's with head coach Mark England
100+ hours of on-demand Enlifted videos
Live continuing education workshops featuring guest speakers
Breathwork classes with Brandon Powell
Networking sessions
Coaching business resources
Enlifted Method Level 1 should be a mandatory class, teaching a technique used to change the trajectory of lives in the shortest amount of time possible, all by targeting the core of who we are.
Cosmic Nootropics
Without healthy brain function, you're living disadvantaged. Despite what you may have learned in biology or neuroscience classes, you're not stuck with sub-optimal cognition or an underperforming brain.
One of the most popular and effective facets of cognitive enhancement is a field of targeted brain supplements called nootropics.
These ingredients work. Some nootropics boost energy 3X more than caffeine (but without the side effects). Others powerfully improve memory, mood, and motivation. Some improve logical thinking, while others optimize mental clarity, pattern recognition, and forming abstract connections. Other nootropics serve as healthy alternatives to alcohol for relaxation unwinding, and social lubrication.
There's a lot of bad information, dangerous ingredients, and scam products out there. Most of the information and research are scattered throughout the internet. Lucas Aoun is one of the world's foremost experts on the world of nootropics.
Thousands of hours of research went into this masterclass. It's packed with the most up-to-date information on everything you should know about nootropics. From the basics of how your brain works to the simplified science behind each ingredient, to important considerations to maximize the effects (and minimize potential side effects).
Topics you'll learn from Lucas Aoun's Nootropics MasterClass:
Healthy alcohol and drug alternatives
Brain chemicals/neurotransmitter breakdowns
Alertness, focus, and attention-boosting nootropics
Memory (short and long-term) supporting nootropics
Confidence elevating nootropics
Motivating nootropics
Stress and nervousness stopping nootropics
Libido and sex drive boosting nootropics
Sports & athletic performance-enhancing nootropics
Party & late night recovery nootropics
Personality enhancing nootropics
Dangerous nootropics to avoid
Credible nootropics vendors
Lucas Aoun's Nootropics Masterclass is the most thorough and evidence-backed guide to unlocking the potential of your brain and elevating your quality of life with supplements (that you actually feel).
Use the Ergogenic exclusive code URBAN for 20% off
Peptides
Peptides are one of the most exciting frontiers of modern medicine. These (mostly natural) molecules often already occur within the body. They're powerful and safe. The newness and lack of inclusion in medical and coaching curricula make peptides part of the Wild West of health optimization technologies.
While peptide therapy generally doesn't harm, it's important to understand how these molecules work. You can cobble together an education from an assortment of product pages, blog posts, and YouTube videos, but you'll never know the accuracy of what you're learning. For a proper peptide education, I recommend either of two courses.
First…
If you've looked into peptides, you've probably encountered Dr. Seeds. He's been practicing medicine for 25+ years and has won all kinds of accolades for his work with peptides. He's the Founder and Chairman of the International Peptide Society, Faculty Developer and Lecturer of the A4M Peptide Certification Program, and a leading Peptide therapy researcher.
Dr. Seeds is sharing his peptide knowledge in a thorough but accessible peptide therapy training. Whether you're a clinician, athlete, mom, entrepreneur, or something else, this program has you covered. Dr. Seeds's course, Peptide Therapy: Foundations, is a nice intro to regenerative cellular medicine. You'll also get the necessary templates to create and add a peptide offering to your business.
Topics within Dr. Seeds's Peptide Therapy: Foundations Course include:
Cellular medicine: combining functional, integrative, & precision medicines
Anti-Aging & Body Optimization
Growth Hormone Modulation
Anti-Depressant & Anxiety
Anti-Aging & Defense
Body Optimization
Longevity & Epigenome
Improving Cell Signaling & Cell Repair
Tissue Repair & Regeneration
Cognitive Repair & Regeneration
Immune System Modulation
Immune Repair & Optimization
Stress Reduction
Unfortunately, this course is expensive. It's geared toward clinicians and it doesn't contain some of the newer peptides and research.
Second…
Jay Campbell is another thought leader in the peptide space. He thoroughly researches and documents the latest research, uses, and real-world experiences from each peptide and body-transforming compound. His peptide course is another highly respected program.
Topics covered within Jay Campbell's The Peptides Course include:
Understanding Regenerative Medicine
The 4 Classes of Peptides (Fat Loss & Wellbeing, Immunity, Cognition, Healing)
How to Optimize Your Health With Peptide Therapy
Safely & Effectively Using Peptides
Other Health Optimization Modalities
Building, Evaluating, & Adapting Your Protocol
Stacking Peptides
This is an affordable and thorough option for absolute peptide beginners.
Both courses provide solid peptide foundations, and while there's some overlap, they also cover different topics. My suggestion is to choose Jay's course if you're on a budget, and Dr. Seeds's if you want the professional cellular medicine program.
Other Popular Courses
New biohacking courses emerge every day.
While I am sure many of them are great, for different reasons, I do not recommend them.
Ultimate Biohacking Academy
Anthony DiClementi is a popular biohack who has published free content since ~2015. Primarily podcasts. He created a course called the Ultimate Biohacking Academy (UBA) which addresses root-cause medicine, diagnostics, longevity, aesthetics, and performance.
I like the simplicity of his three-step process (identify, fix, optimize) and the whole program is comprehensive.
It is pretty expensive, but my biggest concern is the lack of support. I scoured both that website and his personal website for a way to contact him. A Support form, an email, something. I sent an email to the only one I managed to dig up, and it bounced. For such a substantial investment, I expect the ability to contact someone (anyone) from his team. Until then, I do not recommend this biohacking course.
Biohacking Courses Questions & Answers
Are courses the best way to learn health optimization?
Courses are a great way to learn the science of biohacking & health optimization because they are often thorough and provide all the necessary background. Manually piecing together articles, videos, podcasts, and books results in partial information (which can be dangerous).
Is there a cheaper way to learn biohacking?
One of the downsides of courses is that they're an expensive way to learn biohacking. If you have the patience, I recommend beginning with top reads from my health optimization booklist. Books take a long time to produce, require financial investment and put the author's reputation on the line.
Designing Your Health Optimization Education
Going into biohacking or health optimization with partial knowledge can be dangerous.
The body is a complex system of systems (cybernetic). Each simple change affects all kinds of things downstream.
That's why the ideal education must begin with a thorough understanding of holistic health.
Now, there are a lot of different approaches to complete health:
Ayurvedic Medicine
Traditional Chinese Medicine
Homeopathic Medicine
Tribal Medicine
Modern Integrative/Holistic/Functional Medicine
The key is to find a course that teaches preventative health.
Only then should you decide your specialty (or specialties).
Some of the hot health optimization specialties include:
Mental health, cognition, nootropics
Peptides, small molecules, and bioregulators
Gut health
Biofeedback
Integrated movement
Herbalism
Diagnostics
Mindset
When you combine a well-rounded holistic education with some modern biohacking specialties, you'll be ahead of 90% of folks in the health optimization industry. This is the Bioharmonizer's Blueprint.
Have you taken any life-changing courses that I didn't list? Drop a comment below and let me know!