Scientists had postulated that glutathione would end aging.
While humans still age…
Glutathione has earned its place as the "master antioxidant" since it's found in and used by every cell and tissue throughout the body. It also makes all other antioxidants work better.
Whether you came across glutathione for the skin whitening, improving liver function, hacking hangovers, losing weight, or anti-aging benefits,
Glutathione has a superpower. It quickly neutralizes free radicals, heavy metals, toxic drugs, and more.
We'd die without it.
But there's a big difference between glutathione supplements. Some are mostly a waste of money. Excreted from the body before they do much. Others are powerful but way overpriced.
So I talked to some experts in the industry and did extensive research. This review simplifies the science of how it works, why it matters, all the health benefits, and the best glutathione products for your particular needs.
Affiliate Disclosure: This post may contain affiliate links, which means I get a small commission if you buy (at no cost to you). Thanks for your support!
The Strongest Glutathione Supplements
The bioavailability of most glutathione is extremely low. Many opted for cheaper glutathione precursors like glycine and N-acetylcysteine (NAC).
Quality products, however, have a much better and more potent solution. A special supplement technology called liposomal encapsulation protects the active ingredients from digestion and premature breakdown. As a bonus, liposomal supplements also slow the absorption, making them sustained-released.
This ensures that you receive a steady glutathione infusion into your bloodstream (rather than getting destroyed by your gut).
Renue By Science LIPO Glutathione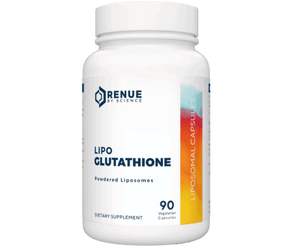 Overview
Form: capsules
Absorption: maximum
Glutathione Dosage: 125mg
Synergistic Ingredients: none
Additives: sunflower lecithin, cellulose capsule
Lab Verified: yes
Serving Cost: $0.58
Availability: worldwide
Renue by Science has proven itself to be the world's number-one shop for maximum-potency liposomal supplements. I know that when I see a product in their catalog, it's the best of the best. RBS is often recommended and used by health experts such as Dr. Peter Attia.
Their liposomal glutathione sets the bar for quality. Many companies cut costs by using large, unmodified liposomes which are quickly untaken and removed by the macrophages of the liver and spleen. RBS's patented "Fluidizing Liposomes" are tiny (<100nm) which maximizes the potency of your glutathione.
Plus, they have a third-party lab test every batch for purity and safety. You'll find the certificate of analysis (CoA) posted on their website.
This is the glutathione I keep stocked in my supplement arsenal.
Choose Renue By Science LIPO Glutathione for the highest potency to price (value).
Use the exclusive code URBAN for 10% off
Alms Bio Glutathione Mito-Therapy+
Overview
Form: gel syringes
Absorption: very high
Glutathione Dosage: 250mg
Synergistic Ingredients: 25mg PQQ, 100mg CoQ10, 35mg Lactoferin
Additives: glycerin, MCT, oleic acid, natural flavors, phosphatidylcholine, stevia extract
Lab Verified: no
Serving Cost: $4.50
Availability: worldwide
Alms Bio makes just one single product. A synergistic mitochondrial boosting stack that contains glutathione. This formula supports cellular health, boosts energy, and supports the body.
PQQ supports the body in creating new mitochondria, while ubiquinone (the optimized version of CoQ10) helps those mitochondria generate more energy. When the body generates more energy, levels of dangerous reactive oxygen species and free radicals increase. Glutathione mops up the damage and protects cells.
This trio makes Mito-Therapy+ one of the great anti-aging stacks. In fact, their patented DPTechnology binds the three ingredients into a matrix stable enough to pass through to the intestines intact.
Giving you ample antioxidants and clean long-lasting energy.
It's certainly more expensive than the others on this list. For the price, they should include third-party lab testing.
If you want a synergistic glutathione supplement, like the novelty of consuming gel out of a syringe and have the budget, choose Alms Bio.
Use the exclusive code URBAN for 10% off
Core Med Science Liposomal Glutathione Liquid
Overview
Form: liquid
Absorption: high
Glutathione Dose: 500mg
Synergistic Ingredients: none
Additives: purified water, natural flavors, stevia, potassium, sorbate
Lab Verified: unknown
Serving Cost: $1.99
Availability: worldwide
Core Med Science makes a good liposomal liquid, most notable for the using the Japanese Setria glutathione brand. Setria produces its non-GMO, reduced L-Glutathione via a patented fermentation system which research confirms increases the purity and blood plasma glutathione.
Then, Core Med Science liposomally encapsules their glutathione without head, added pressure, or solvents. They claim to retain a Certificate of Analysis for each batch, but I couldn't find any on their website.
My primary issue with this supplement is the large 220nm particle size. This means that, although it's a liposomal product, your body won't absorb and utilize the glutathione as effectively.
When Core Med Science's Liposomal Glutathione goes on sale, it's a good liquid for the price.
Quicksilver Scientific Liposomal Glutathione
Overview
Form: liquid
Absorption: very high
Glutathione Dose: 100mg
Synergistic Ingredients: 75mg phosphatidylcholine
Additives: water, glycerin, ethanol, natural citrus and mint oils
Lab Verified: available upon request
Serving Cost: $0.95
Availability: worldwide
Dr. Christopher Shade, Ph.D. founded Quicksilver Scientific to bring revolutionary supplement formulations to consumers. He's well known in the health industry for pioneering work in delivery technologies, detoxification protocols, and patented testing systems. The Quicksilver Delivery Systems nanoparticle technology dramatically increases the absorption of over-the-counter products. In many cases, rivaling the bioavailability of IV injection.
Dr. Shade is the lead researcher on much of the scientific research that has led to the boom of liposomes. As follows, Quicksilver was one of the first to produce liposomal glutathione. Half a decade later, it remains one of the most effective sprays available.
This formulation uses the patented Opitac glutathione as well as an additional 75mg of purified non-GMO, sunflower seed lecithin-derived phosphatidylcholine. It's one of the cleaner products, tested for allergens, soy, gluten, and more. Also, they use optimal <100nm nanoparticles to ensure maximal absorption.
For the original effective and pure liquid liposomal glutathione, you won't beat Quicksilver Scientific.
Use the exclusive code URBAN for 10% off
Double Wood S-Acetyl L-Glutathione
Overview
Form: capsules
Absorption: medium
Glutathione Dose: 100mg
Synergistic Ingredients: none
Additives: gelatin capsule, cellulose
Lab Verified: yes
Serving Cost: $0.45
Availability: worldwide
Double Wood is a relatively new but growing supplement company, known for great prices and good quality products. They keep overhead low by focusing on R&D and letting the product speak for itself instead of allocating a huge marketing budget.
While most of the bioavailable glutathione supplements use liposomal encapsulation, Double Wood's product is a different form. S-Acetyl L-Glutathione has an attached acetyl group which allows it to pass through the gut and enter the bloodstream. Potency-wise, it's in between normal and liposomal.
Every Double Wood supplement is produced in the USA, and their website has a link to the CoA and third-party test results.
Note that you can get this one on Amazon (click the photo) or their website (click the button). I prefer their website because you can save up to 28% when buying larger quantities, and then also stack the promo code. Bringing the cost way down.
Double Wood S-Acetyl L-Glutathione is affordable, fairly well absorbed, and third-party-verified pure.
Use the exclusive code URBAN for 10% off
Bulletproof Force Glutathione
Overview
Form: capsules
Absorption: very high
Glutathione Dose: 500mg
Synergistic Ingredients: none
Additives: phosphatidylcholine, palmitic acid, oleic acid, riceflour, modified cellulose
Lab Verified: no
Serving Cost: $1.60
Availability: worldwide
Once owned by the father of biohacking, Dave Asprey, people turn to Bulletproof for premium quality supplements. Bulletproof uses the best raw materials they can find, and they charge more for their products than competitors.
Until recently, this glutathione came in the form of a syringe. You'd feel the effects quickly. They claim to have upgraded it to be 5X more effective, but not in my personal experience.
Now, they use the proprietary liposomes created by CELLg8®. Don't be fooled by the marketing here. To get the listed 500mg of liposomal glutathione, you'll take three capsules. Making the full bottle just 30 servings.
On paper, this used to be one of the best glutathione products.
Bulletproof's Glutathione Force is only worth the price when on a significant sale, or if they bring back the old syringe formula.
Cymbiotika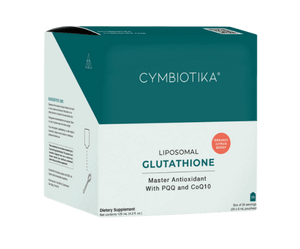 Overview
Form: gel pouch
Absorption: very high
Glutathione Dose: 150mg
Synergistic Ingredients: 60mg coq10, 20mg pqq, 1mg riboflavin, 10mg alpha lipoic acid
Additives: organic cassava syrup, organic glycerin, phosphatidylcholine, d-alpha tocopherol, malic acid, organic orange oil, organic citrus extract
Lab Verified: no
Serving Cost: $3.17
Availability: worldwide
The sad truth about many supplements is they don't work. Our bodies recognize them as foreign, and the products aren't as effective as sourcing the nutrients from whole foods. Cymbiotika marries the convenience of supplementation with the power of whole foods.
You'll notice from the ingredients label that they do not cut corners. Everything they add is organic.
Similar to Alms Bio, this is much more than a powerful liposomal glutathione. The complex contains ingredients formulated to boost energy metabolism, repair the gut, slow aging, and bolder the immune system against microbes and allergens.
Cymbiotika is fully transparent with its ingredient label and the higher serving cost reflects the dedication to quality. They're doing something right. I've heard nothing but positive things from friends, and the online reviews echo the same.
It's not perfect. For the price, I'd like to see this product third-party tested, and more information about the liposomes and manufacturing process.
Cymbiotika makes the best all-around liposomal glutathione complex, especially to boost energy and detox.
Use the exclusive code URBAN for 10% off
Pure Encapsulation Liposomal Glutathione Capsules
Overview
Form: capsules
Absorption: very high
Glutathione Dose: 250mg
Synergistic Ingredients: 125mg phospholipid complex
Additives: gelatin capsule, extra virgin olive oil, beeswax
Lab Verified: yes
Serving Cost: $1.59
Availability: global
People choose Pure Encapsulations because their products are hypoallergenic and often recommended by doctors. They generally use the optimal form of ingredients, few unnecessary additives, which comes at a higher price.
Each serving contains patented BioGlute glutathione and also essential phospholipids (Setria glutathione, phospholipid complex).
Pure Encapsulations recently removed the unnecessary filler, Titanium Dioxide from their formula. The price for their glutathione isn't ridiculous, but it's not great either.
Choose this product if you want the same liposomal glutathione most often recommended by doctors and health experts.
Designs for Health Liposomal Glutathione Spray
Overview
Form: liquid
Absorption: very high
Glutathione Dose: 100mg
Synergistic Ingredients: none
Additives: water, glycerin, ethanol, sunflower lecithin phospholipids, vitamin E, essential oils
Lab Verified: yes
Serving Cost: $1.00
Availability: worldwide
I came across Designs for Health years ago when searching for liposomal products at reasonable prices. Their glutathione delivers exactly that.
I was pleased to see that they ship their glutathione in a glass bottle and packed on ice. The dose per serving isn't very high, allowing greater precision. Designs for Health glutathione is tasty (comparative to other liquids), small and compact, making it ideal for travel.
You'll find more product information and third-party test results on their website. I'd like to see more details on the manufacturing process and liposome size. The price is high for the below-average dose.
Overall, it's a simple product, with no additional ingredients, and among the best-tasting glutathione liquids.
Seeking Health Optimal Glutathione Plus – Liquid
Overview
Form: liquid
Absorption: very high
Glutathione Dose: 350mg
Synergistic Ingredients: 10mg riboflavin, 50mcg selenium, 50mcg molybdenum, 2mg pqq, 400mg non-gmo sunflower oil phosphatidylcholine and phosphatidylethanolamine complex
Additives: purified water, natural flavors, glycerin, xanthan gum, gum arabic, and potassium sorbate
Lab Verified: no
Serving Cost: $1.70
Availability: worldwide
Dr. Ben Lynch, author of Dirty Genes, founded Seeking Health to help us restore our bodies to their optimal state. Seeking Health offers two glutathione products: normal and then Plus.
Plus is significantly cheaper, a serving contains 350mg of glutathione (as opposed to 500mg), and special synergistic ingredients that increase tolerability. If you experience negative side effects, this formulation could be your best option.
There are a few things that I don't love about it. First, it's often out of stock. Glutathione is a fragile molecule, and during hot summer months, you're better off purchasing from a vendor that ships it on ice. Next, they do not lab test or specify the particle size. So actual absorption is questionable.
I would choose this supplement only if you experience side effects or don't tolerate glutathione.
Use the exclusive code URBAN for 10% off
Other Glutathione Supplements
You can find great deals on normal glutathione supplements. The issue is that you'll excrete the vast majority and cause GI upset before you gain significant benefits.
Value-wise, you're better off getting one of the above products and using a lower dose.
Nonetheless, should you want normal reduced glutathione, these are your best options.
If you're looking for the absolute cheapest glutathione, you won't beat bulk supplements. Coming out at just $0.17 per 500mg serving. Buying in bulk can further bring the cost per dose down to $0.13. Free of Soy, dairy, yeast, or any other additives. Just pure reduced glutathione. I use Bulk Supplements all the time. The only catch? Glutathione powder tastes awful. If you can mask the taste or down it quickly, this is by far the most economical glutathione available.
For detoxification, NOW's glutathione complex has your bases covered. Combining glutathione with ALA and Milk Thistle Extract supports the liver. At $0.47 per serving, I would much rather choose one of the liposomal formulations. Plus, this contains microcrystalline cellulose, magnesium stearate, and silicon dioxide. The latter two additives may pose health risks in humans. With NOW's product, you're getting a good dose of ALA and Milk Thistle, but little bioavailable glutathione.
Jarrow makes inexpensive supplements, and their quality control is above average. Their reduced glutathione supplement comes out to a cheap $0.33 per serving. I don't like all the fillers and inactive ingredients they use. Including hydroxypropyl methylcellulose, water, cellulose, magnesium stearate, and silicon dioxide. Jarrow uses them to reduce manufacturing costs. None of these are necessary but are potentially harmful.
Products I Don't Like
Some products I often hear recommended but just don't like.
Whether due to price or quality.
Solgar
Solgar has 70 years of experience bringing supplements to market. Their reduced glutathione, however, is extremely expensive for the price. $0.46 per 250mg dose. It still contains the usual fillers, binders, flow regulators, and other additives manufacturers use to cut costs. For basically the same price, you're better off with other products.
Toniiq
Toniiq is a newer supplement company, that sprouted up during the pandemic. Best known for low prices and sleek labels. Don't get fooled by the 1,000mg dose of glutathione. Each serving is two capsules. It does contain the usual fillers plus the anti-caking agent silicon dioxide. My main issue, however, is with the company overall. Two well-known sources in the supplement industry suspected that their "third-party tests" are actually fake. My suspicion continues as they market it online as 98% pure, but that's not printed anywhere on the bottles. This gives them an easy edit should their own internal testing reveal substantial purity issues. Finally, they used fake reviews to boost their presence in online marketplaces. Confirmed by an AI tool which shows that only ~26% of their reviews appear legitimate.
Factors to Consider When Buying Glutathione
I evaluated the top glutathione boosters using some simple criteria.
Delivery Mechanisms. Normal reduced glutathione gets excreted before you absorb it adequately. Science shows that liposomal encapsulation and other methods of delivery dramatically increase bioavailability and your body's ability to actually use glutathione.
Company Quality. Many vendors cut corners to increase profit margins at the expense of product effectiveness. Quality brands should stand behind their products. You should find real testimonials (videos are best).
Purity. Look for both safety and potency testing. Heavy metal and contaminant testing for safety. Active ingredient testing for effectiveness. An impure product can do far more harm than good.
Dosage. How much glutathione you're ingesting and actually absorbing depends on all kinds of factors. Most importantly, is the delivery mechanism. In this regard, make sure to compare similar products. With liposomal products, benefits become apparent at 100mg. Reduced glutathione, however, may not show any effect, even at 1,000mg or more.
Synergistic ingredients. Certain compounds either make glutathione more effective (such as NAC and vitamin C), or better regulate the body (PQQ, CoQ10 – Learn more about how extraordinary CoQ10 is in my review and unlock the healthy you). If you're looking for an all-in-one supplement, it's nice when manufacturers stack ingredients together.
Cost. All else equal (rarely the case), we obviously want the most affordable supplements. Some offer exclusive coupon codes, and others give discounts for subscriptions. Often, you'll notice the prices on their website beat Amazon by a long shot.
What is glutathione and why does it matter?
Glutathione is the body's master antioxidant. It's a nutrient-like tripeptide made of three amino acids: glycine, cysteine, and glutamic acid. Best known for protecting cells, tissues, and organ systems against disease. Virtually every organism requires it to survive.
It's one of the most popular, versatile, protective, and well-researched substances found inside the human body. Glutathione is a staple in many health experts' longevity supplement stacks.
Unlike other popular antioxidants, your body actually produces glutathione and requires high levels to function optimally.
You get the building blocks of glutathione from food rich in the three aminos. But for many people, supplementing it has an enormously wide range of health optimization benefits.
How glutathione works to protect the body
Glutathione acts as the chief antioxidant, playing many vital roles.
When it's consumed, it immediately goes to work quenching harmful free radicals and oxidative stress, upregulating the body's defense systems, and rapidly neutralizing toxicants. It does this by donating its electrons to eliminate free radicals.
Glutathione recharges other antioxidants like vitamin C and vitamin E. This ability to make other antioxidants more effective earned its "master antioxidant" status.
Also, the speed it exerts effects play a major part in its healing potential. Glutathione reacts with and disables toxic chemicals before they can damage cellular DNA. This is one mechanism by which glutathione likely combats the aging process.
In the body, glutathione combines with the Nobel Prize-winning gas nitric oxide to form nitrosoglutathione. A powerful bronchodilator.
Natural ways to boost glutathione levels
Whether you're supplementing or just want to maximize your body's endogenous glutathione levels, I recommend optimizing a few things.
Great ways to naturally increase glutathione include:
Reducing non-native EMF exposure
Coffee enemas
Consume the building blocks of glutathione (NAC, ALA, SAM-e)
Consume whey protein, asparagus, garlic, and sulfurous (cruciferous) vegetables
Boost levels of the NRF2 protein
Minimize exposure to pollution (drinking water and indoor air especially)
Avoid toxicants, excess exposure to UV radiation
Research how any medications you're on impact glutathione
Mitigate stress and work through traumas
This is a big list of things to try, so start with just a few.
Health benefits of supplementing glutathione
As a master antioxidant, glutathione seemingly regulates every bodily system. Therefore, it has a long list of uses and positive outcomes.
Much of the current research has used mice and rats. I've compiled a lot of it right here.
Some of the health benefits of supplementing glutathione include:
Supports muscular recovery
DNA creation and repair
Assists in the formation of sperm
Better joint health
Boosts metabolic function
Increases energy and alleviates fatigue
Upregulates the gallbladder
Most of the research that shows benefits has used liposomal encapsulation technology.
Other Promising Longevity Supplements
If you're supplementing glutathione for anti-aging/longevity purposes, check out these ingredients as well.
NMN a precursor to NAD. Which is considered the cell's energy currency. Without it, humans die within minutes. With age, levels naturally decline. The body becomes less efficient and able to regenerate itself. People report spectacular improvements to the way they look, feel, and perform from supplementing with high-quality NMN.
Fisetin is another hot longevity compound due to its potent ability to kill off senescent "zombie" cells. Senescent cells drain bodily resources without performing their job. Then these cellular freeloaders infect other cells. I take a liposomal fisetin supplement several times per year to clear "cellular debris" and restore my body.
Of course, I could list many more. These are the ones that I find the most promising to combine with glutathione.
Glutathione Questions & Answers
Is oral glutathione effective?
Oral reduced glutathione is poorly absorbed. High-quality liposomal formulas and S-Acetyl L-Glutathione are very effective at increasing blood plasma levels of glutathione.
How much glutathione should I take daily?
For typical oral reduced glutathione, experts recommend 500-1000mg per day. The ideal liposomal dose is 100-500mg daily.
Is it safe for daily use?
Glutathione is safe for daily use for up to 16 weeks. Beyond that, little research exists. So I recommend taking a short break after 4 months.
When should I take it?
Glutathione is best taken in the evening to enhance detoxification, increase absorption, and promote sleep. If taken twice daily, the other dose should be in the morning.
What's the best form of glutathione to take?
The best form of glutathione is liposomal with the smallest possible nanoparticle size (<100nm). The second best is S-Acetyl L-Glutathione, and normal reduced glutathione is not absorbed well.
What are the side effects of glutathione?
The Best Glutathione Supplements to Boost Your Body & Overall Health
Glutathione has earned its title as the mother of all antioxidants.
This one molecule upgrades your body's entire cellular defense system.
Whether that's preventing a hangover, helping you mitigate jet lag and the damage caused by travel, whitening your skin, detoxing the deluge of industrial toxins, slowing the aging process, or protecting your body as a whole.
Glutathione is one of the rare Swiss Army Knives of health.
If you choose to supplement it, you'll want a product that works. Liposomal encapsulations with small (<100nm) particle sizes absorb best. Otherwise, you'll excrete most of the normal reduced glutathione you consume.
If you're on a tight budget, NAC alone can improve glutathione levels.
But for the increases that rival IV injection, I combine liposomal glutathione with NAC and vitamin C.
I've only recently upgraded from NAC to combining it with liposomal glutathione. Do you supplement glutathione? Let you know your experience in the comments below!