If you're interested in beauty and/or skincare, you've likely come across a supplement ingredient called hyaluronic acid (HLA).
This is one of the top natural substances to improve skin health and appearance, such as:
Reducing wrinkles
Increasing elasticity and suppleness
Promoting smoothness, hydration, and radiance
It stimulates the body's natural collagen production, and also hydrates and strengthens joints and connective tissues. HLA even helps gut health and has significant longevity benefits.
Here's the issue…
Our natural hyaluronic acid declines with age. So much so, that a 70-year-old has up to 75% lower HLA levels.
Dietary sources of hyaluronic acid consist of molecules too large for effective absorption in the intestines.
Making supplementation more necessary than ever before.
Whether you're seeking longevity, skin care, joint health, or something different altogether, oral HLA supplementation makes sense. It's safe, effective, and affordable, and amplifies the effects of topical hyaluronic acid (like serums and creams).
In this post, we'll explore the emerging science of hyaluronic acid. The benefits, optimal dosages, and the best HLA supplements for every potential use case or goal. You'll also learn exactly what to avoid.
The Best HLA Supplements, Serums & Products
These are my go-to hyaluronic acid products.
I use one of them most days.
Renue by Science LIPO HLA
Overview
Absorption: Max
Benefits Duration: Longest
Formula: Liposomal HLA – 150 mg
Servings: 90 capsules
Serving Size: 1 capsule daily
Lab Tested: Yes
Value: Great
Rating: 4.8
Over the last half-decade, Renue by Science (RBS) has become one of the leaders in maximum bioavailability, and effective liposomal supplements. They're a go-to choice of the world's leading doctors, supplement experts, and health professionals. This brand sells both individual ingredients (like this) and advanced formulas.
Since their LIPO HLA is in the optimal liposomal form, it absorbs much more effectively than other products. Helping us better absorb the HLA and directly incorporate it in our tissues [R].
Not only does liposomal HLA have stronger benefits, but it also works longer. Oral supplementation gets rapidly degraded by digestive enzymes [R]. This is one of the key issues limiting the effects of most non-liposomal formulations.
On top of that, RBS chose to use the superior (and more expensive) High Molecular Weight Hyaluronic Acid. This helps the HLA work throughout the body and not just in the gut.
These capsules are tiny, making them easy to swallow, while still delivering a potent dose of 150mg of liposomal HLA.
Every supplement batch of Renue By Science LIPO HLA goes through 4 rounds of pharmaceutical-grade purity testing. You can view the certificates of analysis (CoA) for every product on their website.
Renue by Science LIPO HLA is the best overall supplement for value, potency, ease of use, and long-lasting benefits.
Use the exclusive Renue by Science code GVQCUKN6 for 15% off
Defender
Overview
Absorption: Max
Benefits Duration: Longest
Formula: Liposomal HLA – 75mg, Liposomal Vitamin C – 500mg, Liposomal Ca-AKG – 150mg, Liposomal P.E.A – 75mg
Servings: 60 capsules
Serving Size: 2 capsules daily
Lab Tested: Yes
Value: Great
Rating: 4.7
If you're looking for a multi-ingredient formula that contains the potent form of (liposomal) HLA, you'll want to consider Defender. This is the other product produced by RBS that's specially designed to slow biological aging and support general well-being.
This is the only complex I've discovered that contains each ingredient in its optimal lipo form. Although every capsule only contains 75mg of HLA, since it is liposomal, you're likely absorbing more than 200mg of a traditional product.
And the beneficial effects last longer.
Defender is thoroughly lab tested by a well-known third-party lab. The most recent test results are freely available for you to view on their website.
I'm quite impressed by this unique complex and plan to switch away from their LIPO HLA product to this one instead. Note that it's often out of stock due to huge demand.
If you're looking to age gracefully and want complex promising anti-aging ingredients that include the strongest form of liposomal hyaluronic acid, certainly consider Defender.
Use the exclusive Renue by Science code GVQCUKN6 for 15% off
Affiliate Disclosure: This post contains affiliate links, which means Outliyr LLC gets a small commission if you buy (at no cost to you). Thanks for your support!
Anti-Aging All-in-One: NOVOS Core
Overview
Absorption: Medium
Benefits Duration: Medium
Formula: Vitamin C – 100mg, Magnesium – 304mg, Calcium – 231 mg, Glycine – 2,000mg, Malate – 1,700mg, Calcium Alpha-Ketoglutarate – 1,100mg, Glucosamine Sulfate – 1,000mg, Rhodiola Rosea Root Extract – 300mg, L-Theanine – 150mg, Hyaluronic Acid – 100mg, Fisetin – 100mg, Organic Ginger Root Extract – 100mg, Pterostilbene – 50mg, Lithium Asparate – 20mg
Servings: 30 sachets
Serving Size: 1 sachet daily
Lab Tested: Yes
Value: Good
Rating: 4.4
For anyone looking for an all-in-one supplement complex, NOVOS Core is among the best. Their formulation science team hails from Harvard Medical School and MIT. Where most companies just string together the benefits of individual ingredients, NOVOS has scientifically validated their final product.
NOVOS Core comes in flavored powder sachets. Unlike capsules with limited space, the powder form helps them fit therapeutic doses of each ingredient.
The dosage of HLA in NOVOS Core is an unimpressive 100mg. It's also not liposomal either, but at least NOVOS does not use low molecular weight. So it should work better than most other supplements dosed similarly. Since the active ingredient is derived from plants, it's a vegan-friendly option.
Interestingly, they also claim that a single serving contains "19 pills worth of ingredients".
As you'd expect from a science-first supplement company, they rigorously test their product to ensure safety and potency.
You can save up to 27% when buying in bulk.
This is one of the most comprehensive and scientific formulas on Earth, containing therapeutic quantities of 19 different ingredients. Although the dose of HLA within NOVOS Core is just 100mg, its plant-based and middle molecular weight form makes it among the more bioavailable and universally compatible hyaluronic acid powders.
Use the exclusive NOVOS code URBAN5 for $5 off
BulkSupplements Sodium Hyalunorate Powder & Pills
Overview
Absorption: Low
Benefits Duration: Short
Formula: Hyaluronic Acid – 193mg
Servings: 240
Serving Size: 200mg 1-2X daily
Lab Tested: Yes
Value: Medium
Rating: 4
Known for selling large quantities of no-frills ingredients, BulkSupplements nicely balances quality and price. I use them for all kinds of bulk ingredient purchases.
I know several supplement vendors that actually purchase their raw materials from BulkSupplements.
They're also one of the few companies that sell both HLA powder and HLA pills. Both options undergo lab testing and are completely free of additives.
The prices are excellent. You can buy about a pound of HLA powder (2,500 servings) for under $60. Note that hyaluronic acid powder mixed into water takes a while to dissolve and becomes slimy.
These capsules are fairly priced too. Each of the 240 capsules within a bottle contains 200mg of HLA. All for about $20.
Now, the absorption certainly won't match liposomal hyaluronic acid products. And I'm sure they use the inferior low molecular weight HLA.
For those looking for the absolute cheapest hyaluronic acid that still undergoes lab testing and is devoid of any additives, BulkSupplements Sodium Hyaluronate Powder & Pills are solid picks.
Young Goose Adaptogenic HA Boost
Overview
Absorption: High
Benefits Duration: Medium
Formula: Snow Mushroom Extract, Acquacell, Hyaluronic Acid, Ashwagandha, RadicalDefense Blend
Content: 30ml
Lab Tested: Yes
Value: Medium
Rating: 4.2
Young Goose is one of the few trustworthy skincare companies. Amitay, the lead formulator, deeply understands holistic health and the necessary tradeoffs to create an effective product. This is why Young Goose is widely considered the health-conscious "biohackers" choice.
This formula contains Snow Mushroom Extract, AcquaCell, HLA, Ashwagandha, and a proprietary skin-protecting blend called RadicalDefense.
Snow Mushroom is interesting, as it hydrates up to 400X better than hyaluronic acid. Plus, it has all kinds of other benefits.
I love the formula as a whole because it goes well beyond your typical HLA-infused skincare serum. You should apply typical HLA topicals twice per day for the greatest effect. This increases moisturization and hydration for 24 hours.
One of the primary issues with natural skincare products is shelf life. By the time they reach you, the ingredients have degraded. Sometimes, applying an oxidized natural skincare does more harm than good.
Young Goose perfectly balances maintaining a clean firming serum formula with just enough added stabilizers to preserve the product. That's why the raw ingredients they use within their products often cost three to five times more than other skincare brands.
All that comes at a cost. Unfortunately, this topical HLA serum costs about $150, when you subscribe.
Young Goose is the biohacker's premium choice for the cleanest yet effective skincare/beauty products, scientifically formulated with the top cutting-edge ingredients.
Use Young Goose code URBAN to save 5%
Affiliate Disclosure: This post contains affiliate links, which means Outliyr LLC gets a small commission if you buy (at no cost to you). Thanks for your support!
Alitura Night Cream HLA Serum
Overview
Absorption: High
Benefits Duration: Medium
Formula: Edelweiss stem cells, Vegan Hyaluronic Acid, Manuka honey, Organic German Blue Chamomile Essential Oil, Organic Sea Buckthorn Essential Oil
Content: 50 ml
Lab Tested: Yes
Value: Good
Rating: 4.3
Alitura Naturals is another big name for scientific beauty serums and formulations. After getting hit by a car, Andy Hnilo founded the company out of personal necessity. He researched and carefully selected a bunch of different active ingredients to test and eventually turn into products.
Fast forward about a decade, and the company now regularly wins awards for the cleanest (organic and natural) personal care products. Hand-crafted in Hawaii.
If you've heard of EWG's Think Dirty app—a personal care database that ranks the safety (or toxicity) of products—you'll be pleased to know that Alitura Natural regularly wins awards.
Alitura's 2021 award-winning Night Cream is no exception. It contains 10% vegan hyaluronic acid for super hydration, plant-derived stem cells, nourishing organic Sea Buckthorn essential oil, skin healing organic German Blue Chamomile essential oil, as well as antioxidant-rich botanicals.
All the ingredients are organic and/or wild-harvested. You know the product is quality when they even package it in Miron Glass to help it withstand light and reduce the toxicity of plastic containers.
Again, this cream isn't cheap. Even when subscribed, each jar comes out to about $70. But use it and you'll understand why.
Alitura Naturals' award-winning HLA-infused Night Cream is the best balance between clean organic ingredients and powerful levels of 10% hyaluronic acid
Codeage Multi-Collagen Peptides Platinum Powder
Overview
Absorption: Low
Benefits Duration: Short
Formula: Vitamin C – 100mg, Vitamin D3 – 125mcg, Niacin – 18mg, Vitamin B6 – 2mg, Biotin – 10,000mcg, Pantothenic Acid – 13.7mg, Multi-collagen complex – 10,000mg, Hydrolized Keratin – 500mg, Hyaluronic Acid – 120 mg
Servings: 326g
Serving Size: 1 scoop daily
Lab Tested: Yes
Value: Good
Rating: 3.9
Codeage is another hot supplement company, quickly making a name for itself by offering high-bioavailability and unique formulations. They also sell some hard-to-find liposomal supplements (like lipo creatine).
For those looking for an all-in-one joint/skin/hair/nail health formula that includes HLA, this one is worth considering.
Each serving consists of a 10g collagen peptide complex comprised of five different animal and marine sources of collagen. Plus amino acids, biotin, keratin, and vitamins and minerals.
Most relevantly, Codeage's Multi Collagen Platinum features 120mg of (low molecular weight) hyaluronic acid.
Codeage cares about quality, deriving its ingredients from grass-fed & pasture-raised animals. Then, third-party testing of each product.
Despite costing more than most of the options in this roundup & comparison Multi Collagen Platinum has become one of their best-selling products of all time.
And they back it with a 30-day money-back guarantee.
Codeage's Multi Collagen Platinum is among the best all-in-one premium formulas to support the health of joints, skin, hair, and nails.
Tier 2: The Best HLA Supplements, Serums & Products
There's a notable decline in the formulas from this point and below.
For different reasons, these would not be my first picks.
Yet if you find a great deal or don't mind some of the drawbacks I've listed, they're still worth considering.
Double Wood Supplements Hyaluronic Acid
Overview
Absorption: Low
Benefits Duration: Short
Formula: HLA – 200mg
Servings: 180 capsules
Serving Size: 1-2 capsules daily
Lab Tested: Yes
Value: Good
Rating: 3.7
Double Wood Supplements is another no-frills and budget-friendly brand. They were the first to sell cheap longevity supplements like NMN. They also make a decent hyaluronic acid product that often goes on sale.
Each capsule contains just 100mg of HLA. Unfortunately, it's in the form of sodium hyaluronate. Which is a low molecular weight form of hyaluronic acid. I also don't like that they include the filler "magnesium stearate" (not a beneficial form of magnesium).
On the positive side, it's a vegan-friendly HLA that's manufactured and lab-tested in the USA.
It's not my first choice, but if you get it on sale, Double Wood Supplements Hyaluronic Acid is an affordable option.
Affiliate Disclosure: This post contains affiliate links, which means Outliyr LLC gets a small commission if you buy (at no cost to you). Thanks for your support!
Do Not Age
Overview
Absorption: Medium
Benefits Duration: Medium
Formula: HLA – 200mg
Servings: 60 capsules
Serving Size: 1 capsule daily
Lab Tested: Yes
Value: Low
Rating: 3.6
Do Not Age (affectionately abbreviated DNA) is another popular brand that focuses primarily on anti-aging supplements. They're known for having the esteemed longevity researcher Vera Gorbunova helping formulate their products.
Unlike most other products, each of DNA's capsules contains 200mg of high molecular weight hyaluronic acid. Also without any fillers or inactive ingredients. You can buy their HLA in two quantities: 60 or 366 capsules.
What makes them stand out most, however, is their Do Not Age Quality Guarantee. If the product's purity or quality degrades at all before reaching you, they'll refund (or reship) your order. Anywhere in the world.
DNA supplements are priced higher than some of their competition, even when purchased in bulk. Plus, you'll have to reach out to them to get a copy of their most recent lab test results.
Do Not Age's high molecular weight hyaluronic acid is more expensive than most, and I'd only buy their HLA if my geography degraded supplements (such as extreme heat).
Pure Encapsulations Hyaluronic Acid
Overview
Absorption: Low
Benefits Duration: Short
Formula: HLA – 70mg
Servings: 60 capsules
Serving Size: 1 capsule daily
Lab Tested: Yes
Value: Low
Rating: 3.6
Pure Encapsulations is one of the original trusted supplement manufacturers. They manufacture the closest thing you'll find to pharmaceutical-grade supplements. Making them one of the go-to brands for healthcare professionals.
They're one of my top picks for those who prioritize avoiding fillers or who have allergies. Pure Encapsulations has sold this very product since 2008, and perhaps even earlier.
Each hypoallergenic capsule contains just 70mg of the patented HyaMax low molecular weight hyaluronic acid.
Although I've heard good things about it, personally I am not a fan of this product. There's some research correlating low molecular weight hyaluronic acid with inflammation. And it's quite expensive for such a small dose of HLA.
Pure Encapsulations is the industry leader for filler-free, hypoallergenic supplements, and their HLA is no exception.
NOW Supplements Double Strength Hyaluronic Acid
Overview
Absorption: Low
Benefits Duration: Short
Formula: HLA – 100mg, L-Proline – 100mg, Alpha Lipoic Acid – 50mg, Grape Seed Extract – 25mg
Servings: 120 capsules
Serving Size: 1-2 capsules daily
Lab Tested: Yes
Value: Low
Rating: 3.5
NOW Supplements has operated since the late 1960s. They've grown to one of the world's largest supplement brands and they even sell several different formulas that include hyaluronic acid.
They call this one their "Double Strength Hyaluronic Acid", although I am not sure why as each capsule only contains 100mg of low molecular weight HLA. The other main active ingredient is the amino acid proline.
But they also added grape seed extract and ALA to "create a more complete formula"… whatever that's supposed to mean.
NOW products all undergo lab testing for stability and potency.
I don't love this formulation, nor the additives (magnesium stearate and silicon dioxide). To top things off, it's fairly expensive.
Consider NOW Supplements Double Strength Hyaluronic Acid if you're looking locally for a product in-store.
Affiliate Disclosure: This post contains affiliate links, which means Outliyr LLC gets a small commission if you buy (at no cost to you). Thanks for your support!
HLA Supplements I Don't Recommend
I've looked into dozens of different hyaluronic acid liquids, serums, tablets, capsules, gummies, and other forms of supplementation.
Unfortunately, many of them contain all kinds of potentially dangerous inactive ingredients. Or, exert little beneficial effects.
Some of them are quite low value compared to the other options. Others still are manufactured by questionable brands.
Now, I'll explain each of the products and my criticism behind why I do not recommend them.
OLLY Glowing Skin Gummy
OLLY is a company known for its gummy supplements. In fact, they are the biggest gummy supplement brand of all. I like the idea of an HLA gummy because it could potentially also include gelatin/collagen. This formula, however, does not impress me. A serving size consists of two gummies, which nets 120mg of HLA along with 3 grams of sugar. It contains lots of unhealthy additives I wouldn't touch (like vegetable oils). Plus, it's not lab-tested.
California Gold Nutrition Hyaluronic Acid Complex
California Gold Nutrition's HLA has a unique complex of ingredients. They don't mention why they included all those other ingredients and instead, the product page focuses on the benefits of HLA. California Gold Nutrition does third-party tests of their Hyaluronic Acid Complex. It contains just 100mg of HLA, and although it's fairly cheap, you'll rarely find it in stock.
Solgar Collagen Hyaluronic Acid Complex
I personally use a few Solgar supplements. A thorough collagen complex that includes HLA is a great idea. The issue with these tablets, however, is twofold. First, these tablets contain several unhealthy additives. Such as magnesium stearate and titanium dioxide. Also, it's quite expensive for 120mg and the other ingredients you get. It's not a terrible pick, however, I much prefer others.
NOW Foods Solutions Hydration Rescue
NOW Foods makes some supplements I like. This one, however, contains just 60mg of HLA per capsule. They also added 100mg of hydrolyzed collagen. For the low dosages you get, it's quite expensive. I don't see any reason to choose this above other formulas.
Jarrow Formulas Hyaluronic Acid
Jarrow's another supplement vendor that has some great products. Jarrow Formulas Hyaluronic Acid claims to be 120mg, but in reality, it's just 60mg per capsule. Again, this makes the value misleading. This one also has multiple inactive ingredients I'd avoid. They do claim that it's "naturally derived from biological fermentation" (plants), which makes it among the few vegan-friendly options.
Doctor's Best Hyaluronic Acid
Doctor's Best sells several different products that contain HLA. Their most famous joint support formula also features Chondroitin Sulfate and BioCell Collagen. Unfortunately, however, each capsule is underdosed with just 50mg of HLA and minimal quantities of the other nutrients. Plus it contains unnecessary additives. I also couldn't find details about their testing process.
Horbäach Hyaluronic Acid with MSM
Horbäach does one thing well — price. It's half the cost of most of the others. Unfortunately, this is mostly a marketing ploy. Their description mentions their "Bioavailable Complex" which seems optimized for keywords. But it isn't bioavailable like other products. Plus, they hide their HLA dosage behind a "proprietary formula". Could be as low and ineffective as 1mg for all we know. Again, no testing info. I certainly would not purchase it.
Toniiq Ultra High Purity Hyaluronic Acid Capsules
Toniiq is another budget supplement brand, growing in popularity thanks to its sleek marketing. However, this is one of the companies I do not trust. Their Supplement Facts label claims 250mg of HLA per two capsules. Yet the product title says 275mg. Although seemingly minor, trustworthy companies do not make these mistakes. They claim to lab test, but the actual test results they provide have no indications of validity. Toniiq mentions "increased bioavailability" since they added vitamin C. However the dose of vitamin C is tiny (12.5mg per capsule when most supplements are 250-1,000mg per capsule).
Amazing Formulas Hyaluronic Acid Capsules
I am suspicious of the Amazing Formulas brand as a whole. First, the description contains virtually zero information about the product. They claim it's made "in the USA" and "third-party tested" yet there's no proof of either. The Supplement Facts label also does not follow the formatting requirements of the FDA. It's cheap but very questionable.
Puritan's Pride Hyaluronic Acid Capsules
This is another hyaluronic acid supplement that immediately concerns me. First, they again share almost no details of their manufacturing process. I doubt they do any third-party testing. They're also often out of stock.
Forest Leaf Hyaluronic Acid Supplements
On paper, Forest Leaf's Hyaluronic Acid formula looks decent. It doesn't contain too many additives, and each serving provides a full 100mg of HLA with 50mg of vitamin C. I don't trust the company itself, however. Their website lists very little about themselves and their manufacturing details. Nor do I see actual credible proof of their testing practices. Again, the Supplement Facts panel does not match the FDA's required formatting. Plus, this is certainly low molecular weight HLA. I wouldn't use it.
What to Look for When Choosing HLA Supplements (Buyer's Guide)
Contrary to the marketing claims of many vendors, not all HLAs are the same.
You'll want to know a few key details before making your purchase.
Bioavailability
Oral HLA tends to absorb well, but that depends on multiple factors. First, the form it is in. Most supplements use traditional HLA. Some, however, use the superior liposomal (lipo) delivery technology. This dramatically increases the body's ability to absorb and assimilate it into tissues.
Second, is the particular molecule. The weight of the molecule impacts its effects. HLA is often categorized into three groups of differing molecular weights: low, middle, and high. Middle and high molecular weights work best orally, and low molecular weights are ideal for skincare.
Synergistic ingredients
Rather than taking dozens of separate supplements, some brands have included multi-ingredient formulas with their HLA to amplify certain benefits, use cases, and goals. For example, certain other active ingredients synergize nicely to enhance the skin and joint benefits. Others work great for longevity & anti-aging. There's a trade-off.
Each additional ingredient adds cost and reduces the versatility of HLA. But if you have particular goals, this can be more efficient, convenient, and sometimes budget-friendly than taking each substance individually.
Clean formula
So you've found a product that absorbs well and contains a powerful formula. That's a big part of the challenge. At the same time, you'll want to pay attention to something most people forget: the "inactive" ingredients.
To reduce supplement manufacturing costs, companies will often use binders, excipients, flow agents, and a ton of other chemical additives. Although one capsule that contains some of these additives may cause minimal harm, when you take multiple products everyday, this becomes an issue. Many great products use few to zero of these potentially dangerous additives.
Form
Hyaluronic acid is one of those ingredients that comes in a ton of different forms. Oral supplements and topical creams are the most common by a mile. Others, like injections, are only available to clinicians.
Some of the many forms of dosing HLA include:
Injection
Creams
Serums
Liquids
Gels
Sprays
Eye drops
Tablets
Capsules
Powders
Softgels
Gummies
Each form has distinct advantages and disadvantages as well as different price points. For most applications, we care most about topicals (creams, serums, gels, sprays, and liquids), and oral supplements (tablets, capsules, powders, and softgels).
Company reputation
We live in the absolute easiest time in history to create new products. Thanks to whitelabeling, virtually anyone can start a supplement company in weeks, should they desire. At the same time, there are now more scams and contaminated supplements than ever before.
Supplements are hardly regulated, so you'll want to purchase from an industry-leading brand. These companies have more quality control processes, and you're more likely to reap the benefits. Due to shady practices or frightening insider information, savvy supplement experts will completely avoid certain brands.
Quality & lab testing
Larger companies often devote far more budget to testing their products for safety, purity, and efficacy. Often, low-quality supplements contain nasty contaminants, and adulterants, and sometimes have none of the active ingredients stated on the label.
Imagine if you thought you were taking HLA, but the real contents within the capsule were actually a 200mg dose of caffeine. If you took your "HLA" in the evening, that could be disastrous. The best HLA brands put their products through rigorous quality control testing. Bonus points if they test with an unbiased third party.
Value
With supplements, it's tempting to shop for the lowest price per capsule. For some ingredients, you can absolutely do this. Note that to provide these rock-bottom prices, the company must cut corners somewhere.
More important, however, is the actual therapeutic effect of the product you take. Some supplement delivery technologies dramatically improve the dose you absorb and your tissues assimilate. For example, 50mg of liposomal vitamin C may produce benefits equivalent to 750mg of normal vitamin C. Therefore, instead of the price, it's most relevant to compare the value between products.
What is HLA
Hyaluronic acid (sometimes called "hyaluronan", "sodium hyaluronate" or abbreviated "HLA"/"HA" ) is a special kind of carbohydrate (technically a polysaccharide) naturally found throughout bodily tissues. Especially in the skin, synovial fluid, and the eye.
HLA is known to retain moisture and promote hydration. As we age, it naturally declines due to lifestyle factors like UV radiation, air pollution, smoking, hormone dysregulation, and aging itself [R].
So much so that by age 70, our levels of HLA have declined by 75%.
Why should you supplement oral hyaluronic acid?
As you'll see soon, most of us don't consume enough hyaluronic acid in our diet.
Emerging research shows that deficiency may be a big deal—this substance drives many parts of our health. And, of course, our beauty and aesthetics.
Due to its large molecular size (high Dalton), the skin absorbs little topical HLA [R]. Some scientists have created novel forms of HLA that better penetrate the skin [R]. But few of these are available commercially.
Luckily, oral hyaluronic acid supplements work well. Especially if you get the right form and dosage.
Natural food sources of hyaluronic acid
The top source of dietary HLA is in the bone marrow of mammals.
So you can consume bone marrow, bone marrow supplements, or just bone broth.
Other foods don't actually contain HLA, but certain nutrients that increase the body's production of it (vitamin C, zinc, and magnesium, for example)
The best overall dietary sources of hyaluronic acid include:
Bone marrow
Bone broth
Seaweed
Leafy greens
Root vegetables (sweet potatoes)
Fresh fruits (pomegranates and apples)
Other sources include mostly phytoestrogens, which are a fiercely debated topic in the health & wellness world.
Safety of HLA
HLA is among the safer supplements when used orally or topically.
These are the only two forms I'd recommend anyway.
So far, there are not any known significant adverse interactions between HA and other substances.
Of course, check with your medical provider before using any supplement, including HLA.
Ideal oral HLA dosages
HLA appears safe when used long-term and at high doses.
2021 research confirms the safety of 200mg of oral HLA per day for 12 months [R].
For wrinkles specifically, 120mg of oral HLA daily has shown effective [R].
About 240mg of oral hyaluronic acid is the highest I found studied and proven safe [R].
Although I also haven't seen any evidence of the dangers of dosages above 240mg it might not be necessary.
The Key Hyaluronic Acid Human Health Benefits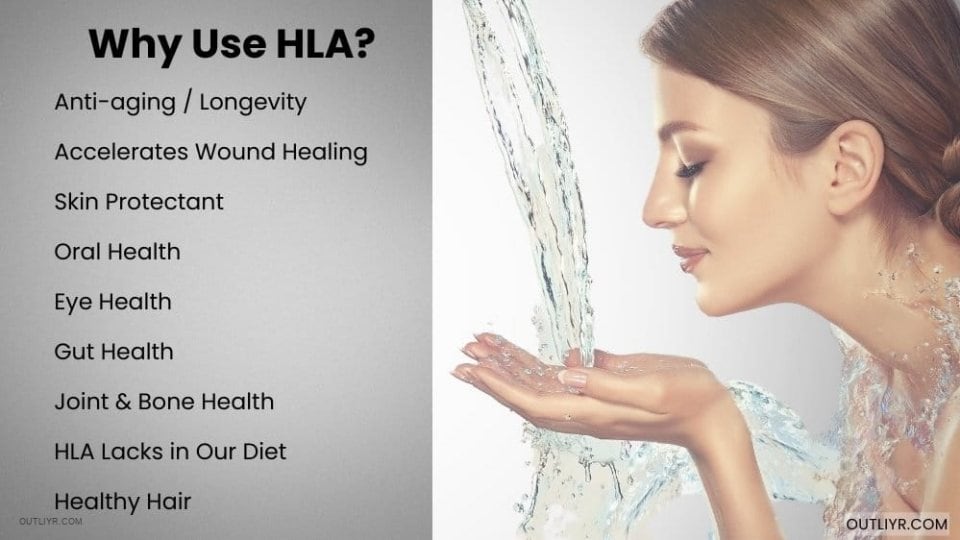 Hyaluronic acid helps the extracellular matrix (ECM) of tissues attract and retain water. You can think of the ECM as a glue that keeps cells in place. Here, it acts as a natural lubricant.
This seemingly simple role causes some major health benefits throughout the body.
It has become a major interest of the scientific community…
HLA improves nutrient delivery, cellular hydration, cell-to-cell communication, waste removal, skin, joints, eye health, longevity, and much more.
Most of the research has investigated oral supplementation or transdermal delivery through skincare products.
Let's dig into some of the benefits of this supplement that's hardly known outside of skincare circles.
Anti-aging & longevity
Oral hyaluronic acid is usually touted for its skin and joint benefits. For beauty purposes. This makes sense as nearly half of the body's hyaluronic acid exists in the skin [R].
Yes, it reduces wrinkles and fine lines (more on that later). As we age, levels in the skin decline so much that a 70-year-old has about 75% less HLA than a 19-year-old [R]. Skin health is also highly correlated with senescent cell burden (a hallmark of aging) and thus overall longevity.
Plus, another key thing makes hyaluronic acid a worthy anti-aging substance.
Joint health (and function) also declines rapidly with age. Oral HLA is a key component of joint cartilage.
Finally, it contains and breaks down into something called acetyl-glucosamine, another substance shown to independently extend lifespan in multiple animal models [R].
It's thought to work by reducing protein accumulation, which is another hallmark of aging.
Accelerates wound healing
Hyaluronic acid has great evidence for its use in improving wound care outcomes.
Several studies have uncovered benefits for improving oral wounds (from tooth extraction) [R], ulcers [R], and skin wound size and pain [R, R, R].
HLA's anti-microbial and anti-inflammatory properties make it a valuable tool to bounce back from injury [R].
It appears to work primarily by protecting the injury site from infection, as well as regulating inflammation and signaling to increase blood vessel concentration [R].
Most of this wound care research used creams and topical formulas. Overall, HLA has exciting potential to promote tissue regeneration, reduce inflammation, and protect wounds.
Skin hydration, moisturizing & anti-wrinkles
Hyaluronic acid has so many proven skin health and appearance benefits that I've had to separate these into multiple separate sections.
First, hyaluronic acid can hold 1000 times its weight in water. Making oral supplementation an effective way to moisturize and hydrate dry skin. Improving complexion, youthfulness, and appearance while reducing wrinkles [R].
One 3-month study of 60 Japanese individuals found that eight weeks of HLA supplementation significantly reduced wrinkles [R].
Another similar trial of Taiwanese individuals concluded that 8-12 weeks of hyaluronic acid supplementation improved wrinkles, hydration, and skin elasticity [R].
Finally, an older 2014 study investigated the effects of women applying a special topical HLA for eight weeks. Participants noticed improved "…depth of wrinkles (up to 40%), and skin hydration (up to 96%) and skin firmness and elasticity were significantly enhanced (up to 55%)" [R].
One of the many proposed mechanisms behind these skin benefits is HLA's ability to increase collagen production in the skin.
Retaining moisture and hydrating the skin helps the body better protect against pollution, chemicals, and other toxicants.
Smooths skin texture, firmness, elasticity
HLA improves skin texture by making it smooth, elastic, firm, and supple.
All this science hinges on the fact that oral hyaluronic acid consumption increases levels of hyaluronic acid in the skin. According to overwhelming research, it does [R, R].
That same eight-week trial of women applying a unique topical HLA showed participants experienced skin firmness and elasticity improvements of up to 55% [R].
12 weeks of oral hyaluronic acid supplementation also makes the skin look more radiant and supple [R].
For the above reasons and much more, HLA's ability to improve skin texture, appearance (radiance/glow), firmness, elasticity, smoothness, youthfulness, and even tone, makes it a key skincare supplement.
Protects skin health
Most people think of the skin solely in terms of beauty and aesthetics. As mentioned earlier, it also impacts longevity, and due to self-perceptions, psychosocial health.
HLA can even promote tissue regeneration which reduces the appearance of scars.
It also has a more general role in health and wellness.
The skin acts as one of the sole barriers between you and the outside environment. From pollution, and excess sun exposure (UV damage can harm DNA), to chemicals, pathogens, and other toxicants.
Through its hydrating mechanisms and role with collagen, and elastin and glycosaminoglycans, hyaluronic acid can also help the gut barrier work more effectively.
These beneficial effects on the gut likely explain why it works against skin conditions like eczema [R].
As an ingredient within topical beauty products, it works great for several reasons. HLA is non-comedogenic, so it won't clog your pores or cause breakouts. It's gentle enough for use on all skin types. And it provides the skin with a necessary building block to more effectively protect you from the outside world.
Supports oral health
Hyaluronic acid may play several important roles in oral health care.
First, it may stop ulcers and help reduce gum disease. HLA seems to also accelerate healing post-tooth surgery [R].
Multiple newer studies show that HA can improve oral health, conditions like gingivitis, and mucosal healing [R, R, R].
It seems that the combo of HLA + hydrogen peroxide (H2O2) works especially well to combat gum disease and support overall oral hygiene.
Although most of these trials use a topical HLA-enhanced gel, it shows promise for promoting gum health, reducing inflammation, and supporting tissue regeneration in the mouth.
Eyes
HLA plays a key role in ocular (eye) health. In fact, in addition to the skin, eyes also contain high levels of hyaluronic acid.
Its great moisturizing properties make HLA helpful in lubricating the eyes, reducing dryness, and supporting overall eye health.
For these purposes, you'll most often find it used as a key ingredient in medicated eyedrops. However several studies have shown that using these eyedrops in conjunction with oral HLA supplements yields better results [R].
Not only does HLA help conditions related to the eyes, but it also enhances recovery from surgical procedures like LASIK [R].
HLA isn't the top ingredient for vision, but it can help the eyes stay moisturized and accelerate recovery from medical procedures.
Digestive health
One of the major overlooked benefits of hyaluronic acid is its many roles in digestion and gut health.
The gut's intestinal mucosa lining largely determines what passes into the body, including water, nutrients, and pathogens.
Oral HLA supplementation appears to improve this gut integrity and help treat dysbiosis [R].
One recent study concluded that it also helps control the "…epithelial, immune and neuronal functions by interacting with different cell types within the enteric microenvironment… is also a modulator of gut microbiota homeostasis, retaining a metabolically relevant role for resident microorganisms and for modulating bacterial adhesiveness to the mucosal layer" [R].
Basically, HLA helps balance the gut so that it can best control the immune system, brain, and much more. Simply by regulating the mucosa.
Another recent review emphasizes how HLA strengthens the gut's primary barrier, "… allowing water and nutrient absorption while excluding microbes and harmful dietary metabolites that are constantly in that organ's environment" [R].
Plus, it appears to help inflammatory digestive conditions like GERD, Crohn's, and ulcerative colitis [R].
Personally, this is one of the core reasons I take HLA, as gut health drives full-body health and performance.
Joint & bone health
You'll find HLA included in many bone and joint health supplements because of its lubricating effect along with its ability to increase the body's natural collagen production as well as bone growth.
This is one of the key lubricating agents within the synovial fluid, and it works great for joint conditions that involve inflammation (like osteoarthritis) [R]. Including as a way to reduce joint pain. The reduced joint pain comes from it acting as protective padding between bones.
Due to its ability to promote bone cell growth, the FDA has cleared it to treat osteoarthritis when other common treatments don't work. So far, however, they've only approved these injections in the knees.
Orally supplemented HLA can improve joint pain, joint health, mobility, and even bone health.
Limited studies have investigated HA on joint conditions. However, a small study of 100 participants found it worked better than corticosteroid injections to restore joint function and reduce pain [R].
However, it appears that inclusion with other bone & joint-supportive ingredients (like glucosamine) better improves joint function, bone health, and pain than either ingredient alone [R].
Hair
Hyaluronic acid can promote healthy hair growth and appearance as well as scalp health.
Just like with the skin, HLA improves hair and the scalp by increasing moisture, hydration, and nourishment.
It helps the scalp by bringing moisture to the skin cells, promoting the effects of collagen. It's especially helpful for those with dandruff.
By sealing the hair cuticle, HLA also reduces frizziness, split ends, and other annoyances.
Since HLA so effectively promotes cellular water retention, this improves your hair's elasticity, shine, softness, and suppleness.
Most experts recommend topical hyaluronic acid for this, but a combination of oral with a cream or gel likely works best.
HLA improves your hair's appearance (texture, shine, softness, frizziness), vitality (moisture, split ends, brittleness), and even the health of your scalp.
Biohacker's Recommended Skincare & Joint Health Stack
If you're using an oral HLA supplement for skin health, you might want to combine it with a few other ingredients for a synergistic "1+1=5" effect.
Giving you much better benefits than the sum of the ingredients.
The biohacker's ultimate skincare stack consists of:
C60
Copper peptide
Tremella Mushroom
Collagen peptides
Omega-3 fatty acids
Turmeric
Glucosamine
Chondroitin
C60 and copper peptides are potent general beauty-enhancing ingredients. You can read my guide to C60 here, and my guide to copper peptide here.
Tremella is a popular beauty supplement that provides 5X more moisturization to the skin than HLA.
Collagen peptides are great for general skin, joint, and beauty maintenance. They're rich in anti-aging amino acids and a good complement to the modern diet (unless you consume ample organ meat).
Turmeric (not curcumin), glucosamine, and chondroitin are all excellent additions to a stack due to their broad effects as well as their ability to help joint and skin health. Try to choose an organic, full-spectrum turmeric product.
You'll often find glucosamine and chondroitin formulated together in supplements.
Common Hyaluronic Acid Questions & Answers
Before choosing your product, you'll want to know a few more things.
Which is better, low or high molecular weight HLA?
Hyaluronic acid comes in three configurations: low (LMWHA), middle (MMWHA), and high (HMWHA) molecular weights. Each with different effects & benefits. Low weight is best for topical applications. For oral supplementation, high molecular weight is the most beneficial followed by middle molecular weight. Although MMWHA more readily breaks down into the lifespan-enhancing substance, acetyl-glucosamine.
What is the most effective form of hyaluronic acid?
The most effective forms of HLA depend on your goals. Generally, liposomal oral supplements are considered the best overall, followed by topical hyaluronic acid preparations. For the greatest benefits, you'll want to make sure you're getting a product with the proper molecular weight.
Is it okay to use hyaluronic acid daily or even twice per day?
You can use hyaluronic acid—oral or topical—daily. Topical HLA is well-researched for safe usage as much as twice per day. Although it's unlikely to cause harm, I wouldn't exceed two daily uses.
What are the best brands of hyaluronic acid supplements?
The best HLA brand for oral supplements is Renue by Science and their LIPO HLA product. Liposomal hyaluronic acid absorbs more effectively and lasts longer than standard pills. The top HLA creams and serums are Alitura's Night Cream and Young Goose's Adaptogenic HA Boost.
Supplementing With Quality Hyaluronic Acid: Final Verdict
HLA is known as one of the top skincare, beauty, and joint health supplements.
But it is also so much more.
It can accelerate wound healing, promote hair growth, act as a natural anti-bacterial, and support different organ systems (mouth, eyes, gut), and the body's natural collagen production.
HLA even has some interesting anti-aging/longevity benefits.
Serums, creams, and topical HLA dominate the market. Yet even if you're focused on the beauty-enhancing properties, ample scientific research shows that oral supplementation further boosts the effectiveness.
When it comes to hyaluronic acid pills, capsules, powders, and even gummies, I wouldn't use most products.
They often contain fillers, additives, contaminants, and just don't work as well.
Check out some of my recommendations towards the beginning of the post. Use my discount code and enjoy.
If you use an HLA supplement of any form, drop a comment below and let us know your experience!
I'm here to personally answer your questions and help you find your ideal product.