Our body and brain run on intricate, easily disrupted electrical and magnetic signals.
Modern technology generates electromagnetic symptoms millions of times more powerful than what we'd naturally encounter. As a result, our biology entrains to these wrong signals. Resulting in suboptimal performance, symptoms of bad health, and eventual disease.
What if we could hit "reboot" and allow our cells to recalibrate?
A modality called PEMF Therapy accomplishes exactly this (and more). Causing an incredibly wide variety of health benefits:
Faster recovery from wounds
Less pain
Greater range of motion
Less muscle loss post-surgery
Faster nerve regeneration
Better circulation and blood flow
Lower inflammation
Accelerated workout and sports recovery
PEMF brings us back into a state of vitality.
But not all PEMF devices work as expected…
While conducting my research, I ran into all kinds of red flags. Websites that:
Look like they haven't been touched since the 90's
Don't have SSL certificates, so Chrome warns that they're "dangerous"
Strange redirects to other unrelated websites
Multiple listings with extremely similar (but different) domain names showing up in Google
I've tested many different types of PEMF Therapy devices, mats, and machines. I've talked to the experts, and read other reviews.
This post will give you all the needed background on PEMF Therapy. How it works, the science and health benefits, the safety, and the best PEMF machines for your unique lifestyle. Whether you're a professional clinician or you just want your own medical-grade at-home device.
The Best PEMF Therapy Systems of 2023
The Best PEMF Therapy Mats for Home Use
PEMF Therapy mats are extremely convenient, easy to use, and often have other powerful modalities built into them.
Most of the mats I've seen seem to have added PEMF as an afterthought. They don't disclose many of the important details.
What follows are my picks for the best PEMF Therapy mats available.
HealthyLine Platinum Mats – Photon Advanced PEMF InfraMat Pro
Healthywave Platinum Mat Overview
Size: 60″ x 24″ x 1.5″
Waveform: Sine, Square
Frequency Range: 1-30 Hz (7.83 Hz default)
Number of Coils: Unknown
Program Duration: 20-60 mins
Max Intensity: 3 Gauss
Additional Modalities: Photon Light, Negative Ions, Far Infrared, Hot Stones
Warranty: 5 Year extended warranty, 90-day free trial, lifetime upgrade
Price: $1,600-$2,000 (save 10% with code OUTLIYR10)
If you're looking for the absolute best, full-featured PEMF mat, look no further than the HealthyLine Platinum Mat Full. Each of the 21 proprietary layers synergizes to maximize the mat's wellness-boosting effects.
Though this one mat offers five therapies in one — PEMF, Photon Light, Negative Ions, Far Infrared, and Hot Stones, they've clearly not skimped on the PEMF. This mat offers the most customization. Some configurable options include two waveforms, an optimized frequency window, three pulse durations, two time settings, and granular intensity control.
It includes far infrared, negative ions, and nearly 11 pounds of gemstones. Helping the 160-degree heat penetrate deeply into your tissues. I also view this mat as a viable alternative to some of the best infrared saunas.
HealthyLine sells this model in several different sizes. For most people, the cheaper Full Short will work great.
Word from their 500,000+ happy customers has gotten out, as this mat has been featured in USA Today, NBC, Fox News, and CBS.
Like all mats, it does have some limitations. First, you can't roll up the mat or bend it to fit your space. It's also not comfortable enough for sleeping on (in my opinion). The max intensity is considerably weaker than dedicated machines, but it should be plenty for most uses.
As you'd expect from the #1 best-selling PEMF mat, this comes with the quality assurance of a 5-year extended warranty, 90-day free trial, and most notably, their lifetime upgrade policy. This policy lets you upgrade your working product for 100% credit towards your next purchase, or a broken product for 50% credit.
Great for both professional or at-home use.
I'm currently deciding between sizes. Soon, when I purchase a PEMF mat, it will be the HealthyLine Platinum Mat Full for its unparalleled effectiveness, features, and overall value.
Use the exclusive code OUTLIYR10 for 10% off
HigherDOSE PEMF Mat
Overview
Size: 29″ x 73″
Waveform: Unknown
Frequency Range: 3-23 Hz
Number of Coils: 4
Program Duration: 20 minutes (followed by 100-minute cooldown)
Max Intensity: Unknown
Number of Programs: 4
Additional Modalities: Negative Ions, Far Infrared, Hot Stones
Warranty: 1-year limited warranty
Price: $1,095 (save 15% with code NICK15)
The most trendy option on this list, HigherDOSE is a company known for using wellness technologies to harness the healing power of nature. This is a company truly living the "first do no harm" principle. For example, they use high-quality materials and also ensure that the heaters never exceed unhealthy non-native EMF levels.
Their PEMF mat contains several layers:
Far Infrared Heat deeply penetrates tissues
Negative Ions generated by crystal and clay
Charcoal cleanses and detoxifies
Clay emits negative ions
Crystals intensify infrared
Somehow packing in 20 pounds of crystals, they've managed to fit more into each mat than any other company. Negative ions from the crystals and clay neutralize free radicals and boost mood.
They've been featured in major publications like Forbes, The New York Times, Vogue, Shape, and more.
HigherDOSE hasn't published as many PEMF specs as I'd like to see. They do mention that the mat contains 4 PEMF coils. The frequency range is slightly narrower (on both sides) than some of the other mats. Each of the (only four) frequency settings has been programmed to mimic healing frequencies found in nature. This could be great if you want a mat that eliminates the guesswork. No need to analyze PEMF research to find your ideal settings.
Another bummer is that each PEMF cycle lasts for 20 minutes and requires a 100-minute "cooldown" period.
A friend staying with me brought their HigherDOSE V4 PEMF mat, and we used it nightly for one week. I felt some of the same relaxation effects as I did after using the ~20,000 Pulse X machines. The additional infrared heat was a nice touch. This mat inspired my research into other at-home units.
The HigherDOSE PEMF mat is a good choice for someone who wants safe settings tuned to the frequencies of nature, and values the mood/antioxidant properties of crystals, all at an affordable price.
Use the exclusive HigherDOSE code NICK15 for 15% off
The Best Professional PEMF Therapy Machines for Home Use
I've classified PEMF machines as devices solely dedicated to PEMF Therapy. These are the most powerful systems available, and the ones most often used in clinical research.
They typically yield the best PEMF results and also tend to be more portable than PEMF mats.
ICES DigiCeutical B5 & C5
ICES DigiCeutical C5 & B5 Overview
Size: 4.7" x 3.1" x 0.95"
Waveform: All
Frequency Range: 1.5-47 Hz
Number of Coils: 4
Program Duration: Customizable
Max Intensity: 1,700,000 Gauss
Number of Programs: 8 preset, millions customizable
Additional Modalities: None
Warranty: 3 year warranty on control unit, 1 year on accessories
Price: $1,599.00 (save 10% with code URBAN)
Micro-Pulse has become an iconic brand among PEMF scientists. The founder, Dr. Robert Dennis, developed the original systems used by NASA in 1997. Since then, he's significantly upgraded the patented technology, leading to the newer ICES DigiCeutical line.
Other notable customers include SomaPulse, Alleva-Wave, Pulse-Pet, research universities, private companies, athletes, medical doctors, chiropractors, veterinarians, and countless pet owners. Why?
Bob hand builds, programs, calibrates, and tests every single unit. Micro-Pulse also publishes more scientific PEMF documentation and guidance than any other company. Bob sells PEMF devices of all sizes and for every use (sadly, no mats).
Their most popular full-sized machines are the C5 model (for beginners) and the B5 model (for researchers), with the primary difference being the customizability. Other than that, the two models are the same. In fact, scientists are using this exact B5 model to study:
Traumatic Brain Injury/Concussion
Type 1 Diabetes (mice)
Inflammatory signaling
Heart disease and cardioprotection
Orthopedic injury
Chronic Pain
Diseases of the kidney and liver
That's right, both the C5 and B5 contain the exact same components used in clinical PEMF research. Both four coils, and three potential ways to configure them. Both have many waveform possibilities, 16 different intensity levels, and a nice frequency range of 1.5-47 Hz. All inside a small and easily transported device.
The biggest downsides are the no-return policy (every unit is custom-built to order), fragility (these are more delicate than some of the other systems), and longer shipping time (building and testing take up to a week).
Micro-Pulse backs their systems with a 12 months warranty for the pulse generator, free firmware upgrades for life, ample educational resources, and generous support to get you the best possible results.
If you're looking for the same hyper-customizable PEMF machine used in real clinical research and the best overall value, the ICES B5 and C5 DigiCeutical PEMF machines are unparalleled.
Use the exclusive Micro-Pulse code URBAN for 10% off
EarthPulse v7 Pro
EarthPulse V7 Overview
Waveform: Square
Frequency Range: 0.1-14.4 Hz
Number of Coils: 2
Program Duration: Customizable
Max Intensity: 1,100 Gauss
Number of Programs: 15
Additional Modalities: None
Warranty: 5-year limited warranty
Price: $1,399
EarthPulse has created PEMF machines since 2002. At just under $1,400 it's also the cheapest full-fledged option. EarthPulse has worked tirelessly to not only create great products but also educate consumers to ensure that we get the right products and don't fall for scams.
They recently released the V7 of the EarthPulse Pro machine, and it's quickly become their biggest hit yet. Featuring 15 algorithmic program modes, an impressive 2200 Gauss max intensity, 2 electromagnetic coils, and built-in safety features. Such as limiting the frequency range 0.1-14.4 Hz to exert maximum effects while mitigating biological stress from accidentally using abnormally high frequencies.
As students of Dr. Royal Rife, they decided to use only square waves and the naturally occurring direct current fields (alternating current doesn't exist in nature). Their machines feature "Sleep on Command" which boosts sleep, recovery, and performance. You can easily split the magnets, and share them with your partner. If you just care about improving sleep, a related machine with a single electromagnet costs just $799.
What I don't like about this device is that they limit the max frequency to 14.4 Hz. While perhaps a useful safety feature for beginners, certain cases warrant exceeding that threshold. EarthPulse also currently only accepts payments via PayPal.
Customers get lifetime support, a 5-year limited warranty (free service/repair up to 1 year), and a 90-days risk-free trial.
If you want a strong, beginner-friendly, full-body portable PEMF therapy system, EarthPulse is a winner.
BEMER Pro
BEMER Pro Overview
Size: 37″ x 18″ x 22″
Waveform: Sine
Frequency Range: 10 Hz, 33 Hz
Number of Coils: 6
Program Duration: 8-20 min
Max Intensity: 0.35 Gauss
Number of Programs: 3
Additional Modalities: None
Warranty: 3 year warranty
Price: $4,990-$5,630
Years ago, BEMER established itself as a premier PEMF system. Through networking marketing, they began popping up in wellness clinics around the world.
BEMER claims that their PEMF machines deliver a patented "bio-rhythmically defined therapeutic signal". Basically, their technology piggybacks off 20 years of electromagnetic research conducted by Dr. Rainer Christian Klopp.
The biggest plus is that the BEMER Pro is well-built and easy to use; German-engineered, and Swiss crafted. It's also one of few FDA Class II cleared consumer medical devices.
A few clinical studies have used BEMER products and found:
Interestingly, a large portion of their customers use the system on horses.
Unfortunately, you can only purchase BEMER PEMF machines through distributors. They're far less customizable than other machines, only have 2 frequencies and limited intensity options. Worst of all, pricing for the base models starts at $4,990.
BEMER backs their professional PEMF systems with a 3-year warranty, and a subpar 30-day money-back guarantee (you pay shipping and a 10% restocking fee).
BEMER is the PEMF machine for professionals that want an ultra easy to use system and don't mind paying a large premium for the brand name.
Curatron C2000HT
Curatron Overview
Size: 24″ x 63″
Waveform: Sine
Frequency Range: 1-50 Hz
Number of Coils: Unknown
Program Duration: 20-30 min
Max Intensity: 200 Gauss
Number of Programs: 10
Additional Modalities: None
Warranty: 3 year warranty on control unit, 1 year on accessories
Price: $3,985
Research the top PEMF systems, and you'll surely encounter Curatron. This is another one of the originals that has stood the test of time. It's also a top recommendation of the prestigious PEMF evangelist, Dr. Pawluk.
Curatron sells several models, including the C-2000-XP, C-2000-PC, and the C2000HT Home System. Their HT model matches the power level of their professional models at a fraction of the cost.
This model features 10 different modes and two energy levels:
Five high-energy programs for pain, oxygenation, and bone/injury healing.
Five low-energy programs for circulation, relaxation, energy, wellness, and recovery
It has a good, broad frequency range of 1 – 50 Hz and outputs plenty of power (70-200 Gauss). Treatments last 15-30 minutes. This HT model also comes with a separate PEMF therapy pad for additional simultaneous targeted treatments.
Navigating the site proved rather difficult. With all kinds of redirects, several websites masquerading as the "original PEMF machine" yet selling different products. The dated product look, barely operable website, and price made this a lower-tier recommendation.
I'd recommend Curatron only if you want a mattress/therapy pad combo and don't mind paying extra for old technology.
The Best PEMF Therapy Wearables
PEMF wearable devices are the most convenient and portable, and great for spot targeting.
You won't get the same systemic benefits from these, but the low price and small size make them a great option to recovery from injuries or pain.
Micro-Pulse ICES DigiCeuticals M1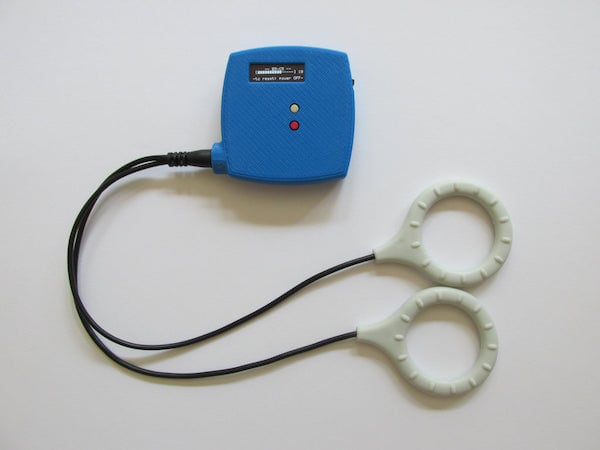 Micro-Pulse M1 Overview
Size: 4.7" x 3.1" x 0.95"
Waveform: All
Frequency Range: 1.5-47 Hz
Number of Coils: 2
Program Duration: Customizable
Max Intensity: 1,700,000 Gauss
Number of Programs: 30 preset
Additional Modalities: None
Warranty: 12 month warranty on pulse generator
Price: $629 (save 10% with code URBAN)
Micro-Pulse, the most trusted company in PEMF (and that makes the B5 and C5 systems mentioned previously), also has a smaller PEMF wearable designed specifically for targeting specific body parts. It's also one of their recommendations for beginners. Simple, ultra-portable, wearable, and affordable.
The original A9 Micro-Pulse model has one protocol. Optimized only for severe chronic pain and orthopedic injury. This new M1 is 25% smaller, with 15 intensity levels, 30 Programs, a wide frequency range of 1.5-47 Hz, and the latest ICES generation 6.0 technology.
Best uses of the M1 still include spot treating chronic pain and accelerating recovery from athletic/orthopedic injury. However, the additional modes open the door to plenty of other uses. In fact, the M1 can run most of the same protocols are the full desktop systems.
As with any mini PEMF wearables, the small size resulted in a tradeoff between coil outputs. Unlike their larger desktop systems with four coil outputs, this has just one. You can also power the M1 via the built-in rechargeable battery, or via mini USB cable.
Like the other Micro-Pulse products, the main downsides are the devices take several days to build, calibrate, and test; the 30-day return window comes with a $200 restocking fee; and the 12 months pulse generator warranty doesn't cover coils, water damage or physical damage.
Those looking for ultra-portable, lightweight yet versatile, multi-purpose PEMF wearables look no further than the M1. If I break a bone, suffer a traumatic injury, or develop chronic pain, I'd immediately buy the M1.
Use the exclusive Micro Pulse code URBAN for 10% off
Flex Pulse G2 PEMF
FlexPulse G2 Overview
Size: 4.5" x 2.5" x 1"
Waveform: Trapezoidal
Frequency Range: 3-1,000 Hz
Number of Coils: 2
Program Duration: 10 minutes, continuous
Max Intensity: 200 Gauss
Number of Programs: 8 preset, millions customizable
Additional Modalities: None
Warranty: 2 year warranty on control unit and charging disc, 6 months on coil applicators
Price: $1,290
The Flex Pulse G2 is a German wearable PEMF device. The result of 35 years of R&D into holistic health devices, muscle stimulation, ultrasound, acupuncture, biofeedback, and magnetic therapy systems. Since its release, the G2 has become popular with athletes and neurohackers alike.
The G2 contains two PEMF coils encased in pads, designed for application to any part of the body. Even the brain, where use as a magnetic brain stimulator promotes mental sharpness and overall wellness.
This wearable has an extremely wide frequency range of 3-1000 Hz, and a high max intensity of 200 Gauss. Though it comes with only 8 programs out of the box, you can customize them to your liking.
A few things could really use more consideration. The device cannot generate some useful frequencies below 3 Hz (especially important for slow wave sleep). Trapezoidal waveforms are unique, and from what I've read, possibly inferior to more popular sine and square waveforms. Finally, the price of this wearable rivals the high-end desktop units. For only slightly more, I'd rather have both a mat and the cheaper M1 wearable.
FlexPulse seems to be one of few companies still actively releasing new PEMF information. Like some other high-end brands, the G2 comes with a 2 year warranty on everything but the coil applicators (which have a 6 month warranty). The 60 day return window does have a sharp 10% restocking fee.
The FlexPulse G2 is a good option for serious athletes looking for a well-built and flexible PEMF wearable and don't mind the higher sticker price.
Infopathy IC Hummer
Infopathy IC Hummer Overview
Size: 1.6″ x 1.6″ x 0.8″
Waveform: Any
Frequency Range: 0.01-20 Hz
Number of Coils: 1
Program Duration: Customizable
Max Intensity: 3 Gauss
Number of Programs: 429+
Additional Modalities: Imprinted Water, Audible Tones
Warranty: Unknown
Price: $168 (save 10% with code URBAN10)
I've previously reviewed Infopathy "Infoceutical" devices, and the IC Hummer is the only one with built-in PEMF capabilities.
This is another multi-purpose device, allowing you to "imprint" water with the electromagnetic signatures of any one of thousands of ingredients in their library. Giving you the same effects as the original molecule, albeit weaker.
We did a blind experiment and I managed to differentiate "Xanax water" from the normal 7 out of 10 times. I regularly upgrade my water with a special energy formula I formulated. I also have a brain boosting nootropic cocktail that I'll use to get more done in less time.
On the PEMF front, the IC Hummer contains an electromagnetic coil capable of producing frequencies up to 20 kHz. You can change the intensity with the volume setting up to a maximum of 1500 Gauss.
What I love about it, is the ease of use. You strap it on, based on your needs you choose a PEMF program from their library (429 different options as of this writing), and then hit play.
Simple, nothing to configure, and lots of glowing testimonials from Infopathy users. Their Deep Sleep program significantly increases my deep sleep scores as measured by my Oura ring.
At $168 (save an extra 10% with code URBAN10), this is the most affordable PEMF device of all. Though it's fully functional out of the box, some of the "recipes" in their library require a premium membership. I had mine for a year before I decided to upgrade to premium.
The Infopathy IC Hummer is the best multipurpose wearable for beginners that want to try PEMF inexpensively.
Use the exclusive IC Hummer code URBAN for 10% off
PEMF Therapy Products I Do Not Recommend
I got questions about the best PEMF systems, talked to an expert, and conducted some of my own research.
I came across certain brands that looked promising, but I cannot recommend for one (or more) of several reasons:
Outrageously expensive
Different use case or technology
Limited or deceptive information
Now, these systems aren't necessarily bad. They just don't fit the criteria of the best PEMF systems.
Let's get started.
PEMF-120 Desktop System
PEMF-120 is a full-fledged desktop unit that comes highly recommended by practitioners, including Dr. Pawluk. This model is often used in clinical settings. I like that they offer three coil configurations. The major downside is the $19,000 price tag, putting it well out of reach to all but clinic owners. For the same price, you can get several high-quality PEMF machines and have change left over.
TeslaFit Pro PEMF Machine
Up next, the TeslaFit Pro is another physician and practitioner-approved model. The company has crafted a powerful device and also provides complimentary professional training as well as a free consultation. The TeslaFit Pro one-ups the PEMF-120, coming in at a whopping $19,900-$20,650.
Haelo Symphony One
I scoured the entire website sleuthing out technical specs and important information about the Haelo Symphony One. But I couldn't find the important details. For such an expensive device and without FDA-Approval, I can't justify this one over the other recommendations.
Spooky2 RIFE
The GeneratorX (GX) is the world's most powerful Rife generator. But that's the issue. Spooky2 is a Rife machine rather than dedicated to PEMF. Rife protocols usually use extremely frequencies (Rife machines go up to 1,000,000 Hertz where most PEMF systems stay below 50 Hz). Rife machines are mainly used for "blasting" pathogens. A Spooky2 kit costs a reasonable $924, but you'll need to buy the PEMF add-on.
BioBalance PEMF
BioBalance appears to have been discontinued as I can no longer find a way to purchase in 2023.
MagnaPulse
This one was frought with issues. The website is missing a SSL certificate. Personal data transmitted (such as credit card info) would not be secure. Second, their website product page now redirects to an unrelated website. Seems to have shutdown.
Pulse X PEMF Machine
Pulse X (often called "Pulse Centers") makes awesome PEMF machines. I've personally used and enjoyed them. Although for $13,000, you have better options.
What is PEMF Therapy
Below the chemical level, the human body runs on electromagnetic signals. Pulsed Electromagnetic Field (PEMF) Therapy provides an essential battery-like recharge to "worn down and tired" cells. Cells dysregulated by stress, toxins exposure, poor diet, physical injury, overstimulation, and even normal aging. PEMF Therapy rejuvenates cells and restores proper electromagnetic signaling throughout the body.
We have two main ways to get the benefits of PEMF therapy:
Technology
Nature
We're bombarded by electromagnetic frequencies throughout the day. Both natural and manmade. Unfortunately, most manmade electromagnetic frequencies (non native-EMFs) harm the body. Using the wrong frequencies, outputting steady signals rather than pulses, and in massive doses. Later, we'll discuss the particular machine parameters that differentiate healthy PEMF exposure versus destructive nn-EMFs.
Instead, the right modern technologies can replicate (and even beat) those found in nature.
Humans today lack natural PEMF due to the advent of wireless technology and our indoor lifestyles.
The simple solution is to get outside and expose our bare skin to the bare Earth. Which entrains ourselves to the naturally present Schumann frequency. Earthing, as it's called, has astounding restorative and healing effects.
Two issues with natural PEMF:
Frequency. Certain healing frequencies are hard to find in nature, if not impossible
Time. The natural route takes far longer to exert all the beneficial effects
I focus on getting ample natural PEMF exposure, but I'm also a big proponent of using specially crafted technology to get myriad health benefits.
Scientific Benefits & Uses of PEMF Therapy
Millennia ago, early humans discovered that magnets influence human health. About a centuary ago, scientists began actively studying how electromagnetism impacts humans (for good or bad).
PEMF science really picked up when NASA started using the technology in the 1960s to improve the health of astronauts. They found that virtually all bodily tissues improved from PEMF Therapy.
Scores of papers and research have accumulated since then, adding to the body of scientific evidence.
Some of the benefits of pulsed electromagnetic field therapy include:
Reduced pain
Reduced inflammation
Better sleep
Increased circulation
Boosts mood and helps alleviate depression
Restored cellular electrical charge
Greater muscular range of motion
Faster wound healing
Quicker recovery and rehab from surgery
Faster nerve regeneration
Mitigates bone loss
Stronger ligaments
Accelerated workout recovery
Reduced stress
Increased nutrient absorption
Better cellular waste removal
Preservation of muscle when inactive
Supports optimal brain health
Rebalanced gut microbiome
All of these from a simple non-drug intervention.
PEMF Therapy is now being used in animals and pets such as dogs and horses.
Several PEMF benefits stand out and deserve special attention.
Pain Reduction
Clinical evidence has found pulsed electromagnetic field therapy extremely effective for use as non-drug form of pain relief. For things like:
Back pain
Knee replacement and surgery
Sciatica
Neuropathy
And other forms of pain. All without any serious side effects.
The FDA even approved PEMF as a treatment for bone damage and joint pain.
Here's what legendary self-development master Tony Robins has to say about PEMF Therapy,
"I found the PEMF machine to be one of the most valuable resources for healing. I tore my rotator cuff's in my right shoulder and I was on a 9.9 level of pain-nothing was working!"
For more information about PEMF and pain reduction, see this Dr. Oz article/TV snippet.
Not only does it help alleviate pain, but simultaneously stimulates repair.
Injuries Heal
PEMF regenerates on the deepest cellular level. It "convinces" the body to entrain to healing frequencies which results in a cascade of positive biochemical changes.
PEMF acts as a safe, non-drug anti-inflammatory, accelerating healing:
Injuries
Ligaments
Surgery rehab
Arthritis
The FDA also approved PEMF to treat bone damage (broken bones), and strengthen them in cases of osteoporosis.
If you have an upcoming surgery, play sports, or are at all active, I recommend having a PEMF machine on hand.
A friend fractured his foot playing soccer. He took all the necessary precautions, and religiously used one of the PEMF devices described below. One week later, he was back on the field. Follow-up scans showed complete healing.
Indeed, numerous studies show PEMF can speed the healing of bones by 50 percent.
I consider PEMF Therapy a Wolverine-like hack to quickly bounce back from injuries.
Athletic Recovery & Performance Boost
PEMF directly improves recovery from exercise, and indirectly improves performance.
It does this via several ways:
Boosting circulation which more effectively delivers nutrients and stimulates growth
Accelerating metabolic waste removal upregulates metabolism and decreases stress levels
Increased range of motion by reducing inflammation and painful blocks
Electromagnetic stimulation also reduces cravings, indirectly leading to weight loss and better overall health. One study found a 3% bodyweight reduction in 9 weeks. For a 200-pound human, that's 6 pounds from zero additional effort.
Along with infrared sauna usage, PEMF Therapy shows promise in maintaining fitness during periods of inactivity. NASA used PEMF to mitigate muscle atrophy in astronauts.
I personally feel significantly more recovered (less DOMS) after using PEMF. You'll notice that many elite sports teams rely on this technology to maintain their output.
How to Evaluate PEMF Machines
Dedicated PEMF therapy machines share similar characteristics and technologies, making them easy to compare.
That is…
If you know the terminologies. Here is what they mean.
Note that wearables, mats, and portable devices work differently and have different criteria.
Frequency Range. Frequency of a system indicates the number of pulses delivered to the body per second. The range is how much or little it's capable of generating. Usually measured in Hertz (Hz) or pulses per second (pps). Some claim that frequences above about 15 Hertz biologically stress the body. Few PEMF machine go above 50 Hz.
Waveform. A machine's waveform indicates the shape of each pulse. Common waveform shapes include square, sine, trapezoidal, and saw tooth. But there are virtually infinite different configurations PEMF machines can output.
Intensity. A machine's intensity indicates the power output delivered. Need generally dictates the course of treatment regarding intensity. Shorter, acute treatments use higher intensities, while chronically ongoing conditions use low intensities.
Number of Coils. The number of coils indicates how many places a system emits PEMF signals. Usually, more coils lead to stronger and more systemic effects but at the cost of higher price.
Program Duration. A machine's program duration indicates how long treatments last. Some take just a few minutes, while others last hours (sometimes up to 12).
Number of Programs. This refers to how many presets the system comes with. High-end, clinical systems generally have many or even unlimited (customizable) programs. Units for beginners may just have one or two. The more programs your PEMF device contains, the more potential use cases.
Additional Modalities. The additional modalities indicate other functions, and complementary therapies that the system can produce. Most commonly found in PEMF mats, additional modalities may include things like negative ions, hot stones/crystals, and far infrared light. I like them because they synergize to make the entire PEMF experience more powerful.
PEMF Mats vs Wearables vs Machines
There are distinct pros and cons to each type of PEMF generator.
While you'll encounter exceptions to these rules, this should help you decide which style best suits your needs.
PEMF mats vary tremendously in quality, but people choose mats for their simplicity, multiple health modalities that can be used simultaneously, and ease of integration into lifestyle (ie use while watching TV). Drawbacks to PEMF mats include weaker power output, inability to use while sleeping, bulkiness not conducive to travel, less natural waveforms, and problematic electromagnetic field intersections.
PEMF wearables are usually considerably more powerful than mats, highly portable, cheaper, and great for treating specific body parts or localized conditions. The downsides of wearables include less systemic effect, pulses are shortened to save battery, less customizability, and more fragile.
PEMF machines are the most effective and powerful (same ones used in clinical research), high customizable, semi-portable, and some work while you sleep. Cost is the main downside, but they're generally harder to use, and require dedicated sessions with the coils attached to your body.
Finding Your Perfect PEMF System
Humans run on electricity.
Intensity, waveform, duration, pulsation, and other characteristics determine whether electromagnetism boosts or detracts from how well our body and mind function.
PEMF is one impressive modality that can rebalance our electromagnetic signature, and with that, improve our health and vitality.
But there are a lot of junk systems.
Even worse, I've come across many that get the science totally wrong and probably do more harm than good.
I've used some of these devices for many years. Yet I'm always learning more as PEMF research constantly evolves.
There's no single best device for all people and all situations:
For spot targeting a specific wound or pain, wearable devices work great
For general wellbeing, you can't beat dedicated PEMF machines
For convenience and multiple modalities combined into one session, I'd go with a PEMF mat
I'm now looking to get a new system, and am deciding between the Micro-Pulse ICES line, or the HealthyLine Platinum Mat.
Enough about me…
Do you have a PEMF unit? I'm sure that I missed more than a few. Let me know your favorite in the comments below!