Do you ever wonder what active ingredients give "health" foods their wide-ranging benefits?
One such compound is called quercetin, and it has become a longevity supplement staple.
And it's heavily researched.
So why did quercetin never make lists of miracle molecules or blockbuster drugs?
Most of the research took place in cells, rather than in humans. Due to poor absorption, the impressive improvements didn't carry over to humans.
Major developments in supplement technologies now deliver quercetin into the cells where it can exert its amazing benefits.
Not all quercetin supplements are equal. Savvy companies have formulated their products to overcome quercetin's low bioavailability.
In this post, we'll cover maximally bioavailable quercetin supplements that you'll actually absorb, natural food sources, as well as the latest scientific benefits of this powerful longevity molecule.
Affiliate Disclosure: This post may contain affiliate links, which means I get a small commission if you buy (at no cost to you). Thanks for your support!
Overcoming The Major Drawback to Most Quercetin Supplements
Quercetin belongs to a family of plant-derived ingredients which the body rapidly excretes.
To get the full benefits, quercetin must enter the bloodstream.
Products accomplish this by using different forms of quercetin or combining it with other ingredients to capitalize on the entourage effect (certain ingredients have synergies that improve absorption of other ingredients too).
The best ways to increase quercetin bioavailability (in order of absorption):
Quercetin encapsulated in liposomes
Quercetin in phytosome form
Quercetin with digestive enzymes
Quercetin with vitamin C
Quercetin with high-fat and high-fiber meal
New research suggests that liposomal technology can increase quercetin absorption 20-fold more than standard quercetin.
Phytosomal and liposomal quercetins are similar, but phytosomal is produced differently and not quite as bioavailable.
Liposomal quercetin has become the gold standard.
If you choose budget-friendly standard quercetin, make sure to consume it alongside a meal rich in healthy fats and fiber.
The Best Absorbed Quercetin Supplements
Few companies make high-quality quercetin supplements.
For one of two reasons.
They use the wrong form
They don't publish the third-party lab testing results
Either way, I avoid those products.
What follows are the few quercetin products that work, and after that, some of your other options.
Best Overall: Renue by Science LIPO Quercetin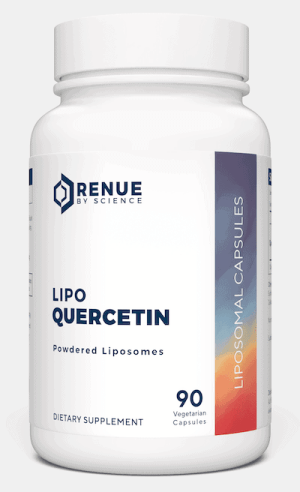 Overview
Absorption: Max
Form: Liposomal
Dosage: 150mg
Lab Verified: Yes
Servings: 90
Serving Cost: $0.53
Renue by Science (previously Alive by Science) is one of the most renowned longevity supplements vendors due to their dedication to purity and potency. Their quercetin supplement is no exception, with industry-leading nano liposomes that protect it against degradation by stomach acidity and maximize bioavailability.
Generally, the supplement industry suffers from notoriously fake, contaminated, and even adulterated products. What I appreciate most about RBS is their full transparency.
First, RBS manufactures in a cGMP Certified, FDA-approved facility. They third-party lab test each batch and display the result of their purity and safety testing (called the Certificate of Analysis or CoA) on their website.
With nutraceuticals, more isn't always better. Especially with highly-bioavailable products. Their 150mg liposomal dose accounts for the superior absorption while minimizing the potential side effects of large doses.
I use RBS supplements every day.
If you're looking for the best overall liposomal quercetin supplements, Renue by Science LIPO Quercetin wins.
Use the exclusive code URBAN for 10% off
Cleanest: Thorne Quercetin Phytosome
Overview
Absorption: High
Form: Phytosomal
Dosage: 250mg
Lab Verified: Yes
Servings: 60
Serving Cost: $0.31
Thorne is another well-respected supplement company, that takes no shortcuts. Their products are formulated and produced to the highest quality standards. In fact, they're one of few companies that pass Australian regulatory requirements. Ensuring you get pharmaceutical-grade supplements. Making them a top brand among Olympians, professional athletes, and others that cannot afford to consume contaminated supplements.
I love that Thorne's supplements are hypoallergic and tested free of common additives. They're one of the brands most often recommended by doctors and healthcare practitioners.
The Thorne Quercetin Phytosome is enveloped in a lipid membrane (different from liposomal). While not quite as bioavailable as liposomal encapsulations, research shows that quercetin phytosome absorbs very well.
I would take Thorne's Quercetin Phytosome if I found it in-store (Walmart, CVS, etc) or if you want great value, ultra-pure quercetin.
Best For Allergies & Injuries: Thorne Quercenase
Overview
Absorption: High
Form: Phytosomal
Dosage: 250mg
Other Ingredients: 100mg Bromelain
Lab Verified: Yes
Servings: 60
Serving Cost: $0.41
Another quercetin product made by the renowned Thorne. It contains the same 250mg quercetin phytosome dose, but also 100mg of the protein-digesting enzyme, bromelain.
Making this an ideal quercetin supplement for allergy relief, rebalancing the immune system, and also to minimize bruising and swelling.
Like RBS, Thorne produces their supplements in an FDA-approved, GMP-certified facility. Then they put their products through third-party lab testing.
The primary downsides of Quercenase are that the quercetin is not liposomal (phytosomal form is still very effective), and that this formula costs significantly more than the quercetin phytosome alone.
If you're recovering from an injury, the protein-digesting enzyme bromelain makes Thorne's Quercenase an excellent choice to accelerate healing and reduce swelling.
Best Value: Life Extension Bio-Quercetin
Overview
Absorption: Very High
Form: Phytosomal
Dosage: 29mg
Lab Verified: Yes
Servings: 30
Serving Cost: $0.33
Life Extension has a massive team of scientists reviewing the latest research and coming up with innovative formulas. Their economies of scale allow them to offer these products at a reasonable cost. Despite the reasonably priced supplements, Life Extension still puts products under third-party testing.
Life Extension sells several different forms of quercetin. I prefer Bio-Quercetin because it's in the phytosome form. They also list all the ingredients and the composition of their phytosome. The quercetin comes from Japanese sophora concentrate, and the phytosome is a phosphatidylcholine complex made from sunflower.
Their internal research suggests that the 29mg quercetin phytosome dose equates to about 500mg of regular quercetin.
Plus, it's a great value.
My main issue with the product are the unnecessary ingredient additives, and the dose is lower than I'd like to see.
Bio-Quercetin is ideal for those on a tight budget that want the convenience of capsules.
Best DIY: Autophagy Tea
Overview
Absorption: Low
Form: Dihydrate
Dosage: 500mg
Lab Verified: Yes
Servings: 100
Serving Cost: $0.16
If you're taking quercetin to enhance the effects of fasting, you can make autophagy tea. This is part of my evening wind-down routine.
High-quality, organic quercetin powder is considerably cheaper than capsules.
Quercetin powders is great if you're conscious about consuming high-quality, organic raw materials and inexpensively.
Other Quercetin Supplements
During my research, I came across a lot of other promising brands and products that I cannot recommend.
Mostly because they either do not have third-party validation or have questionable dosing/manufacturing practices.
These are the other companies I came across in my research.
Mary Ruth Organic's
Mary Ruth Organic's sells pineapple orange liposomal quercetin liquid. Between the quercetin dihydrate dose and proprietary liposomal blend, I get the feeling that it wouldn't work well. Plus, they do not publish their CoA or lab data.
ActiNovo
ActiNovo's liposomal quercetin appears well made. The 250mg quercetin dose is significant, and a dose also contains 263mg of Saphora Japonica Extract, and 169mg of Seabuckthorn Extract. My primary issue is that they don't post their Certificates of Analysis or third-party lab testing results.
Pure Health
Pure Health's liposomal quercetin is properly dosed at 250mg, but their product page does not tell enough about the manufacturing process or other important details. Again, this liposomal quercetin lacks CoA and third-party testing data.
LuvByNature
LuvByNature makes a liposomal vitamin C with quercetin product. The quercetin is dosed at 100mg, and vitamin C at 1,000mg. I like that they offer a 60-day money-back guarantee. But the product page feels too "sales-y". Plus, this product mentions nothing about purity and safety.
IVIM Supplements
IVIM sells expensive liposomal quercetin. $99 for 30 servings, and virtually zero information about the product or the company's manufacturing process.
Inbound Nature
This is one of the products that didn't make the list due to lacking testing data but otherwise looks good. It contains a high dose of 400mg of quercetin, but also 1000IU of vitamin D3, 10mg of elemental zinc citrate, potassium bicarbonate, and other ingredients. Products are made in an HACCP and GMP certified Australian lab. All ingredients are 100% non-GMO and 100% natural. With third-party testing, this could be a good quercetin complex.
MicroIngredients – Advanced Quercetin with D3 and Zinc
For immune health, and overall wellness, MicroIngredients' Advanced Quercetin with D3 and Zinc could be a good product. The primary issue is that the quercetin is in a poorly absorbed form, so you'd mostly be paying for the other ingredients. Because of the added D3 and zinc, you cannot just consume more to compensate for the lower dose.
What is Quercetin?
Quercetin is a bioflavonoid, anti-inflammatory, and antioxidant naturally occurring in produce and spices. Flavonoids are a subclass of polyphenols. These phytochemicals give food vibrant colors. Flavonoids are known to support immunity, neurological health, prevent neurodegeneration, and protect against disease.
Emerging research has positioned it as a promising anti-aging supplement.
Quercetin comes in several forms (ordered by bioavailability):
Liposome
Phytosome
Glycosides
Rutin
Certain foods contain more quercetin than others.
Natural food sources
Tons of foods contain quercetin.
Natural sources of quercetin include:
| Food | Preparation | Quercetin Content (mg) |
| --- | --- | --- |
| Capers | Raw | 233.84 |
| Peppers, hot, yellow | Raw | 50.73 |
| Onions, red | Raw | 39 |
| Asparagus | Cooked | 15.16 |
| Cranberries | Raw | 14.84 |
| Peppers, hot, green | Raw | 14.7 |
Foods highest in bioavailable quercetin
Onions, peppers, and berries are among the easiest and most widely consumed food sources of quercetin.
These foods also happen to contain high levels of other potent bioactive molecules.
Whether you choose to supplement, these foods support optimal health.
As modern foods have become nutrient depleted, quercetin content has likely declined.
Optimal dose
Your optimal quercetin dose depends on a variety of factors.
Most notably, your goal and the supplement form.
Always check with your healthcare provider before taking new supplements.
Some general recommendations for each form:
Liposomal quercetin: 20mg – 250mg daily
Phytosome quercetin: 25mg – 400mg daily
Normal quercetin: 500mg – 1,000mg daily
Target the lower end to support optimal health, and the upper end as recommended by a professional.
Side effects
As a natural bioflavinoid, quercetin rarely causes complications.
But the potential side effects of quercetin include:
Headaches
Upset stomach
Numbness
Tingling
Nausea
Vomiting
Shortness of breath
Kidney damage
Kidney damage and other serious adverse effects usually come from high doses (1,000+mg of normal quercetin per day) or impure supplements.
I prefer liposomal quercetin for the superior safety profile provided by low dosing.
How to Choose the Right Quercetin Supplement
Unfortunately, there's tremendous variability between quercetin products.
A low-quality supplement is worse than none.
I personally evaluated over 31 quercetin supplements before settling on what I have deemed the best.
When you're evaluating quercetin supplements, these are the factors to consider:
Third-party testing. Supplements undergo little regulation. Manufacturers often make extraordinary but unwarranted claims. For each of their products, quality vendors should proudly display third-party laboratory test results.
Bioavailability. Certain forms of nutrients are not absorbed well by the body. Avoid vendors that do not mention quercetin's bioavailability problem. You'll excrete them before they exert any benefits. For general health, you'll want the most absorbable ingredient form. For quercetin, that's liposomal and phytosomal.
Vendor. Some vendors have built reputations for themselves by consistently delivering high-quality, effective products. Assuming they pass the first two criteria, you can trust these companies.
Product type. Certain ingredients are better absorbed via liquid, soft gel, or another delivery method. Generally, powders and capsules are the least bioavailable. Tinctures, liposomes, and phytosomes are among the most.
Additives. Supplements must pass basic regulatory requirements. Including shelf stability. Some companies add excipients, flow regulators, binders, and other additives to either extend the product's life or to cut costs.
Price. Since quercetin is not a primary nutrient, the cost per dose makes a huge difference.
Health Benefits of Quercetin Supplements
Quercetin has amassed a large body of clinical research.
As this 2021 research paper summarizes,
"Quercetin has been extensively studied for its anti-diabetic, anti-hypertensive, anti-Alzheimer's disease, anti-arthritic, anti-influenza virus, anti-microbial infection, anti-aging, autophagy-regulating, and cardiovascular protective effects."
The core health benefits of quercetin fall into several categories:
Unfortunately, most studies have occurred cell culture or animals. We're still awaiting proper human clinical trials to corroborate the promising initial results.
Nonetheless, these mechanisms might explain claims that quercetin improves:
Sleep quality
Cardiovascular health
Respiratory health
Neurodegenerative conditions
Fat oxidation
Blood glucose
Chemotherapy outcomes
Uric acid concentrations
Heart rate
Endurance capacity
Let's explore some of the most promising frontiers of quercetin science.
Extends lifespan
Newer research is showing that quercetin has the potential to increase both lifespan and the quality of those years (healthspan).
One 2017 human study found that quercetin has "anti-aging potential" by improving markers of aging.
Combining quercetin with another senolytic enhanced health, lower mortality, and extended lifespan in mice.
Another study showed improved cell survivability, lifespan, and viability.
Anti-allergy
Quercetin rebalances the immune system.
The anti-allergy properties have been well-established,
"Plant extract of quercetin is the main ingredient of many potential anti-allergic drugs, supplements and enriched products…"
Multiple different mechanisms make it a powerful allergy reliever.
First, it blocks the body's release of a powerful inflammatory chemical called histamine. Histamine causes characteristic symptoms of an allergy, like sneezing and itching.
This 2020 paper showed efficacy against allergic diseases, such as allergic asthma, allergic rhinitis (AR), and atopic dermatitis (AD).
Histamine intolerance is one of the core reasons people cannot tolerate wine or leftover food. Quercetin helps histamine intolerance by preventing mast cell activation. It rebalances many pathways.
Removes senescent cells
Some cells stop functioning properly but continue consuming nutrients and other resources. Then these cells infect others, causing a chain reaction. This is called cellular senescence.
Quercetin is one of the best senloytic supplements studied to remove senescent cells. One of the most impressive showcases was the recent 2021 study published in the prestigious journal, Nature.
Powerful antioxidant
Oxidative stress and free radicals cause damage to the body's organ systems.
Antioxidants protect cells from damage and help slow the rate of aging (these tests can quantify your "biological age").
Quercetin's strong antioxidant effects (from quality products) have been well-established.
Reduces blood glucose
One of the more surprising findings is that quercetin helps control blood sugar.
This could partially explain how consuming fruits leads to a surprisingly transient blood glucose spike.
A 2019 study showed substantially reduced fasting blood glucose among diabetics taking 500mg of quercetin daily.
This 2019 meta-analysis of animal research found significant blood glucose reducing effects from quercetin doses between 10-50mg per kg.
In fact, in this 2021 analysis, researchers concluded that quercetin warrants inclusion in metabolic syndrome treatments.
Anti-inflammatory
Quercetin is known for its anti-inflammatory effects.
As this research concludes,
"Quercetin is a polyphenol, which is a derivative of plants, and has been shown in vitro as well as in a few animal models to have several potential anti-inflammatory as well as anticarcinogenic applications."
Quercetin can also block inflammation occurring from LPS-induced autointoxication.
Though most research has focused on its ability to control disease-related inflammation, it likely acutely blocks inflammation too.
Zinc booster
Quercetin made headlines as doctors began advocating its use to prevent widespread respiratory disease. It acts as a zinc ionophore, helping zinc more easily enter cells and slow down viral replication.
This activity can be especially useful to replete cases of zinc deficiency. Combined with vitamin C, quercetin has become a staple for cold and flu season.
Heart health
Quercetin benefits your heart in multiple ways.
Ample research backs flavonoids in improving blood flow, atherosclerosis, and reduced risk of heart disease and stroke.
Epidemiological research suggests that antioxidants lower both cholesterol and blood pressure.
Finally, the mitochondria-rich heart produces a lot of energy. Producing energy generates damaging oxidative stress. Quercetin's anti-inflammatory actions protect the heart.
Skin
Polyphenols like quercetin are anti-inflammatories and antioxidants.
These help reverse the symptoms of aging and the skin damage caused by our modern chemical-laden environment. That's why quercetin is showing great potential to treat chronic skin conditions without resorting to harmful prescription drugs.
Energy & endurance booster
Quercetin may have a slight but positive effect on athleticism.
Its circulation-promoting properties make it an ingredient found in some fitness supplements.
A small study showed that quercetin slightly increases exercise endurance.
Another larger 2013 study of 60 students found more impressive results. Supplementing quercetin improved lean body mass, hydration levels, metabolic rate, and total calories burned.
Pain relief
Quercetin can help alleviate pain associated with chronic conditions.
Due to its anti-inflammatory properties, people report improvements with rheumatoid arthritis (RA), urinary tract infections (UTI), autoimmunity, neuropathy, and prostate issues.
Anti-cancer
Early research on the link between quercetin and cancer shows promise.
So far, in-vitro studies have only occurred in animal models. We hope that it carries over to humans.
Antioxidant-rich diets are correlated with a lower incidence of cancer.
Human trials of quercetin show "promising results" in prostate cancer.
Quercetin may help shrink tumor size in mice.
By activating the AMPK pathway, quercetin "displays potent inhibition on bladder cancer cells".
The Most Bioavailable Quercetin Supplements
Fruits, vegetables, herbs, and spices contain potent biomolecules that can radically improve human health.
Quercetin is one such phytochemical.
Initial cell culture research showed tremendous potential:
Inflammation reduction
Cardiovascular health
Senescent-cell removal
Lifespan extension
Immune system modulation
Allergy relief
Neuroprotection
And much more.
But the results didn't hold up when dosed on animals and humans.
Why?
Researchers used poorly absorbed forms of quercetin.
Liposomal or phytosomal quercetin overcomes the major bioavailability challenge. Delivering the molecule into the bloodstream where it benefits health.
For some reason, quality quercetin supplements are hard to find. Only a few companies produce third-party lab-verified, high-absorption, quality quercetin.
I personally prefer Renue By Science, but Thorne and a few of the others on this list make effective products too.
Is quercetin in your longevity supplement stack? Why or why not? Let's make this a discussion in the comments below!