When just 1 out of 7,000-15,000 healthy cells becomes senescent, you begin to age faster.
A new class of ingredients promises you an extra 5-10 years of prime living "healthspan" by eliminating these rogue cells.
Preliminary animal trials have shown this special new class of anti-aging molecules, called senolytics, may work as hoped. If so, senolytics will become integral to the future of healthcare and disease prevention. Likely a household name.
Biotech startups are scrambling to discover the ultimate patentable senolytic drugs, and complexes.
But here's the thing…
There's generally a ~15-20 year lag between promising clinical research, and widely available commercial products.
A few companies, however, keep up with the latest science. They've already formulated senolytic complexes to help us manage cellular senescence.
In this post, we will review the best senolytic supplements to rid your body of damaged "zombie" cells, the current state of the science, and how to use them properly.
Affiliate Disclosure: This post may contain affiliate links, which means I get a small commission if you buy (at no cost to you). Thanks for your support!
The Top Senolytic Supplement Complexes
Many of the best longevity supplements have senolytic properties.
Yet the best senolytic products contain multiple ingredients (a "complex") because senescent cells are hard to kill.
According to researchers…
"It is even more difficult to selectively kill senescent cells than to kill cancer cells."

Anti-aging: senolytics or gerostatics (unconventional view)
Like beating antibiotic-resistant bacteria, a multi-pronged approach works best. Each senolytic works on different pathways, and impacts different biological systems.
Most people are best served by senolytic formulas that contain synergistic ingredients to deliver the broadest-spectrum results with the least side effects.
When evaluating these products, I consider:
Price
Absorption
Ingredient synergy
Purity and safety
Brand reputation
After all, products that you rapidly excrete or contain heavy metals and other contaminants will do more harm than good.
These are currently the only senolytic complexes I would consider.
Best Overall: Renue By Science ACTIVATOR
Overview
Dosages: Liposomal Quercetin – 77 mg, Liposomal Fisetin – 35 mg, Liposomal Spermidine – 3 mg
Other Ingredients: Vegetable Cellulose Capsule, Sunflower Lecithin, Rice Flour, Cellulose
Lab Verified: Yes
Servings: 60
Suggested Protocol: 1-2 capsules per day
Manufactured In: USA
Serving Cost: $1.00
Renue by Science (RBS) is one of the most trusted names in longevity supplements. They use a sustained-release liposomal encapsulation technology that delivers the ingredients into cells (which avoids degradation by the stomach).
ACTIVATOR, the newest product in their arsenal comes out June 25th, 2022, and contains three potent longevity ingredients. All in their optimal forms: quercetin, fisetin, and spermidine.
While this technology costs more and contains smaller doses, it also results in 5-20 fold better bioavailability and effectiveness. All without the liver strain caused by large doses of unabsorbed nutraceuticals.
RBS uses the highest-quality raw ingredients and encapsulates their supplements in a cGMP Certified, FDA-Approved facility. Then tests their final products for both safety and purity. You can find the test results on their website.
This is a great dual-pronged longevity supplement, to increase both senolytic and AMPK activation. Resulting in clean-burning energy and slowed aging.
I use Renue by Science supplements every single day, and will take this during my weekly 24-hour fast.
Use the exclusive code URBAN for 10% off
Premium Complex: Qualia Senolytic
Overview
Dosages: Fisetin – 1,400mg, Quercefit – 750mg, Longvida Optimized Curcumin® Extract – 400mg, Olive Leaf Extract – 250mg, Soybean Seed Extract – 200mg, Luteolin – 150mg, Milk Thistle Seed Extract – 125mg, Piperlongumine – 50mg, Senactiv® – 50mg
Other Ingredients: Hypromellose, Rice Extract, Rice Hulls, Gum Arabic, Sunflower Oil
Lab Verified: Yes
Servings: 2
Suggested Protocol: 6 capsules on two consecutive days
Manufactured In: USA
Serving Cost: $34.50
Neurohacker, the company behind the Qualia line of products, takes a systems approach to biology. They thoroughly research the best way to work with the body's mechanisms, pathways, and systems for best-in-class results.
Qualia Mind was Neurohacker's blockbuster nootropic, and they've since grown a huge following of raving fans and expanded into other health optimization markets.
After years of studying cellular rejuvenation, they just released their senolytic complex. It contains the most comprehensive formulation of cellular health ingredients of any product so far. Each in an optimal form (such as Senactiv® and Quercefit®) for maximum benefits and safety.
This is an all-in-one senolytic, designed to be used on two consecutive days per month.
It's definitely more expensive than the others. Part of that cost goes to Neurohacker's research. They sponsor clinical trials to prove that their products exceed claims.
If you have the budget for the absolute best complex, Qualia Senolytic is my choice.
Use the exclusive code URBAN to save
Best Value: Life Extension Senolytic Activator
Overview
Dosages: Bio-Fisetin – 312mg, Theaflavins – 275mg, Bio-Quercetin – 74mg, Apigenin – 50mg
Other Ingredients: Vegetable Cellulose, Sunflower Lecithin, Silica, Vegetable Stearate
Lab Verified: Yes
Servings: 12
Suggested Protocol: 3 capsules once weekly
Manufactured In: USA
Serving Cost: $1.63
I like Life Extension because their internal Science team comes up with great formulations at reasonable costs. You get both the quality control and the economies of scale pricing of a large manfacturer.
Their Senolytic Activator was among the first complexes to market, yet still has a solid ingredient profile supported by modern research. This includes black tea theaflavins, optimized forms of the bioflavonoids quercetin and fisetin, and also apigenin. Instead of liposomes, they encase their fisetin and quercetin in a phytosome sphere. Which also increases bioavailability.
Since each serving consists of three capsules, the cost per serving comes out to about $1.63. They recommend taking the full serving just once per week, so it's not unreasonably priced. Life Extension tests for purity and safety, and you can check their CoA on their website.
At the time of this writing, 227 buyers have rated Life Extension's Senolytic Activator a 4.8-star supplement.
My biggest complaint with Life Extension's products, and most large supplement manufacturers, is that they add fillers to cut production costs.
If you don't mind a few extra fillers and want a time-tested product, Life Extension's Senolytic Activator is a popular choice.
Elysium Health Format Senolytic Complex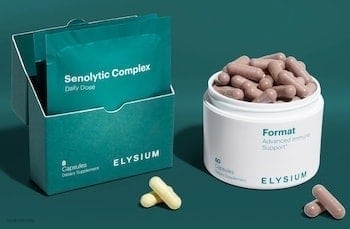 Overview
Dosages: Senolytic Complex – 1,150mg, Free Radical Protection Complex – 400mg, Autophagy Activation Complex – 150mg, Vitamin C – 90mg, Zinc – 5.5mg, Selenium – 27 mcg
Other Ingredients: Hypromellose, Cellulose, Branched Cyclodexterin, Maltodextrin, Arabic Gum, Vegetable Magnesium Stearate, Silica
Lab Verified: Yes
Servings: 30
Suggested Protocol: 2 capsules daily immune, 4 capsules senolytic complex monthly
Manufactured In: USA
Serving Cost: $0.75 – $2.00
Elysium Health is another brand focused on longevity products. They were among the first to popularize the NAD precursor nicotinamide riboside. What sets them apart is their renowned Scientific Advisory Board that shapes future product development.
Format is a two-product combination of daily immune support with a targeted senolytic complex.
Their daily immune contains 30 servings of immune-restoring ingredients like vitamin C, zinc, and selenium. Then free radical protection from elderberry and broccoli sprout extract.
The powerful senolytic complex has just two servings, and consists primarily of fisetin and quercetin, but also Chinese ginseng and chestnut rose.
Elysium recommends taking the immune product daily, and then the full eight-capsule dose of their senolytic complex on two consecutive days.
Format supports, rebalances, and strengthens your immune system on a daily and targeted monthly basis. Your order will last one month.
To get the best value, you'll want to order on subscription which saves you 33 percent.
If you want an all-in-one next-generation immune product to slow aging, and don't mind taking supplements daily, subscribing to Elysium Health's Format is a great deal.
Supersmart Senolytic Complex
Overview
Dosages: Quercetin – 400mg, Bromelin – 200mg, NMN – 10mg, Fisetin – 100mg, Decaffeinated Black Tea Extract – 300mg
Other Ingredients: Acacia Gum, Rice Flour
Lab Verified: Yes
Servings: 30
Suggested Protocol: 3 capsules daily
Manufactured In: USA
Serving Cost: $2.07
Supersmart's senolytic is another one of the older formulas, first hitting the shelves in mid-2019.
This formulation contains a simple stack of longevity supplements. Including the "Quercefit" optimized form of quercetin, fisetin (non-optimal form), bromelain, "Ester C" vitamin C, decaffeinated black tea leaf extract, and a wildly popular NAD+ booster called NMN. Although NMN is notoriously unstable and often breaks down before you receive the supplement. The enzyme bromelain is believed to increase the bioavailability of the formula, and especially quercetin.
Though they produce the formula in the USA, they've translated the label into France and Italian, making this one of the most European-friendly senolytics available. You'll find the CoA for this supplement on their website.
I do have some criticism of Supersmart's Senolytic Complex. First, the three-capsule serving size makes this fairly pricey for what you get, at about $2 per dose. Supersmart also recommends taking the product daily. The doses of key longevity and senolytic ingredients like fisetin and NMN are very low. NMN, for example, is often recommended between 500-1000mg (as opposed to the 10mg in this product).
Since there are so many other great options, I would choose Supersmart's Senolytic Complex only if you live in Europe and don't have other options.
BioTE Senolytic Complex
Overview
Dosages: Fisetin – 70mg, Quercetin – 350mg, trans-Resveratrol – 50mg, trans-Pterostilbene – 50mg, Curcumin – 50mg
Other Ingredients: Hypromellose, Rice Flour, Rice Flour, Magnesium Stearate, Silicon Dioxide
Lab Verified: No
Servings: 30
Suggested Protocol: 1 capsule daily
Manufactured In: Unknown
Serving Cost: $1.50
BioTE Medical makes a very simple senolytic complex that contains several popular longevity ingredients in one product.
Though it contains pterostilbene and resveratrol is the better "trans" forms, the primary senolytics like fisetin and quercetin will not absorb as well since they are neither liposomal nor phytosome.
There are a few other things that I don't love about BioTE Medical's senolytic complex supplement. First, the instructions say to take it every day. Most research supports a pulsing protocol of weekly or monthly dosing. Second, their formulation includes the unnecessary fillers magnesium stearate and silicon dioxide.
Between the low-bioavailability ingredients, and mediocre formulation, I would only recommend this senolytic if it's deeply discounted and you have a tight budget.
What is Cellular Immunosenescence?
Cellular senescence is one of several Hallmarks of Aging in which old dysfunctional cells secrete potent toxins that disrupt nearby cells and cause chronic inflammation. This initiates an "inflammaging" cascade which systematically destroys healthy cells, tissues, and eventually organs.
Cells become senescent due to age, DNA damage, a toxic cellular environment, injury, or many other factors. The cellular process of apoptosis destroys most heavily damaged cells. Most, but not all.
Cells that evade this sometimes get called "zombie cells" because they resist dying, continue consuming resources, make us sicker, and age us faster. You'll see the toxic compounds produced by senescent cells referred to as the senescence-associated secretory phenotype (SASP).
Though senescence occurs naturally as part of everyday living, even slight increases above baseline can harm health.
A class of small molecules called senolytics helps rid the body of senescent cells. Preclinical research suggests that they slow or even reverse many tenants of biological aging. While many ingredients have senolytic properties, a multi-pronged approach most effectively and broadly targets senescent cells.
Senolytics have become a major focus of anti-aging research and funding over the last few years.
How to use and dose senolytics
As you'd expect on the cutting-edge, researchers still debate the best senolytic treatment regimen.
Some argue for frequent senolytic use (daily), but most research favors intermittent dosing (weekly or monthly).
One study summarizes this nicely,
"…our data suggest that [senolytic cell]-reducing interventions need not entail continuous treatment; rather, intermittent treatments may provide substantial benefits"

MTOR regulates the pro-tumorigenic senescence-associated secretory phenotype by promoting IL1A translation
Additionally, weekly or monthly dosing will provide greater safety and also cost less.
Ultimately, the recommended senolytic protocol will depend on the ingredients within your product.
You can take senolytics whenever. I personally space it away from workouts, and when possible, potentiate the effects by taking senolytics during my weekly 24-hour fast.
Other Natural Senolytics, Drugs, Ingredients, & Foods
There are a number of ways to increase senolytic activity.
Drugs, supplements, and ingredients showing promising senolytic activity include:
Fisetin
Quercetin
Piperlongumine
Dasatinib
Myricetin
N-acetyl-cysteine (NAC)
Gamma tocotrienol (a form of vitamin E)
Epigallocatechin-gallate (EGCG)
Certain foods contain trace levels of compounds like piperlongumine, NAC, EGCG, Myricetin, quercetin and fisetin. Things like green tea, onions, pepper, cruciferous veggies, brightly colored produce, and berries.
Dasatinib is one of the original senolytics primarily used as chemotherapy medication. It acts indiscriminately, so it causes far more side effects than something like natural bioflavonoids.
Finally, exciting new research shows that exercise can reduce senolytic cell burden.
The simple way to help clear senescent cells is to consume ample high-quality, clean, organic produce and to engage in regular exercise.
Health Benefits of Senolytic Complexes & Compounds
Scientists today are working to elucidate the full health benefits of senolytics.
Most existing research was performed on animals. This will change as biotech companies get FDA approval to run clinical trials.
To summarize the benefits of senolytics:
Youthful cellular function
Healthy rejuvenation
Systemic body and brain protection
Modulating immunity
You can find more information about the mechanisms and targets underlying current theories of how they work here.
Healthspan & lifespan increase
Most notably, early data indicates that senolytics extend healthy lifespan.
This 2021 research found that it even has restorative effects when given to the elderly,
"senolytics alleviate disease in numerous organs, improve physical function and resilience, and suppress all causes of mortality, even if administered to the aged."
Reducing all-cause mortality translates into longer lifespan. Maintaining physical function and disease resilience equates to healthspan extension.
So far, fisetin shows the most promising results. Feeding old mice fisetin increased their lifespan by almost 10 percent. That's analogous to a 75-year-old human living an extra 7.5 years!
One 2021 paper suggests this occurs due to rapamycin-like mTOR inhibition. Others hypothesize fisetin's life-extending properties stem from it activating many of the same cellular pathways as caloric restriction (widely considered the gold standard of increasing lifespan).
Physical repair & rejuvenation
Some evidence suggests that this class of compounds can help mitigate frailty and slow the typical bodily degeneration associated with aging.
They may improve physical function and alleviate disease throughout the body.
Possibly due to their inflammation-reducing effects.
Systemic protection
Early trials of senolytics find that they protect the body against a wide range of degenerative conditions,
"…senolytics delay, prevent or alleviate frailty, cancers and cardiovascular, neuropsychiatric, liver, kidney, musculoskeletal, lung, eye, haematological, metabolic and skin disorders as well as complications of organ transplantation, radiation and cancer treatment."

Senolytic drugs: from discovery to translation
As the researchers put it, senolytics could "transform geriatric medicine by enabling prevention or treatment of multiple diseases and functional deficits in parallel, instead of one at a time".
Cognitive function
Recent research has highlighted a potential role for senolytics in ameliorating cognitive issues.
Treatment reduces neuroinflammation, alleviates amyloid-beta plaques, and improves cognition in mice with Alzheimer's Disease.
Senolytics also seem to benefit stroke-induced brain injuries.
As Dr. Suzanne Turner mentioned when I interviewed her on the Mind Body Peak Performance Podcast, anything that reduces oxidative burden in the brain will also improve neuro performance.
Safety of Senolytics
The emerging field of senotherapeutics still needs human safety data.
Stacks of these ingredients in high doses just haven't been reliably studied to determine potential risks and side effects. More so with repurposed agents use like the chemotherapeutic drug Dasatinib.
We're still a long way from knowing the primary mechanisms of how these compounds work. Scientists have not yet established standard guidelines around dosages, timing, and optimal route of administration.
I expect that in the coming years we will see a tremendous boom in the field. Right now, I'm sticking to senolytics like fisetin and quercetin. In reasonable doses and occasional frequency, these should prove much safer than repurposed medications.
Senolytic Supplements Questions & Answers
As attention to this new class of longevity supplements mounts, so do the questions.
What are the best senolytic supplement ingredients?
Fisetin, Panax notoginseng, Piperlongumine, black tea theaflavins, and a bioavailable form of quercetin are considered the most powerful yet safe senolytics.
How often should you take senolytics?
The current scientific consensus is that senolytics are best used in pulses. Either weekly, biweekly, or monthly.
Can I take senolytic supplements and work out?
Senolytics: The Frontier of Anti-Aging Medicine?
We're in the golden era of longevity medicine.
Investors are throwing money into promising new therapeutic categories.
Experts predict that we're nearing the cusp of preventing—or possibly even reversing—biological age.
Senolytic Therapy addresses one of the known Hallmarks of Aging and preliminary research in animals looks promising:
Increases lifespan and healthspan
Protects multiple organs systems against disease
Restores optimal function
Prevents age-related decline and frailty
Today, it's shaping up as a broad-spectrum defense against aging. In a decade, it could very well be a household term.
I ran my DNA through a special tool called SelfDecode which generated a longevity report complete with recommendations and action items. It highlighted my need for more antioxidants. Senolytics will likely work great for me.
Although the best senotherapeutics are probably yet to be discovered, I'm optimistic about what will come to market.
You can make your own senolytic complex with powerful and natural ingredients like fisetin, quercetin, apigenin, theaflavins, piperlongumine, and green tea extract.
Or get one of the above expertly formulated products. These capitalize on ingredient synergies for stronger effects and fewer side effects.
Do you take any senolytics? Am I missing any? Let me know your experience below!