"Light works as if it's a drug."
Anti-aging researchers, neuroscientists, and peak performers use special gadgets to look, feel, and perform at our peak.
One technology in particular is so strong that some scientists suggest we consider it equivalent to drugs. Unlike drugs, however, the right light helps the body regenerate, balances hormones, and increases the body's vibrancy.
Researchers speculate that light therapy gives athletes such an "unfair advantage" that it should be banned,
"It must be noted if the use of PBM becomes widespread in high level sports competitions, especially before major National or International competitions, or during athletic training, it is possible that the World Anti-Doping Agency (WADA) or the International Olympic Committee (IOC) will need to discuss the position they will take on whether PBM will be allowed or not."

Photobiomodulation in human muscle tissue: an advantage in sports performance?
You can avoid the $140,000 price tag for the state-of-the-art NovoTHOR machine and still get great results.
I've tried nine different devices, from the biggest companies in red light therapy, to small no-name Amazon products.
I even built my own (which was a major headache and cost about the same). I've tested them all. One company called Luminousred stands above the rest for:
Maximum power
Greatest value
Cutting-edge technology
In today's post I am reviewing the Luminousred Model 2 Pro, the best overall red light therapy product on the market. This guide covers the basics of photobiomodulation (PBM), some key benefits of red light, my personal experience, and everything you should know about buying professional-grade at-home red light therapy panels.
In a hurry? Check it out here:
Use the exclusive Luminousred coupon code URBAN for $20 off all panels.
What is Luminousred?
Luminousred is the fastest-growing light therapy brand for good reason — their products work. In a market flooded with scams, deceptive marketing, and blatant lies, transparency stands out. Two PhD researchers created their first panel to solve personal health concerns. Then in 2019, they made this pioneering red light technology available to the masses.
You can listen to my interview with the two founders on the Mind Body Peak Performance Podcast via any podcast player. Or here:
Every product, from their beginner option all the way to the highest-powered clinical mega panel all contain the same features. The main differences are power and size.
Luminousred Panel Hardware Specs
| | Model 1 Pro | Model 2 Pro | Model 1+2 Pro | Model 2+2 Pro | Model 1+2 Duo | Model 2+2 Duo |
| --- | --- | --- | --- | --- | --- | --- |
| LEDs | 120 | 240 | 360 | 480 | 720 | 960 |
| Power Output | 360W | 720W | 1080W | 1440W | 2160W | 2880W |
| Coverage | Spot | Half-body | Full-body (for tall) | Full-body | Full-body (broader) | Full-body front & back, or share with partner |
| Size | 12″ x 8″ 5 lbs | 25″ x 9″ 15.2 lbs | 38″ x 9″ 23 lbs | 50″ x 9″ 29 lbs | 38″ x 18″ 46 lbs | 50″ x 18″ 57.8 lbs |
| Power Input | 100-240V | 100-240V | 100-240V | 100-240V | 100-240V | 120-240V |
| Irradiance (Laser) | >100mw/cm²@0″ | >100mw/cm²@0″ | >100mw/cm²@0″ | >100mw/cm²@0″ | >100mw/cm²@0″ | >100mw/cm²@0″ |
| EMF | 0.0uT@6″ | 0.0uT@6″ | 0.0uT@6″ | 0.0uT@6″ | 0.0uT@6″ | 0.0uT@6″ |
| Wavelengths | 650nm & 850nm | 650nm & 850nm | 650nm & 850nm | 650nm & 850nm | 650nm & 850nm | 650nm & 850nm |
| Price | $599 | $799 | $1,189 | $1,389 | $2,160 | $2,569 |
Luminousred Device Model Full Comparison
Most companies measure the light output (irradiance) of their products with solar power meters. Solar power meters overestimate light power. Luminousred uses highly accurate laser measurement instead of solar power. Resulting in stronger products.
Pro tip: ask light vendors if they calculated irradiance with a solar power meter or laser.
By now you might be wondering. Compared to other light products…
How is Luminousred so cheap?
Their advantage comes from adopting a lean business structure, prioritizing R&D, and word-of-mouth marketing (over pricey advertising). That's how they sell higher-quality panels at half the price of popular competitors.
Perhaps the secret to their rapid growth, all employees on the Luminousred team own and use their panels daily.
Unique Features of LuminousRed Devices
The technology powering Luminousred panels speaks for itself. Few competitors offer something similar, and none at a similar price.
These are several of my favorite features.
Special Dual LEDs
Luminousred uses one-of-a-kind LED technology. Ultimately, this is why I chose them. Their LEDs have three distinct advantages:
Dual LEDs are a lighting technology of the future. With red light therapy, even light coverage can make or break benefits. You'll notice that entire sections of most panels sometimes look like they're turned off. Dual LEDs use the panel's full power for either red, near infrared, or both. Getting you maximal light absorption.
30-degree (light) beam angle provides best results. With beam angle, there's a tradeoff between power and breadth. Think laser pointer versus floodlight. Too broad of a light angle loses power, while too narrow sacrifices the size of the treatment area. 30-degrees is the ideal balance between intensity and coverage.
High-quality light. LEDs work by flickering on and off at a rate imperceivable to the naked eye. As I wrote about in my guide to healthy lighting, this constant flickering can deeply stress your nervous system. Luminousred LEDs are zero-flicker, and have an impressive 50,000+ hour life expectancy.
Superbrain
The "brain" is a feature that enables you to link Luminousred products together. This has two great advantages:
Start on a budget with the basic Model 1. Only upgrade to their Model 2 Pro (or higher) once you feel the power and fall in love with proper RLT.
Technology advances fast, if you choose to spring for the latest and greatest, you can chain your old products together to build the ultimate red light setup. Your current panel won't become obsolete junk.
On the off chance that you need a part repaired, the brain design allows you to continue enjoying the working light modules while you disconnect and send in only the modules needing repair. More red light, less downtime.
Ethical Company
I researched red light therapy to understand the science well enough to build my own panel. I bought the light testing meters, and couldn't understand how certain companies scored so highly given the raw materials I could find. Only later did I realize the widespread deceit.
I lost faith in manufacturers, so when these founders offered to hop on a call and answer any questions, I took them up on it. After thorough grilling, they assured me that if I didn't like the product that they'd make it right.
As you'd expect, Luminousred vigorously tests its products. I verified this with the founders themselves and also talked to third parties that have their own popular red light products. Luminousred got top marks in terms of transparency, power, and safety. Every panel is:
Zero EMF
RoHS compliant
FDA approved
CE certified
Luminousred puts customers first. They're building a community of red light fans and users. Anyone's welcome to join — customer or not.
I've joined the community and supported their work by purchasing a Model 2 Pro.
Unboxing & Initial Impressions
I ordered my panel during the peak of COVID supply chain disruptions, so my shipment took 9 days to arrive — considerably longer than usual.
The box was larger and heavier than I expected. After unwrapping the protective layers, the build quality surpassed my expectations. You won't find the same level of quality control and meticulous engineering in the many knockoff Chinese devices listed on Alibaba.
What Comes in the Box?
Luminousred light therapy panel
AC adapter power cord
Wall mount
Adjustable mount
Instruction manual
Safety goggles (optional)
My First Use
I put all new products through a simple ease-of-use test.
If I figure out how to use the product without reading the directions, it's intuitive. If I need an instruction manual, it fails. Though I didn't figure out all the mounting options immediately, my Model 2 Pro passed the general usability test.
From box-in-hand to basking in red light took just over 4-minutes.
There are three switches on my Model 2 Pro:
Master power (M)
Red/infrared switch (1)
Red/infrared switch (2)
To use the panel I hit the master on switch, and flipped both to red.
Noise-wise, the fans that keep the LEDs cool are quiet. Especially considering the power. Operating at full capacity, it's about as loud as my MacBook Pro overloaded with 50 Chrome tabs open.
At first, the lights look far brighter than I expected. I took three sessions to get accustomed to it.
How I Use my Model 2 Pro
Red light therapy has all kinds of uses. From enhancing recovery to balancing blue light exposure (for best results combine with special IrisTech computer software). This gadget fits into just about any schedule.
My favorite times to use red light therapy throughout the day (or night) are as follows:
Early morning when I can't sun gaze, to simulate natural light exposure.
~45 minutes before a workout in conjunction with my homemade pre-workout drink to warm up my body, boost energy, increase blood flow, and enhance pain tolerance.
Immediately post-workout for faster recovery, greater muscle-building, stronger connective tissue, and enhanced mobility.
Before sleep to improve sleep quality and duration, while also reducing the number of times I wake up throughout the night.
The Model 2 Pro easily covers about half the body. From head to hip. If I hurt myself, feel an injury developing, or want to heal a wound faster, I'll give the body part a higher dose of red (a practice called spot targeting). I've used red light on wounds several times and noticed that I heal slightly faster. If you're just looking for high-powered spot targeting, Luminousred offers the even more affordable Model 1 Pro.
Red light therapy stacks nicely with cold thermogenesis. See this video to learn more about how the synergy works:
I prefer to get my 15-30 minute session before workouts. But most of the benefits persist no matter what time you use it. You do not need to wear goggles for red light therapy. But if the light is too intense, I would wear them.
So what do I feel?
About 10 minutes into every session I noticeably relax. No matter how much stress I've carried throughout the day. My mood lifts gently. Whether it's the red light specifically, or just taking time to relax, by the time I get back to my day, I feel a calm clarity. I can't definitively rule out placebo, but it seems to help.
When starting any new protocol, always start with a small test. Begin by exposing only a small patch of skin to the light for a few minutes to see how your skin reacts. Virtually no one has reactions, but high-powered red light can take some adjustment.
Speaking of, try to resist the number one temptation of newbies…
More light is better — up until a point.
Light therapy has a "biphasic dose-response", meaning that benefits are parabolic. Your sweet spot is somewhere between the two extremes.
This is purely precautionary.
One of the world's premier RLT researchers says,
"There's no real upper limit to red light dosing and the little research on it grossly overstates the danger."

Dr Michael Hamblin
What I Love About Luminousred
I've used my panel just about daily for six months now. It has been one of few biohacking tools that's met my expectations thus far. It's not perfect (as discussed below), but here are some of my first-hand observations:
Custom timer feature is handy and, in my opinion, should become standard on all panels. In order to turn on the panel, you must first input a treatment time (press "T"). It starts at 10 minutes, and increments one minute for every click. No need to jot down treatment start and stop time, or set an iPhone alarm.
Certified safe between the low-EMF, zero-flicker, FDA-approval, CE certification, and RoHS certification. I live by the "first do no harm" principle. Why pay for a device that potentially does damage than good? With Luminousred I'm able to silence that doubt.
Ease of use matters, especially if others will use your setup. Though I figured it out button-mashing, I want guests to have an equally easy time using the machine. Without a background in electrical engineering and circuits. So far, it's passed every guests' usability test.
Generous warranty protects you if anything breaks within two years of your purchase. Anything at all. I haven't needed to claim warranty repairs, but I know the founders would honor it. In case something does break, the modular design would allow me to send only the problematic part back (instead of the entire unit).
Large treatment area paired with optimal light emittance (beam) angle gives the greatest value of anything I've come across. The greatest systemic benefits come from full-body exposure. My Luminousred Model 2 covers most of my 6'3″ body.
Great build quality exceeded my expectations, considering their products come from China. Whoever supplies them does it right. These panels feel heavy, solid, and sturdy. No cheap casings, flimsy buttons, or inadequately powered ventilation (all common Alibaba defects). Most importantly, the power matches their specifications (unlike many popular panels).
Luminousred research database is available to customers and any website visitors. Here you'll find summaries of 4,000+ studies on light. This team is leading education on the powers of light. Rest assured that the inventors of your product know what they're doing—rather than blindly copying others.
What I'd Like to See Improved
My complaints are not deal-breaking. In future versions of their light therapy kits, and as the company grows, I'd like to see the following:
Shipping time was slower than I expected. Partially due to international shipping, but mostly due to fragile supply chains disrupted by COVID. The process from purchase to enjoying red light took 9 days. Slow in the days of Amazon same-day (or at least 2-day) delivery.
Treatment time reset is a minor convenience that would save a few seconds every session. I wouldn't need to manually click "T" over and over to get treatment time from 10 minutes to 15-20. Memory of my previous session duration would also make retroactive logging easier.
Button location could be improved. Now it may just be my setup, but when I leaned the device against the wall, I'd often accidentally flip the switches off. Since suspending my Model 2 Pro, however, I haven't had this issue at all.
Remember to turn off the panel completely. When the timer runs out, the lights shut off. But you must remember to also flip off the master power switch. Otherwise, the fans continue to run. An easy to forget detail. Sometimes I'd accidentally leave the gadget on for hours only to walk by, hear the fans, and remember to shut it down fully.
Lean teams of few people are double-edged swords. Lower overhead makes products more affordable. Everyone involved is deeply committed to light therapy. And it radiates through everything Luminousred does. But at the same time, little website glitches can make accessing research and other resources difficult. If you run into any issues, reach out to their Support Team and they'll help you out.
The Benefits of Red Light (Why I Use it Daily)
"We know today that man, essentially, is a being of light."

Dr. Fritz Albert Popp
Light does more than help us see.
A 2017 study found that your body contains two energy sources:
Bioelectrons are the generally accepted and most prevalent form of energy. Biophotons, however, are a form of light created by the body itself. Far weaker than your eye can detect, but nonetheless present
Knowing this, it should come as no surprise that light is a key nutrient we need to thrive. LR made this great summary on the key benefits of red light:

I get exposed to a ton of blue light. I do my best to balance it with natural red light from watching the sunrise and/or sunset (a practice called sun-gazing). But I'm on my computer all day. I need even more red.
Red light is a form of concentrated natural light. Red helps turbocharge your mitochondrial fuel factories. Powerful mitochondria fuel your body with energy so that you look and feel your best.
The uses and benefits of red light therapy:
Offset time indoors
Hormonal boost
Anti-inflammatory
Uplifts mood
Sleep enhancement
Stimulates connective-tissue building collagen synthesis and helps rebuild cartilage.
Quells brain fog
Faster muscle building
Convenient alternative to sun gazing
Rebalances "survival energy center"
Reduces pain
For an in-depth exploration of the other reasons to use RLT, check out this article by Alex Fergus called 36 Powerful Red Light Therapy Benefits.
That said…
Verdict: Should You Buy A Luminousred Light Therapy Kit?
"…think of red light as a powerful compound pharmacy"

Dr Jack Kruse
Red light therapy is no magic pill.
You won't feel effects like the Limitless nootropic. You won't build a six-pack without any work. And your wounds certainly won't heal like the X-Men Wolverine.
If budget is low, I always recommend getting tons of natural light exposure before splurging on expensive technology.
Spend money on health-critical purchases first.
Get high-quality food, some form of self-quantification device, fitness gear, and address chronic stress. Only then—or if money is no issue—would I buy a light therapy kit.
For most people, the effects of red light are subtle. You might not feel or see a difference immediately—depending on your goals. I felt immediate mood improvements. But for me, noticeably enhanced hair growth took 3 months of daily use.
The sad truth is that light therapy is still a bit like the Wild West. Companies make bold claims with little oversight into the efficacy or truth of their claims.
Unless you have $60,000-150,000 to blow, the world's best devices (NovoTHOR pod and LightStim bed) are out of the question. Looking for the best power-to-value panels? I like Luminousred.
Use the exclusive coupon code URBAN for $20 off all panel.
And if you have another ~$150 to spend, you can upgrade to the ultimate setup by stacking your new panel with a homemade near infrared sauna.
Luminousred Model 2 Pro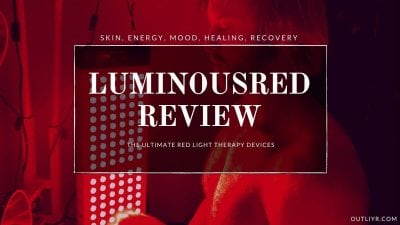 I've tested tons & Luminousred makes some of the top red light therapy devices. This unbiased review explains why these panels are best for power, value & results.
Product Brand: Luminousred