Have you ever needed a quick mental and physical boost for an important day?
There are all kinds of lifestyle factors to increase performance. But they're a hassle and take time.
People turn to Adderall for a wide variety of reasons. Some take it without a prescription to enhance performance. Others take it as intended for conditions like ADD, ADHD, and narcolepsy. This post focuses on the former.
You might not know, however, that little scientific evidence supports it for cognitive enhancement. Certain legal, over-the-counter alternatives to Adderall actually work better to enhance cognition.
Nootropic supplements can improve your brain. From memory to energy, drive, willpower, and clarity.
Click To Tweet
The right ingredients can help you:
Sustain focus
Lose weight
Boost physical energy
Increase productivity
Greater motivation
Enhanced mental energy
Over the years I've tested over 139 different ingredients, blends, and brain boosting supplements. Some work great, but most I don't feel at all. If you're looking for pronounced effects—to gain an edge—the below products will provide exactly that. In today's post, I'll help you weed through the minefield of ineffective nootropics with my top off-label Adderall alternatives for energy, focus, studying, and productivity.
Note: legality of nootropics varies by locale. Please research your local regulations. Nootropics are not a replacement for prescription medication. The following is not medical advice but rather for information purposes only. Always talk to your doctor before modifying your current lifestyle practices.
How Adderall Works
Adderall is an amphetamine-based central nervous system stimulant. It is a mix of amphetamine salts and dextroamphetamine. The US FDA has classified it as a Schedule II drug. Meaning it is often abused and addictive. This psychostimulant works through multiple mechanisms.
First, by stimulating the release of the neurotransmitter norepinephrine, noradrenaline, and adrenaline. Adderall also blocks special molecular transporters, proteins, and enzymes responsible for breaking down dopamine and noradrenaline. Finally, it increases brain dopamine levels. Use causes the classic stimulant effects:
Elevated heart rate
Increased blood flow to muscles
Constricted blood vessels
Increased heart pump volume
These positive effects come at a cost. Especially when abused for studying, or performance.
Adderall Side Effects
When used for off-label purposes (such as cognitive enhancement), Adderall carries risk. Though serious side effects are rare, a website called SelfHacked lists the common drawbacks of unnecessary use:
16 serious side effects
7 common side effects
Chief among those side effects are cardiovascular health complications and social behavior. Remember that self-perceived social life is one of the greatest overall health predictors.
Athletes should pay special attention, as it can mask serious symptoms of hyperthermia and lead to life-threatening hospitalization.
Also concerning is that prolonged use causes deltaFosB to buildup in the brain. Elevated deltaFosB makes the brain resistant to dopamine and could lead to long-term problems with motivation, drive, and reward.
Regardless of whether or not used with a prescription, research shows a high risk of addiction, dependence, and withdrawal.
Today, neurohackers, biohackers, and those looking to get more out of their brain have turned elsewhere. If you're looking to enhance your brain safely, I suggest researching the following nootropic Adderall alternatives.
Best Overall Nootropic Adderall Alternative: Nootopia
BiOptimizers has the lowest refund rate in the supplement industry. That's because their products just work. In 2021, they hired one of the world's greatest supplement formulators and launched their nootropic line called Nootopia. Nootopia has honed its base blends for longer than most nootropics companies have been in business.
Answer a short survey on your preferences, lifestyle, and goals for using nootropics, and you receive a customized blend of nootropics tuned to your unique neurochemistry. Nootopia leaves no stone unturned. Each formulation contains the highest-quality forms of the most potent ingredients, with your ideal dosage.
Your box comes with nine different products, with dozens of ways to combine them for greater effects. This isn't one of those brain supplements that you wonder whether it works. Due to their unique delivery technologies, I feel some of them within a few minutes.
Nootopia also has patented its own exotic ingredients. One of these is the "Omnipept" family. A specially synthesized mix of racetams and adaptogens.
I've found that my Nootopia nootropics last longer than the others, with smoother effects, and less "come down". Best of all, Nootopia increases your baseline cognitive performance, so that the benefits stick even when you stop consuming their product.
Every order comes with complimentary access to their Health Optimization course, and the Brilliant Mind Blueprint. Whether you're a seasoned veteran or an absolute beginner, the training materials will help you get more out of any nootropic product you use in the future.
Since Nootopia is more expensive than most nootropics, I keep a secret stash in my pantry for the days I need to be on my A-game, for 12+ hours.
Use Nootopia code URBAN to save 10%
Personalized Nootropic Adderall Alternative: Thesis
I sought out a supplement to increase:
Motivation and willpower
Memory
Mental clarity
Energy
Focus
And I found my answer (see my full Take Thesis review to understand why it's my top nootropic choice).
Thesis (previously FindMyFormula), has one of the world's largest database of nootropics and their effects. Over the years they've collected millions of data points, All that data makes them uniquely qualified to produce custom-tailored brain-enhancing formulas based on your unique neurochemistry. You take a short quiz, and then their algorithm scans through a database of hundreds of ingredients. You're shipped a starter kit containing several different products. Each blend features powerful synergistic ingredients with the highest likelihood of increasing your physical and mental performance.
Thesis uses several classes of ingredients:
Adaptogens
Vitamins
Peptides
Choline sources
Racetams
Follow their simple instructions, and you'll quickly narrow down your ideal formula. My favorite formulas include:
Though I regularly hear rave reviews of their other products like Clarity and Motivation. When I have a big day and know that I'll need a boost, Thesis delivers better than any legal, over-the-counter product.
Save 15% using the exclusive Thesis coupon code URBAN
Most Popular Nootropic Alternative: Qualia Mind
Qualia Mind is arguably the biggest name in cognitive-enhancing supplements. With nearly 500 reviews on their website alone. It is a precisely dosed blend of vitamins, minerals, antioxidants, adaptogens, and brain-optimizing ingredients.
Before marketing their products, the team behind Qualia had already logged thousands of hours of research, hundreds of re-formulations, and daily self-experimentation.
Once they had crafted a perfect formula, Qualia proved it with clinical research. One study showed found dramatic improvements after five days of use:
85.4% increase in concentration
34% increase in planning skills
31.1% increased ability to visualize objects
16.9% increased verbal reasoning
13.3% increased verbal short-term memory
Unlike most studies, however, these participants were already healthy. Few other companies, aside from Thesis & Nootopia, could achieve the same results.
Key to Qualia's success is that their product works in two ways:
Quenching deficiencies that commonly slow down your brain
Enhancing function with a wide variety of impressive compounds
Given the mechanisms of action, Qualia continues to work even after you stop taking it. Serious biohackers usually have a bottle of Qualia Mind nearby. Though they recommend a seven capsule serving size, I get powerful effects from just two. Plus, the bottle lasts 3.5 times longer.
Use the exclusive Qualia coupon code URBAN for 15% off
Best Adderall Alternative for Energy: Bromantane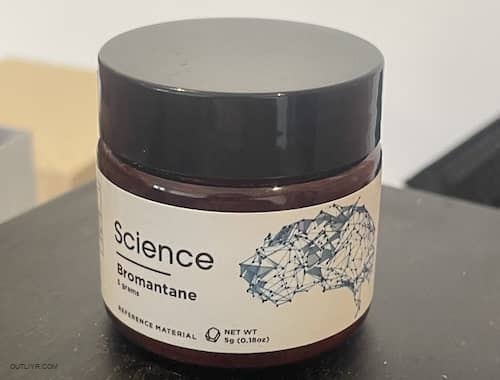 In terms of single ingredients, bromantane is my favorite cognitive enhancement discovery of 2020. I haven't found another supplement that gives the same stimulation, energy boost, and productivity-enhancing effects without destroying the body (and brain). Bromantane is a special category of man-made adaptogen (called an "actoprotector"). As an actoprotector, it enhances the body's resilience against intense mental, physical, emotions, or environmental stress.
What makes bromantane especially interesting, however, is that bromantane is not considered addictive and without serious side effects (according to the current research).
Though I only recently discovered bromantane, it has been used in Russia since the 1980s. The benefits of bromantane include:
Bromantane is believed to work by increasing dopamine formation.
Note that bromantane is so powerful that it is banned by WADA and competitive sports like the Olympics
If I could only take one single ingredient, bromantane is the most useful tool in my current arsenal.
April 2023 Update: Science bio has re-opened! After shutting down for a year, the shop is back with the same high-quality, best-in-class ingredients.
Top Adderall Alternative for Focus: Modafinil Analogs

Modafinil itself is the gold-standard prescription drug biohackers use to increase productivity and performance without subjecting their bodies to amphetamines. In the movie Limitless, protagonist Bradley Cooper uses a drug that unlocks the functionality of his brain. He becomes superhuman. Some classify modafinil as the closest thing humanity has to the Limitless drug.
Effects of a single Modafinil pill include:
Sharpening focus
Improving memory
Boosting energy (physical and mental)
Enhancing motivation
Increasing alertness, attention, and awareness
…and more
All for 12+ hours.
For off-label productivity purposes, modafinil is a great Adderall replacement. Buying modafinil requires a prescription. Some of its molecular cousins, however, turn into modafinil inside the body and are available for purchase on the internet. Generally, these cousin compounds have names that end in -afinil.
Though there isn't as much research behind modafinil analogs, many people swear by them. With some folks claiming better effects than modafinil itself.
Disclaimer: Science Biologics products are not intended for human consumption and are for research purposes only.
Use the Science Bio exclusive promo code URBAN to save 10%
Natural Adderall Alternative: Rhodiola
No herbals or completely natural nootropics compare to the pronounced effects of Adderall. Rhodiola. Of everything I've tried, I'm fond of the effects I feel with the adaptogen Rhodiola.
Its benefits come without much stimulation. Unlike many of the others on this list, Rhodiola supports performance by helping the body return to healthy balance. As with all natural adaptogens, Rhodiola is among the safest options on this list.
Indeed, research supports Rhodiola Rosea's nootropic effects:
Any high-quality supplement will standardize to at least two of the three primary active ingredients:
3% rosavins
1% salidroside
Disclaimer: Science Biologics products are not intended for human consumption and are for research purposes only.
Use the Science Bio exclusive promo code URBAN to save 10%
Natural Adderall Alternative: Functional Botanicals
Another safe and natural combination, lions mane and cordyceps are two different adaptogenic "functional" mushrooms. Research suggests that each has a specialty:
Lions mane for brain health, learning, and stimulating neuronal growth
Cordyceps for energy, resilience, and stimulating blood flow
The Chinese have also used lions mane for millennia to:
Improve memory via increasing BDNF and NGF
Increase focus
Lift mood
Cordyceps has garnered attention for its unique abilities:
CollaGenius is Earth's most potent adaptogenic mushroom extract, containing the equivalent of 1.2 lbs of medicinal (non-hallucinogenic) mushrooms in each serving. This is a potent (but also delicious) natural elixir to boost learning and memory (via BDNF), provide antioxidant support, increase energy, and build healthy connective tissue.
These ingredients also improve immunity and re-balance the body's many systems. I use lions mane in my genius coffee recipe, chaga as a coffee replacement during stimulant tolerance resets, reishi for dinner, and add cordyceps to my homemade pre-workout drink. Together, these are nature's perfect nootropic stack.
Use the exclusive CollaGenius coupon code URBAN for 10% off
Nootropics for Productivity Questions & Answers
Which is the best nootropic supplement alternative to Adderall?
From testing 127+ ingredients and nootropic products, a brand called Nootopia makes the best legal, over-the-counter cognitive supplements that you will actually feel. Read my full Nootopia nootropics review to learn more & get an exclusive deal.
Are there natural Adderall alternatives that work?
Natural and safe Adderall alternatives work well but aren't as powerful. Common examples come from the adaptogen class of supplements and include Rhodiola, Ginseng, Cordyceps, and Lion's Mane.
The Best Nootropics for Energy, Focus, Productivity, and Performance
If you're looking for maximum productivity, the above compounds can help. Whether you have an important high-stakes day, or just want to get more done and become indestructible.
Truth is, recreational Adderall use for studying doesn't improve cognitive performance as much as it seems.
I've tested just about everything out there. If you're looking for the best products, these are your best options:
To boost learning, memory, and cognitive function, I'm currently testing a neuropeptide called Dihexa. You won't find any of these cutting-edge, high-quality supplements on Amazon. See my Science Bio review to learn why I buy virtually all my supplements through this particular vendor.
Where prescription smart drugs come with the inevitable crash, nootropics provide long-term benefits, immediately noticeable effects, and usually without side effects.
What supplements do you use to boost your energy, focus, and life performance?