I got scammed.
$91 wasted on a bulk tub of resveratrol powder. An ingredient dubbed the closest thing we had to the "fountain of youth".
I talked to five trusted resveratrol manufacturers, and sadly this has become the norm. The supplement industry's dirty secret.
Amazon listings are often contaminated, weakly dosed active ingredients, or sometimes completely counterfeit. You never know what you're really consuming.
Where do you turn to for cutting-edge supplements, molecules, and compounds?
With Amazon out of the picture, I began my research.
Months passed, and 9 vendors later, I found my solution.
Now I turn to the world's fastest-growing supplement superstore for:
SARMs
Adaptogens
Metabolics
And great deals on hundreds of other ingredients you won't find elsewhere.
I'm sharing one of the most reliable supplement vendors on the internet. Whether you need natural ingredients, SARMs, nootropics, peptides, or virtually any class of ingredients, they have you covered.
Growing by a dozen new products per week. This post contains a detailed review of Science.bio supplements, what you must know before buying, and an exclusive discount code for you.
April 2023 Update: Science bio has re-opened! After shutting down for a year, the shop is back with the same high-quality, best-in-class ingredients.
What is Science Bio
Science Bio, formerly IRC.bio, has garnered the trust of scientists for providing the highest-quality ingredients used in clinical research. They're driving innovation through a commitment to:
Client goals
Scientific rigor
Sustainable operations
Public advocacy
Science Bio offers a constantly expanding catalog of the hottest ingredients and product bundles. They ship worldwide, and orders over $100 qualify for free same-day shipping within the USA.
Should you have an issue, you can reach their customer support via email or phone. I've ordered from them 17 times and counting, and only once emailed over a leaky container. The rep offered to send a new one on the house or refund me. They ended up doing both. Should I have wanted to return an order, that's also an option (described in detail below).
Obsession over quality puts them in a league of their own. It's the main reason I continue coming back to SB.
Science Bio Quality Control
By the time you get it, each ingredient has undergone thorough testing.
This is their process.
All containers of raw materials in every shipment sit in quarantine until a thorough sample mixed from each container passes third-party quality and purity testing. Next, Science Bio assigns every batch of raw material and finished goods a unique tracking number (LOT #).
You can find the COAs and lab reports for your product on the product listing and physically printed on each container too.
The tests they conduct on products include:
HPLC – Purity & Identification
NMR Spectroscopy – Structure & Identification
TLC – Purity & Identification
ICP-MS – Heavy Metal Testing
Microbiology Panel – Contaminant Testing
GC-MS – Contaminant Testing
Where they cannot perform the above tests on some products, Science uses other forms of testing:
If any sample fails a single test, that entire lot goes through additional testing. Science Bio refuses to use any raw material that fails a single follow-up test.
Only once all raw materials pass every step of QC do they generate a COA for the batch and use it in products.
I haven't found another vendor as dedicated to safety.
Botany Bio
To simplify the user experience, the team behind Science Bio created a sister site called Botany.bio which focuses exclusively on natural ingredients.
Products you'll find listed in Botany Bio include:
Amino acids
Cannabinoids
Adaptogens
Whole-foods extracts
Botanicals
Minerals
Proteins
And also ingredients relied on by Ayurveda and other forms of alternative medicine.
Contamination and fraud run rampant in the supplement industry. But especially with herbs and natural compounds. Botany is science-optimized with high purity, additive-free, lab-certified, ethical, affordable supplements.
Some Botany Bio ingredients I've purchased include:
NMN
Methylene Blue
Mag Bisgly
D8-THC
L-Theanine
Pro Tip: you can find all Botany.bio products also listed in the Science Bio store (for now).
Science Bio Products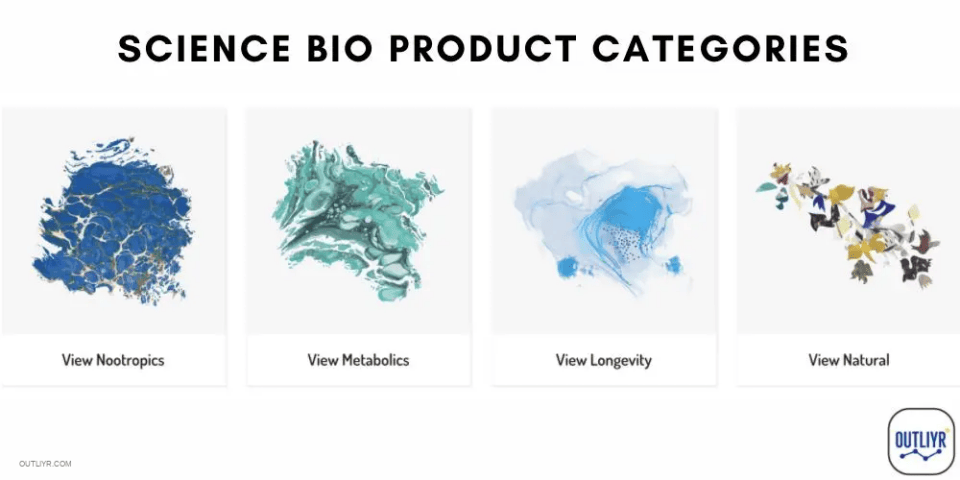 Poised SB to become the ultimate supplement superstore, science carries SARMs, natural products, and peptides (the favorite ingredient class of health optimizers). Their catalog contains individual ingredients, complexes (multiple ingredients in a single product), and bundles of products.
Should you choose to filter, you have several different options:
Category: products matching a specific purpose or goal (ie: longevity or metabolics)
Type: the specific class a product falls into (ie: mushrooms or hemp)
Form: how you take the product (ie: powder or liquid)
Feature: special characteristics of the product listing (ie: "on sale" or "new arrivals")
In the next sections, I'll give a brief overview of the types of products that I've bought from them.
SARMs
SARMs are a class of ingredients that selectively mimic androgenic hormones. Theoretically leading to the beneficial effects of hormone therapy, but with fewer side effects and less risk. SARMs put Science.bio (back then, IRC.bio) on the map.
I first found Science when digging deep into the research and sources of several SARMs:
Ostarine
Ibutamoren Mesylate
Cardarine
The promise behind Cardarine (not technically a SARM) especially stood out to me. As a PPAR-gamma agonist, it simulates the effects of a workout, leading to its nickname "exercise in a bottle".
Over time, their library has greatly expanded. Science.bio sells the following SARMs and related compounds:
LGD4
S23
GW0742
YK11
LGD3
SR9011
SR9009
RAD140 (Testolone)
MK-677 (Ibutamoren Mesylate)
MK-2866 (Ostarine)
GW-501516 (Cardarine)
S-4 (Andarine)
SARM regulations continue tightening. As vendors shrivel up, scams pop up in their wake.
They've become one of the few trusted vendors supplying high-quality research materials.
Use the Science Bio exclusive promo code URBAN to save 10%
Nootropics
Nootropics are a class of ingredients that improve how your brain functions.
Cognitive enhancement takes many forms, but a core characteristic shared by all nootropics is that they should enhance long-term brain health without serious adverse effects.
Ranking just after SARMs in terms of best-selling products, Science has a vast array of nootropics. Nootropics that come in:
Pre-made solutions
Aliquots (vials)
Raw powder
Types of ingredients in this category range from synthetic racetams to peptides, to natural herbs.
At the time of this writing, their "Nootropics" section contains over 135 different products. Popular purchases include:
Bromantane: my personal favorite ingredient for long-lasting energy and motivation. It works by restoring proper dopamine signaling in the brain.
Modafinil analogs: modafinil is perhaps the most popular prescription smart drug among biohackers (see my list of the top modafinil alternative to learn why). Science sells its molecular "cousins" without prescription. All of these have different properties (some last longer, others shorter; some are more powerful; some less expensive).
Noopept: one of the original nootropics, and the first I ever tried. Researchers report heightened senses, better memory, and enhanced learning.
Semax: a peptide nootropic used for decades in Russia to great success. In fact, the Russians listed Semax on their List of Vital & Essential Drugs. It's used for stress reduction, neuroprotection, memory enhancement, and accelerating learning.
Methylene Blue: methylene blue is a mitochondria-booster that also increases the lifespan of neurons, mitigates oxidative damage, increases ATP production (energy), and lifts mood.
I, and other serious neurohackers, regularly buy brain-enhancing supplements here.
Naturals
In my experience, no single class of compounds has the broadest benefits across the entire population as adaptogenic herbs and natural compounds.
Simply put, our bodies know how to process them. Adaptogens specifically, safely modulate different bodily systems to restore optimal function.
Through their partner site, Botany Bio, this team has a well-stocked and third-party validated supply of natural products. Botany Bio sells:
Hemp cannabinoids
Ayurvedic herb extracts
Traditional Chinese Medicine formulations
Vitamins & minerals
Proteins
Botanicals
And a whole lot more. Despite only recently introducing the naturals catalog, they've already amassed over 173 products!
Botanty Bio products undergo the same stringent quality control standards. Due to the widespread contamination, fraud, and deception around herbs, I've recently switched over to buying as much as possible through them.
Peptides
Peptides are the hottest family of therapeutics of the last decade, offering tremendous health optimization potential with little drawback. These short strings of amino acids are considered "bioregulatory molecules". Unlike pharmaceutical drugs, peptides gently suggest changes to the body, rather than bluntly forcing them.
Since most are not orally bioavailable, they come in "aliquots" or vials that require reconstitution. Not for the faint of heart, but a go-to for anyone serious about health optimization or in need of acute support.
For more information, I suggest you check out my recent post on the best therapeutic peptides for health and performance optimization.
Like SARMs, regulation has taken hold, and many vendors shut down. You'll still find some wildly successful peptide vendors like CanLabSciences and LimitlessLife Nootropics offering all of the top peptides.
They began stocking peptides in late 2021. Their catalog has grown significantly, and they now stock the following peptides:
BPC-157: "body protection compound 157" is great for rebuilding the gut, protecting the brain, and accelerating recovery from injury.
TB-500: potent anti-inflammatory that also rapidly accelerates healing from all kinds of injuries and may even help repair the heart.
Semax: a popular option for neuroprotection, neuroregeneration, and improving brainpower. The first neuropeptide I used. They now stock several upgraded forms of it (including Adamax).
Dihexa: arguably the most potent stimulator of brain growth (BDNF), with learning enhancement lasting multiple days. It's a powerful nootropic ingredient for neuroprotection and rapid learning.
DSIP: dramatically increases slow wave (deep) sleep and experience the rejuvenation of the deepest sleep.
KPV: a strong anti-inflammatory and anti-microbial that strengthens the gut, aids recovery from conditions like mold toxicity, and promotes overall health.
Epitalon: restores and enhances the pineal gland's function, improving sleep and exerting longevity/anti-aging benefits.
Selank: another nootropic with powerful anti-anxiety effects, that speeds up learning speed, enhances memory, and more.
GHK-Cu: the beauty peptides that safely enhances skin, reverses hair loss, promotes hair growth, helps repair damaged DNA, and much more. Purchased this one in my most recent order.
Oxytocin: love and bonding neuropeptide that facilitates closeness between people. Perfect for biohacking love relationships.
Plus many of the other common peptides.
Science.bio's peptide catalog is constantly growing.
Ordering From Science Bio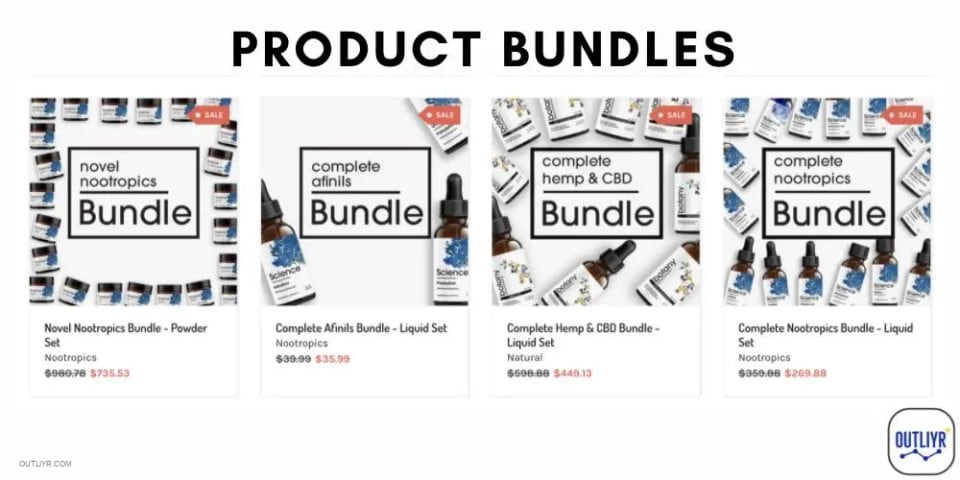 Pricing & Payment
Science Bio and Botany Bio supplements are priced in the middle of the pack. I'm comfortable shelling out slightly more for their unparalleled quality control.
For the budget-conscious, buying their raw powders and making your own solutions or capsules will drastically reduce the cost and give you more precise dosing.
Here's a quick overview of some of their most popular products and their prices.
| Product | Category | Form | Dose | Price |
| --- | --- | --- | --- | --- |
| RAD140 | SARM | Solution | 300mg | $59.99 |
| Ostarine | SARM | Solution | 900mg | $59.99 |
| MK677 | SARM | Solution | 750mg | $59.99 |
| Cardarine | SARM | Solution | 500mg | $59.99 |
| BPC-157 | Peptide | Aliquot | 5mg | $59.99 |
| Bromantane | Nootropic | Solution | 1500mg | $29.99 |
| Methylene Blue | Nootropic | Solution | 300mg | $19.99 |
| Full-Spectrum CBD | Natural | Solution | 1000mg | $41.99 |
Science Bio Supplement Prices in 2023
You can pay through many of the normal means:
Credit card
Debit card
E-Check
Bank transfer (ACH, or international wire)
Cryptocurrency and altcoins
If you have it, since they don't need to go through any middlemen, you get an additional 5 percent discount for using cryptocurrency.
Conversely, credit cards add an additional 10 percent fee.
Returns
In my 17+ orders, I've never had to return one. Once I had a powder leak. I took a few photos, emailed their Support team, and within a few days got a refund.
To return the entire order, you have 30-days to do the following:
Fill out and print the return form
Pack everything including the form
Pay a few dollars for shipping (depending on order size)
Get refund
If, for some reason, they've made a mistake, reach out to their team and they'll make it right.
Similar to Amazon, but the return shipping is on you.
Approval program
Those doing cutting-edge research in cognitive, metabolic, and longevity science can get access to certain controlled substances through the Science Bio Approval Program.
If you qualify, you receive:
Exclusive offers on restricted products
Enhanced compliance and safety standards
Visit this link to learn more.
Science Biologics Review: Is It Legit?
I used to buy supplements in good faith. Until I discovered the widespread deceit, misinformation, and even lies by the industry.
Ever-changing regulations force many vendors out of business, exacerbating the problem.
Buy from marketplaces—even the popular ones like Amazon—long enough, and you'll surely get fake products. Not only a waste of money but ironically, a threat to your health.
I prefer to do most of my shopping in one place. Science Bio combines best-in-class products with great customer service, speedy shipping, and quality you can verify.
If you're looking for peptides specifically, as mentioned in my list of the best therapeutic peptide vendors, I recommend either LimitlessLife Nootropics or CanLab as they specialize in peptides.
Science Bio has quickly become my favorite shop for:
SARMs
Nootropics
Peptides
Adaptogens
Vitamins & minerals
Take a look at their catalog below and use the Science Bio coupon code URBAN for 10% off site-wide.
Use the Science Bio exclusive promo code URBAN to save 10%
If you've used Science.bio, let me know your thoughts, comments, or experience in the comments below!
Science Bio Supplements
17+ orders of SARMS, nootropics, peptides, adaptogens, etc later, I still use ScienceBio for my supplements. This review explains why & unlocks a discount code.
Product Brand: Science Biologics
Pros
Great customer service
Rare products & ingredients
Good value
Multiple payment options
Great shipping
Cons
Some restricted items
Limited in-stock inventory currently