Your brain is a primary difference between winning a Nobel prize and living a life of mediocrity.
How well it functions isn't solely a matter of genetics.
Neuroscience research, and overwhelming anecdotal experience, show that we can dramatically upgrade our:
Motivation
Mental clarity
Energy
Creativity
Productivity
Access to the flow state
Information processing speed
And more.
Welcome to the world of "neurohacking". Using special ingredients and lifestyle practices to optimize the brains and increase our overall quality of life.
But there's one glaring issue…
We all have unique neurochemistries, neurotransmitter dominances and deficiencies, enzyme levels, and different metabolic activity, together generating different bioelectrical patterns. Optimal products for my brain may not work for…
Click To Tweet
Companies making the best brain-boosting supplements recognize this and customize their formulas to your unique lifestyle.
One such nootropic experience is a "newcomer" (you'll learn why this isn't exactly true) called Thesis. You take a short brain assessment, they send you a starter kit, and their complimentary coach helps you hone the perfect brain supplements — customized to you!
This post will thoroughly review of TakeThesis, how it compares to other nootropics companies, and whether this is the last brain supplement you'll need.
In a hurry?
Use the exclusive Thesis code URBAN to save 10%
Quick & Dirty Intro to Nootropics
If you're new to brain-enhancing supplements, I suggest you read this beginner's guide to nootropics.
These are different from the off-label use of prescription pharmaceuticals like Adderall.
Essentially, nootropics are a special class of ingredients that satisfy ALL the following criteria:
Safe and non-toxic
Enhance learning and memory
Support the brain while under stress
Protect against injury
Boost natural cognitive ability (memory, logic, creativity, focus, etc)
There's something that makes them even better…
Nootropics upgrade your baseline performance even after you stop taking them. They cause long-term changes to brain structure and function. Almost like training you how to operate at a higher level and forming positive habits.
At the same time, the good ones provide a quick and noticeable pick-me-up. You don't wonder if they're working.
The right formulas help you reach your full potential faster and more effectively.
What is Take Thesis Nootropics?
Affiliate Disclosure: This post may contain affiliate links, which means I get a small commission if you buy (at no cost to you). Thanks for your support!
Thesis is the masterpiece of expert brain supplement formulators Dan Freed and Adam Greenfield. This duo began researching nootropics out of personal need. Both struggled with poor cognitive performance. They learned how to balance brain chemistry to maximize performance.
Now they're sharing their discoveries with the world.
After great success with their original product, Find My Formula (which I reviewed here), they revamped their formulations and process.
While each of us has unique neurochemistries, after working with enough people, they began to spot patterns in which ingredients, the forms of those ingredients, and doses work best. Over the span of years, they've amassed a huge dataset:
30,000+ users
550,000 recommendations made
127 ingredients tested
Resulting in 86% of users reporting higher energy levels, better mood, more reliable memory, and greater motivation.
Unsurprisingly, Thesis has garnered a stellar 96% customer satisfaction.
The company also has soul. By donating a portion of each sale to both the Covenant House and The Multidisciplinary Association for Psychedelic Studies (MAPS), they're evolving the future of brain enhancement and also making it more accessible to the world.
Thesis Nootropics Ingredients
When evaluating any nootropic, you must consider how they source and test ingredients.
Many companies cut corners by purchasing cheap untested ingredients from overseas. In a previous post, I wrote about some of the major supplement quality control issues.
The sad truth is that most of the products on the market are WORSE than useless. Contaminated with heavy metals, mycotoxins, pathogens, even adulterated with banned (dangerous) substances.
Thesis puts each ingredient through a rigorous, multi-step ethical, medical, and legal evaluation. Before acquiring and testing the ingredients for safety and purity, every ingredient must be supported as safe and effective by clinical trials.
This team keeps up with the ever-changing regulations.
Since the days of Find My Formula, a lot has changed. Each of their blends has undergone a major overhaul.
In my previous Thesis Nootropics review, I complained that they used too many man-made ingredients and not enough natural adaptogens, vitamins and minerals, peptides, and functional mushrooms.
One of the common gripes with naturals is that you don't feel anything.
Well, the new Thesis formulations solve that issue with a great balance between feeling effects and also getting the natural ingredients that bioharmonize the body.
How Thesis Works
Thesis isn't your run-of-the-mill supplement company.
They've streamlined a process resulting in 86 percent of users finding their neurochemically tuned formulations in less than one month.
This is how to best use Thesis:
Assess your unique brain
Establish your baseline
Begin your Starter Kit
Notice what works for you and what doesn't
Tweak and optimize with complimentary coaching
Your Thesis journey begins with a short survey to understand your basic lifestyle, how your brain functions, and your goals for using nootropics. The entire "quiz" takes just a few minutes. When you finish, their AI finds your "digital twin" to determine which formulations are most likely to work for you.
A few days later, you'll receive the Thesis Starter Kit in the mail, with the four separate blends best matched to your brain.
I suggest jotting down the way you feel, your challenges, and goals. That way you'll have something to reference after several weeks of testing. Bonus points for including audio/video in your log.
You'll follow the directions, testing each product for six days in a row. Then take a break over the weekend, allowing your body to reset. Though you don't need two days off, I notice better effects when I give my body the extra rest day.
If you're sensitive, I suggest taking these capsules first thing in the morning.
Wait several days before jumping to any conclusions about particular blends. Other lifestyle factors like stress, diet, exercise, etc can impact how your nootropics work.
At any point, you can schedule a call with one of the resident Thesis Nootropics Experts. They'll help coach you to ensuring the best possible experience and tweak your kit as necessary. Definitely take advantage of the experts, as they're a key bonus of Thesis!
By the end of the month, you'll have discovered your favorite blends and the ones that you don't like. It's perfectly normal to not like some of them, and your future orders will only include the products you love most.
The Thesis Nootropic Blends for Every Goal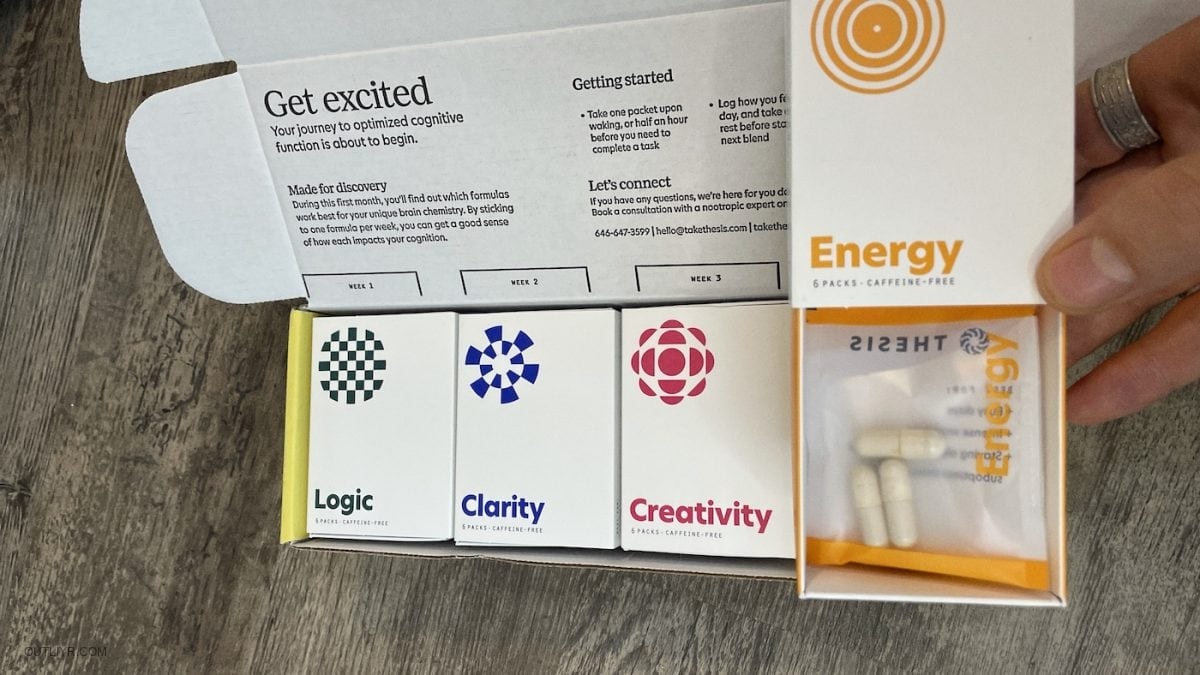 Note that I've written about five blends below, but your Starter Kit will only contain four. Once you've gone through the Starter Kit, you've demoed the blends.
Hopefully, you've discovered the ones that work great for you.
For every subsequent order, you get four slots to customize however you prefer. My favorite combo is:
(2) Clarity
(1) Logic
(1) Energy
But if I really loved a particular blend, for example, I could just do:
You can request any of the formulations in either of two versions: caffeinated or caffeine-free.
I personally get caffeine-free and drink them alongside my polyphenol-rich homemade Genius Coffee.
Don't pay much attention to the names of each. They're merely general suggestions of the most often reported benefits. It's entirely possible that you'll get more clarity from Creativity, or better logical reasoning from Energy.
Let's examine each of the different blends.
Thesis Energy
I reach for Energy when I get less than 7 hours of sleep, or when I need extra energy to crush a workout and power through a long Monday. It's also useful for travel days, or when I know I'll wind up in energy-depleting situations. Others use it to reinforce new healthy habits.
Thesis Energy blend ingredients include:
Zynamite® – 300mg
TeaCrine® – 100mg
Sabroxy® – 100mg
CDP Choline – 300mg
N-Acetyl-L-Tyrosine – 300mg
N-Acetyl Cysteine – 500mg
Optional: Caffeine – 100mg
Optional: L-Theanine – 200mg
Sabroxy is an ancient Ayurvedic extract that comes from the bark of the Indian trumpet tree. Research suggests it enhances memory, focus, immunomodulation, mood, and even skin health.
From previous experience, I know that I respond well to Zynamite and TeaCrine. The former is an extract of mango leaf, and the latter is a molecular cousin of caffeine that comes from a tea plant, is non-habit forming, and with fewer side effects. Both noticeably increase energy, as expected. As a bonus, I find that these two also lift my mood.
Compared to the previous Energy formula, this iteration is smoother and more refined. Each sachet contains three capsules, and I start feeling effects 15 minutes after swallowing them.
I've been a big fan of all the Energy blends I've tested so far. It's constantly ranked in my top 2 favorites due to the pronounced effects. It feels like a more full-body caffeine without the jitters or crash.
Thesis Clarity
As the package insert describes, Clarity supports a calm, focused flow and is great for optimal performance during high-stakes days. Good for presentations, content creation, and non-stimulating concentration.
I've found this description to be spot on. The formula has undergone a complete overhaul, featuring two ingredients I haven't found in other nootropics.
Thesis Clarity blend ingredients include:
7,8 Dihydroxyflavone – 30mg
Camellia Sinesis Extract – 250mg
Alpha GPC – 250mg
Epicatechin – 250mg
Lion's Mane 8:1 Extract – 500mg
Optional: Caffeine – 100mg
Optional: L-Theanine – 200mg
7, 8 Dihydroxyflavone is a man-made flavonoid that can penetrate the blood-brain barrier and mimic the effects of BDNF (dubbed "MiracleGro for the brain"). Camellia Sinesis is the ingredient that earned tea's reputation as a health drink. It's a potent source of the relaxing compound l-Theanine. Epicatechin also comes from tea, and it promotes optimal blood flow, mood, and neuroprotection.
A dose of Clarity takes three capsules, and I couldn't pinpoint the exact time I started feeling it. The effects became more pronounced after approximately one hour.
Don't expect a huge boost in energy or racing thoughts from this one. Once I released that expectation, I noticed that I felt clear, calm yet alert, steady, and mentally sharp. All without overstimulation. I flowed through my work, easily focusing on each task through completion.
To my surprise, Clarity went from among my least favorite Find My Formula blends, to my Thesis top pick.
I'm confident that this is one of the only nootropics that I can take in the afternoon (or even evening) and still sleep great.
Thesis Creativity
Creativity helps you generate new ideas, think abstractly, and finally bring your dream projects to fruition. It works by quieting overthinking and helping integrate both hemispheres of the brain.
The stack of powerful adaptogenic herbs also makes it an excellent choice for stressful situations, or to relax in social events.
You can rest assured that it contains some of the most researched and scientifically proven herbs on the planet. Ashwagandha and Panax Ginseng are staples in Ayurvedic (Indian) and Traditional Chinese Medicine. Thousands of studies back their use.
Thesis Creativity blend ingredients include:
KSM-66 Ashwagandha – 300mg
GS15-4 Panax Ginseng – 200mg
Zembrin® – 25mg
Agmatine Sulfate – 250mg
Alpha GPC – 150mg
Optional: Caffeine – 100mg
Optional: L-Theanine – 200mg
The Thesis formulators did a great job here, handpicking the strongest, cleanest, and most bioavailable forms of each ingredient.
Zembrin is one I hadn't heard of, but am impressed by what I've learned. It's a plant extract known to boost mood, improve workout focus, alleviate nervousness, and enhance complex problem-solving.
Approximately 45 minutes after my three-capsule dose, I noticed myself feeling slightly less reactive to urgent emails and other daily stressors. I could also more easily discern wisdom from my intuition. Each time I followed my instinct, I made the right choice.
Days on Creativity seemed to go easier and more smoothly. I worried less and got more done. I also felt slightly more social when I went to a party. I'd compare the social lubrication to having one drink (or better yet, a can of Hard Ketones).
I do already regularly take Ashwagandha and Ginseng in my own supplement regimen (which I stopped for this experiment), so it's likely that my reaction is milder than most.
Thesis Logic
The name summarizes it well. Logic supports rational thinking. Making a popular choice among lawyers, bankers, programmers, scientists, academics, and those looking to boost their analytical abilities.
Though I didn't get it selected for my Starter Kit, I reached out to their customer service to have it swapped in. As a Data Scientist, I knew that this would fit me well.
I was right. My first experience with the original Find My Formula Logic blend quickly took silver (only behind their original Energy). It hit the sweet spot between energetic stimulation and effortless focus. I went from spec sheet to finished product 35 percent faster than normal.
Thesis Logic blend ingredients include:
Triacetyluridine – 30mg
Vegan Omega-3 Lysine complex (EPA + DHA) – 200mg
Phosphatidylserine – 200mg
Theobromine – 100mg
Gingko Biloba – 160mg
Synapsa® (Bacopa monnieri extract) – 320mg
Optional: Caffeine – 100mg
Optional: L-Theanine – 200mg
As its name suggests, Triacetyluridine is a more potent version of the nootropic uridine. It's known to improve learning, memory, energy, mood, and reduce neuroinflammation.
Theobromine is a mild stimulant related to caffeine naturally occurring in cacao. It increases blood flow, and improves focus.
Those interested in memory enhancement may know Bacopa — one of the greatest ancient memory-enhancing herbs. Gingko is another notable natural herb, known to improve alertness, concentration, focus, and memory.
Phosphatidylserine comes from sunflowers. It gently alleviates stress without drowsiness, improves memory, and increases alertness.
Indeed, the Logic formulation improves working memory, offsets stress, and accelerates learning. On days I reluctantly approached tedious work, the two capsule dose of Logic took the edge off within about 20 minutes.
I'm still experimenting with the latest Logic blend, but so far it stacks up with the original. The new Logic feels slightly weaker, but I greatly prefer the new ingredients.
Thesis Motivation
Motivation comes in a lime-green sachet. It's Thesis' take on the classic and original CILTEP nootropic stack.
Motivation bills itself as best for:
Crushing your TODO list
Building healthy habits
Increasing discipline and drive
It's one of the blends that's most polarizing. You either love it, or you hate it.
I've tested this exact formulation produced by several different companies (including NaturalStacks and Find My Formula), and I've had bad experiences every single time.
The predominant effect I notice is a headache (which I never get). I also feel slightly spacey. This time I came prepared and used Semax to pull me out of my CILTEP fog.
But just as many people rave about their Motivation.
Thesis Motivation blend ingredients include:
Forskolin – 250mg
Methylcobalamin – 1000mcg
Dynamine – 100mg
L-Phenylalanine – 500mg
Artichoke Extract – 450mg
Optional: Caffeine – 100mg
Optional: L-Theanine – 200mg
It's safe to say that after two days of use, you'll know which Motivation camp you fall into.
Thesis Confidence
Confidence is a newer Thesis blend that came out in mid-2022 after heavy internal research and development. I've been using it for the last few weeks and it's certainly one of my favorites. Perhaps my top non-stimulating Thesis Formula.
Typical use cases for Confidence include:
Important situations
Doing uncomfortable or new things
Times of leadership
Stopping overwhelm
My experience with Thesis Confidence has been overwhelmingly positive. Within about 30 minutes, I felt a smooth and definite mood boost. The day seemed to flow easily. I didn't feel jitters or nervousness before overwise stressful no-agenda meetings.
This one is great for social situations. I'm noticing that I feel more comfortable and bold as a newbie Bachata dancer.
Although it's not very stimulating, I noticed a slight rush kind of like the effect of finishing a good workout. Increased blood flow and slight flushing paired with relaxation (but certainly not any sedation).
Confidence is an ideal anti-stress supplement. I plan to use the caffeine-free version during my quarterly coffee (tolerance) break.
Thesis Confidence blend ingredients include:
Saffron extract (affron®) – 28mg
Ashwagandha extract (Shoden®) – 120mg
Sage extract – 333mg
Magnesium threonate – 50mg
Magnolia bark extract (DHH-B) – 10mg
Zembrin® – 25mg
Optional: Caffeine – 100mg
Optional: L-Theanine – 200mg
This is an excellent formula. I love the synergy between the ingredients. Plus, many of these (like Saffron) are expensive and commonly faked in supplements. By using the patented versions, we're assuredly getting the real thing.
How to Use Thesis
When the shipment finally arrives in the mail, you might feel overwhelmed.
Here's what to expect…
Inside the large box, you'll find four smaller boxes. Each box contains five sachets. Monday through Saturday mornings, you take one full sachet (2-3 capsules).
I suggest you take notes beforehand on what you wish to get out of the experience. Some popular examples include:
Spending less time distracted on social media
Output at your main job
Progress toward hobbies, projects, or other work
Starting a new skill, language, or health habit
Finish work faster
Then, at the end of each day, spend 15-seconds jotting down notes in the provided instruction manual. Trust me, this makes a huge difference. After completing week four, you'll probably forget which blends you loved, the effects they had, and which ones didn't work for you.
Some of the ingredients last slightly longer in your system, so I take the entire weekend off to allow my neurochemistry to reset. This also ensures you get the most bang for your buck.
After repeating this process for all four boxes, you'll have discovered your favorite blends. A Thesis coach can help you customize future orders so you'll only receive the ones you want!
Tips to Get the Most Out of Thesis Nootropics
Nootropics aren't cheap.
You can skip this entire section, but these tips will help ensure that you get the most out of your experience.
Caffeine-free. If you're new to nootropics, start with the non-caffeinated versions. I drink coffee most days. Sometimes two cups. But I always get my nootropics caffeine-free. For several reasons. First, nootropics potentiate caffeine. One coffee can feel like 3. If you're not used to the combo, going caff-free gives you more control. Caff-free also means that I can take nootropics later in the day. Also, the health benefits of coffee don't come from caffeine but from the polyphenols, flavonoids, and other phytochemicals. Plus, I just like the taste of coffee.
DNA decoded. Every human has profound uniquenesses. Even more so, in the brain. My favorite ingredients might give you migraines, and vice-versa. By taking a ~$50 once-in-a-lifetime test and running it through the powerful SelfDecode genetic software, you can easily understand your neurodiversity. To figure out what will work for your brain specifically. Without wasting time, energy, and money on ineffective (or even harmful) nootropics.
Optimal fuel. Nootropics love dietary fat. Certain fats, like a special extract of coconut called C8 MCT Oil, deliver some compounds into the brain more effectively. It also slows their absorption and metabolism. Resulting in a smoother and stronger nootropic experience (with even less crash).
Avoid kryptonite. If fat is a nootropic's best friend, protein is the enemy. Now don't get me wrong, I'm a huge advocate for consuming protein and aminos (especially essential amino acids). These aminos, however, compete with nootropics for absorption. If taken too close together, protein can reduce the effects you feel. A rule of thumb is to take nootropics at least 1 hour before eating or wait one hour after.
Optimize recovery. Nootropics are like the gas pedal for your brain. If you don't recover (while sleeping), eventually you'll burn out and they'll lose their charm. There are many ways to improve your recovery. First, increase your sleep time and quality. Your brain needs some extra downtime to compensate for working so hard. Next, feed it the right nutrients. I feel a pronounced difference when I take Shilajit and Magnesium with my nootropics. I'm able to cut back my dose and still feel stronger effects.
If you like this kind of thing, join my FREE nootropics mini-course where you'll learn:
How professionals choose products
Tips to feel stronger effects and get more out of your supplements
Money-saving hacks
Natural cognitive enhancement technologies
Latest neuroscience-backed strategies to upgrade your brain
Click the button below to get started.
Thesis Nootropics Questions & Answers
Should I take Thesis with caffeine?
I recommend taking Thesis without caffeine to start. Caffeine greatly increases the effects of certain nootropics. For some, this can be too much and lead to panic, headaches, and unease. You can always add coffee and more easily control your caffeine dosage later.
What's the difference between Thesis and Find My Formula nootropics?
Thesis is the latest generation of Find My Formula nootropics. They've refined, upgraded, and revamped every single one of their formulas according to the latest neuroscience research. Find My Formula products are no longer available.
Which Thesis blend is best?
Your ideal Thesis stack depends on your neurochemistry, lifestyle, and goals. People either love or hate their Motivation blend. My favorites (in order) are Clarity, Energy, and then Logic.
How much do Thesis nootropics cost?
Thesis offers two different buying options: one-time, and subscription. One-time purchases cost $119.00 and subscriptions cost $79.00 per month. Use code URBAN and save an extra 15 percent! Thesis backs all purchases with a full 30-day no-questions-asked money-back guarantee.
Thesis Nootropics Review: Boosting Your Brain With Precision Formulas
Ignore those that say you're stuck with a less-than-optimal brain.
According to the latest neuroscience (and countless personal examples), that's demonstrably false.
That is if you use the right products.
The most popular nootropics today are:
I'm constantly trying the latest nootropic formulas.
I take most of them for a month and see little benefit.
Thesis is one exception, featuring an impressive array of the highest-quality forms of well-researched ingredients. Drawing from their millions of data points, they've come up with unique formulas that give you both a quick boost and long-term benefits.
So that one day, should you choose, you can completely stop supplementing and continue enjoying all the fruits of an upgraded brain.
I personally prefer their Clarity, Energy, and Logic. Each serves a role specific to the type of day I have ahead.
Since the original Find My Formula blends, I'm impressed with their improvements. They've moved away from some of the man-made ingredients and embraced natural (but effective) bioharmonizing compounds.
As of January 2022, Thesis has amassed a 4.5+ star rating on 7,411 ratings.
Try it yourself with the exclusive Outliyr discount:
Thesis nootropics code URBAN saves you 10%
To the long-term Formula users — what do you think of the update? Have you enjoyed the new Thesis blends?
Let's have a discussion in the comments below!