Peptides are among the most effective health transformation compounds on Earth.
Since they're naturally produced in your body and also used to build proteins, quality peptides also have an unparalleled safety profile.
Therein lies the issue.
Locating top-quality peptide sources online is quite difficult. To make matters worse, like most alternative health products, the FDA doesn't regulate or quality control these.
Therefore, we consumers must take matters into our own hands. From a decade of personal involvement in the industry, I will share with you my research, reviews & comparison of the best peptide sellers online, so that you can make your optimal choice.
Skip To Reviews of Top Peptide Sellers
WARNING: vendors in this industry change rapidly. At a moment's notice, company ownership can change or a seller may stop lab testing. Although these products are for research purposes only, please do your own diligence before purchasing from any of the listed suppliers. Some advanced physicians even prescribe peptides.
Affiliate Disclosure: This post may contain affiliate links, which means I get a small commission if you buy (at no cost to you). Thanks for your support!
Tier #1: The Best Websites to Buy Peptides Online
The biohacking and health optimization industry has brought peptides to the limelight.
As the number of suppliers increases, so do scams and low-quality sources. They're not FDA-approved or regulated. Generally, peptides are not safe to buy online. Without regulatory oversight, essentially you're taking the company's word.
Blindly trusting random internet sellers can end poorly. Especially with peptides.
Most peptides cannot pass through the gut or skin barriers. Usually, they require injection. Injecting peptides bypasses many of the body's built-in mechanisms to remove impurities and toxins. Therefore, it's essential to choose the cleanest possible products.
That's why I only trust a few brands. I've gone ahead and listed the best peptide suppliers below. You might notice that they're also some of the best places to buy cognitive-enhancing nootropics online as well.
Limitless Life Nootropics
Overview
Form: Injectables, capsules, creams, sprays
Lab Verified: Yes
Shipping: Worldwide (flat $8.50 in USA, $13.50 international)
Shipping Speed: Under 7-days domestically, under 30-days internationally
Payment Methods: Credit card, crypto, bank wire, cash on delivery, Apple Pay, Zelle, Revolut, Cash App
Guarantees: 30-day money-back guarantee on unopened products
Other Products: Nootropics, racetams, ampakines, choline, neurogenics, naturals, anti-aging
Price + Discount (BPC-157 5mg): $29.75 with code URBAN
Rating: 4.59
Limitless Life Nootropics is a newer but rapidly growing peptide supplier. Founded by Chris Mercer and based in Florida, LLN has a respectable collection of rare health optimization products. Although the brand name doesn't mention peptides, their catalog currently contains 34. Right now, it's the best peptide company online.
Limitless's website is fast and modern, but the categorization of certain products can be challenging to navigate. I recommend using the search bar to find your peptides.
Above all, LLN stocks some rare peptides as well as forms you likely won't find elsewhere. Plus, their CEO Chris is a good guy who cares deeply about the quality and efficacy of their products.
This shop delivers globally and accepts many payment methods (Credit Card, Crypto, Bank Wire, Cash on Delivery, Apple Pay, Zelle Payment, Revolut, and Cash App). LLN has a 30-day replacement or refund policy for unopened products.
Shipping time can be a tad slow, with arrival times taking up to 7 days domestically, and up to 30 days internationally.
I'm currently running a cycle of their MOTS-c and just stocked up on their TA-1, BPC-157, TB-500, and then the nootropics Tesofensine, Adamax, and P21.
Years ago, I heard several complaints about Limitless Life. Mostly regarding customer service and product information. From my own experience and the members of peptide-centric Facebook groups I'm in, LLN has come a long way.
Limitless Life Nootropics is one of the first vendors I'd check for a wide range of maximum-quality peptides (and unique forms) at reasonable prices.
Use the exclusive Limitless Life Nootropics code URBAN for 15% off
LVLUP Health
Overview
Form: Capsules, tablets
Lab Verified: Yes
Shipping: Worldwide (free shipping for orders of $300+)
Shipping Speed: 5-10 business days (Australia), 14-30 business days (international)
Payment Methods: Credit Card, Paypal, Zip
Guarantees: 30-day returns on unopened products
Other Products: TUDCA, liver health complex, nootropics, anti-histamine, PEA, magnesium threonate, fat burner, anti-hangover
Price + Discount (BPC-157 15mg): $127.35 with code URBAN
Rating: 4.41
Nutritionist and naturopath Kyal Van Der Leest founded LVLUP Health out of personal necessity. He got sick and tried virtually every supplement and product on the market. Eventually, he discovered peptides, and they transformed his life.
Using peptides can all but require a Ph.D. They usually require injections, there's rarely a consensus "best dose", stability varies between peptides and even the form its in, and folks generally get the best results multiple peptides at once. It all gets complicated fast.
Kyal took a different approach. He looked at the main reasons people use supplements and reverse-engineered the ideal products to address specific concerns and goals.
These LVLUP Health formulas benefit from peptide synergy, the disproportionate effect of combining multiple ingredients. The "1+1=4" concept. Yielding stronger results, faster, and with fewer side effects.
Some of their products include:
Ultimate GI Repair
Re-Generate
KPV
Complete Liver Complex
TUDCA
Hista-Reset
PEA
Magnesium L-Threonate
Exotherm
Dihydromyricetin
Ultimate GI Repair and Re-Generate are their two flagship products.
Re-Generate is based around BPC-157 (in the highly-bioavailable Arginine Salt form). Kyal combined it with PEA (Palmitoylethanolamide) and Hyaluronic Acid (HA) to improve the peptide's full-body effects. Plus, the added sodium bicarbonate further boosts absorption.
Re-Generate is actually a solid deal. You're getting 15mg of the most expensive and best-absorbed form of BPC-157, Arginine Salt, that rivals any injectable. For cheaper.
Ultimate GI Repair contains the same 15mg of optimized BPC-157, in addition to Larazotide Acetate AT1001, KPV Tripeptide, Zinc Carnosine, EMIQ Quercetin, Tributyrin, Copper, and more.
Making this the most powerful gut repair supplement on Earth.
It's a newer company, but judging by the countless rave reviews from health pros and casual users within peptide-centric Facebook groups, LVLUP Health is poised to dominate.
It's not the cheapest, but remember prices are in AUS. LVLUP Health accepts common payment methods, including PayPal, Credit Card, and Zip (pay later).
Orders within Australia arrive in less than 10 days and international takes a bit longer, showing up 15-30 days later.
You can request the CoAs of any of the products, and Kyal is one of the most friendly and helpful resources in the industry.
Choose LVLUP Health for all-in-one, oral peptide products, each specifically formulated to improve bodily systems and overall health.
Use the exclusive LVLUP Health code URBAN for 10% off
Pure Rawz
Overview
Form: Injectables, capsules, sprays, tablets
Lab Verified: Yes
Shipping: Worldwide (free shipping for orders of $99+ in USA)
Shipping Speed: 5-12 business days
Payment Methods: Crypto, Zelle, Venmo
Guarantees: Case-by-case refunds
Other Products: SARMs, nootropics, stacks, cycles, peptides, PCT/cycle support, cannabis/hemp
Price + Discount (BPC-157 5mg): $57.50 with code URBAN
Rating: 4.3
Pure Rawz, originally a SARMs vendor, more recently branched out into other high-performance ingredients. Including nootropics and peptides. This is another peptide company that is USA-based. What really caught my attention, though, is the MASSIVE catalog of seemingly every hard-to-find ingredient.
Although they've only been in business since 2017, Pure Rawz stocks almost everything. Boasting a huge catalog of 69 peptides, including:
BPC-157
TB-500
Ipamorelin
Epitalon
Tesamorelin
Sermorelin
IGF-1
TA-1
Pinealon
MOTS-c
F0X04
LL-37
CJC-1295 (with and without the DAC)
DSIP
GHRP
GHK-Cu
Other interesting peptides I came across include GLP-1, myostatin, GDF-8, EPO, and all kinds that I've never heard of!
Pure Rawz also carries peptide blends. I came across thirteen different products that contain two or three peptides within a single vial. This makes following particular protocols much easier, but with the downside of having less control over your dosages.
Some PureRawz peptide prices are significantly higher than average. I'd mainly choose them if you cannot find them on LLN or SwissChems. PureRawz accepts common payment methods, including PayPal, Venmo, Zelle, Mesh, and Crypto.
Domestic orders arrive in 5-12 days and international in 8-17 days. Before you order, know that PureRawz doesn't accept returns.
Although Pure Rawz markets their products as "100% Made in America", and claims that each batch is third-party lab testing, I noticed that some of their CoAs are older. Therefore, your product probably came from a different batch and the CoA may not matter.
Choose Pure Rawz if you're looking for particular hard-to-find peptides, or are looking to make a broad order of performance-enhancing ingredients all in one place.
Use the exclusive code URBAN for 10% off
SwissChems

Overview
Form: Injectables, powders, capsules, sprays
Lab Verified: Yes
Shipping: Worldwide (free shipping for orders of $300+)
Shipping Speed: 1-7 business days (USA & Canada), 1-2 weeks (international)
Payment Methods: Bitcoin, Credit Card, Zelle, Mesh
Guarantees: Case-by-case refunds
Other Products: SARMs, nootropics, stacks, cycles, naturals, PCT, kratom, and cannabis/hemp
Price + Discount (BPC-157 5mg): $33.26 with code URBAN
Rating: 4.1
SwissChems is a newer supplement supplier specializing in peptides, sports performance enhancers, metabolics, and nootropics. Back when Science Biologics closed, I learned that SwissChems bought ALL of Science's remaining inventory. Their catalog features 40+ peptides, some of which are uniquely geared toward athletes.
SwissChems carries most of the popular and sought-after peptides, including:
BPC-157
TB-500
IGF-1
Ipamorelin
Epitalon
Tesamorelin
CJC-1295 (with and without the DAC)
DSIP
GHRP
GHK-Cu
You'll also find some interesting performance enhancers here, like Erythropoietin (EPO).
Since their inventory came from the esteemed Science.bio, and they put each product through third-party testing, I trust SwissChems more than most. SwissChem lab tests their peptides, with CoAs readily displayed on every product listing. Should you decide to test your order at an accredited third-party lab, SwissChems will fully refund your order plus testing expenses should it fail.
The products are priced competitively, and on top of that, some have bulk "kits" available which can knock another 12% off the price. This shop accepts Credit Cards, Debit Cards, Zelle, Mesh, and Cryptocurrency (Bitcoin). Payment via Bitcoin also gets you an additional 20 percent off.
They offer free shipping on major orders. It's relatively fast, with orders within the USA and Canada arriving in 2-7 business days, and internationally within 1-2 weeks.
If you have a problem, you must submit it within 90-days of your order. Then it will be subject to approval.
Overall, SwissChems gets good reviews from longevity, nootropics, and peptides communities throughout the internet, including forums like Reddit.
If I can't find an ingredient elsewhere, or SwissChems runs a sale, I don't hesitate to stock up at this peptide company.
Use the exclusive code URBAN for 15% off
CanLab Sciences
Overview
Form: Injectables
Lab Verified: Yes
Shipping: Worldwide (flat $30 to USA)
Shipping Speed: Unknown
Payment Methods: Bitcoin, Wise/Bank transfer
Guarantees: 14-day returns on unopened products (you pay shipping & handling)
Other Products: Small proteins, bio-regulators, consultations
Price (BPC-157 5mg equivalent): $55
Rating: 4.4
CanLab, recently rebranded to CanLab Sciences, is the most customer-centric peptide seller on the internet. The owner, Jean-François, is widely considered one of the most knowledgeable peptide experts. Right alongside Dr. William Seeds. Jean-François frequently lends his expertise to Facebook groups and as a guest on podcasts.
This vendor does two things and does them world-class: small proteins and bio-regulators.
CanLab stocks 62 peptides and small molecules, including:
BPC-157
TB-4
TA-1
Epitalon
MOTS-c
Melanotan 2
GHK-Cu
Kisspeptin
LL-37
Pinealon
Vesugen
Thymogen
DSIP
Ipamorelin
Humanin
CJC-1295 (with and without the DAC)
GHRP
There are several things notable about CanLab. First, they offer multiple different fragments of TB-4. That's because each fragment has different (targeted) benefits.
Second, CanLab sells various bioregulator peptides. Third, CanLab chose not to use the industry-standard filler, mannitol, in their peptides. Additionally, you'll notice that they sell vials containing peptide combos.
Despite all of that, the prices are still affordable.
The website itself is difficult to navigate and lacks information. Without knowing the background, you'd have no idea that this is a credible vendor. The only clue would be the Facebook page's 2.9K likes, 3.3K followers, and glowing reviews in the comments.
Jean-François prefers to keep it this way though, as he does the peptide synthesis himself and relies exclusively on word-of-mouth advertising. That way, he can keep up with demand. Should you want help with anything regarding peptides, Jean-François is one of the only (if not the only) vendor that provides consultations.
CanLab ships where legal, and unfortunately effective now (October 2022), they can no longer supply the Canadian Market.
Shipping timing is somewhat of a black box, as it differs from one region to another and CanLab Sciences does not list shipping info on their website. Shipping price is quite expensive, costing a flat $30 to the USA. Payment methods are limited and include direct bank transfer or payment via cryptocurrency (Bitcoin).
Should you decide, you can request a return on any opened products within 14-days of your order delivery. You just pay shipping & handling.
If you can overlook the poor UX and limited company information on their website (you'll find more in Facebook groups), CanLab Sciences is perhaps the most trusted of all over-the-counter peptide sources.
Tier #2: Top Online Peptides Vendors
If I cannot find a product at one of my go-to peptide sellers above, then I will expand my search and accept that these ones might not be in the same premium tier.
Peptide Sciences
Overview
Form: Injectables, capsules, topicals
Lab Verified: Yes
Shipping: Worldwide (flat $15, domestic orders over $200 ship free)
Shipping Speed: 2-3 business days (USA), 7-10 business days (international)
Payment Methods: Credit Card, Cash App, Zelle, Venmo, Bitcoin, Ethereum, PayPal, FLEX payment, electronic check
Guarantees: None
Other Products: Small molecules, bioregulators
Price (BPC-157 5mg): $59.50
Rating: 4.05
Peptide Sciences is among the best-known professional companies supplying peptides. They're proudly based in Nevada, USA. Peptide Sciences has all kinds of educational resources and content to help customers choose the right product.
Not to mention, they sell just about every peptide or cutting-edge performance-enhancing ingredient known to man. Coming out to 120 different peptide products — last I counted. This is another popular vendor that also carries a wide range of peptide bioregulators.
Peptide Science carries everything the other vendors sell, in multiple forms, and in various quantities. They too, offer blends. Honestly, I've never heard of a large swatch of their catalog. When I wanted to learn about Decapeptide-12, for example, the product page lists biochemistry, research applications, basic background, potential benefits, important notes, and other relevant resources. Basically, it stands as both information and a source of products.
Domestic orders over $200 ship free and fast — often arriving within 2-3 days. International orders take a bit longer, generally delivered within 7-10 business days. Shipping costs a flat $15 for all orders. Plus, customer support is useful and very responsive.
The primary drawbacks are the price of certain ingredients, the sometimes overwhelming catalog of very similar peptides (ie seven different CJC-1295 products), and lacking real-user reviews on their website. But you can find third-party reviews on forums and other sites.
Since they partner with WHO/GMP and ISO 9001:2008-approved manufacturers, you should get the highest purity and quality research-grade peptides. Peptide Sciences tests its products to guarantee a purity of 99+%.
At least, in theory.
June 2023 Update: Although they claim to rigorously test products, that may not be true. I've seen several unaffiliated third-party lab testing reports that show conflicting safety data. Some of the tested peptides were as low as 75% purity! This was done by independent safety-minded biohackers. Since other companies provide the same products more affordably and at higher purities, I've demoted this source down a tier.
Peptide Sciences is an often-recommended place to buy peptides online if you can afford the pricier products and prioritize customer service and fast shipping — just remember that they do not accept returns!
Biotech Peptides

Overview
Form: Injectables, topicals
Lab Verified: Yes
Shipping: Worldwide (free shipping & bonus on orders of $200+)
Shipping Speed: 2-4 days (USA), 2-6 days (international)
Payment Methods: Credit Card
Guarantees: 30-day full money-back guarantee
Other Products: None
Price (BPC-157 5mg): $48
Rating: 3.9
Biotech Peptides is yet another popular source to buy safe and effective peptides. Although this one is usually forgotten since there are so many other great options. They're based out of San-Diego, California.
Biotech's catalog contains an impressive 87 peptides:
BPC-157
AOD-9604
TB-500
Fragment-176-191 (of HGH)
Semaglutide
Melanotan 1
Ipamorelin
Epitalon
Tesamorelin
Sermorelin
IGF-1
TA-1
MOTS-c
CJC-1295 (with and without the DAC)
GHRP
GHK-Cu
I found a couple of other ingredients (such as B7-33) here that very few other vendors stock. Biotech Peptides is another one that also sells a variety of multi-peptide blends.
Like most of the ones on this list, they have a purity requirement that all products must exceed at least 99%.
This shop uses multiple rounds of high-performance Liquid Chromatography and mass spectrometry to sample peptides for quality and purity (as many alternatives do). According to a rep I talked to, they're in the midst of posting their highly-detailed CoAs to their website.
Older reviews mention a stellar money-back guarantee and unparalleled return policy. However, that's no longer the case. Biotech Peptides does not accept returns, and any accommodations are at the discretion of the support representative.
Two things stand out about Biotech Peptides: very fast shipping and stackable discounts.
Orders placed before 1 pm PST will ship out the same day. How long they'll take to arrive depends on your chosen shipping speed. Domestically, USPS priority takes 2-3 days and costs a flat $9.75. Overnight shipping costs a flat $45. Orders over $200 ship free and get a bonus 30ml bottle of bacteriostatic water.
You can pay via credit card (Visa, Discover, Mastercard, American Express), debit card, Paypal, or electronic check.
Biotech has an entire section dedicated to peptides on sale. If you have the patience, you can stack a promo code with heavily discounted products. Potentially netting you a 40 percent savings from retail.
When I emailed their customer service to obtain recent CoAs, I was pleased to receive a rapid and polite response.
Go with Biotech Peptides for super fast shipping, and if you find your product in the sale category (can stack that with a coupon for huge savings).
GenX Bio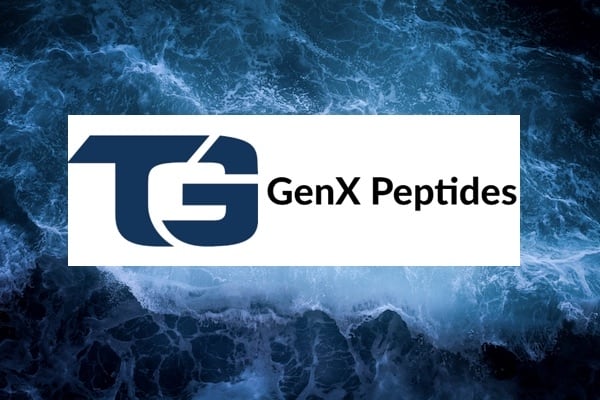 Overview
Form: Injectibles
Lab Verified: Yes
Shipping: Worldwide (free shipping on orders of $150+)
Shipping Speed: 2-6 business days (USA), 8-20 business days (international)
Payment Methods: Credit Card
Guarantees: None
Other Products: Laboratory supplies
Price (BPC-157 5mg): $44.00
Rating: 3.7
Since 2013, GenX Bio has focused on creating products around neuroscience, anti-aging, and metabolic research. Like some of the others on this roundup of top peptide vendors, they're based out of the United States. You'll quickly know if they carry what you seek, as the company focuses exclusively on peptides. All of which are easily found on GenX Bio's modern website.
GenX's website lists 43 peptides, including most of the popular ones:
BPC-157
TB-500
Ipamorelin
Epitalon
Tesamorelin
Sermorelin
Semaglutide
IGF-1
TA-1
Kisspeptin
LL-37
Melanotan 2
P-21
MOTS-c
CJC-1295 (with and without the DAC)
GHRP
GHK-Cu
Like a few others, GenX also offers rarer performance enhancers like EPO and MK-677.
Products undergo high-performance liquid chromatography-mass spectrometry (HPLC/MS) lab testing, but I could not determine if each batch is tested separately.
Shipping is cheap and speedy. Domestic orders (free on orders of $150+) arrive within as little as 2-3 business days via Priority Mail and internationally within a longer timeframe of 8-20 business days. Due to their semi-restrictive customs, shipping, and refund policy, I'd recommend international buyers choose a different source though.
GenX Bio has decent customer service, but unfortunately only available via email.
Ultimately, the large driver to choose GenX comes down to price. These are some of the most affordable peptides online. Especially after any coupon codes and/or sales, these prices are almost unbeatable. GenX accepts credit cards (Visa & Mastercard) and cryptocurrency (Bitcoin).
GenX Bio has the most affordable peptides with quick shipping (although international buyers should carefully review their shipping policies).
Use the exclusive code URBAN for 10% off
Tier #3: Other Good Peptide Vendors
Finally, these are the peptide vendors I would consider but would want to see credible third-party testing first.
Paradigm Peptides
Overview
Form:
Lab Verified:
Shipping: Worldwide (Free shipping for orders of $50+ in USA, $200+ international)
Shipping Speed: 7-10 business days
Payment Methods: Zelle, Cash App, Bitcoin, other cryptocurrencies
Guarantees: Case-by-case refunds
Other Products: SARMs, lab supplies, nootropics, CBD/hemp
Price (BPC-157 5mg): $48.00
Rating: 3.7
Established in 2014 in the American city of Chicago, Paradigm Peptides focuses on providing customers with quality research ingredients like peptides, SARMs, and nootropics. Paradigm has useful educational content throughout their site, which overall is easy to use.
Finding and buying their peptides, however, is a bit more challenging. For some reason, they're one of few companies that don't have a search function. The page layout and inconsistent product titling make it even more difficult to find specific products.
Paradigm Peptides offers 26 peptides, including:
BPC-157
TB-500
Thymalin
TA-1
DSIP
Epitalon
GHRP
GHK-Cu
Hexarelin
CJC-1295 (with the DAC)
IGF-1
Ipamorelin
Melanotan 2
Tesamorelin
Sermorelin
Paradigm does have a few blends listed as well. Safety-wise, they put their products through COA, HPLC, and Mass Spectrometry testing and reporting. You'll have to reach out to their support team for a copy, as they change too often to post.
They claim that all peptides are "pharmaceutical-grade", exceeding 98% purity (and mostly >99% purity). Paradigm goes the extra step to ensure the potency and safety of their peptides. They remove trifluoroacetic acid (TFA) which is caustic to human tissues. They pH-balance the final product to minimize bodily irritation and improve reconstitution. Then Paradigm vacuum-seals their peptides, to protect against degradation and oxygenation.
When I researched this company, I came across mixed ratings. Though they list a 4.6-star user rating on their site, third-party reviews peg them closer to the 4.1-star level. I find these tactics deceptive (yet common), and a red flag of the company's legitimacy.
Paradigm Peptides has multiple payment options, including credit cards (Visa & Mastercard), e-checks, cash app, and cryptocurrency (Bitcoin). Although in some instances, payment via credit card may not be available. Shipping time and price varies dramatically with location. For me, Priority Mail cost $10 while Priority Mail Express came out to $30. International customers can expect to pay $40 or $70 respectively. Many reviews mention the shipping speed as a major plus. Refunds are subject to return shipping charges and a 15% restocking fee — IF they accept your request.
Their support team gets back to customers fast. I received a response to my email requesting lab testing data within the hour. Luckily, they're one of few to also offer live phone support.
Paradigm Peptides is an option for folks that are sensitive to peptide injections, prioritize fast shipping, or want to chat with a live customer service agent.
Amino Asylum
Overview
Form: Injectables, sprays
Lab Verified: No
Shipping: USA (flat rate $9.99)
Shipping Speed: 2-4+ days
Payment Methods: Credit Card, Zelle, Cash App, Venmo
Guarantees: None
Other Products: SARMs, aminos, gym wear, pro-hormones, research chemicals, research oils
Price (BPC-157 5mg): $34.99
Rating: 3.3
Beginning in 2018, Kentucky-based Amino Asylum has provided the industry with research chemicals, aminos, peptides, SARMs, and prohormones. Few companies provide such variety of small molecules and injectables.
In addition to their catalog of 18 peptides, as their name suggests, Amino Asylum sells 23 injectable amino acids. Products include:
BPC-157
HCG
TB-500
Melanotan 2
Fragment-176-191 (of HGH)
CJC-1295 (without the DAC)
GHRP
IGF-1
PT-141
MOTS-c
Semaglutide
Ipamorelin
B vitamins
Vitamin D
BCAAs
L-Carnitine
Surprisingly, Amino Asylum sells blends containing up to nine different peptides and aminos all in one vial. They're best known for these all-in-one combinations as well as their peri-cycle support. Folks using exogenous hormones frequent AA.
Although their site is easy to navigate, I'm unimpressed by the lack of transparency into their processes and methodologies. I couldn't find any of the usual pages like "FAQs", "About Us", "Testing Results". Here lies the problem. I've scoured their website and the internet for the results of their HPLC tests and/or CoAs. I found nothing. The logical conclusion is that Amino Asylum doesn't have quality control processes.
Perhaps that's why their peptides and aminos are so affordable. Without testing, they can pass those savings on to customers.
At the same time, most independent user reviews come back positive. Scroll through a forum like Reddit and that is quickly apparent.
Since you have no clue what you're actually consuming (you can slap a label on anything), Amino Asylum I recommend choosing a lab–tested vendor if you can afford it.
American Research Lab
Overview
Form: Injectables
Lab Verified: No
Shipping: Worldwide (flat rate of $25.40 in USA, $74.95 internationally)
Shipping Speed: Unknown
Payment Methods: Bitcoin, Cash App, Venmo
Guarantees: 30-day money-back guarantee
Other Products: SARMS, research chemicals
Price (BPC-157 5mg): $24.99
Rating: 2.8
American Research Lab (although the banner on their site shows "American Research Labs") is a no-frills peptide and research chemical supplier that was once popular in online communities due to their rock-bottom prices. The website is functional but outdated.
ARL carries a usual lineup featuring about 22 peptides:
BPC-157
TB-500
Melanotan 2
DSIP
Epithalon
GHRP
Fragment-176-191 (of HGH)
CJC-1295 (with and without the DAC)
IGF-1
GnRH
Hexarelin
Ipamorelin
Oxytocin
PT-141
MOTS-c
Sermorelin
They claim to manufacture peptides in the USA and to independently lab test each batch. Each product is guaranteed to meet a purity standard of 98.6% or greater.
I doubt it. Everything about this vendor screams red flags. First, the website ("www.americanresearchlabs.com") listed on their "Terms & Conditions" page doesn't exist and redirects to Google. ARL is registered to the company "JKB Services, LLC" which appears to be a real estate group. The footer hasn't been updated since 2019 and the support line goes to a voicemail box. They never returned my call.
The internet is full of mixed reviews. In my younger years, I used ARL for one reason — price. The price simply cannot be matched. I purchased five vials of Melanotan II and they certainly worked! All in, my order came out to less than half the cost of other popular peptide sellers. Even after I paid the flat $7.90 domestic shipping. I did add a hefty discount code which you'll sometimes get in their email newsletter.
Although I'll never use them again because safety is the most important consideration with injectables, those on a super-tight budget may consider ARL. In that case, I'd recommend pooling funds with a friend and getting your batch tested.
ARL is only for those with absolutely no budget for peptides and are willing to do safety testing themselves.
Controversial Peptide Vendors
These vendors are very popular but also get the most hate due to scams, junk products, and contamination.
Blue Sky
Blue Sky Peptides is known as a budget-friendly peptide source. Yet for every positive review and testimonial I came across, three to four mentioned seriously terrible experiences. Ranging from the company ignoring their emails, to junk products and even outright scams. People paid and received literally nothing. These products certainly come from China, and are not batch-tested for safety. BSP just white-labels vials with their logo.
I suspect that the positive reviews are from employees of the company. Check out this Reddit thread, or their Trustpilot for a small sample of the deception.
Peptide Warehouse
Peptide Warehouse is another seller that spends heavily on marketing and ads. You'll see this name come up all the time in discussions of low-cost peptide vendors. I dislike just about everything about this company. From cartoonish aesthetics to deceptive marketing. The HPLC "lab test" results proudly displayed on their page are old. Way back from 2014!
Other user reviews echo the same. In recent years, PW has gone downhill. Products often don't arrive, what does arrive is under-dosed or something different entirely, and most customers will not purchase from them again.
The only thing Peptide Warehouse has going for it is BOGO sales and many payment methods (Venmo Payment, Apple Pay, G-Pay, Bitcoin, and Cash App).
How to Avoid Peptide Scams
Peptides are not sold for human consumption but rather as research chemicals. Therefore, they're mostly exempt from regulation by the FDA or other governing bodies.
Therefore, it's vital to do your diligence before purchasing peptides. Note these factors when evaluating the best (and worst) places to buy peptides online:
Reviews. Look for recent reviews on less biased third-party platforms like Reddit, Trustpilot, and the BBB.
Lab testing. If you can't find test results on their website, email support requesting a copy. Check the analysis date. Call the certifying lab to confirm if you're suspicious.
Transparency. While not always true, companies that give more information about their methodologies, processes, and policies are more trustworthy.
Media presence. Do the owners disclose their identity anywhere? Does the company have active social media profiles?
Guarantees. Does the brand offer any reassurances of satisfaction such as return/refund policies?
Payment options. Unless you're sure, avoid companies that only offer irreversible payment methods (Bitcoin, bank transfer) until you've used them before.
Price. Of course, we all want to pay the least for the highest quality product. Products priced drastically lower than others indicate the company is likely taking a shortcut somewhere.
Now, none of these guarantee quality. Companies can create fake Reddit accounts, for example. Some alter their CoAs with Photoshop. CanLab Sciences, for example, is well-respected but has limited info on its website.
Rather, these are rough guidelines I use to semi-reliably gauge the quality of a peptide source in just a few minutes.
The Only Trustworthy Places to Buy Peptides Online
Peptides and other small molecules show tremendous promise and success in optimizing health and accelerating outcomes.
For the biohackers and early adopters, peptide therapy is delivering transformational results. But it's still in its infancy. For help choosing a particular product, check out my quick guide to the best therapeutic peptides to optimize your health and performance.
There's no "Amazon of peptides", and most health and wellness companies will avoid this market due to regulatory uncertainty.
Because of that, prices are high. Enticing low-to-mediocre quality vendors to spin up a website and start profiting. Unfortunately, in many cases, low-quality peptides do more harm than good.
Peptides are extremely fragile molecules and usually rendered inert by stomach acid or the skin. So we rely on injections.
Injections bypass many of the body's defense systems and mechanisms. With impure products, you're driving heavy metals, contaminants, and toxicants straight into the body. Potentially devastating your health and well-being.
When I was younger, I used some cheap peptides. Although I'm still standing, saving a few bucks isn't worth the potential lifelong consequences. So in most cases, I recommend steering clear of questionable injectables.
There are a few companies like LVLUP Health (mentioned above) that make powerful oral peptide capsules. Or you can try a special subset of peptides that work on the DNA level to stimulate bodily regeneration. Check out my guide to the best bioregulator peptides here.
Many of the top recommendations are only available to practitioners. And they're often incredibly expensive.
Few trustworthy vendors have built long-lasting reputations by providing biohackers and peptide enthusiasts with quality products. So when it comes to the top sources, I am quite careful.
If possible, stick to the first tier of my list above.
But I'm curious…
Am I missing any top-notch online peptide sources? Let me know your experience in the comments below!