Athletic Greens (AG1) is one of the most popular green superfood supplements.
If you listen to health and performance podcasts, read biohacking blogs, or follow top wellness influencers, AG is everywhere. High-profile health experts, scientists, and professional athletes endorse Athletic Greens. A few of the more prominent AG1 fans include:
Dr. Andrew Huberman
Tim Ferriss
Joe Rogan
Mark Hyman
Robin Arzón
Lewis Hamilton
Peter Diamandis
David Sinclair
Much of the seeming popularity of Athletic Greens stems from a huge and recent influx of capital. An early 2022 funding round of $115 Million enabled a massive social marketing campaign.
Is it possible that there are better AG1 alternatives? Do you even need a greens superfood powder?
Indeed, there are multiple superior, cheaper, and more effective products. Whether you should take them is another topic (covered later in this article).
In this research and product roundup, we'll review the best Athletic Greens AG1 alternatives, examine the benefits of green superfood supplements (if any), and determine whether they're a fad or useful tool to optimize your health and performance.
Affiliate Disclosure: This post may contain affiliate links, which means I get a small commission if you buy (at no cost to you). Thanks for your support!
Problems With Athletic Greens AG1
First, we'll discuss the problems with Athletic Greens. Specifically why I recommend other products instead.
Note that very few greens supplements check all the most desirable boxes. Some of my favorites also share one or more pitfalls.
The following list is ordered by the considerations I deem most to least important.
Ingredient quality
Greens superfoods powders are all about improving health.
Unfortunately, most greens supplements on the market cause the opposite. Low-quality, contaminated, and often adulterated products do more harm than good. My biggest concerns with AG1 are twofold, both pertaining to quality.
First, they boast that production occurs in New Zealand, but nothing about how or where they source ingredients. Therefore, I'm assuming they come from China. While other reviews claim the ingredients in AG1 are "100% organically grown", I doubt it. NSF certification is quite expensive, and Athletic Greens is not USDA-Certified Organic for a reason.
Second, I didn't see anything regarding the way they process each ingredient to minimize vitamin and phytochemical (polyphenol) loss that occurs with normal dehydration. Normal processing degrades and destroys many of the other beneficial non-vitamin & non-mineral nutrients.
Proprietary blends
Big and bold, AG mentions that their formula contains a whopping 75 ingredients!
Presumably in tiny doses, since they don't show the full break down.
I like Dr. Sandra Kaufmann's approach of micro-dosing a wide variety of nutrients for powerful synergistic effects.
Greens manufacturers often use proprietary blends to conceal the dosages of their vast array of ingredients.
I don't like nutrition products hiding dosage information behind proprietary blends (or, as Athletic Greens calls it, "complexes"). We have no idea whether we're getting clinically relevant doses of anything.
Usually, companies do this when the majority of the blend is incredibly cheap ingredients and they "fairy dust" tiny amounts of the key beneficial (often expensive) ingredients.
This allows them to boast about all the superfoods within their product, while maintaining incredible profit margins. At the cost of effectiveness.
Athletic Greens' lack of transparency taints the brand's trustworthiness.
Sub-optimal nutrient forms
Often, the specific form of a nutrient determines whether it's rapidly excreted from the body, or absorbed and assimilated.
Consequences of consuming the wrong form range from a misleading waste of money to downright toxicity.
Magnesium is one classic example. Some forms, like magnesium stearate, for example, are used as fillers in the supplement manufacturing process and even can be potentially harmful.
Athletic Greens appears to understand this importance and chose the right form of many ingredients (such as the "activated" B vitamins; optimal electrolytes like calcium, magnesium, and potassium).
That said, they provide little information about the ingredients in their proprietary "complexes". We don't know the form, standardizations of particular active ingredients, or any other indicators of quality for the vast majority of their formula.
One example that caught my eye, for instance, is their organic chlorella. I'm a huge fan of this superfood, but in order for your body to assimilate it, the processor must have "cracked the cell wall". Even then, how they crack the cell wall determines the quality of the end product.
Most likely, AG1 buys the cheapest bulk ingredients they can find and hides any relevant information by placing it into their proprietary blends.
Price
One of the biggest and most universal complaints is the price of Athletic Greens.
Depending on your order, each serving comes out to between around $2-$4. Of course, buying in bulk and opting into monthly subscriptions lowers the cost.
One-time orders have an added $9 shipping cost, bringing the total to $3.60 per serving. Travel packs come out to $3.63 per serving.
These pricing tiers peg AG1 among the more expensive of all green superfoods powders yet they do not lead in quality.
Plus, one-time purchases don't qualify for their 90-day money-back guarantee. This makes no sense, because first-time users testing AG1 are the most likely to actually use the guarantee.
If you like it enough to subscribe, surely you won't capitalize on their refund policy. This seems most like an excuse to show a money-back guarantee badge on their website.
Overall, with Athletic Greens, you're mostly paying for the brand name and marketing. Which is a primary reason I recommend better-value AG1 alternatives!
Best Organic Athletic Greens Superfood Alternatives
Your ideal greens superfood product will depend on a variety of factors.
Here are brief reviews and comparisons between the best AG1 substitutes available.
PaleoValley Organic Supergreens
Overview
Ingredients: 23 — Organic kale, organic broccoli, organic spirulina, organic spinach, etc
Proprietary Blend: Yes
Taste: Greens with a hint of strawberry and pineapple
Refund Policy: 60-day money-back guarantee
Certified Organic: Yes
Lab Tested: Yes
Servings: 30
Price + Discount: $45.59 (button below saves 15%)
Overall Rating: 4.6
Founded in 2012, California-based PaleoValley is a nutrition company dedicated to producing top-notch organic foods, snacks, and products that your body readily absorbs and utilizes. For each of their products, PaleoValley sources the highest quality certified-organic, non-GMO superfoods.
Their Organic Supergreens powder is no exception, each raw material is USDA organic, and the final product contains no additives or fillers. Another major differentiator between PaleoValley and virtually every other product is their decision to completely exclude cereal grasses. Although iconic in greens formulas, grasses like wheatgrass often disrupt digestion and cause gut issues. You'll want a product free of these cereal grasses if you struggle with inflammation. Besides, microalgae (like spirulina) contain higher levels of every nutrient within wheatgrass.
Although Organic Supergreens does have proprietary blends, since they hand-selected just 23 superfoods, you still get appreciable amounts of each. I'm not a huge fan of the strawberry lemonade taste, but others seem to love it.
When you use the link below, buy in bulk, and subscribe, the price comes to $45.59 per 30-serving bag—making it an excellent greens superfood product.
For years, PaleoValley's Organic Supergreens has been my go-to nutritional support while traveling due to its unparalleled value.
Click the button above to save 15% on Paleovalley products
Organifi Green Juice
Overview
Ingredients: 11 — Spirulina, chlorella, ashwagandha, moringa, etc
Proprietary Blend: Yes
Refund Policy: 60-day money-back guarantee
Taste: Smooth, perfectly sweetened mint
Certified Organic: Yes
Lab Tested: FDA approved
Servings: 30
Price + Discount: $69.95 (code URBAN saves 15%)
Overall Rating: 4.4
Organifi is another well-established nutrition company. Founded in San Diego, California back in 2011 out of personal necessity by Drew Canole. They've long been a top alternative to Athletic Greens AG1.
That's because Organifi offers all kinds of USDA-Certified Organic superfood powders for every goal and use case. Each of these powders is certified glyphosate residue-free (a major problem for most superfood powders) and Non-GMO Project verified.
Like PaleoValley, Organifi chose to include fewer superfoods (11), ensuring you get the right dosage of each. My favorite ingredients in Organifi Green include the micro-algae spirulina and chlorella, as well as a full 600mg dose of the stress-buffering adaptogen ashwagandha. You also get turmeric (better than just curcumin extracts), red beet, citrus, prebiotics, and moringa.
Organifi Green now comes in two flavors, their original mint, and a new crisp green apple flavor. I haven't tried crisp green apple, but their mint uses just enough sweetness to mask the earthy taste. It mixes easily and hardly tastes like greens.
You can also build a kit of three products of your choosing (say, Green Juice, Red Juice, Gold) and save an additional 20% on your order. All orders come backed by a 60-day money-back guarantee, but judging by the 4.9-star overall rating on 2,897+ reviews, you're more likely to enjoy Organifi Green Juice.
Organifi makes an entire line of quality superfood products and if you aren't already supplementing chlorella and ashwagandha, their Green Juice is quite popular.
Use the exclusive Organifi code URBAN for 15% off
Dr. Tom Cowan's Low-Oxalate Greens Powder
Among the newer and more notable AG1 replacements, are the line of greens products created by Dr. Tom Cowan. His low-oxalate greens are a worthy rival of any superfood drink on this list, and their shop carries all kinds of other related products.
From organic Ashitaba Powder to Wild-Harvested Sea Vegetables, Dr. Cowan's Garden has something for everyone and any intolerance. Some of the supplements come in sweet or savory versions too. In fact, they have the largest catalog of 43+ different superfood products. What separates DCG superfood powders, however, is their attention to quality—especially anti-nutrients.
Oxalates are natural plant-defense compounds that bind with calcium in the bloodstream and cause both inflammation and accelerate the formation of kidney stones. The success of those following a carnivore-style diet is partially attributed to reducing oxalate levels. This Low-Oxalate Greens Powder allows you to get the health benefits of greens without unwanted irritants.
DCG sources locally and produces "Beyond Organic" standards. Inside, you get hefty doses of just three ingredients:
Organic lacinato ("dino") kale
Mustard leaves
Collard greens
Nice and simple. As close as you can get to powdered vegetables.
If you want the cleanest true greens powder at a reasonable price, supplements from Dr. Cowan's Garden are unbeatable.
Use the exclusive Dr. Cowan's Garden URBAN for 15% off
Thorne Daily Greens Plus
Overview
Ingredients: 28 – Shiitake mushroom, mango, ginger, moringa, pomegranate, etc.
Proprietary Blend: No
Refund Policy: 60-day money-back guarantee
Taste: Mint green/mint matcha (decent but strong ginger kick)
Certified Organic: Yes
Lab Tested: Yes
Servings: 30
Price + Discount: $68 (15% discount automatically applied via button below)
Overall Rating: 4.5
Since its 1984 inception, Thorne Research has become one of the most trusted names in supplements. Each of their products is manufactured in-house and undergoes among the most rigorous third-party testing possible.
This is how their products get highly-coveted TGA-Certification. TGA is the Australian regulating body that imposes pharmaceutical standards on supplements. Their commitment to quality doesn't stop there.
Thorne Daily Greens Plus sets a high bar in the greens powders market. They list every single ingredient and the exact dosage on the label. The proper dosages used in clinical research. Daily Greens Plus is one of the few products completely devoid of proprietary blends.
These 28 ingredients support cellular energy generation and mental performance while simultaneously providing antioxidant support. The formula itself is composed of four parts:
Power greens
Adaptogenic botanicals
Functional mushrooms
Antioxidant protection
It's very reasonably priced and for the quality, unparalleled. As awesome as the formula is, the formulators really didn't cut any corners on dosages. They used a clinical dose of ginger which becomes apparent in the drink's aftertaste.
For those that want the highest-quality alternative to a multi-vitamin, complete with clinical doses of 28 ingredients (and no proprietary complexes!), Thorne's Daily Greens Plus is a clear winner.
Click the button to automatically unlock 15% off Thorne products (some exclusions apply)
Green Vibrance
Overview
Ingredients: Organic cereal grass powders & juices, goji berries, astragalus, spirulina, holy basil
Proprietary Blend: No
Refund Policy: 30-day money-back guarantee
Taste: Typical greens, with notes of celery
Certified Organic: No
Lab Tested: Yes
Servings: 30
Price + Discount: $45.97
Overall Rating: 4.3
Established in 1992, Vibrant Health is the company behind Green Vibrance. It's one of the original green superfood powders and they've continuously iterated the formula over the years. They're currently on formula version 19.1. I love that they show the exact dosages of each and every ingredient within.
Perhaps that's why Green Vibrance constantly wins awards.
This was the first greens superfood powder I tried. It certainly tastes like a greens powder, and Vibrant Health did a good job balancing the sweetness.
Most but not everything within this product is organic. Vibrant Health couldn't source organic versions of a few key ingredients. Therefore, it does not qualify for USDA organic certification.
I'm impressed by the formula nonetheless. It's got polyphenols, adaptogens, plant superfoods, antioxidants, digestive enzymes, herbs and spices, probiotics, and some natural nootropics. If only they didn't include an entire complex of gut-irritating cereal grasses.
Green Vibrance deserves a spot on any roundup of top greens' nutritional products. The primary downside is cost. Depending on where you get it, and the quantity, each serving comes out to about $1.30-$2.00.
Green Vibrance is the ideal greens powder for those that want full transparency into exact dosages and can tolerate a complex of multiple types of cereal grasses.
Tier #2: Top AG1 Green Powder Alternatives
For different reasons, I don't recommend these greens products as highly as the previous ones.
Still, depending on your lifestyle and budget, one of these may be the right choice for you.
Peak Performance Organic Superfood Powder
Overview
Ingredients: 25 — Organic spirulina, organic wheat grass, organic kale, organic spinach, etc
Proprietary Blend: Yes
Refund Policy: 30-day money-back guarantee
Taste: Earthy and slightly bitter with a sweet stevia aftertaste
Certified Organic: Yes
Lab Tested: Yes
Servings: 30
Price + Discount: $39.95
Overall Rating: 4.0
Peak Performance Coffee branched out into the nutrition space in 2017 as they launched Peak Performance Organic Greens Superfood Powder. This is one of few 100% USDA-Certified Organic powders.
I like their ingredients lineup, which includes: organic spirulina, organic chlorella, organic veggies, polyphenol sources, organic herbs, organic natural blood glucose stabilizers, prebiotics, digestive enzymes, and probiotics. Even though they added cereal grasses, they chose to use extracts. As opposed to the whole plant or hull, extracts are much easier to digest and absorb without irritating the gut.
I suspect that the raw ingredients come from China, but they do claim to enforce strict purity and safety standards from all their suppliers. They also claim to third-party test their final products. Labdoor put that to the test, and indeed, Peak Performance Organic Greens Superfood Powder passed.
The taste stacks up nicely against the other powders. In its current formula, the flavor is initially a tad bitter followed by a fruity aftertaste. It dissolves into liquids easily and isn't as grainy as some powders. If you're sensitive to the aftertaste of stevia, you might not like this product.
Peak Performance Organic Greens Superfood Powder is a budget-friendly USDA-Certified Organic product.
Primal Greens
Made by the nutrition brand Primal Harvest, Primal Greens is widely considered the top budget-friendly greens product. Making it a common Athletic Greens replacement.
Primal Greens contain 51 superfoods, including some of my favorites like chlorella, spirulina, probiotics, green tea, kale, and turmeric. I love that they included the adaptogens ashwagandha and Korean ginseng. Plus, this formula contains probiotics and digestive enzymes.
Taste-wise, Primal Greens is on the mild side. It's a bit earthy, so you might want to mix it into something else. This powder easily dissolved into other liquids without overpowering their taste.
Two primary things I dislike about Primal Greens. First, none of the ingredients are organic. That partially explains the affordable pricing. Second, ingredient dosages are hidden inside their proprietary blends. You really don't know what you're consuming. I personally wouldn't consume it anymore.
Primal Greens is the AG1 replacement if you don't care about organics and want popular budget-friendly greens powders.
Garden of Life Raw Organic Perfect Food Green Superfood Juiced Greens Powder
Overview
Ingredients: Organic apple (fruit), organic beet (root), organic broccoli (stalk & flower), organic carrot (root), etc
Proprietary Blend: Yes
Refund Policy: 30-day money-back guarantee
Taste: Apple, chocolate and original – apple is their best, but still a bit too sweet
Certified Organic: Yes
Lab Tested: Yes
Servings: 30
Price + Discount: $28.25
Overall Rating: 3.6
In 2000, Jordan Rubin created Garden of Life to simplify nutrition for the masses. Garden of Life grew a cult-like following due to its unwavering commitment to quality and transparency at reasonable prices.
Their green superfood product checks many of the boxes of high quality. It's USDA-Certified Organic, Non-GMO Project Verified, NSF-Certified Gluten-Free (but not for Sport). Plus, the company has won awards for sustainability and worker treatment.
It contains some great ingredients like organic veggies, organic fruits, organic herbs and spices, organic sprouts, digestive enzymes, and probiotics.
It does have a fair share of faults. First, Nestle bought the company in 2017, so who knows what's happened since then (Nestle has a very dark history). Next, the vast majority of each scoop is composed of cereal grasses. Although they claim it's a superfood drink, there isn't any inside: no adaptogens, no botanicals, no functional mushrooms, no rare ingredients.
Taste is middle-of-the-road. Earth and a little too sweet. It doesn't dissolve as well as some of the other powders either.
If you don't mind supporting Nestle, Garden of Life's Green Superfood product is a decent certified organic option.
Greens Superfood Supplements I Do Not Recommend
Some of these products were great and went downhill as the manufacturers cut corners and switched to cheaper low-quality ingredients.
Others have made a name for themselves due to heavy marketing spending.
Regardless, now I recommend avoiding the following Atheltic Greens alternatives.
Ladder Superfood Greens
LADDER was a nutrition company founded by athletic icons LeBron James and Arnold Schwarzenegger out of personal need. The original formula was decent and NSF-Certified for sport. In 2022, however, they discretely changed their formula and didn't update the labels posted online (or inform customers). It's now a low-quality product with extremely profit high margins. I do not recommend it.
Beyond Greens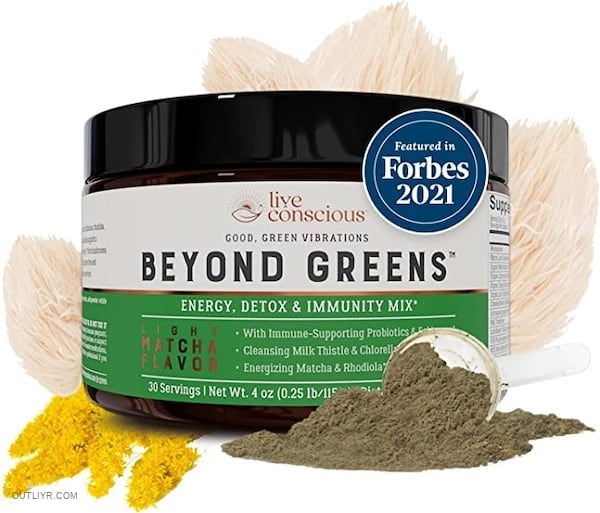 Live Conscious created Beyond Greens in 2021, and Forbes has already featured the product. Although it checks some important boxes, I don't like it for several reasons. The mushrooms are indeed organic, and the right part (fruiting body). But the meager 25mg in the product doesn't approach standard clinical dosages of 250-500mg or more.
None of the other ingredients are organic, so you won't receive the same levels of beneficial phytochemicals. With certain ingredients like chlorella, I'd rather avoid it altogether as they naturally concentrate heavy metals from the environment. Meaning that you get high levels of toxicants and few beneficial phytonutrients.
Lastly, this product contains all kinds of additives.
Amazing Grass
I was rooting for Amazing Grass as soon as I saw the unbeatable price. I don't love the contents — mostly just cereal grasses. Then, the included greens are high in oxalates and gut-irritating veggies. They chose to use the questionable filler, silica, in this product. All of that pales in comparison to my primary concern.
This company claims to third-party test all of its products for purity and safety. Except this $213,000 settlement with the State of California shows otherwise. Granted, it wasn't for their Amazing Grass Greens Blend Superfood product, but companies caught selling products with dangerous levels of lead and cadmium likely cut every possible corner.
Since there are so many reputable and high-quality superfoods for about the same price, Amazing Grass isn't worth consideration.
SuperGreen Tonik
SuperGreen Tonik is another product that grabs attention at an incredible price. But overall, I'm not impressed. First, 7.5g of the 8.6g serving is carbohydrates, 2 grams of which are sugar. Next, the primary ingredient in this "super greens" powder is blue agave inulin. The majority of the ingredients in this are quite cheap. Which explains the price.
They do use organic versions of the raw materials, but it's not a certified organic product, so we still don't know about the quality. Nutra Champs also included the unnecessary additive silica which is potentially unhealthy. Even though they added probiotics and digestive enzymes, we have no idea the quantity of each.
Finally, the product has issues with clumping. It's cheap at <$1.00 per serving, but not one of the best options.
What to Look for in Greens Superfood Supplements
There's no single "best greens powder" for everyone. Diet, lifestyle, and personal preferences will determine which ingredients you want in your ideal product. While it may seem improbable, too much of certain fat-soluble nutrients can actually be toxic.
This is why I always recommend regular health testing and checking with your medical provider before changing supplement regimens.
That said, quality superfood supplements share common characteristics.
The best greens superfood products have certain qualities in common.
What matters most to you, however, will depend on your priorities.
Quality raw ingredients
Superfood supplements are only as good as the raw material inputs.
Farming practices determine a product's nutrient levels, toxicity, and cellular information (micro-RNA).
Researching how and where a company sources its superfoods is one of the most important steps of the entire process.
Highest quality products use ingredients that are either: USDA Certified Organic, Beyond Organic, Certified Naturally Grown (CNG), Biodynamic, or Regenerative Organic Certified (ROC).
Look for one of the above certifications, as well as a lack of unnecessary (harmful) additives which extend the shelf life and increase manufacturing profit margins.
Processing technology
Despite marketing claims, there are large differences between real produce and superfood powders.
Even the highest quality raw materials won't do much good if the manufacturer cuts corners in reducing the original fruit and vegetable into powder form.
One of the common green superfood processing methods is high-heat dehydration. Heat, oxygen, and light destroy many of the delicate nutrients and powerful health-benefiting phytochemicals within produce.
Resulting in products that hardly match the marketing claims or the ingredients before processing.
Instead, what you want is "gentle drying", "cold-processing", "flash freezing", or other forms of minimal processing. That ensures you get the highest-quality product and all the associated vitality-boosting benefits.
Optimal vitamins, minerals, & phytochemicals
They use the optimal forms of nutrients.
Activated vitamins, bioavailable minerals, and phytochemicals in their most usable forms. While simultaneously not relying on "shotgun" bioavailability enhancers like black pepper extract (BioPerine) which increase your absorption of everything (including toxins).
Spotting quality formulations takes considerable study and research. A simple (but not foolproof) heuristic is price. Super cheap products virtually always use inferior, poorly absorbed, sub-optimal forms of ingredients. I've rounded up all the exceptions to this rule here in this post.
Digestive support
Run-of-the-mill greens powders don't sit well in the stomach.
They may send you running for the toilet, eliminating any possible benefits before they're absorbed.
More recent product formulations often include digestive support via added enzymes. These improve gut function, nutrient assimilation, and digestion. Important digestive enzyme levels naturally decline with age, especially in fruit and vegetable-deficient diets like carnivore or keto.
Restoring normal digestion can help improve symptoms of constipation without pushing you too far the other way. Paired with enzymes, these greens can help improve regularity. Especially among those needing dietary balance.
Since elimination is one of the core detoxification pathways, enzymatic support can dramatically improve the way you feel.
Adaptogens
Adaptogens are a special class of botanicals renowned for their long history of safe yet powerful effects.
Basically, they modulate the body back into balance. Bringing abnormally high biomarkers down, and increasing abnormally low biomarkers.
If you've heard of Ashwagandha, Rhodiola, Green Tea, Lion's Mane, Reishi, or Ginseng (to name a few), these are all considered adaptogens.
Since I take many of these as standalone supplements, it's convenient (and cost-effective) when a superfood product already contains them.
Superfoods
Finally, we're at the contents of the product. The contents every brand markets heavily.
The flashy superfoods are plastered all over the bottle.
While there isn't a strict universal definition of "superfood", I think of them as star ingredients.
Technically adaptogens qualify.
Some of the top superfoods I'm obsessed with and look for in superfood powders include:
Chlorella & spirulina micro-algae
Berries
Turmeric (not curcumin)
Acerola
Citrus
Sprouts
Red beet
Moringa
Matcha green tea
Ginger
You may be surprised that I didn't include wheatgrass juice. I'm not a fan for several reasons.
First, chlorella contains the same nutrients but at drastically higher levels (and also much more). Secondly, many people struggle to digest cereal grass (which includes wheat grass).
Of course, many other superfoods qualify that I left out. If I am missing anything major, let me know in the comments below!
Sensory experience
Taste matters.
I consider myself fairly stoic — I have a massive arsenal of downright nasty powders that I use often. Still, I appreciate and enjoy tasty treats.
Whether you're like me and not at all interested in taste, or fairly picky, the flavor will influence how often and consistently you use the powder.
After all, the biggest waste of money is the product you never use.
The taste of greens powders varies dramatically. The chief variable is sweetness.
Some powders have a grassy, and earthy flavor. While many taste more like an overly sweetened dessert. For optimal health, you want the least sweetness (with a quality sweetener) that still satisfies.
Look for one of the following healthier sweeteners:
Stevia
Monk fruit extract
Allulose
D-Ribose
Glycine
The other major consideration is texture. Products often use sweetness to disguise grainy, gritty, and overall unappealing consistencies. Worse yet, I've tried powders that form clumps and chunks — even when thoroughly mixed in a Blender Bottle shaker.
Last and usually less important, is the smell. Some green powders have a gross synthetic smell. Since smell dramatically skews our sense of taste, you'll want a product appealing to the nose.
Few additives
Equally notable as the contents are the exclusions.
When evaluating greens powders, I immediately look to the "Other Ingredients" list. This is where you'll find fillers, additives, binders, excipients, flow regulators, artificial sweeteners, emulsifiers, and even appetite stimulants.
While generally unnecessary and bad for health, each of these can fully negate the benefits of these drinks for certain people.
Some things to look out for:
Maltodextrin (often derived from wheat)
Corn products (corn starch and corn-derived citric acid)
Silicon dioxide
Magnesium stearate
Talc
Artificial flavors
Natural flavors
Artificial sweeteners
Food colors
Trace amounts of certain things will not show up there.
The highest-quality products are often semi-hypoallergenic:
Gluten-free
Dairy-free
Corn-free
Nut-free
Of course, this excludes allergies related to the core superfoods.
Regardless of your current food/ingredient intolerances (or lack thereof), additives can eventually trigger an immune response and lead to diet-induced ingredient allergies.
Prebiotics & probiotics
Recently, prebiotics, probiotics, modbiotics, and now postbiotics have become trendy.
As science continues to uncover the incredible power of optimizing gut health, supporting our microflora only gains more exposure.
This is because the contents of our gut microbiome influence virtually every facet of our overall health.
One role of these biotics is to support digestion and nutrient absorption. Helping you get more out of your green drink.
Although details around which species, strain, and dosage are still to be determined. For this reason, I classify them as "nice to have" ingredients.
Price
By now you can infer the time and labor required to produce the best-dehydrated greens products.
There's intelligent formulating, sourcing raw materials, proper processing, nailing the sensory profile, and then distribution. On top of all this, the company must make a profit to operate.
Properly adhering to each step yields an expensive final product.
At the same time, great products stand out. This should equate to a stellar return/refund policy.
Companies that believe in their products often have impressive money-back guarantees. Whether you place a one-time order or a recurring subscription.
I consider the following when evaluating price:
30-day return policy —> okay
60-day return policy —> good
90-day return policy —> great
90+ day return policy —> optimal
With few exceptions, you shouldn't pay more than $2.50 per serving of green superfoods powders.
Claimed Benefits of Greens Superfood Powders
Greens supplements do not afford all the same benefits as eating the highest-quality produce.
Yet, the right ones also provide dosages of healthy ingredients you wouldn't otherwise consume.
What follows are the top reasons I'd consider supplementing with a green superfood powder.
Nutritional insurance
Greens supplements are an ultimate nutrition convenience. High-quality powders use bioavailable forms of vitamins, minerals, trace minerals, and all kinds of other phytonutrients. Resulting in far greater absorption than traditional multivitamins and with additional benefits.
These are easy to pack, travel with, or keep in areas for on-the-goal nutrition. Especially products rich in superfoods.
Boosts energy
Greens powders sometimes claim to improve your energy. Depending on the product, this can be from many sources. The most universal being a vitamin B complex. B vitamins help the body transform food into energy.
Some add cacao which contains a mild natural stimulant called theobromine. Of course, products with green tea extract contain small amounts of caffeine and also the potentiating amino acid called L-theanine.
Micro-algae like chlorella and spirulina are well-documented to improve ATP synthesis and improve cellular energy levels.
The other main class of energy boosters is adaptogens. Ginseng, Rhodiola, and others naturally increase levels of energy generation while simultaneously reducing fatigue and sleepiness.
Support gut health
The health of your gut microbiome largely shapes your overall health and well-being.
On their own, vegetables can either support or worsen gut health—depending on the current state of your gut. Quality greens powders partially sidestep several ways. First, they contain less gut-irritating fiber. Second, many brands add digestive enzymes, prebiotics, probiotics, postbiotics, and modbiotics. Finally, the polyphenols and other phytochemicals within produce also improve gut function and health.
Together, these create a gut health biosynergy.
Weight loss
Champions of green superfoods often tout weight loss benefits from these powders.
While it's largely a weak argument, greens supplements can indirectly improve weight loss. Via several mechanisms.
First, most of us live chronically deficient in dietary fiber. Although not as fiber-rich as produce, the slight amount of in superfood powders can satiate our appetite for hours. Second, many of these include natural blood sugar stabilizers. Stabilizing blood sugar increases energy while reducing cravings.
Other ingredients (certain adaptogens) stimulate the metabolism and can lead to naturally burning more calories throughout the day without any additional movement.
Products with ingredients rich in chlorophyll (like chlorella) can further amplify any fat loss effects.
Lastly, enhancing cellular detoxification can help shed unwanted body fat previously serving to isolate toxicants.
I wouldn't take greens powders solely for weight loss (there are far better options), but they can help.
Immunity balancer
Not only does consuming the essential nutrients needed for daily optimum health boost the immune system, but a selection of specific ingredients targets the immune system specifically. Ingredients such as spirulina, moringa, chlorella, and wheatgrass boost the immune system significantly, and most greens powders include these!
Immunity is a delicate balance.
Too little, and you get sick. Too much and you develop autoimmunity (and potentially reduced healthspan).
Our goal is to bring the immune system back into perfect equilibrium. The first goal is to address the common factors underlying poor immune function. Mostly vitamin and mineral deficiencies. Although they're often not in their most bioavailable/methylated forms, greens supplements can help quench nutritional deficiencies and improve immunity.
Other ingredients directly target immunity. Some include spirulina, chlorella, ginseng, astanxanthin, astragalus, corcyeps, reishi, olive leaf, andrographis, maitake, ginger, ashwagandha, turmeric, and many more.
Slower cellular aging
With the semi-recent invention of affordable direct-to-consumer biological age test kits, the field of longevity medicine has boomed. Finally, we can determine near real-time effects of interventions and dietary supplements on predicted healthspan.
Well, greens powders look promising since they help fix one of the primary causes of aging: the overproduction of free radicals.
Free radicals (reactive oxygen species) pull electrons from surrounding tissues, damaging them, and causing them to strip other cells of their power. Essentially, causing a cascade of "infection". This leads to inflammation and eventually chronic diseases.
Myriad antioxidant ingredients within superfood supplements halt this damaging cascade and protect cells. Some of these ingredients also target the other tenants of aging.
Enhanced detoxification
Detoxification is a natural process that rids compounds impeding optimal biological functions. Over the long-term, looking, feeling, and performing at your potential requires optimized detox pathways.
Two things optimize detoxification: ample nutrition, and reduced burden.
Running the automatic bodily process of detox takes specific key nutrients. Especially vitamins and minerals.
In addition to the nutrients mentioned earlier, the antioxidants and polyphenols within greens buffer (and even chelate) toxicants and heavy metals from the body. Once you've drawn and bound toxicants out of the body, you're left feeling vibrant.
Anxiety reduction
Certain nutrients (like magnesium) have anxiety-reducing effects.
Greens themselves are not great anti-anxiety remedies. Products containing certain superfoods and adaptogens, however, can make a dramatic difference. Some powder natural anxiety-reducing ingredients include: ashwagandha, holy basil, rhodiola, theanine, taurine, glycine, phosphatidylserine, magnolia bark, phGABA, and more.
Products that include these ingredients often make a notable difference.
Balancing biomarkers
Superfood powders are notable for bringing biomarkers back into healthy ranges.
Modulating both ends of the spectrum. Elevating low levels, and lowering high levels.
Several common improvements from superfood-rich greens include:
Blood glucose
Fixing cholesterol/lipoprotein imbalances
Blood pressure reduction
HS-CRP inflammation reduction
Hormonal balance
The magnitude of these changes depends on the particular chosen superfoods. Micro-algae, botanicals, and adaptogens excel at rebalancing biomarkers.
Athletic performance enhancement
Supergreens powders also improve exercise performance.
In fact, pre-workout, intra-workout, and post-workout products usually contain some of the same superfood ingredients. A few standout ergogenic aids include:
Spirulina
Chlorella
Red beets
Cordyceps
Ginseng
Rhodiola
Maca
Green tea extract
Pomegranate extract
Some of these fitness boosters accelerate recovery, while others improve energy, while others yet enhance our exercise capacity.
They won't necessarily replace your peri-workout drinks or nutrition, but the right superfoods can improve your results.
Cognitive enhancement
Stating green produce boosts cognition is another stretch.
Correcting micronutrient imbalances (especially B vitamins) indeed leads to greater mental clarity and overall cognitive function.
Products that include healthy fasts like C8 MCT Oil also supply the brain with the raw materials needed to improve the speed neurons send electrochemical signals. Faster signals translate into a sharper mind.
At the same time, many popular superfood additives are well-studied to improve cognition. Some of the star natural cognitive enhancers include:
C8 MCT Oil
Gotu kola (Brahmi)
Ashwagandha
Lion's mane
Ginkgo biloba
Rhodiola
Ginseng
Huperzine
Schisandra
Some of these ingredients take time to build up in the body and exert maximum benefits. Others cause near-instant effects.
Regular superfood consumers often report greater mental clarity, faster information processing speed, deeper focus, and more motivation. Just note that these benefits are largely attributed to the added superfoods.
The Case Against Greens Powders
I am a huge proponent of clean eating and whole foods.
I also like supplementation.
You'll come across bold marketing claims like, "One serving of X product provides the nutritional benefits of 12+ servings of fruits and vegetables".
Articles equating eating (and chewing) real foods with consuming processed powder are biased.
Nutrition from eating whole foods is unparalleled. You get more "nutritional bang for your buck", salivary enzymes more easily break down eaten foods, and you feel fuller and more satisfied.
Then there's the issue of dehydration, powderization, and oxidation from heat and time. These degrade some nutrients within plant-based supplements.
These products do not replace actual food consumption.
Let's face another truth.
Produce rarely tastes or satisfies like a snack.
Green superfood supplements can serve as temporary substitutes or useful aids for those looking to augment their intake of real foods.
Should You Use Green Superfood Supplements?
I frequently get asked whether green superfood supplements are necessary.
As with most health & wellness topics, it depends on several key factors.
How is your current diet?
If you're already consuming (and absorbing) all the vital vitamins, minerals, phytochemicals, biophotons, and other nutrients, you can probably skip it.
Maybe you just don't know. Maybe you're following a carnivore diet and already getting bioavailable forms of some nutrients (although deficiency is still fairly common).
I generally recommend going one of two routes:
Log your diet for a few days using a service like Cronometer which will highlight your micro-nutrient deficiencies.
Get a full blood work panel to evaluate micro-nutrient deficiencies, try supplementing, and retest to see the impact.
If you're just missing a few vitamins or minerals, you might want to consider grass-finished organ meat supplements (or eating the real thing).
What's your lifestyle like?
If you don't stress much, travel infrequently, avoid coffee, have regular access to quality produce (and actually consume it daily), green superfoods might not be the place to spend your money.
Although in today's world, how common is a stress-free, consistently nutrient-dense diet?
In most cases, supplementing produce makes sense. According to theories like The Optimal Foraging Theory, hunger will persist until you meet the body's nutrient requirements.
Unless you're a chef, even hardcore vegetarians and vegans often lack the life-force-enhancing constituents found within produce.
So although most people find superfoods powders beneficial, they certainly aren't mandatory. Especially if you already prioritize clean eating.
Greens Superfoods Questions & Answers
What is the best budget alternative to Athletic Greens?
Thorne's Daily Greens Plus is the best clinical-grade AG1 alternative with no proprietary blends and many powerful superfoods. Make sure to click the link to unlock an additional 15% off discount.
What is the highest quality alternative to AG1
PaleoValley's Organic Supergreens powder is the best quality AG1 alternative. It's USDA-Certified Organic, third-party lab tested, free of inflammatory cereal grasses, affordably priced, and backed by a 60-day money-back guarantee.
Are greens powders necessary?
Greens superfoods powders are beneficial but not necessary for those without any nutrient deficiencies (as confirmed via blood lab testing). They can be a great source of bioavailable nutrients.
Should You Replace AG1 With a Better Alternative?
Athletic Greens (AG1) has popularized superfood drinks thanks to their sponsorship of many popular scientists, researchers, pop culture icons, and influencers.
The vast majority of products also use inferior ingredients, inflammatory cereal grasses (like wheatgrass), and may do more harm than good.
Many of the purported claims of greens powders are overexaggerated.
Yet there are some powders that don't spend on marketing. They work even better and pass those cost savings on to customers. At the same time, eliminates the need to consume a bunch of other foul-tasting powders and capsules.
The right greens superfood products act as highly-absorbable all-in-one nutritional insurance.
To decide if these are right for you, consider the following:
I'm a huge fan of using them when on the road traveling, or to fill dietary gaps. After all, delicious and healthy produce is rare.
Do you take any superfood products? Why or why not? Let me know in the comments below!