Wellness companies generally focus on improving one single facet of health. Areas like:
Nutrition
Fitness
Wellness
Technological biohacking
Aging
Beauty
Performance
Mental health.
The problem with this approach?
No bodily systems work in isolation.
The body is a system of systems. A small change in one place can drastically impact others.
Click To Tweet
Occasionally, I come across platforms improving multiple facets. The more comprehensive the data considered, the better your potential results.
As the old adage goes, that which is measured is improved.
Human blood contains a goldmine of information on the status of your body. It's one of the top biohacking tests I suggest to nearly everyone.
The bloodwork performed by your doctor in your annual physical has three issues:
Insufficient range: results are falsely binary when they should exist on a continuum
Missing important tests: doctors prescribe the minimum number of tests due to the hassle of insurance reimbursement
No actionable recommendations: if something is off, what can you do about it? Google searching comes up with broad, generic, and marginally useful answers
InsideTracker solves the headache of optimal health testing at a reasonable price. To understand the full extent of the data, custom recommendations, and actionable insight of their platform, I purchased the Ultimate Plan Kit and added on their InnerAge upgrade. In this full InsideTracker review, I'll explain everything you need to know about the service and help you decide if it's right for you.
In a hurry? Check out this 30-second summary video.
Click here and use the exclusive InsideTracker discount code OUTLIYRPRO25 to save a whopping 25% sitewide.
What is InsideTracker
InsideTracker is the brainchild of scientists from the prestigious institutes of Harvard, Tufts, and MIT. Founded in 2009, their platform is an amalgamation of expertise in the sciences of aging, genetics, nutrition, lifestyle, biohacking, and medicine. Their Science Team constantly examines the latest data and research to continue honing this service's accuracy. Resulting in an all-in-one platform that goes well beyond genetics or blood testing to deliver you personalized insights into optimizing the function of your brain and body.
Your experience doesn't end once you submit your blood sample (more on the process below). The dashboard and accompanying mobile app make tracking your progress simple and fast. If you choose, you'll get:
Reminders
Daily check-ins
Action plans
The core InsideTracker thesis is analyzing data from wide-ranging sources results in a holistic view of your current health. Then the fully customized lifestyle plan you'll enjoy following and quickly see results.Since their artificial intelligence goes beyond your typical blood test, follow-up tests actually show even minute progress.
You can even tweak the recommendations generated by their Segterra algorithms (described below) to better fit your preferences and needs.
The Science of How InsideTracker Works
InsideTracker is one of few comprehensive wellness platforms that get results. Backed by peer-reviewed clinical evidence that it's as effective as claimed. Their accolades include:
5 registered patents
4,000+ research publications reviewed
200+ years of combined experience across their scientific team
3000+ blood biomarkers researched
InsideTracker collects five types of data:
Blood biomarkers
DNA
Nutrition and lifestyle surveys
Wearable devices
Personal attributes
All of this feeds into their proprietary SegterraR algorithm. SegterraR mines, visualizes, and prepares it for their automated algorithmic engine, SegterraX. SegterraX runs your data through a database of:
180,000 healthy individuals
8,000 unique foods
1,500+ DNA markers
2,500 research papers
Outputting your ultra-personalized interventions in a beautiful, ease-to-incorporate dashboard. SegterraX constantly evolves alongside the latest science. Founder Dr. Gil Blander regularly mentions the latest changes in his podcast appearances. Learn more about the science behind InsideTracker here.
How to Use InsideTracker: From Signing Up to Getting Results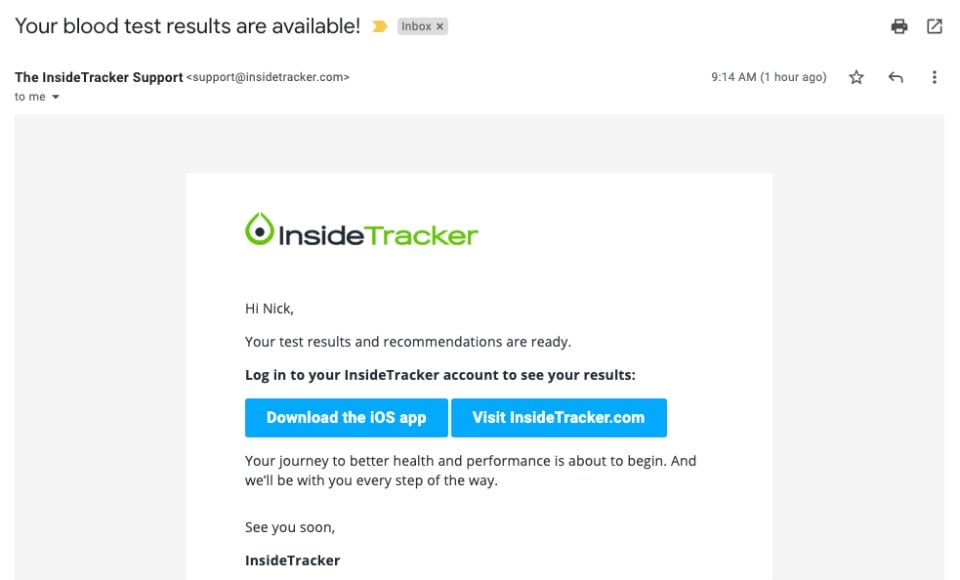 Going from the sign-up form to accomplishing your goals takes little effort (mostly following through with your daily action plan). Detailed emails and instructions guide you through everything. Here's the full process:
Choose your ideal plan (more on that below)
Sign up and fill out the questionnaire
Print out the paperwork to bring to your local lab, or choose the mobile blood draw add-on for a phlebotomist to come to you
Wait 3-7 business days for your blood test results to appear in your dashboard (you also receive an email)
Track, optimize, and repeat every 3-6 months for best results
After they've processed your blood, personalized health data will fill your dashboard. InsideTracker does a good job of simplifying your results, and allowing you to expand them should you want the added detail.
Your body and blood respond quickly to diet and lifestyle changes. They suggest performing the blood test several times per year to help you identify trends, notice areas needing improvement, and where you can redirect your previous efforts. Things that influence how often you should test include:
Sports
Aging in general
Significant life changes
Reversing dietary deficiencies
I aim to get bloodwork done twice per year, but even sporadic annual snapshots can make a huge difference. Though less expensive than some other options, blood testing get expensive quickly.
InsideTracker Plans
InsideTracker adds and removes plans on a regular basis. Some of the plans that no longer exist include:
High Performance Plan
Vitality Plan
At the time of this writing (August 2021), these are the current plans offered. I've listed their respective prices below.
Ultimate Plan
Ideal for: People taking control of their wellness and performance.
The InsideTracker Ultimate plan is their best-selling, most comprehensive blood analytics service, which examines 43 top biomarkers for athletic performance, longevity, cognition, and overall wellness.
I purchased the Ultimate Plan as I found it the best value of any lab testing service available.
Essentials Plan
Ideal for:Active people focused on metabolism, sleep, and energy.
InsideTacker's Essentials Plan is a pared-down version of the Ultimate package. Essentials examines 12 biomarkers involved in sleep, metabolism, energy, and general wellbeing.
For a basic overview, to get started, or to focus on certain problematic areas, Essentials is a good beginner's panel.
Update: They seem to have discontinued this plan
InnerAge 2.0
Ideal for:People seeking a longer, healthier and better quality of life.
InsideTracker revolutionized the longevity sector with their InnerAge add-on which uses other biomarkers to calculate your "biological age". In other words, how fast your current lifestyle has aged your body. InnerAge can help quantify progress towards your goals when the scale and mirror don't seem to budge.
InnerAge got a major upgrade with the new 2.0 version. Instead of basing your score on just 5 markers, as new longevity science emerged, the InsideTracker team boosted the algorithm to encompass 14 for women and 18 for men.
Home Kit
Ideal for: International users and people who do not desire a full blood draw.
Where the InsideTracker Home Kit lacks total biomarkers (only 7), it makes up with convenience. Each kit allows you to collect your blood sample yourself. If you're unable to access a partner laboratory for the blood draw, live outside of the USA, or want to measure your bare basic vitals related to inflammation and metabolism, the Home Kit is your choice.
Immunity Home & Immunity Plan
Ideal for:Folks with nagging colds or looking to optimize their body's natural defenses.
Immunity has become the hot topic of the last few years. InsideTracker recently rolled out two offerings specific to the state of your immune system:
Immunity Home
Immunity Plan
Both panels focus on immunity, stress, and sleep. Immunity Plan examines 11 biomarkers while Immunity Home examines only 4.
DIY Blood Results Upload Plan
Ideal for:Those that have recent blood test results and want to upgrade their quality of life.
InsideTracker's DIY Blood Results Upload Plan was designed specifically for anyone that's already gotten blood work done recently, and wants to get more out of their results. Perhaps you underwent an annual physical. Additional perks above traditional blood testing include:
Optimal performance-based ranges
Actionable recommendations
Ability to store all results in one secure place
DIY Blood Upload comes in two forms: Basic and Advanced. Basic examines up to 28 biomarkers, while Advanced handles up to 43.
This is essentially either the Essentials Plan (DIY Basic) or Ultimate (DIY Advanced) just without the blood draw (and therefore cheaper).
DNA Kit
Ideal for: People that want to inexpensively understand their genes.
InsideTracker's at-home DNA Kit is a basic foray into genetic analysis, giving you results from 261 different genetic markers. This kit offers genetic information regarding:
Body weight
Performance
Food sensitivities
Sleep
Aging
If you've used a service like 23andMe or Ancestry.com, you can upload your results for the InsideTracker team to process. For those serious about DNA analysis, I suggest either the GoalGetter Plan or another service called SelfDecode.
GoalGetter Plan
Ideal for: Deep genetic analysis of your whole genome and a customized lifestyle plan
GoalGetter is the updated version of the DNA plan leveraging their partnership with a DNA-focused company called Helix. Helix sequences your whole genome and adds on additional target panels and then sends the relevant data over to InsideTacker.
With the regular DNA Kit you get information about your body and some helpful tips. GoalGetter analyzes your genetic profile along with your personal details. It helps you determine your best goal given your sleep, weight, performance, and other factors. Then, GoalGetter creates a hyper-personalized plan to help get your there fast.
If this DNA-based coaching interests you, I suggest you look into the incredibly personalized reports generated by SelfDecode — a company that specializes in actionable DNA reporting(read my review here to learn why it's my favorite DNA analytics option).
InsideTracker Plan Pricing
They offer three core types of products:
Blood testing panels listed above
InnerAge biological age testing
DNA analysis
InsideTracker also regularly runs sales and special promos. Right now, they're offering you 25% off any order. Get this deal with the InsideTracker coupon code OUTLIYRPRO25.
With this 25% discount, the InsideTracker plan prices come out to:
| Plan Name | Price |
| --- | --- |
| Ultimate | $494 |
| Essentials | $142 |
| DNA Kit | $187 |
| GoalGetter | $190 |
| InnerAge 2.0 | $186 |
| Mobile Blood Draw (optional add-on) | $72 |
InsideTracker Plan Price Comparison
I bit the bullet and upgraded to the Ultimate Plan. With 43 tests and biomarkers—as opposed to the 12 in the Essentials Plan—I get maximum actionable data from InsideTracker Ultimate.
InsideTracker Reports
Once you've submit your samples, after processing you'll receive reports packed with data. They categorize the biomarkers into the following overarching categories:
Energy & Metabolism
Strength & Endurance
Bone & Muscle
Brain & Body
Oxygen & Performance
Inflammation
Minerals
Liver
CBCs
You can also filter by groups of biomarkers. InsideTracker Groups include:
Lipid Group
Sugar Group
Liver Enzymes Group
Vitamin & Minerals Groups
Hormone Groups
For each biomarker, you receive your score and which bucket it falls into. Your bloodwork results will fall in one of three levels:
At Risk
Needs Improvement
Optimized
You'll quickly notice that they highlight the quantity of "At Risk" biomarkers from your blood results.
InsideTracker Custom Recommendations
The recommendations sections of InsideTracker put it in a league above their competitors. They offer two types:
Food recommendations
Lifestyle recommendations
For food, you either choose one of your personal biomarkers to improve, or a specific goal. Their algorithm suggests the foods and quantities that will help optimize you. You can filter the results to suit virtually any diet, food intolerances, or food allergies.
The fitness, supplement, and lifestyle recommendations appear under your Bloodwork tab. Where the research is still inconclusive, InsideTracker informs you that they do not yet have suggestions. However, for areas with robust research, you'll see how their algorithm chose your specific personalized action plan, followed by scientific references and more detail.
Should you not have access to a computer, the mobile app has virtually all of the same functionality.
InsideTracker App
The InsideTracker iOS and Android apps make adhering to your new program second nature. I loathe needing to constantly keep a tab open on my laptop. Inputting my information into their app went easily and the app itself has an intuitive user-friendly layout.
You can access your same InsideTacker dashboard via mobile or computer and have your insights seamlessly sync between the two.
I like the mobile app because it brings accountability on the road when you're away from the computer. Plus, you can opt-in to push notifications to receive reminders for the most impactful lifestyle changes you want to employ.
My InsideTracker Experience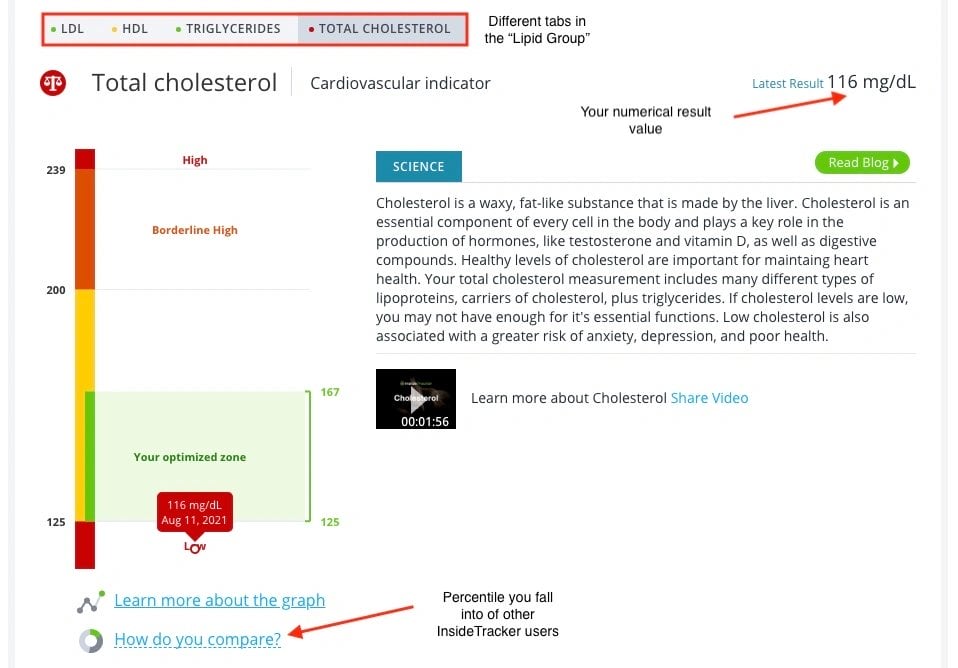 I got cold feet after starting the ordering process. InsideTracker made it a no-brainer by sending me a coupon code to further sweeten the deal. Since I live in New York City—the land of restrictive laws—I decided to wait a week until I traveled to Oregon for my blood draw.
I gave my body a week to adjust and recover from the ravages of cross-county travel. I also came down with my first cold in about 5 years. Though my nose ran and I had slightly lower energy, I stubbornly went forward with InsideTracker. The day before my test, I limited myself to a mild workout per their recommendations.
InsideTracker sent me clear instructions on what to do. Basically just print out the lab slip, and go to a nearby lab. I disregarded the first step, didn't make an appointment at my local lab, and just showed up. When I went to access the lab slip PDF, I opened it too many times and got an error. I panicked as Quest Diagnostics managed to slot me in between other appointments. I had 3 minutes to get them the PDF. I called up Customer Support, and within two minutes, the lab had the necessary paperwork. Awesome, useful, and friendly support. InsideTracker takes care of everything else. Five small vials of blood later, I was out the door.
While I waited 4 business days for them to process my results, I downloaded their mobile app and got acquainted with the web dashboard.
Once InsideTracker had analyzed my blood, the iPhone app populated with test results, new habits to adopt, and the data from my other wearables (Oura Ring and Garmin Fenix).
Nick's InsideTracker Bloodwork Discoveries
According to the service, I have some biomarkers to optimize:
2 At-Risk
9 Needs Improvement
A few things stood out in my bloodwork.
Most notably, my Lipid Group needs work. I have below-average cholesterol despite regularly consuming:
6 whole eggs per day
Fatty meat (primarily beef)
Fish
Butter
Copious other sources of fat
My diet consists of mostly fat with some protein and little carbohydrates (mostly at dinner in a process called carb backloading). Fat comes from sources like grass-fed butter, tallow, coconut oil, and some extra virgin olive oil. In my case, the dietary cholesterol hypothesis has proven false. As I wrote in my article titled Why Cholesterol is Healthy, I'd much rather be on the upper end.
Most of the other results land within reason. My Sugar Group and Inflammation Group both borderline optimal. This is common in athletes and those with heavy fitness routines.
I did discover a few things that traditional doctor's blood tests would have flagged as normal.
Tesosterone Group warrants optimization. Most lab panels only measure total testosterone. At 639 ng/dL, I'm within normal for all reference ranges. What most labs miss, however, are the two other key biomarkers called free testosterone and SHBG. Testosterone is only useful if the body can use it. Free testosterone measures exactly that. My low free testosterone signifies that my body cannot sufficiently use it. SHBG further "locks up" the testosterone making my usable levels even less than they appear.
Iron Group shows that I'm on the low end. InsideTracker breaks down 11 biomarkers that together comprise the Iron Group. Here I see that I need to improve just three of them: ferritin, transferrin saturation (TS), and iron. A typical test only measures the latter.
Vitamins & Minerals Groups are all optimized. I don't take a multivitamin, so I watch these closely. InsideTracker also measures the most important and common deficiencies. RBC Magnesium, for example, accurately portrays the body's bioavailable magnesium, yet few panels test for it. I heavily salt all my food (and sometimes add it to my morning beverages), so my perfectly optimized sodium score surprised me. I take dozens of supplements, and due to the prevalence of supplement contamination/toxicity, I'm careful with the state of my liver.
All that said, I discovered a more problematic section of my reports.
InnerAge 2
For your InnerAge 2.0 results, InsideTracker shows two types of ages. First, your biological age represents the function of your bodily systems overall. Chronological age refers to how long you've lived so far in years. Essentially, the lower your biological age the better. This is also a great way to determine how tough-to-discern lifestyle changes impact your overall health, wellness, and performance.
I live a healthy lifestyle, so I found my InnerAge score surprising. You can see which metrics impact your InnerAge positively or negatively. Upon investigation, just my immune markers together tacked on an additional 7 years. As suspected, I should have waited longer post-cold before testing.
InsideTracker Pro
InsideTracker Pro is a separate platform specifically designed for clients to share their results and recommendations with their health professionals. Coaches can see each of their clients in one place from the "coach dashboard".
Perfect for those working with data-driven elite athletes, CEOs, and folks serious about upgrading their health.
Pro is available to:
Health coaches
Personal trainers
Registered dietitians
Other wellness practitioners
Every InsideTracker Pro gets their own unique promo code which your clients can use to get plans at a discount.
Coaches can also view their own results and recommendations on their personal dashboards. If you're interested in using InsideTracker with your clients, check out their Pro offering here.
Inside Tracker Review: Pros & Cons
Pros
Combines various data types into a single dashboard
User friendly
Recommendations backed by the latest science that you can verify
Mobile draw option for those without a lab nearby
Transparent algorithm helps you focus on the most important biomarkers
Flexible plans accommodate most lifestyles
Available in any state (with some workarounds)
Garmin & Fitbit integrations
Cons
Full package is expensive
No integrations with popular wearables like Oura, WHOOP, or Biostrap yet
Lipid panel doesn't yet differentiate particle size or density (LDL vs. VLDL)
Genetic plans do not testsusceptibility to diseases
SelfDecode is better for comprehensive DNA testing
Recommendations heavily focused on diet over lifestyle change
Red meat is unfairly vilified (dated research)
InsideTracker Compared to Other Blood Testing Alternatives
By now you might wonder how this service stacks up to popular alternative blood testing companies.
Some of the biggest names in health and wellness support InsideTracker. These include:
Dr Andrew Huberman
David Sinclair
Ben Greenfield
And dozens of others.
I still suggest you look into their competitors to see if they better suit your needs.
InsideTracker vs SelfDecode
SelfDecode and InsideTracker are two similar platforms both known for their deep insight into the body's biomarkers. While InsideTracker began by focusing on bloodwork, SelfDecode prioritized DNA research.
Today, both services offer DNA and bloodwork analytics.SelfDecode and InsideTracker are two similar platforms both known for their deep insight into the body's biomarkers. Both generate actionable lifestyle plans based on your personal data.
For dietary recommendations, InsideTracker allows for slightly more customization. Though SelfDecode doesn't penalize carnivores, meat-eaters, or those following keto.
SelfDecode also offers other tools like:
Personalized genetics blog
Symptoms analyzer helps you discover what's causing an issue
Substance exploration to see how different things positively or negatively impact you
Blood work portal to thoroughly explore your test results
My SelfDecode software review explains why I prefer it in great depth.
InsideTracker vs WellnessFX
WellnessFX was the best blood testing service before InsideTracker. They offer four different plans, with their "Performance" corresponding to InsideTracker Ultimate. The WellnessFX Performance bundle measures 33 different biomarkers and costs about the same. If you're willing to drop $925 on their Premium package, you get a panel of 50 biomarkers.
The reports generated by WellnesFX offer greater detail than those from a traditional doctor's visit. You can also purchase a consultation with a doctor. InsideTracker, on the other hand, gives you more actionable recommendations. Eliminating the need for a health coach to create your customized plan.
InsideTracker vs Everlywell
Everlywell is another company specializing in direct-to-consumer blood testing. They sell 33 different diagnostic tests, mostly one-off. If you already know which tests you're working on, Everlywell can help save you money. They also sell several packages that measure multiple biomarkers:
Food Sensitivity Test
Metabolism Test
Women's Health Test
Men's Health Test
Everlywell specializes in testing for serious diseases and STDs. InsideTracker is an overall wellness optimization platform that provides a comprehensive suite of blood tests and then hyper-personalized recommendations.
InsideTracker vs Lets Get Checked
Lets Get Checked offers a huge suite of health tests. From sexual health, to men's health, to women's health, to wellness, to COVID diagnosis. I keep checking back from them to sell full panels of 20+ blood tests.
For now, you must manually add each of the tests to your cart. In the men's health section, this gets quite overwhelming. Categories within men's health include: male hormone tests, testosterone tests, PSA tests, vitamins, minerals, micronutrients, thyroid, liver, and the list continues. The a la carte style can get expensive, with some individual tests costing $99+.
Lets Get Checked offers sexual health and specific tests not included in InsideTracker Essentials or Ultimate. If you want just one or two specific tests, they're a better pick, For a full 10,000-foot view of your health, Lets Get Checked is not a suitable alternative to InsideTracker.
InsideTracker Questions and Answers
Who is InsideTracker for?
Anyone interested in optimizing their health will benefit from InsideTracker. In recent years the platform can become the most popular choice for biohackers, runners, athletes, and those interested in weight loss.
How much does InsideTracker cost?
Expect to pay somewhere between $142 and $494 for the core InsideTracker blood biomarker tests (using code OUTLIYRPRO25 to save 25%). They charge additional fees to add-on DNA testing and to have a lab technician travel to you for the blood draw You'll occasionally find InsideTracker running special sales.
InsideTracker Review Final Verdict: Worth It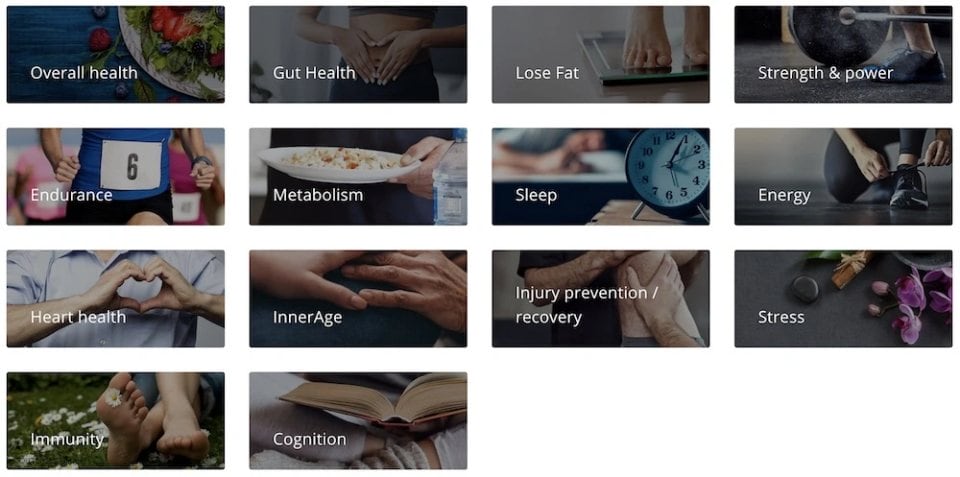 Years ago, I shelled out nearly $950 for a bloodwork package similar to InsideTracker Ultimate.
Out-of-pocket blood testing costs have dropped dramatically, and it has become easier than ever.
InsideTracker is the first company to offer far more than simple blood testing:
Real reference ranges for a healthy population. "Normal" isn't always optimal
Scientific diet and lifestyle recommendations that you can implement immediately
An app that automatically check-in on your progres towards your new custom gameplan
Detailed background and grouping to help you understand each biomarker
Aggregation of multiple different data sources for deeper insights
Biological age testing (InnerAge) helps you track and quantify your health progress
Different plans accommodate every goal and budget.
Those serious about optimizing their health and performance get regular bloodwork
Click To Tweet
Have you used InsideTracker or a different tool? Let me know your experience in the comments below!
InsideTracker Ultimate Review: The Best Online Blood Biomarker Testing?
InsideTracker Ultimate is the best way to decode your body and optimize your performance. This review breakdown how it works and gets you a special coupon code.
Application Category: Health & Wellness & Performance