Technological innovation has radically improved quality of life.
Yet for all the added value and convenience, it comes with drawbacks.
Human biology runs on chemicals, electricity, and other intricate signals. Some manmade signals interfere with vital bodily processes. Contributing to sub-optimal health, degenerative conditions, and chronic diseases.
You could remove these offending technologies. But you cannot block all non-native EMFs from your laptop, cellphone, or devices and still expect them to work the same.
All modern technology emits some degree of electromagnetic radiation. Each year we add more devices to the planet and convert analog into digital. For example, compare the number of WiFi networks available from your home now versus ten years ago. Today, nn-EMFs are virtually impossible to escape.
Nor would you want to.
In this article, we'll explore the science of how non-native "electrosmog" impacts human health. We'll explore some of the best products, companies, and devices available. We'll end with simple and effective tips to protect yourself against technological radiation.
Affiliate Disclosure: This post may contain affiliate links, which means I get a small commission if you buy (at no cost to you). Thanks for your support!
Good EMFs, Bad EMFs
Electromagnetic frequencies aren't always bad or harmful.
This might come as a shock.
To consistently perform at your peak, you'll want ample exposure to the healthy EMFs while simultaneously protecting against damaging frequencies.
Certain frequencies, like the ones used in PEMF therapy are invaluable healing tools that often work when nothing else does. From pain management to healing wounds, to repairing broken bones, to reducing inflammation, to accelerating exercise recovery.
The sun technically puts out an electromagnetic field. We know it as light (visible and invisible). The heat we experience in infrared saunas is a form of EMF.
Other frequencies act like "digital drugs" in the body, mimicking the effects of particular supplements, nootropics, and designer molecules. But without the side effects. In fact, I'm using some of these technologies as I write this post.
Others have seriously detrimental effects. Certain people exhibit extreme symptoms after even brief exposure.
But this invisible toxicity affects everyone.
Electromagnetism dramatically alters the normal functioning of your cells. The particular frequency, the dose (power and exposure time), and other factors determine the outcome.
How Common Non-Native EMF Radiation Destroys Health
When designed properly and independently funded, hundreds (if not thousands) of studies definitively show the systemic damage caused by non-native EMFs.
EMFs can both worsen existing conditions and cause new ones.
A few of the proposed mechanisms behind how EMFs damage humans and other life:
Increased oxidative stress
Increased peroxynitrite and carbonate free radicals
Overstimulation of voltage-gated calcium channels (VGCCs)
Leakage of the blood-gut barrier
Leakage of the blood-brain barrier
Leakage of the blood-testes barrier
Proliferation of senescent "zombie" cells
Entire books have exhaustively covered this subject. To explore this further, I recommend reading EMF*D.
Some of the most worrisome potential dangers of EMFs include the following:
Neurodegeneration
Cancer
Infertility
Depression
Suicide
Diabetes
Gut damage
Heart disease
Vision problems
Poor mental performance
Brain fog
Impaired memory
Insomnia & sleep problems
Headaches
Hormone imbalances
Tinnitus
Fatigue
Pain
Weakened immunity
Stress, irritability, feeling "wired"
Rashes and/or hives
Premature aging
DNA damage
Those are for the older technologies. 5G comes with additional and even more serious issues.
5G is more powerful, focused (a technology called "beamforming"), and biologically destructive. Declassified Russian research dating back to 1977 shows frightening consequences from even moderate 5G exposure.
Many of the same EMR principles and gear will also apply to 5G protection.
Mitigation, however, is the first and most important step.
First, Follow The 3 Step Process
Here's an insider secret for you.
As I've previously written, the best forms of EMF protection are FREE.
My four-step process to mitigate EMFs in 95 percent of situations is as follows (ordered from most effective to least):
Remove — nothing is more effective than completely removing the source
Distance — when removal isn't possible, due to the inverse square law, maximize the distance between you and the source
Shield — sometimes you won't be able to do either, and then you'll want the help of shielding protection
Harmonizing — if all else fails, use bioharmonizing technologies which do not block but transmute the signal so that it does not damage the body
Only steps three and four require technology. The problem with shielding is that it blocks signals (and thus WiFi, BlueTooth, etc will not work). That's why many people prefer to bioharmonize their healthy home environment.
Next, we will cover the best solutions to shield against EMFs and the ideal technologies to neutralize harmful electromagnetic waves.
Trusted Brands for The Best EMF Shielding
Since consumers have become aware of the dangers of EMFs, new companies have flooded the market.
Most products have no scientific backing and some even forge third-party test results. Giving you a false sense of security. Amazon is the worst offender, selling anti-EMF gear made out of low-quality materials that break down quickly and aren't effective.
For shielding products, you can get a high-quality EMF meter and test them yourself. Even then, you'll want to ensure the meter detects all four forms of EMFs and the latest frequencies (including 5G).
Below is some of the best emf protection bracelets, clothing, cell phone cases, stickers, blankets, and devices to block wireless radiation in the home.
Shield Your Body
Overview
Product Types: Shielding (laptop, phone, clothing), Earthing protection, sleeping canopies
Frequencies Blocked: <20 GHz
Independent Testing: Ordos, Shanghai Institute of Measurement and Testing Technology
Shipping: Worldwide (free shipping for orders of $100+)
Warranty: Lifetime
Price Tier: Moderate
Highlight: H.A.R.D Anti-Radiation Device & NCB Grounding Protection
Inspired by his father (esteemed EMF researcher Dr. Martin Blank), R Blank Founded Shield Your Body (SYB) in 2013. SYB is one of my favorite companies dedicated to making technology healthier and safer. They offer products for virtually every environment, goal, and type of technology.
Popular products include:
EMF canopies for sleep
Laptop and tablet protection
Phone shields
Baby apparel
They carry most adult apparel too. Ranging from beanies and bandanas to boxer briefs, hats, neck gaiters, to all kinds of EMF-shielded bags.
My personal favorite products of theirs, however, are the H.A.R.D Anti-Radiation device for headphones, and also NCB Grounding Protection.
One end of the H.A.R.D plugs into your headphones and the other into your phone. It discharges the electromagnetic field, making headphones safer and also improving sound quality! NCB, on the other hand, is essential for anyone using Grounding/Earthing products. It protects you against dirty-electricity-induced fluctuations in the power grid.
SYB is one of few brands to offer consultations. Consulting for general questions, for home testing, and for NCB use. All with Certified Electromagnetic Radiation Specialists and/or Building Biologists.
This is a company that follows the latest science and adapts their products accordingly. For example, their triple shielding technology protects you from radio frequencies (WiFi, BlueTooth), electric fields (laptop power supply), and heat. SYB lab tests products throughout a wide spectrum of frequencies, all the way up to 20 GHz (5G).
Orders over $100 to the US, Canada, UK & EU ship free and have a 30-day guarantee. To show their commitment to quality, SYB backs every product with a full lifetime warranty.
Just about everyone can benefit from SYB's phone shield which allows you to safely carry your phone without leaving it in airplane mode all day.
Use the exclusive SYB code URBAN for 10% off
Defender Shield
Overview
Product Types: Shielding (laptop, phone, tablet, clothing, blankets, wallpaper), air tube headphones, supplements
Frequencies Blocked: <90 GHz
Independent Testing: Focused Beam Textile Measurements, US Tech
Shipping: Worldwide ($8.99 within the continental USA, free on orders over $125)
Warranty: 1-year
Price Tier: Inexpensive
Highlight: Broad coverage of most frequencies and all kinds of products available
Over a decade ago, Daniel DeBaun, a former telecommunications engineer and executive recognized the dangers of nn-EMFs and created Defender Shield to help educate and protect the public. Since then, Defender Shield has earned the reputation of the "Amazon of EMF protection".
Like Amazon, however, Defender Shield has a huge library of products for just about every EMF protective need. Categories include:
Laptop, Phone, Tablet shields
Clothing
Air Tube headphones
Blankets, wallpaper, and home
Pouches and bags
Supplements
Unlike much of Amazon, their products are well-built and effective.
Defender Shield is an anti-EMR superstore. On top of that, their Ultra Armor technology undergoes independent lab testing to block 99% of radio frequencies. Ranging from extremely low frequency (ELFs) all the way up to 90 GHz (5G and millimeter wave). Currently, this is the only shielding that blocks frequencies up to 90 GHz.
The Medical and Scientific Board ensures that Defender Shield keeps up to date on emerging research. On top of that, their entire Customer Support is trained on this latest electrosmog science so that they can answer questions and help you achieve your specific goals.
Defender Shield has great educational content, and subscribing to their newsletter gives you tips, promos, and access to their EMF QuickStart Guide.
Domestic orders over $125 ship free, are backed by a 30-day guarantee, and one year of warranty. They're doing things right as over 6,945 customers have recommended Defender Shield.
If you're looking for 5G shielding up through high-power future frequency bands, or for a wide variety of products, Defender Shield is your best option.
Lambs
Overview
Product Types: Shielding clothing
Frequencies Blocked: 700 Mhz to 5 GHz
Independent Testing: MET Labs, EMITECH
Shipping: Worldwide (free shipping for orders of $200+ in USA)
Warranty: 30-day
Price Tier: Premium
Highlight: Well-made apparel that also blocks EMF and UV
EMF apparel is beginning to catch on thanks to brands like Lambs. Lambs claims to have been the "world's first radiation-proof apparel". While I'm not sure that's true, they are the first company to create high-quality and radiation-proof garments.
Their product catalog is quite small. Lamb's products, ordered from most to least popular are:
EMF-Proof Beanie
Faraday T-Shirt
Faraday Underwear
Faraday Long-Sleeved Shirt
These garments are more expensive because of their WaveStopper technology. Lambs' "SilverFlex" fibers are ideal for electromagnetic shielding, thermoregulation, and natural antimicrobial protection. Though they offer free returns for domestic orders, Lambs does have a high $200 order threshold for free shipping. Their site lists 1,000 five-star reviews.
Their apparel is soft, lightweight, breathable, durable, antimicrobial, and blocks UV rays. I personally love their beanie and use it when I travel in high-EMF environments (like international flights).
What really caught my eye, however, are the user reports and pilot study showing that wearing Lambs improves various health biomarkers. Such as increasing HRV by 18 percent. Users report (and wearables like the Oura Ring corroborate):
Sleep length and quality improved in 60 percent of users
Fertility increased in 15 cases
Focus, attention, and memory enhancements in 50 percent of users
Brain fog and headaches diminished in 70 percent of users
Recovery improved in 44 percent of users
Biohackers will appreciate the scientific rigor of Lambs, as their research page alone contains 104 citations.
What bothers me, however, is their products only protect frequencies between 700 MHz and 5 GHz. Future generations of 5G will likely exceed 5 GHz.
For the highest quality apparel that also shields against EMFs and UV rays, choose Lambs.
Use the exclusive code URBAN for 5% off
SHIELD Apparels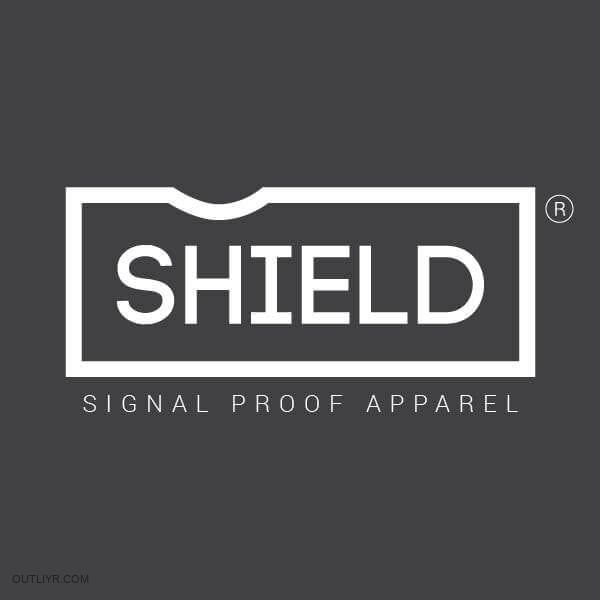 Overview
Product Types: Shielding (clothes, shoes, eyeglasses, blankets, pouch)
Frequencies Blocked: 10 MHz to 6GHz
Independent Testing: Unverified
Shipping: Worldwide (free shipping for orders of €150+)
Warranty: None
Price Tier: Moderate
Highlight: Signalproof Weighted Blanket
SHIELD Apparels is the result of a successful Kickstarter campaign. They're another company focused on EMF-blocking clothing, and a bit more affordable than others. SHIELD Apparels uses a silver (and in some cases, the more durable Nickel) fabric to block electromagnetic radiation.
Their shielding fabrics block frequencies as low as 10 MHz, and all the way up to 6 GHz. This brand claims to be "The world's leading EMF protection and the most functional apparel of 21st century with high screening attenuation. For targeted individuals, biohackers or everyone who cares".
Shield Apparels product categories include:
Headwear (beanies and hats)
Clothing
Underwear
Blue light blocking
"Gadgets"
Footwear
I'm not sure why they deemed EMF-blocking footwear necessary, and navigating the website isn't all that easy or straightforward.
But I love the idea of their Signalproof Weighted Blanket. This could be a viable option for those that either want the benefits of anti-radiation and weighted blankets together or cannot afford an anti-EMF canopy.
Orders over 150€ ship globally for free, but this is really an ideal option for Europeans (they ship from Slovakia).
Grab something from Shield Apparels if they have a big sale, you live in Europe, or you want an EMF-blocking weighted blanket.
Less EMF
Overview
Product Types: Meters & detectors, shielding (home environment materials, paints, clothing, bedding), low-EMF appliances
Frequencies Blocked: Product-specific
Independent Testing: Unverified
Shipping: Worldwide (free shipping for orders of $100+ in USA)
Warranty: 2-year
Price Tier: Inexpensive
Highlight: One-stop anti-EMR shopping and a great selection of meters
With over 26 years in business, New York-based Less EMF has more electrosmog mitigation experience than any other company (that's still around). Less EMF is the expert-approved all-in-one shop.
In 2022, they underwent a major overhaul. New with a new website, new products, and great deals. The website itself is simple to navigate, offering the right (but not overwhelming) number of products for each facet of EMF mitigation. Although I wish they'd include more details about their testing process and product specs.
LessEMF's categories include:
EMF Meters & Detectors
EMF Shielding
More EMF Items
Each category has sub-categories, and within those you'll have several product options to choose from. They carry everything, from probes, to meters, to EMF-blocking paints, to educational materials, to all kinds of clothing, to low-EMF appliances, to Earthing & Grounding gear, and much more.
You can talk to one of their EMR specialists before ordering, and should you not like something, your order is backed by a 30-day guarantee.
Less EMF is an excellent option for meters, detectors, and home shielding accessories (paints, bed canopies, fabrics).
Use the exclusive code URBAN for 10% off
The Best EMF Bioharmonization Technologies
The following companies are known for their systems that do not measurably block/deflect/shield electromagnetic radiation.
So why harmonize instead of shielding?
Using a shielding fabric or other material will disable devices that use WiFi, cellular data, BlueTooth, etc.
The distinct advantage of harmonizing is that your wireless technologies will still work normally. They transform the waves into something more biologically compatible.
Unfortunately, we cannot measure this with a simple EMF meter.
For harmonizing products, you'll want to look to third parties for validation since directly measuring their efficacy is not yet possible. So labs use surrogate markers to compare the biological effects of the exposure with and without the device.
Technologies used to measure EMF bioharmonizing products include:
Live blood analysis (dark field microscopy)
HRV testing
Kinesiotesting
EEG brain waves
Water crystal analysis
Experiments on organisms that are immune to the placebo effect (plants and animals).
Leela Quantum Tech
Overview
Product Types: Shielding (cap, hat, clothing), harmonizing ("Blocs", "Capsule", coaster, pet collar, water bottle, jewelry, frequency cards, pouch)
Frequencies Harmonized: All
Testing Endorsements: Dark Field Microscopy, Besa Institute, Bio-Well, Emoto Institute Water Crystal Analyses, International Institute for Electrosmog Research (IIREC), International Association for Research Electrosmog (IGEF)
Shipping: Worldwide ($15 within the USA, $40.50 internationally)
Warranty: Unverified
Price Tier: Premium
Highlight: Their "Blocs" have quantifiable biological effects without blocking technological signals
Created by Philipp Samor Von Holtzendorff-Fehling, an ex-T-Mobile executive turned energy healer and shaman, Leela Quantum Tech is a rarity as they offer both harmonization technologies and well as shielded clothing.
While on his path, Philip collaborated with many of the most exceptional healers around the globe. Culminating in the LeelaQ harmonizing technologies.
Leela Quantum Tech's Products include:
Quantum Energy Frequency Cards (23 options)
H.E.A.L Energy Capsule
Bloc
Infinity Bloc
Travel & Car Bloc
Water Bottle
Healing Hats
T-Shirts
Hoodies
Underwear
Jackets
Their EMF-shielding products are certified by the International Institute for Electrosmog Research, IGEF and also certified through BESA. Like the other garments, these contain TEk Silver Tech which is naturally anti-microbial, odor-neutralizing, and anti-EMF. But LeelaQ's are also "refined with quantum energy".
To appease hardcore biohackers and skeptical wellness enthusiasts, Leela dedicated a page to sharing the research behind their products. The harmonizing technologies are validated through:
Dark field microscopy (live blood analysis)
Advanced Deka Voll methods by the BESA Institute
Bio-Well (registered medical diagnosis device in Europe and Russia)
Emoto Institute's water crystal analyses
I was doubtful until I saw this video,
Then I met a lady at a conference that is so electromagnetically sensitive that she can't attend events without her H.E.A.L capsule (without it she consistently gets migraines).
Their Telegram group is full of users asking questions, helping each other, and reporting outstanding results.
Due to the nature of their product, the return policy is confusing so I suggest you check out the page for yourself.
The top-of-the-line Leela Quantum Blocs are certainly premium products, popular among business owners, wellness clinics, healers, and elite athletes. Those on more of a budget can try their clothing, water bottle, Energy Frequency Cards, or H.E.A.L Capsule.
Use the exclusive code URBAN for 10% off
BioGeometry
Overview
Product Types: Harmonizing (home environment kit, pendant, ring, necklace, decor, phone sticker)
Frequencies Harmonized: All
Testing Endorsements: Egyptian National Research Center, Swiss Government, Emoto Institute's Water Crystal Analyses, Suez Canal University, Wageningen Agriculture University
Shipping: Worldwide
Warranty: Unverified
Price Tier: Moderate
Highlight: Real-world application and ample research on powerful bioharmonizing effects
Following his 1968 research in Egypt, Dr. Ibrahim F. Karim developed and patented a science called BioGeometry. BioGeometry uses the energetic principles of shape to "qualitatively balance biological energy systems and harmonize their interactions with the environment".
Through the millennia, ancient humans recognized the influence of geometrical shapes on human energy systems. Not just shape, but also motion, orientation, color, and sound. This technology both neutralizes negative energy and adds a positive quality through the use of specially designed and strategically placed decorative elements.
BioGeometry does not work on any specific molecular mechanism or particular biological pathway. Rather, it strengthens the body's innate regenerative healing ability. Balancing energies on multiple planes: physical, mental, emotional, and spiritual.
To ground the theoretical, Dr. Karim and Team have published some of their research:
And a bunch of others. For more science and research, I suggest you check out their website and listen to interviews with Dr. Karim or his daughter, Doriya.
For EMF protection, they have several products:
L-90 Pendant
Cell Phone Harmonization Sticker
BioGeometry Home Kit
Best of all, each of these not only harmonizes EMF but also balance the body's vital, mental, and emotional subtle energy levels. I personally have and love both my L-90 and BioGeometry Home Kit. Eventually, I'll get the sticker too.
Due to a huge surge in demand, and because they're imported from Egypt, BioGeometry products are hard to get.
BioGeometry is an excellent technology to neutralize EMFs and also increase personal life force.
Somavedic
Overview
Product Types: Harmonization devices
Frequencies Harmonized: 3G, 4G, 5G, EMF, free radicals, and geopathic zones
Testing Endorsements: International Association for Research Electrosmog (IGEF), Institute for Cell Biological Test Systems, Balneology Research Institute, Bion Institute, International Institute for Research on Electromagnetic Compatibility (IIREC)
Shipping: Worldwide (Free shipping for orders of $1,000+)
Warranty: 5-years
Price Tier: Moderate to Premium
Highlight: Aesthetically pleasing EMF-harmonization made of precious stones and metals
On April 1, 2011, Ivan Rybjansky built the first Somavedic, and over the next nine months, sold an additional 500. Somavedic is among the first companies to use metals, semi-precious and precious stones (platinum, palladium, gold, and silver) to create an EMF-neutralizing, coherent, biosupportive field.
Eight labs and five certifications have found Somavedic useful for mitigating:
EMF radiation (4G/5G, WiFi, phones)
Geopathic stress, water crosses
Curry and Hartmann lines
Oxidative stress & free radicals
Over a decade later, tens of thousands of Somadevic systems are harmonizing homes, workplaces, clinics, and other wellness spaces.
Though not as effective as complete shielding, the Somavedic Medic Amber model significantly attenuated the side effects of EMF exposure. Other notable pre-clinical effects include:
Cardiovascular system normalization
Psychological well-being enhancements
Sleep length and quality improvements
HRV positively affected
Blood composition becomes healthier
If that's not enough, Somavedic has accrued a 98 percent customer satisfaction rate across 60 countries. They've been featured in Men's Journal, Bazaar, US Weekly, Vogue, Entrepreneur, and LA Weekly.
Somavedic sells three essential and two premium models, starting at $498. Each unit is handmade and comes with 2-4 day worldwide shipping (free on orders of $950+). All purchases are covered by a 60-day money-back guarantee and a 5-year warranty. Plus, they offer discounts for students, youths, essential workers, and seniors.
To get the most out of Somavedic, go for the Vedic model. For EMF protection, it's certainly not cheap.
I recommend Somavedic if you like the idea of elegant precious-stone-based EMR protection and have the finances to get the Vedic model.
Use the exclusive code URBAN for 10% off
Powerful Ways to Reduce EMF Exposure
Finally, I'll give you some of the top tips to reduce your exposure and protect your body against the damaging effects of EMFs.
This will be a short list, and I encourage you to research each item of interest yourself. Where relevant, I will add links to articles or specific products I like.
Some top tips to protect yourself against EMF health dangers include:
Less data. Once you start optimizing your exposure, you'll want to consider prioritizing WiFi. Cell connections use far more power than WiFi. Using WiFi instead gives you all the expected conveniences of a connected cell phone (like surfing the internet, calling, texting, etc) but with a fraction of the radiation. For calling over WiFi, you'll want to enable it in your phone's settings. If nothing else, using WiFi and disabling cellular data keeps you connected but notably decreases your exposure.
Earth yourself. When you contact bare earth or a properly grounded technology, your body can instantly dissipate the electromagnetic charge out of your body and into the ground. Providing a layer of protection. If you get Earthing/Grounding technology, you'll want to use a device to offset current fluctuations from the grid.
Brown's gas. This is the upgraded version of molecular hydrogen. Supplementary H2 is a powerful selective anti-oxidant that is well-studied to quench oxidative stress induced by EMF exposure. Brown's gas also contains Electrically Expanded Water (ExW), or water with extra free electrons. These extra free electrons stop the oxidative cascade caused by EMF exposure. I use a device called the AquaCure AC50.
Minimize wearables. Virtually any device created in the last decade emits wireless signals of some kind. Usually BlueTooth or other radiofrequencies. The simplest solution is to simply remove devices that you don't need or use.
Disable signals. If you prefer the convenience of technology and can't do without it, at the very least you can change some settings. Modern devices have multiple cards that transmit different frequencies. For example, one for BlueTooth, one for WiFi, and one for cellular data (4G, 5G, etc). Any signal you can disable will greatly reduce your cumulative exposure.
Shutdown router. With few exceptions, you won't need a WiFi signal at night. Sleep is also the most important time that the body restores itself. You can either put your router on a timer to automatically shut down and start at particular times (while you're asleep), or you can manually turn it off. This is one habit that dramatically improved my sleep quality.
Charge elsewhere. Cell phones are some of the biggest sources of EMF exposure. Most of us sleep with our phones nearby. The consequences of this are twofold. First, our phone blasts us with a hefty dose of electrosmog throughout the night. Second, research suggests an inverse link between sleep quality and phone proximity. Instead, try moving your charger to another room.
Use speakerphone. If you read your phone's instruction manual, it explicitly states not to press it against your head. Even manufacturers disclose this danger. Every inch (or centimeter) matters. I very rarely hold my phone to my head. One easy hack is to use speakerphone whenever possible.
Embrace cords. Wireless tech has pervaded modern society. Providing unparalleled ease and convenience. Unfortunately, these technologies require EMFs to exchange information. All else equal, corded devices are faster, higher quality, clearer (in the case of audio), and less prone to issues. Plus they don't emit much EMF.
Environmental testing. Home environment remediation is virtually impossible without a good meter. EMFs are invisible to the naked eye. Companies do a great job disguising these devices. From the cell tower next door to the WiFi-enabled teddy bear. You'll never suspect some of the things emitting extremely high levels. These aren't inherently problematic, but you'll want to know exactly what is producing the highest levels. The only viable way is to hire a building biologist or do it yourself with a quality EMF meter like the Cornet ED88T.
Kill switch. A kill switch is what it sounds like… a switch that cuts power to a particular part of your home. Rather than unplugging each appliance one by one, people install these because it's dead simple and very effective for temporarily disabling everything in a room. Kill switches generally require professional installation.
Bed shielding. The bedroom is the most important room to fortify since it's where all of your rest and recovery occur. A few great options include blankets made out of EMF-proof fabric, and for those with the budget, EMF-shielding bed canopies. Canopies are widely considered the best option since they block signals from all directions.
Dirty electricity. This form of EMF often flies under the radar, but you can reduce exposure by cutting down on usage of the following: smart meters, old LEDs, compact fluorescent light bulbs (CFLs), dimmer switches, appliances with variable speed motors like particular washing machines, power tools, blenders, fans, all solar panel inverters, etc. Of course, you will not eliminate dirty electricity, but you can minimize your exposure.
Minimize metal. Metal objects "attract" electrosmog. The worst offenders include metal bed frames and box springs. But metal tooth fillings, jewelry, and others also increase your EMF burden. When possible (and especially in the bedroom), choose other materials.
Laptop position. Although it's called a "lap-top", laptops emit off-the-chart levels of electromagnetism. Dirty electricity from the motor and batter, and then a wide band of different radio frequencies from all the different wireless technologies. Try to use your laptop elsewhere, or if you must, get a laptop shielding product.
Move furniture. If you get a capable EMF meter, you'll quickly notice that wired appliances radiate EMFs. I can detect them from inches and sometimes even feet away from the cords. You'll want to position your furniture away from outlets and also maximize the distance between any cords and your body.
Move self. For the same reason I recommend putting space between furniture and cords/outlets, I do the same with my body. I put as much distance between myself and electricity. Most importantly, I avoid letting cords maintain contact with my skin.
Airplane mode. I love technology, and I've filled my closets with all kinds of top biohacking gear. Most modern devices have the ability to enter "airplane mode" which shuts down all wireless transmission. Using airplane mode is vital for wearables, cell phones, and any data-transmitting devices that touch the body.
Magnesium supplement. Magnesium is a super mineral lacking in the diet of virtually all modern humans. It acts as a natural calcium channel blocker and has numerous different protective effects against EMF damage. Plus, it's cheap and magnesium has a spectacular list of other health benefits.
Chaga mushroom. Chaga is a mushroom uniquely adapted to thrive in harsh environments and it contains over 200 mycochemicals. It has strong anti-inflammatory, DNA protective, and antioxidative effects and is often recommended to those with exposure to ionizing (nuclear) radiation. It seems to confer many benefits to non-ionizing electrosmog too.
NRF boosters. NRF2 is the master antioxidant defense pathway within the body. It's crucial to proper detoxification and cellular defense. The better your NRF pathway functions, the more resilient you'll be against radiation (and all toxicants). Many popular lifestyle habits, foods, and supplements increase NRF2 activity. Such as exercise, molecular hydrogen, fasting, turmeric, hemp, green tea, exogenous ketones, fish oil, garlic, and cruciferous vegetables (broccoli, Brussels sprouts, etc).
Zeolite supplement. Zeolite is a volcanic mineral with a strong negative charge. Toxins and free radicals have a positive charge. Zeolite helps bind to and neutralize them before they can destroy cells, tissues, and eventually organs. It acts like an absorbent sponge to help rid the body of virtually any and all toxins (booze, heavy metals, ionizing radiation, etc).
Detoxing metals. Heavy metals like lead, mercury, and thallium are inescapable in our modern world. From old living spaces to contaminated supplements, to poorly grown food. Just like metal outside the body "attract" electromagnetic radiation, internal metals do the same. A proper detox protocol will reduce the damage and symptoms of EMF exposure.
Thyroid support. During acute radiation poisoning, the endocrine system takes a hit. Especially the thyroid gland. Nuclear facilities or areas with dangerously high levels of ionizing radiation always take precautions to support the thyroid. Non-ionizing radiation similarly disrupts thyroid function. Getting iodine from seaweed or a supplement can help protect this delicate gland.
Blood building. One primary effect of overexposure is the reduced ability for hemoglobin to carry (and deliver) oxygen throughout the body. So you'll want to do what you can to improve the health of your red blood cells. For meat eaters, grass-finished organs or organ meat supplements are fantastic. Spirulina and chlorella micro-algae are awesome vegan-friendly options. Both provide vitamins, minerals, and trace nutrients that fortify the body's defense mechanisms. Quality sleep, adequate movement, and low-alcohol consumption also help.
Precious elements. Crystal and stones are a relatively cheap way to bioharmonize the effects of EMFs. They're certainly a bit "woo-woo" and rife with deceptive marketing. Though I don't use them, they're theorized to work via two mechanisms. First, they're said to absorb EMFs. Dissipating them from your environment. Second, they contain grounding energy thought to counteract symptoms of EMF exposure. Black Tourmaline is one popular EMF-reducing. Meters register lower readings when this stone is placed in front of a computer. Other popular options include Magnetite, Hematite, Amethysts, Orgonite, and Shungite to name a few.
Best Ways to Protect Yourself Against Electromagnetic Radiation
Modernity is possible thanks to technological innovation.
Yet it comes with a downside.
Electrosmog.
We're rapidly saturating our world with electricity and wireless signals.
Signals have profound detrimental impacts on human health. Some are instant, while others cause degenerative conditions over the span of years.
Here's the tragedy… these same technologies could operate on a different and bioharmonous frequency band.
Wireless signals could enhance life.
Without regulatory action, they won't. Device manufacturers prefer to ignore the pressing issue of electrosmog.
For now, we must take our safety into our own hands.
Luckily, companies that understand the science have sprouted up and offer protection for every need.
EMF protection that works great.
What do you use to mitigate the dangers of non-native electromagnetic fields?