The right all-in-one longevity supplements can make a profound difference to not only how long you live, but your quality of life (healthspan).
I've researched and thoroughly evaluated dozens of the most powerful, natural, and safe science-backed anti-aging ingredients.
Here's the issue…
Pulling out separate supplements canisters, manually weighing out powders, and cleaning up spillage consume tons of time. Plus, it requires scientific expertise to combine ingredients synergistically.
What if you could toss all the powders, pills, gels, sprays, and potions, and instead use an all-in-one anti-aging formula?
No more home chemistry lab. No more guesswork. No hassle, no mess.
Well, that's now a reality.
Several companies make thorough longevity supplement complexes. Providing everything you need in one bottle. In this article, I will share the best all-in-one anti-aging products to help you choose the right one for you.
The Best Longevity Supplement Complexes of 2023
Best Overall: AEON
Affiliate Disclosure: This post contains affiliate links, which means Outliyr LLC gets a small commission if you buy (at no cost to you). Thanks for your support!
The Top Longevity Supplement Complexes & All-In-One Products
Getting all your longevity supplements in one product has distinct pros:
Scientific. First, you're getting a science-based blend handpicked by expert formulators. These formulas often have a synergistic "1+1=4" kind of effect. Getting you more benefits and fewer side effects. At clinically proven dosages.
Ease. The best all-in-one anti-aging supplements are easier to use and more convenient. You just toss the one bottle in your bag and have it with you anywhere you go. Without making a mess.
Safety. Less worry about contamination, adulteration, and toxicity. The dark side of the supplement industry is that many contain more problematic ingredients than they do the active ingredient on the label. Trustworthy brands have unaffiliated third parties test their final products to ensure you're getting exactly what you expect.
There are two main drawbacks…
Price. Formulas that contain a ton of different ingredients in their best, most absorbable forms often cost more than standalone raw powders.
Dosage. Increasing or decreasing your doses of specific ingredients isn't possible when using a multiple-ingredients-in-one supplement.
Overall, the benefits of multi-ingredient longevity supplements greatly outweigh the drawbacks. That is, if you choose the right ones.
Below are my top picks for the best all-in-one longevity supplement complexes.
AEON
If I could only choose one all-in-one anti-aging supplement formula, it would likely be AEON by Perpetua.life. This product evolves alongside the latest research, and I've received excellent support that answers my every question. From minute details such as how they landed on particular doses, to why they chose particular ingredients over others.
In fact, a while back I suggested they add a particular ingredient. Fast forward to today's V3.0 formula and it's now included. I'm hesitant to list each of the ingredients since the formula constantly changes. At the time of this writing, the AEON longevity supplement complex includes:
Nicotinamide DUO™ (as 400mg NMN + 100mg NR)
Quercetin – 250mg
Trans-Resveratrol – 150mg
L-Theanine – 100mg
Fisetin – 100mg
Astragalus – 100mg
TMG – 85mg
Spermidine – 10mg
Piperine – 10mg
Epigallocatechin gallate (EGCG) – 100mg
11 compounds all in one.
Not only is this a well-rounded ingredient profile, but they designed the product with customization in mind. Based on your experience, you can just take one capsule. Or you can increase your dose as desired.
Plus, the product page contains their latest third-party Certificate of Analysis (CoA), showing the purity and potency of the latest supplement batch.
If you subscribe, each dose comes out to just above $1.50. Yep, for all 11 ingredients in one.
That's why AEON has been featured in major publications like Scientific American, Inc., and Entrepreneur.
AEON is among the most comprehensive longevity supplements and is priced at an unbeatable value.
Use the exclusive Perpetua.Life code URBAN for 10% off
NOVOS Core
Of all the top longevity supplement complexes, NOVOS Core is likely the most popular. That's because their product, not just individual ingredients, has the backing of actual research. Third-party research has shown that Core works. The NOVOS science team hails from top institutions like Harvard Medical School and MIT. They formulated the product to target all the known root causes of aging. What really sets them apart, however, are their unique approach and excellent marketing.
Since NOVOS Core comes in a powder sachet, they're able to fit bioactive doses of more ingredients. They claim that one serving contains the "equivalent of 19 pills worth of active ingredients". Apparently, up to ten times more bioactive ingredients than other products. Ingredients within the NOVOS Core supplement include:
Glycine – 2,000mg
Magnesium Malate – 1,700mg
Calcium Alpha-Ketoglutarate (Ca-AKG) – 1,100mg
GreenGrown® Glucosamine Sulfate – 1,000mg
Rhodiola Rosea Root Extract – 300mg
L-Theanine – 150mg
Hyaluronic Acid – 100mg
Fisetin – 100mg
Organic Ginger Root Extract – 100mg
Pterostilbene – 50mg
Lithium Aspartate – 20mg
Overall, this is a solid formula. I like that the include the adaptogen rhodiola, Ca-AKG, magnesium, and the better resveratrol alternative, pterostilbene.
While impressive, some of the main bioactives (like glycine and magnesium malate) are cheap raw ingredients. I buy glycine by the kilogram (1,000 grams), for example, at around $50. Depending on your purchase type, the price comes out between $2.63 to $3.63 per serving. I could DIY it for around $1.00 per serving.
Some of the biggest names in health back NOVOS. You know what you're getting when you buy from them. Consistently, every time. You're paying a premium to get the exact benefits of particular ingredients, proven by the research.
If you want a true clinically proven, all-in-one product with the highest dosages of many beneficial longevity supplements, NOVOS Core is a clear (premium) winner.
Use the exclusive NOVOS code URBAN5 for $5 off
NAD+ Complete
When researching the hottest longevity supplements, you've likely come across the term "NAD+". Often dubbed the body's currency of cellular energy. When the body has adequate energy, the entire system works better. The two most common supplements used to boost NAD+ levels are called nicotinamide mononucleotide (NMN) and nicotinamide riboside (NR).
This product contains both as well as NAD+ itself. All within liposomal encapsulation technology for maximum absorption and the longest duration of benefits.
I take one or two capsules most days, and this is one of the few longevity supplements that noticeably increases my energy.
Since it contains multiple forms of NAD+ precursors, they have a synergistic effect and work better than high doses of a single type.
NAD+ Complete contains some of the most popular longevity ingredients resulting in noticeably increased physical and mental energy.
Use the exclusive Renue by Science code GVQCUKN6 for 15% off
Activator
Senescent cell accumulation is one of the core causes of aging. Basically, these cells go rogue and consume tons of energy and create toxins without performing their normal functions. Depleting precious resources, causing systemic inflammation, and accelerating the biological aging process. Activator is a Formula that combines three of the most powerful senescent cell-eliminating supplements into one.
Each capsule contains quercetin, fisetin, and spermidine precisely dosed to act as an anti-senolytic. The ingredients are packaged into nano-sized fat droplets to help bypass degradation by stomach acid and enter the bloodstream. Dramatically increasing absorption, benefit duration, and reducing side effects… all with much lower than normal dosages.
This formula also activates AMPK, shifting the body into repair mode. At the same time, this supplement indirectly increases levels of NAD+ And even boosts the creation of new mitochondria. Helping reduce body fat accumulation and increasing the body's energetic reservoir.
Interestingly, this is one of those products that's often recommended to pulse. Rather than using it daily, I prefer a version of the "hit-and-run" protocol often used in clinical research. 3-7 days of daily use followed by a break for the rest of the month.
After about age 50, using a high-quality senolytic supplement complex like Activator can significantly improve quality of life and potentially lifespan.
Use the exclusive Renue by Science code GVQCUKN6 for 15% off
Energizer AM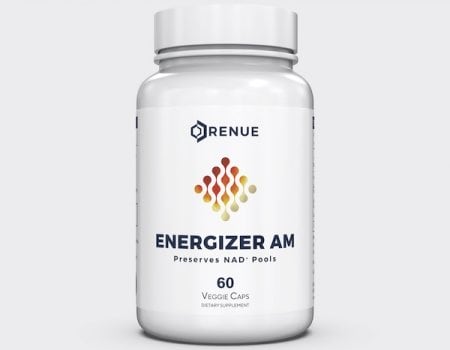 If you're wanting to boost your energy, an aptly-named product called ENERGIZER AM is what you're looking for. This is an interesting formula, as it's designed to work through several different pathways and can be stacked with the other NAD+ boosting products.
Ingredients within Energizer AM include:
Liposomal Glutathione – 65mg
Liposomal Resveratrol – 65mg
Liposomal CoQ10 – 25mg
Liposomal Apigenin – 15mg
First, each of the ingredients supports optimal mitochondrial health and function. Glutathione, CoQ10, and resveratrol protect this vital organelle from damaging free radicals.
Apigenin reduces levels of an enzyme called CD38. The lower CD38, the higher the levels of beneficial NAD+. Thereby, increasing energy in two distinct ways.
Several of the ingredients within Energizer also stimulate sirtuins. These are key longevity proteins that repair cells and DNA. Thus, slowing aging.
Plus, each ingredient within the Energizer AM formula is in the highly-bioavailable and well absorbed liposomes. Delivering stronger benefits, fewer side effects, longer effects, all in a smaller capsule.
Energizer AM is a powerful formula that protects the body (and particularly the mitochondria), supports optimal energy production, and boosts key longevity proteins called sirtuins.
Use the exclusive Renue by Science code GVQCUKN6 for 15% off
Defender PM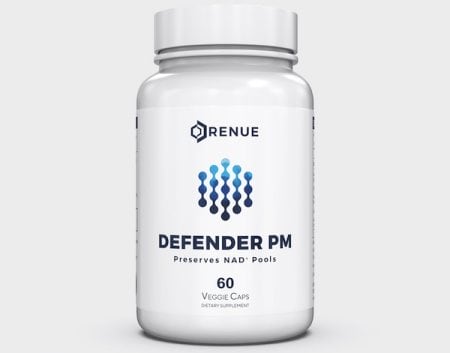 Defender was formulated with the goal of activating your innate bodily defenses. Primarily, through managing inflammation. Not just indiscriminately suppressing it, but bringing it into the optimal balance.
Each ingredient within this stack promotes longevity and slows biological aging by helping prevent cellular senescence, and encourages optimal gene expression.
Ingredients within the Defender supplement include:
Liposomal CaAKG – 110mg
Liposomal Berberine – 60mg
Liposomal Hyaluronic Acid (HLA) – 60mg
Berberine is an ancient Chinese herbal used for all kinds of things, including for longevity. It also indirectly boosts NAD+ by increasing a rate-limiting enzyme called NAMPT [R].
Calcium alpha-ketoglutarate (Ca-AKG) is a special form of calcium that's showing tremendous potential to increase healthspan. This formula aids epigenetic health and helps minimize chronic inflammation [R]. It's such an underrated longevity ingredient, that I wrote an entire article on the health benefits & best alpha-ketoglutarate supplements.
Finally, we have Hyaluronic acid (HLA). HLA is best known for supporting the health of cartilage and connective tissue. But we experience tissue degeneration from injuries and general aging. That causes additional inflammation and HLA can help [R].
Again, these ingredients are all in the optimal form. Making the low doses equally effective and last longer than traditional oral supplements.
Defender is the ideal multi-ingredient anti-aging supplement to help protect the body's many tissues from inflammation and the ravages of life.
Use the exclusive Renue by Science code GVQCUKN6 for 15% off
Qualia Life
Neurohacker, the team behind the Qualia line of supplements, makes some of the most comprehensive products on Earth. They take a systems biology approach to formulation, making sure to positively impact each pathway.
Qualia Life is their answer to slowing biological aging. And much more, including:
Productivity
Sleep
Energy
Mitochondrial fitness
Cellular energy
Stress management
They achieve this by using clinical dosages of 100 different ingredients. On the product page, Neurohacker explains how they chose each ingredient and dosage. Dare I say this is the most advanced supplement on the market?
Basically, Qualia Life is like the modern upgrade to a multivitamin/multimineral that's specially tuned to longevity.
Plus, Neurohacker actually runs and publishes the trials behind each of their products.
They then back Qualia Life with a full 100-day money-back guarantee. All this together explains why Qualia Life is a favorite of many healthcare practitioners.
The downside?
It's expensive, and one serving is eight capsules. I wish they turned Life into a powdered drink like NOVOS!
Qualia Life is a premium all-in-one longevity supplement that uses clinical dosages of 100 different ingredients—potentially replacing multivitamins, multiminerals, nootropics, NAD+ boosters, adaptogens, and more.
Use the exclusive Qualia promo code URBAN to save 15%
Thorne Advanced Nutrients
Thorne is the go-to company for those that demand maximum purity supplements. Olympians, professional sports teams, law enforcement personnel, and those that're drug tested turn to Thorne for their quality guarantees. Although they have a massive supplement catalog, Thorne offers very few longevity and aging products.
Thorne Advanced Nutrients is their answer. This appears to be their version of Qualia Life. Paired down significantly, and at a much more affordable price.
Thorne opted to go heavy on vitamins and minerals. In fact, all but four ingredients are these essential nutrients.
What I like about it is that Advanced Nutrients is truly an advanced multivitamin and multimineral. With a few upgrades. Most notable anti-aging ingredients include nicotinamide riboside (NR), and resveratrol.
Thorne Advanced Nutrients is the enhanced longevity multimineral and multivitamin product renowned for the brand's attention to quality.
Click the button to automatically unlock 15% off Thorne products (some exclusions apply)
Life Extension Mix
Of all the massive supplement conglomerates, Life Extension usually has my favorite products. They have a shockingly MASSIVE inventory of supplements, and entire teams dedicated to science and formulations. Life Extension Mix is their all-in-one, providing vitamins, minerals, and phytonutrients from fruits & vegetables.
Overall, the blend is very comprehensive. It contains the "kitchen sink" of key nutrients as well as beneficial longevity ingredients. Some of which are in their optimal, most bioavailable forms.
Although you can get 360 capsules for around $45, note that each serving consists of a whopping 12 capsules. Making a 360-pill bottle last only 30 days. Interestingly, Life Extension does sell its mix in several different forms. With extra niacin, without copper, and as a powder too. But the powder is far less popular. Probably because you'll need a blender to thoroughly mix it.
Life Extension mix contains a wide variety of vitamins, minerals, and fruit and vegetable nutrients, but each serving consists of an entire 12 capsules and each ingredient individually isn't the most effective (due to the form and dosing).
Individual Anti-Aging Supplement Ingredients
While pre-made longevity supplement complexes have plenty of benefits, you may want to consider testing particular ingredients alone.
Sometimes, testing single ingredients allows you to more easily determine what feels/works best for your particular biology.
Or, you can amplify the effects of your pre-made stack by adding additional ingredients.
Regardless, knowing about a few of these top anti-aging compounds can only help.
NMN & NR
Nicotinamide mononucleotide (NMN) and nicotinamide riboside (NR) are the two most popular NAD+ precursors. NAD+ is the energetic substrate of life. Without it, we'd die in seconds. Unfortunately, it declines dramatically with age and lifestyle. Increasing it with NMN or NR can help restore biological youthfulness. NAD+ is the "fuel" for the key longevity enzymes called sirtuins. Thus, NAD+ deficiency accelerates biological aging.
I've written several articles about the different boosters. Including, the best natural, free, and cheap ways to increase NAD+. Nicotinamide riboside supplements have profound longevity benefit potential. Nicotinamide mononucleotide is the most popular and affordable NAD+ supplement. Or, you can combine both (as I do) with a product like NAD Complete (mentioned above).
This is often a starting place for anti-aging supplementation.
Spermidine
Spermidine is a dietary polyamine especially abundant in particular regions of the world associated with an extraordinary number of centenarians—the so-called "Blue Zones". Spermidine has pleiotropic multi-bodily system benefits. So far, scientists know that it improves at least six of the known 12 hallmarks of aging. More than virtually any other substance. It helps protect the genome (DNA) and initiates cellular cleanup and repair.
Unfortunately, it's quite difficult to get through food. Unless you consume a diet rich in obscure foods (to Westerners, at least) like fermented soy (Natto). I wrote a detailed guide and comparison in this article of the best spermidine products and latest health science.
Alpha Ketoglutarate (AKG)
Alpha ketoglutarate is a longevity ingredient that often flies under the radar. It comes in multiple different forms. So far, the version bound to calcium, Ca-AKG, is the best studied and shows impressive benefits. Including, for athletic performance and muscle health (bodybuilders were some of the first to begin supplementing it. More relevant, it notably increases lifespan and the quality of those years (healthspan). Unfortunately, most of the research was done in animal models.
Since it is safe and has huge potential, several of the smart formulators above actually include Ca-AKG in their products. AKG belongs to advanced longevity supplement complexes. You can learn more about the science, benefits, and best AKG supplements in this article.
C60
C60 is a Nobel-prize-winning molecule that surged in popularity when researchers showed that it extended the lifespan of mice by over 90%. Follow-up research came to similar conclusions. Every time we generate cellular energy, we produce some toxic byproducts that are the biological equivalent of exhaust. When everything's working properly, this is healthy and normal. But that's rarely the case today.
C60 primarily works by entering the cell and protecting mitochondria from toxicity and damage caused by free radicals. One of the causes of aging is increased oxidative stress. C60 offsets this better than any other molecule. People report all kinds of hard-to-believe benefits from supplementing high-quality C60 oils & products. From increased energy, to deeper sleep, to hair regrowth, to radiant skin, to faster workout recovery, to accelerated repair post-injury, and more.
The issue is that many products use cheap, low-quality industrial-grade C60. These contain carcinogens and surely do more harm than good. With the right product, however, people sometimes report feeling benefits within the first week of use.
Astaxanthin
Astaxanthin is a potent antioxidant responsible for the pink color of krill, shrimp, and salmon their. Supplementing astaxanthin confers anti-UV and other protection to human bodily systems. Particularly the brain, nervous system, heart, and mitochondria. It also helps prevent fats from oxidizing, spiking levels of harmful free radicals, and causing inflammation.
It also doubles as an internal sunscreen. Supplementing 12mg per day, along with removing industrial seed oils all but prevents my fair skin from burning in the sun. I expect astaxanthin will eventually make its way into most longevity stacks.
Pterostilbene
You may have noticed resveratrol makes several appearances in the longevity complex supplements listed here. It was one of the original anti-aging products, popularized almost entirely due to a Harvard researcher named Dr. David Sinclair. The problem with resveratrol is that most of the research couldn't be replicated. Pterostilbene is in the same family of compounds, but in many ways superior to resveratrol.
It mimics the effects of calorie restriction, puts the body into "repair mode" (autophagy), improves DNA repair, and most importantly, it increases the activity of the Sirtuin family of longevity proteins. When adequately fueled by NAD+, sirtuins are the body's master protectors. Compared to resveratrol, pterostilbene is more effective, has more benefits, and likely is better tolerated. The only caveat is those with cholesterol issues may want to consider resveratrol instead.
The two most important classes of longevity molecules include NAD+ boosters and sirtuin activators, and pterostilbene excels at the latter.
Urolithin A
Urolithin A is a trendy new ingredient that's derived from pomegranate. Microbes in the gut create urolithin-A from another family of compounds known as ellagitannins. But if your gut lacks certain species of microbes, you simply won't extract the urolithin-A from the fruit. Urolithin-A appears important for mitochondria, muscle function, and health, as well as longevity.
Right now, only one company produces a urolithin A product with high bioavailability (so that you'll actually absorb it). It's Timeline Nutrition and their Mitopure product. It's not my first choice for a longevity supplement due to the limited research and few providers, but worth considering if you already have an advanced stack.
The Ultimate Longevity Protocol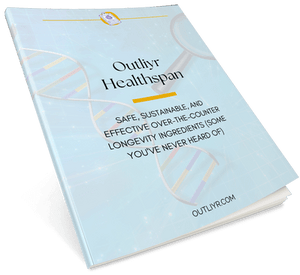 Longevity supplements can get confusing:
Are you wasting money?
Is there significant overlap (and also gaps) in the pathways the supplements activate?
Is the product making a difference?
What if you can simplify your life, take fewer products, and get better effects?
This is all possible, and it comes down to this…
A well-designed longevity stack.
Ideal formulations contain multiple ingredients. Each targeting and improving different facets of biological aging.
Keeping you looking and feeling younger and performing optimally.
Together, a multi-supplement formula is more effective than the sum of the parts. This is called the entourage effect, and it's best understood as the "1+1=3 effect". And, this powerful ingredient biosynergy often comes with fewer side effects.
So I designed a simple "Longevity Upgrade Cheatsheet" to summarize the benefits of 30+ popular longevity supplements as well as provide my universal essentials. Download it here…
The Best Complete All-In-One Anti-Aging Supplements Ranked
Finding the right longevity supplement gets tricky.
Which super ingredients do they contain?
Do they include the appropriate dosages of each?
Are they lab-tested for purity and potency?
Will they fit into your budget?
Your unique lifestyle and goals will help determine those.
Here is the hierarchy of anti-aging ingredients ranked from most important to nice-to-have:
Vitamins and minerals
Enzymes
Essential aminos and fatty acids
NAD+ precursors & sirtuin activators
Other ingredients
The most important fundamental longevity supplements will address your core nutrient needs. If you're deficient in vitamins, minerals, or enzymes, many bodily systems will suffer. Similarly, if you don't consume enough amino acids or dietary fats, you're missing raw materials needed to efficiently power cellular processes.
Then, you'll need to provide the body with ample cellular energy. Master protection proteins called sirtuins require lots of NAD+ to work properly. When you lack NAD+ or sirtuin activation, degeneration ensues and biological aging accelerates.
Finally, we have the flashy anti-aging individual ingredients. The food-derived nutraceuticals and other powerful compounds. These can amplify the effects of everything else and make a big difference in the way you look, feel, and perform.
The products mentioned in this article help take the guesswork out of supplementation to slow biological aging. Making it easier, more convenient, and sustainable.
These are just some of the ones I like most. Give them a try.
What about you?
Do you use an all-in-one longevity supplement complex (or multiple)? Let me know in the comments below and we'll make this a conversation!